The global over-the-top services market has significantly driven the growth of various streaming companies.
As the demand for Smart TV app development continues to rise, newer innovations.
And advancements in Internet penetration, smart TV, mobile, and 5G infrastructure are set to further fuel the streaming marketplace, with a particular focus on original content production.
Nevertheless, a number of Smart TV app development companies in the market offer a remarkable platform that engages consumers with bigger screens, delivering a grand viewing experience.
Also, these apps provide users with enhanced surround sound, leading to positive adoption rates, especially after the outbreak of the pandemic.
VOD (Video on Demand) is the present and future of the broadcasting industry. A report by Conviva suggests that video on demand is viewing up 155% year-by-year with an average of 17.1 minutes spent per session.
A recent survey by Hubspot revealed that people prefer video overall & other forms of content including infographics, blog posts, and also emails.
Cisco Systems predicts that 70% of people will own mobile devices by 2024, and consequently, the demand for 4K/UHD video content will double up.
These statistics clearly show that video on demand is on the rise. It is currently one of the most profitable businesses to tap into.
This article discusses the VOD platform model in-depth and how businesses can benefit from it.
What is VOD?
Video-on-demand (VOD) is a technology that allows for the immediate delivery of video content, such as films and TV series, to individual subscribers.
It encompasses all varieties of user-requested on-demand video content.
These might be expensive movies, TV show archives, sporting events, or concerts. Besides that, it might also contain user-generated video content.
Pay-per-view and subscription models (monthly, half-yearly & annual) are typically used to monetize VOD services.
Looking into how does it all work, we come to know that on demand, which also abbreviated as VOD or Video on demand allows viewers to watch a movie or television show whenever it is convenient for him or her's schedule.
Viewers can pause, play, fast-forward, rewind, and also re-watch the show as many times as they want with On-Demand.
VOD Meaning
Video on Demand provides an interactive technology for delivering video-based content such as movies, television shows.
Basically, VOD streaming allows individual viewers to watch a video from a content library for immediate viewing which can be accessed on their TV, personal computer, mobile phone, or any other device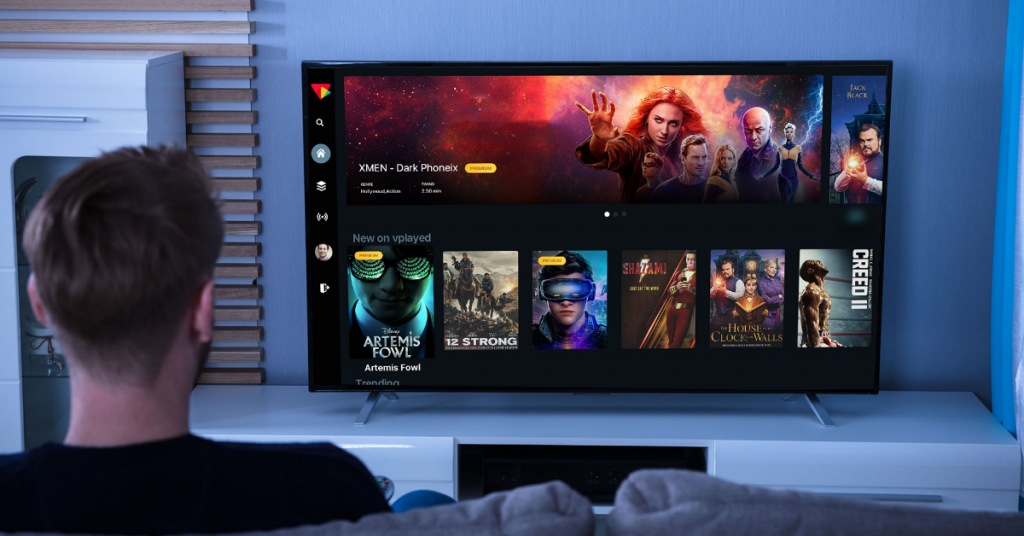 Individual viewers to watch a video from a content library for immediate viewing which can be accessed on their TV, personal computer, mobile phone, or any other device.
The VOD service is offered by the means of a cable, telephone provider, or broadband and provides viewers with the option to pause, play, rewind, or fast forward the video as per their wish.
Video-on-demand has 3 core advantages. It allows viewers to:
Take a glimpse of 3 core video-on-demand advantages. It facilitates users to:
Watch At Any Hour – Allow your users to play content at any time they prefer.. Unlike "linear" TV auto programming, where VOD is not dependent on a planned timetable.
Take Liberty To View Favourites – Viewers have more opportunities to handpick and select what they want to watch, in comparison to traditional pre-scheduled viewing.
Keep Media Controls in Hand – Users can play, stop, rewind, quick forward, and also totally control how they watch content. Along these lines, they'll miss nothing significant.
Why Video on Demand is Important?
The significance of top video on demand platforms lets you know when favorite movies, TV shows can be watched at your own convenience instead of pre-scheduled watches that are decided earlier by traditional TV providers in both cases of cable & satellite.
Let's imagine that you are owning a DVR from your service providers that facilitates you to record and also playback any TV show, series or programs like sports, movie etc.
Surely, the fact can't be ignored if any movie at any date & time can be broadcasted to enjoy them leisurely.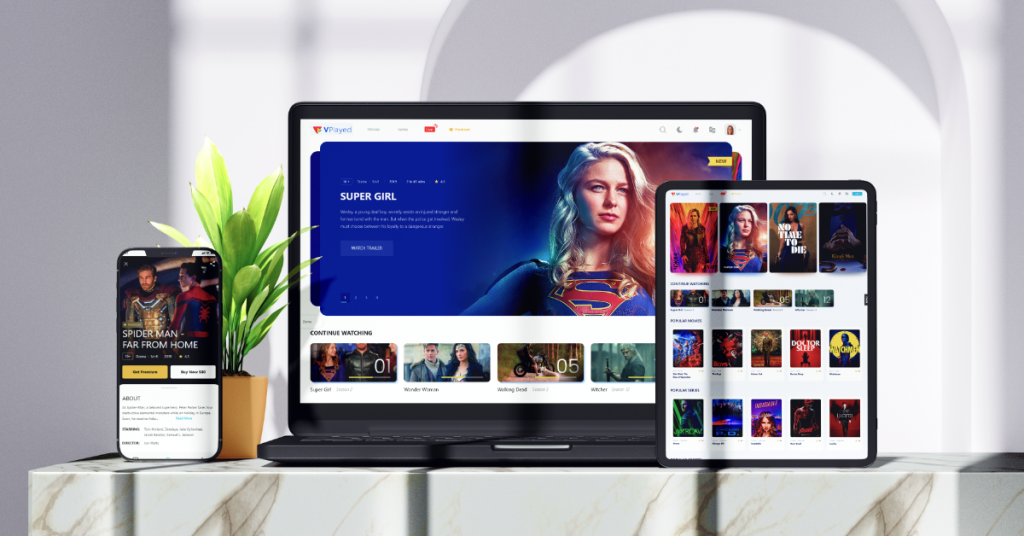 Video on demand services gives its users features that allow them to easily create content that is available all over the world.
How Does Video On Demand Work?
VOD functions through the storage of content as compressed digital files on a centralized server. Viewers navigate a menu via their device, selecting content, which may be available for free or require payment. Upon selection, the server promptly initiates the streaming of the chosen program. This seamless process ensures easy access to a wide range of content.
A Video on demand platform works in the following steps.
The video is converted into digital format and stored in a video server.
It is then compressed and transmitted to the viewer via broadband or cable.
After reaching its destination, the video is decoded and extracted via the set-top box and stored on a video server in the viewer's device.
The viewer can now watch the video and also control its playback speed and other aspects (start, pause, stop) at their convenience.
Videos streamed this way using VOD offer superior streaming quality with a personalized watching experience
How Does VOD Makes Money?
Like it is previously mentioned about VOD's definition that's On-Demand typically sends packets of data retrieved from server hosting video content that is delivered to your advanced video player.
Providers of VOD usually create impactful video on demand content to make money with primary two models & they are advertising video on demand (AVOD) & subscription video on demand (SVOD).
---
Recommended Reading: How To Build A Billion-Dollar Video On Demand (VOD) Website?
---
Different Types of VOD Models to Choose
The success of a VOD business depends on the content strategy and also the monetization model chosen. With the right revenue generation method, one can achieve their monetary goals along with building and popularizing their brand.
The success of a VOD business depends on the content strategy and also monetization model chosen.
With the right revenue generation method, one can achieve their monetary goals along with building and popularizing their brand.
As a content owner, you may be wondering….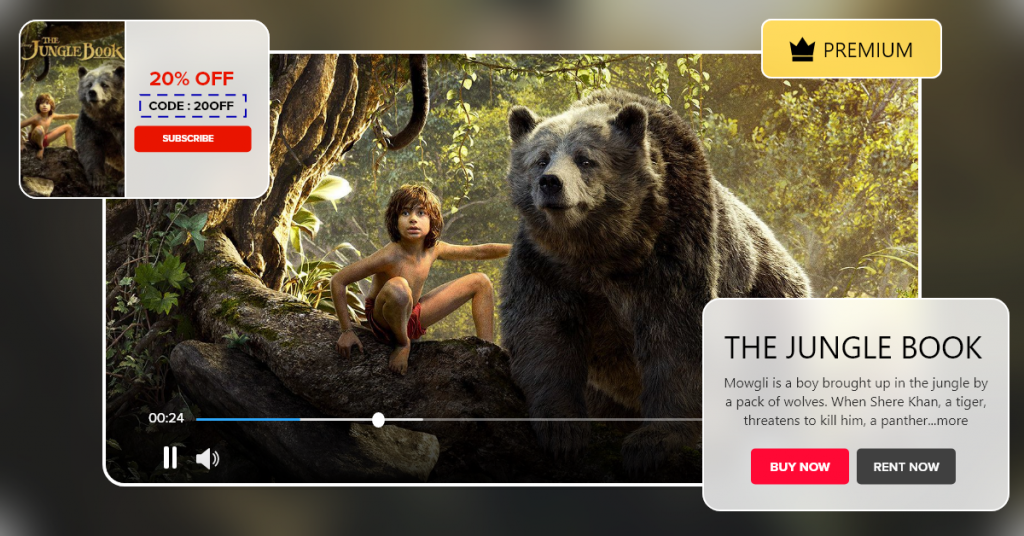 VOD streaming platform with full integration that allows people to easily upload and monetize online video content.
How well to use and also extract maximum revenue by using VOD. Then, let me tell you are at the right place, where you can find several ways to convert video content & make incredible profitability.
Here are the top three video monetization model to earn revenue from your offerings:
1. TVOD or Transactional VOD
What is TVOD? Transactional video on demand is based on a pay-per-view monetization model and best suited for the most popular videos with small video libraries.
Here, the viewers purchase or go for digital renting for the specific content they want to watch.
The TVOD business model is further divided into two categories – EST (Electronic Sell Through), where the viewers get permanent access to the content on a one-time payment, and DTR (Download to Rent).
In which they'll have to pay a smaller fee to access the content for a scheduled period of time.
Examples of TVOD monetization models are Google Play, iTunes, etc.
2. SVOD or Subscription VOD
The subscription video on demand is the most popular monetization model for varied content creators in order to broadcast with large video libraries.
Here, the viewers subscribe to a video service for a certain period of time (weekly, monthly, yearly) to access its content.
Once the viewers pay the SVOD platform, they are eligible to surf unlimited content on their online video library.
The subscription plans auto-renewal and also cancel at any time by the viewers. Examples of SVOD vs AVOD are Netflix, Hulu, Amazon Prime, etc.
3. AVOD or Advertising VOD
What is AVOD? The advertising video on demand is another popular monetization model that uses ads for earning revenues.
Here, the viewers stream the content for free but stressed to watch ads as well.
The VOD ads are classified into three categories: – Pre-roll (plays at the beginning), Mid-roll (plays in the middle), and also Post-roll (plays at the end).
The AVOD business model generates a good amount of revenue that gives a large viewer base. Examples of AVOD monetization models are YouTube, Daily Motion, etc.
Are You Ready To Build Your Video on Demand Platform With Top Customized Features?
Why Your Business Should Use VOD ?
The modern busy lifestyle calls for a system that is equally flexible to suit the viewers' needs. Video on demand (VOD) services provide enhanced accessibility to audiences and also enough time for creators to perfect their videos for release.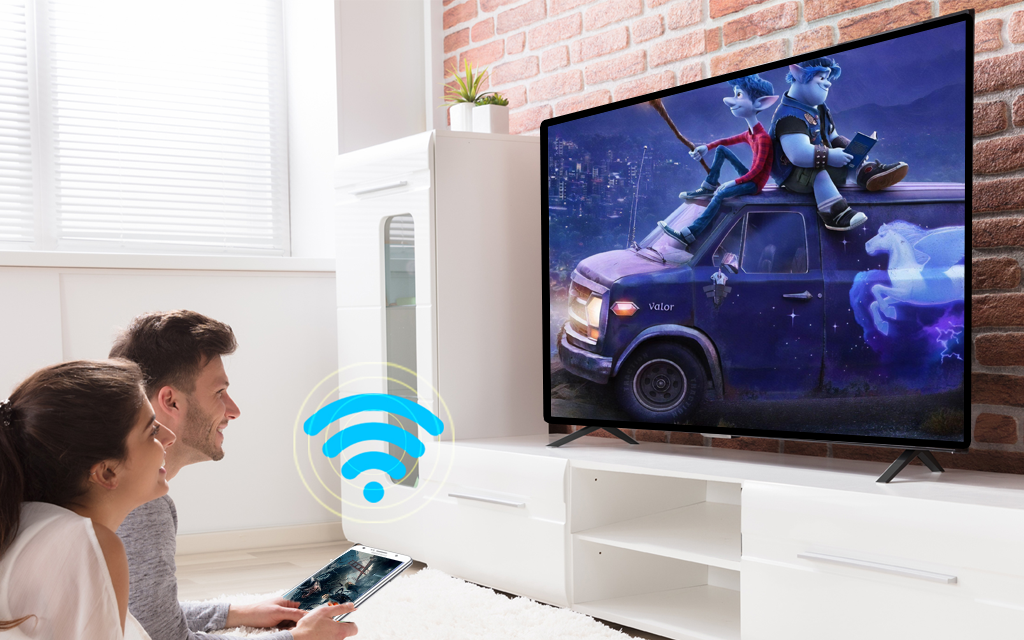 What is a VOD? Video on demand, refers to any content distribution platform that allows viewers to choose when, where, and how they watch media.
The modern busy lifestyle calls for a system that is equally flexible to suit the viewers' needs.
Video on demand services provides enhanced accessibility to audiences and also enough time for creators to perfect their videos for release.
Take a look at some of the main reasons why businesses should use VOD for their growth.
● Convenience
VOD allows customers to consume the content as per their wish. There are no restrictions on time and place, and the viewers can watch as many videos as they want.
Unlike a traditional broadcasting service, VOD app services are not limited to geographical locations and viewers can stream content from worldwide.
Furthermore, VOD businesses do not have any contractual obligation and also provide customers the flexibility to discontinue the service at any moment.
● Online Community and Passion
With VOD, creators can build communities around their videos and the industry they are passionate about.
This creates better engagement and a sense of belongingness among the viewers. And if the content is good, it leads to increased business success and also earnings.
● Source of passive income
Create a video subscription platform, provide a regular income to the service provider, so they don't need to focus on picking up customers each day.
One can easily increase the customer base with the reference of their online community.
This allows the creators to invest more of their time and also resources into creating quality content and positioning themselves as an authority in their industry.
As a result, customers are more willing to buy from them at a premium price.
● Control over your variety of content
By creating the best online video platforms, creators have complete control over their content. They can create whatever they like for whoever they want.
One can create videos on the go and also share them with the world while being their most authentic selves.
● Monetize your current fan
If you have a large social media following, you can direct it to your existing online space and turn your followers into viewers.
With an increase in the number of viewers, the popularity and also revenue of the business will also increase.
● Unlimited Customers & Accessibility
Creating a unified platform is much better, as it is accessible through a variety of devices.
Audiences can log in to their account from any laptop/computer or mobile phone with a single click and also start streaming their favorite videos.
VOD inclined services are also capable of providing content to unlimited customers. Thus, maximizing their revenue potential.
● Ad-Free Entertainment
Nothing irritates viewers more than ads during video streaming. In fact, many viewers are ready to buy premium memberships to surf ad-free content online.
VOD services help businesses deliver a smooth ad-free streaming experience that helps to build a loyal audience base.
How to Get Started With VOD Streaming?
Creating your own VOD platform is one of the best decisions that you can take to upscale your business. It is not only useful for providing VOD services but also facilitates business communication, education, training, and much more.
It is not only useful for providing entertainment services but also facilitates business communication, education, training, and much more.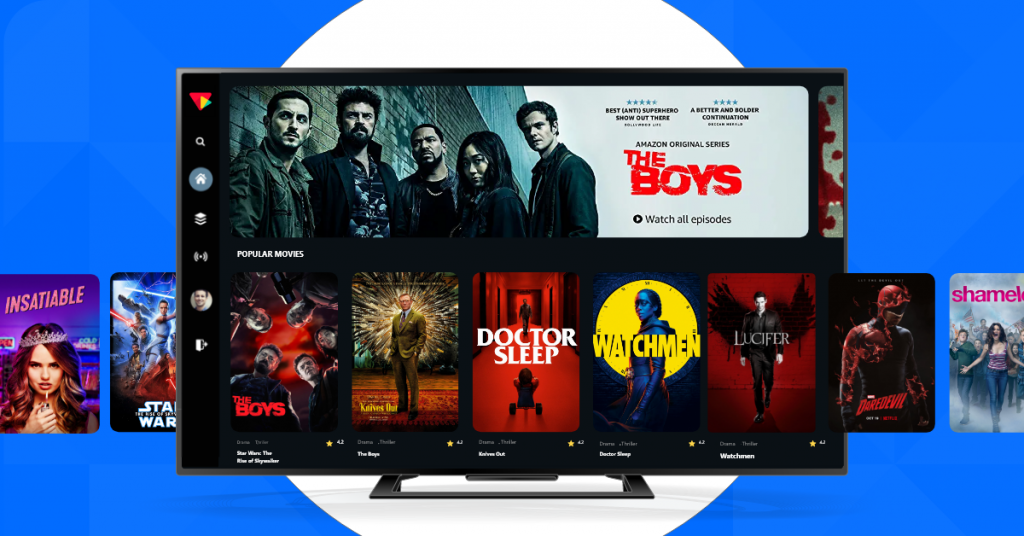 Indeed, we can definitely say that VOD is an opportunistic niche with a huge market. And, therefore there are endless possibilities in 2024 for you to start a video on demand service of your own with every tryout..
So, let us start from the first step here:
Create Unique Video Collection .
Discover Your Niche
Obtain Streaming Rights.
Finalize on revenue models.
Build a top video streaming website.
Upscale via Mobile
Boost Content with Marketing Funnel
Step 1: To get started with your business, the first thing that you need is to create a strong library of videos to make the audiences' invest in your digital entertaining store worthwhile.
Step 2: If you are looking to grab the attention of a heavily crowded space, it becomes necessary to do something that others are not doing.
And that would be creating uniqueness with your own niche found. In other words, decide on your business plan by creating a video streaming website like Netflix.
Step 3: Once you are definite about the contents that you plan to stream, it's perfect to get those aligned with your business plan.
You can approach content owners & distributors to acquire individual content rights to publish their copyrighted content into your online video platform.
Step 4: Then, molding your revenue is utmost necessary as per legal terms of content usability.
Get a clear understanding of types of revenue models such as SVOD, TVOD, AVOD, CatchUp TV, Paywall Feature, SSAI, and others.
Recommended Read: Difference Between CSAI vs SSAI
Step 5: After that, you can start by building a website of your own to host your videos.
You can now have numerous turnkey solutions from top video streaming platform provider which are affordable to launch your video on demand services on the move.
Step 6: Now the time has come, where you can get a major proportion of the video streaming audience which is highly dependent on mobile apps.
Upload content consistently to keep your viewers engaged through platforms like Android, iOS. Since, mobiles are chosen over computers, develop a video streaming app or website & this would assure lump sum results.
Step 7: And finally, promote your platform well to reap extraordinary benefits while earning money.
After finalizing a business niche, license, website and also platform integration into mobile apps readily, the last step that's left to do is — bring-in subscribers.
You can run promotional ad campaigns, add SEO-focused video descriptions, and 10-30 seconds video snippets to entice audiences to view your content. Apart from that, you can:
Grow Socially: Use every integral aspect of social media marketing and also get people to let your platform know through it.
Monetize Ads: According to your marketing planned budget, traditional adverts can give a great head start.
Emailing Prospects: Build a list of mailing contacts of your customers for you to alert them when your planned videos go live.
Start Your VOD Journey With VPlayed
Now that you know how important online video portals are for your business, you may want to find a suitable VOD hosting service for your content.
VPlayed is an excellent option for next-generation video streaming.
VPlayed offers the latest features that set it apart from other VOD streaming support.
It is a white label OTT platform that comes with 100% customization to establish your own brand.
You can stream videos on-premises/on-cloud and also manage your uploads with its in-built video CMS platform.
Its multi-device support and also progressive web apps provide a smooth experience to potential viewers.
VPlayed also features a variety of revenue generation models that include Catch-up TV and Push TV, in addition to the three basic VOD monetization options to maximize your income.
Conclusion
Video on Demand is an excellent way to connect with the audiences and make meaningful relationships that go a long way in business growth.
A best video hosting platforms gateway that streamlines the entire content delivery process is your perfect partner in achieving your business goals and also climbing the ladder of success swiftly.
If You Already Have an Idea About Starting a Video on Demand Platform, Schedule a Free Demo and We'll Get You On The Road To VOD Streaming Success!

Frequently Asked Questions(FAQ):
1. What Is VOD In Streaming?
Video on Demand (VOD) in streaming refers to any service that offers viewers the flexibility to access and watch captivating videos, TV shows, or movies at their convenience. In fact, VOD allows viewers to select content and determine when they wish to view it.
2. How Does Video On Demand Work?
Video on Demand (VOD) works by securely storing digital content on a video server. When a user selects content, it is compressed. After that, it gets transmitted online, and then decompressed and decoded for seamless viewing on the user's device. This allows uninterrupted, on-demand access to content across various network devices.
3. What Are The Types Of VOD Business Models?
Various VOD business models, including SVOD, TVOD, AVOD, and SSAI, enable online video streaming businesses to generate consistent and profitable revenue.  Nevertheless, these models cater to a wide range of viewer preferences and contribute to the VOD industry's popularity.
4. How To Setup A Video On Demand Service?
Setting up a VOD business is a strategic choice given the growth in this industry. To establish your VOD service, consult with streaming experts who specialize in creating VOD websites and implementing on-demand solutions for content monetization. This approach can have a substantial influence on launching your VOD service successfully in any market.
5. What Are The Benefits Of Video On Demand?
The primary benefits of VOD solutions include the ability to create a well-planned business model with consistent recurring revenue streams. This approach minimizes the need for significant capital investments, especially when utilizing a fully white-labeled platform. In fact, providing continuous access until the subscription ends enhances the overall customer value.
6. How do I choose the right VOD service?
Choosing the right VOD service involves assessing your specific business needs, budget, and target audience. Consider factors like content licensing, platform customization, monetization options, and scalability to make an informed decision. Overall, one can say that the ideal choice should simplify the organization and distribution of your content.
7. What are the different types of VOD?
Video on Demand (VOD) comes in various types, including:
SVOD (Subscription VOD): Requires a recurring subscription fee.
TVOD (Transactional VOD): Offers content on a pay-per-view basis.
AVOD (Ad-Supported VOD): Free to users, supported by ads.
SSAI (Server-Side Ad Insertion): Enhances AVOD with targeted ads.
PVOD (Premium VOD): Provides premium content for an additional fee.
NVOD (Near Video on Demand): Offers scheduled programming like traditional TV.

These options cater to diverse viewing preferences and business models.