Online video industry has been booming past few years now & it continues to grow its value even more.. What sets the business industry apart is seen as such when on demand videos are displayed alluringly other than the traditional text format.. Viewers get intensely with video much so ever, since its well documented. Infact, it is anticipated that the human brain process video more than 50,000 times faster than text.
Also, statistics from Wyzowl clearly show that companies create different types of video.
Mostly 42% use live actionated, 33% mainly use animated videos & 15% use it for screen recording purpose
The above will make it clear to why there are greater chances to pursue video on demand. Many businesses have been adapting to build a video on demand streaming platform after the rise of global pandemic. As many people are constrained to their homes, the demand for VOD services gets increasing high which reflects the industry, much stronger.
And with so many businesses jumping on the VOD bandwagon, it's clear that the industry is here to stay and has great potential for growth. Creating a video on demand website can be a great way to tap into this potential, and with the right strategy, it's possible to create a successful video on demand platform and build a billion-dollar business. In this blog post, we'll explore the steps you need to take to build a VOD website and take your business to the next level.
That is why so many companies have developed VOD-based business models to expand their brands.
Now let's delve deeper about..
What is VOD Platform?
VOD or video-on-demand is a way of delivering videos that are selected by consumers from the inventory at any moment from anywhere in the world. They will choose to view videos according to their set preferences. You can quickly increase mode of profitability by making a VOD website & regulate what kind of content do viewers prefer, control their watching patterns. 
If you're interested in creating a video on demand website, or building a VOD website, you will need to take the time to plan and execute your strategy in order to build a successful VOD platform.
---
Read Also: What is VOD? A Definition of VOD & Its Meaning
---
Type of Industries Using VOD Technology
Media & Entertainment
Media companies are now looking to transition their business models and create video on demand platforms as a way to navigate the new streaming normal. They are implementing several strategies to adapt to the changing landscape and stay competitive in the industry.
Sports
Sports personalities can build their own VOD website and bring in a huge fanbase easily. What's more is as per analysts, streaming sports online is more prevalent than traditional TV channels
Fitness
Fitness practitioners can make their way in earning proactively online by hosting virtual workouts via creating a VOD website carried with real-time streams
Education
Tutors who carry good experience and interest in sharing their knowledge can start their own online course platform by building a VOD website. This will give them the best return on investment.
Enterprises
Enterprises or mammoth brands can incredibly create durable revenue streams by leveraging on unexplored trends & build a dynamic video on demand website
Religious
Religious groups or faith leaders have begun to offer online alternatives in order to listen to popular content offerings in the format of video-on-demand, live streamed events, podcasts, etc.
Therefore, these are the wide spectrum of use cases spread-out that business owners can leverage on, by shaping streaming infrastructure of your kind. They help you to spin diverse channels & distribute them with a plethora of video on demand services, across the world by building your own VOD online hub.
Coming up next, we'll see..
Benefits Of Building Custom VOD Streaming Website
Broadcasters as well as content owners have their audiences engaged by providing content via different OTT offerings with less intrusive ads. They can largely benefit by offering subscription-based video on demand content through proprietary channels or choose to offer free content via connected devices, TV apps, etc.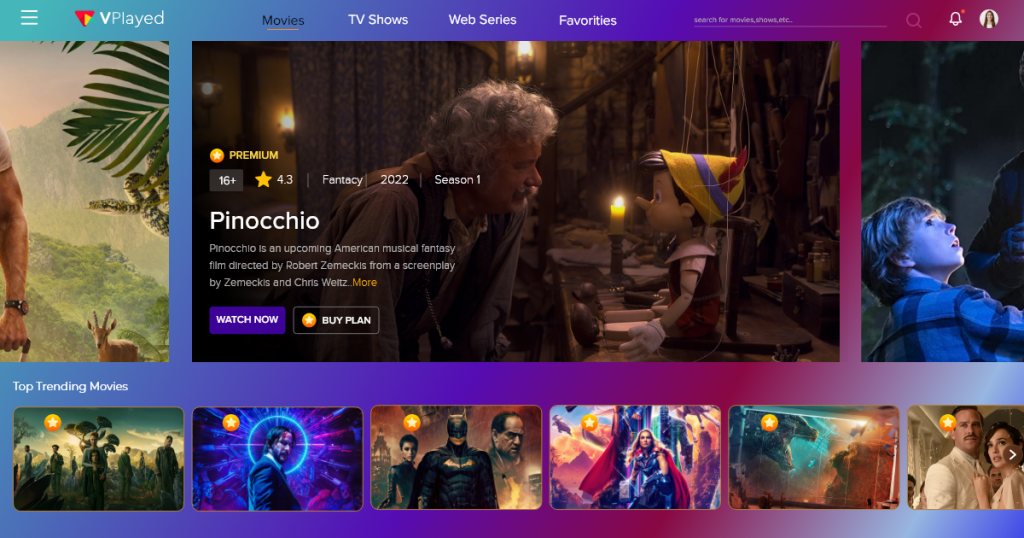 Moreover, for new creators while they are looking for how to create a video on demand website the broadcasting space means a lot in terms of wider audience reachability than traditional means of delivering broadcasts.
1. Brand Awareness
VOD platform highlights the concept of building trusted relationships with your audience. By creating a VOD website, businesses can increase brand awareness and build trust as a by product. 
2. Scalability
While looking into 'How to start own VOD website' some of the critical parameters underplay such as storage, users view time, device speed, distribution of physical location of consumers
3. Diminishing The Cost And Time
The pricing factor comes into play when building a VOD platform because you'll only need an intrinsic web streaming architecture which can be owned by yourself. By understanding how to build a VOD platform, you can save on costs compared to other solutions in the market.
4. Monetization
Discover plenty of revenue-building opportunities for you such as monetizing VOD content right from SVOD, AVOD, TVOD, Catchup TV, Coupons & Promotions, Video Paywall, etc.
5. Convenience
By knowing how to create a video on demand website, you can increase the feasibility of your on-demand content to users wherever they are placed. Thereby providing convenience to users and making it easier for them to access your content.
Are You Ready To Build Your Video on Demand Website With Top Customized Features?
How to Build the Best Video On Demand Website?
As a content owner, you might be wondering how to use VOD streams to advantage within your business & bring in loads of revenue.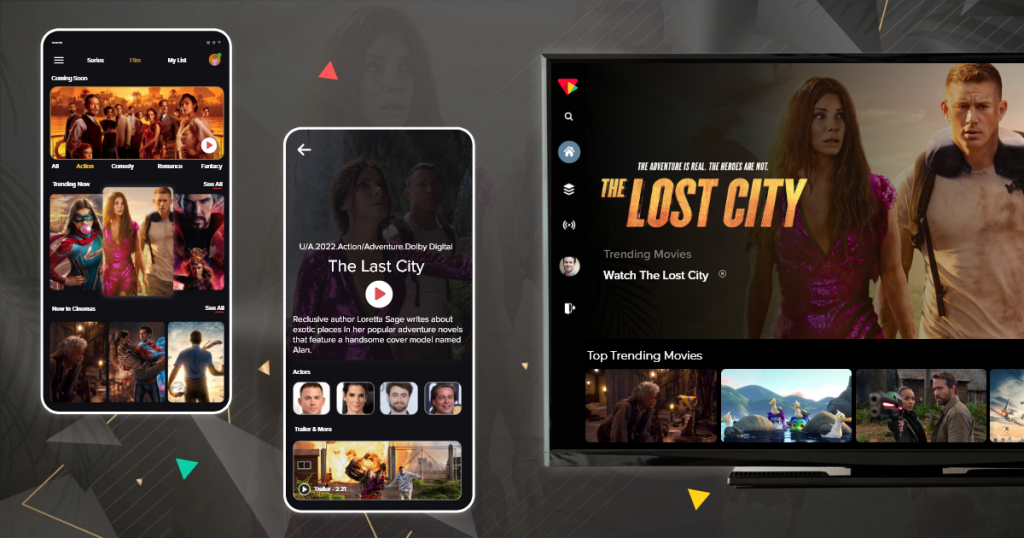 There are several ways you can benefit from and they are:
* Select an A-grade VOD Service Provider
When it comes to creating a video on demand website, professional VOD services can assist you in compiling your assets and hosting them with the assistance of reliable service providers.
* Target Your Userbase Across All Regions
By using strategic content delivery, you can make your audio or video material adaptable and compatible for streaming across all platforms and devices
* Enhanced Viewer Experience
Originate any sort of content you would like to display to your audience to make it alluring & deliver a charismatic experience. With multiple OTT providers make streams available in HD.
* Monitor Your Audience Behavior
To build a successful video on demand (VOD) platform, it's important to monitor audience behavior and use analytical tools to gauge the content performance. This can help you understand which types of content are resonating with your viewers and which are not.
* Monetization Business Models
Pick the video monetization model that best fits your business while researching on how to build & extract profitability in the section of video on demand business. Enable increased viewership of your on-demand videos largely in a constant manner.
* Branded VOD Apps
You can release your professional-type content powered by branded application in order to connect with viewers across mobile, web or TV apps. Customized templates for apps can be created for your website by video streaming app builders & successfully launch them in no time.
Upnext we will be exploring…
How CONTUS VPlayed Helps to Start a Successful VOD Business?
CONTUS VPlayed facilitates content broadcasters, streaming specialists, with a branded VOD platform that is built with top-notch technologies and explored with endless streaming possibilities. They are empowered with a unique video on demand solution that has 150+ features along with 6+ revenue-generating models.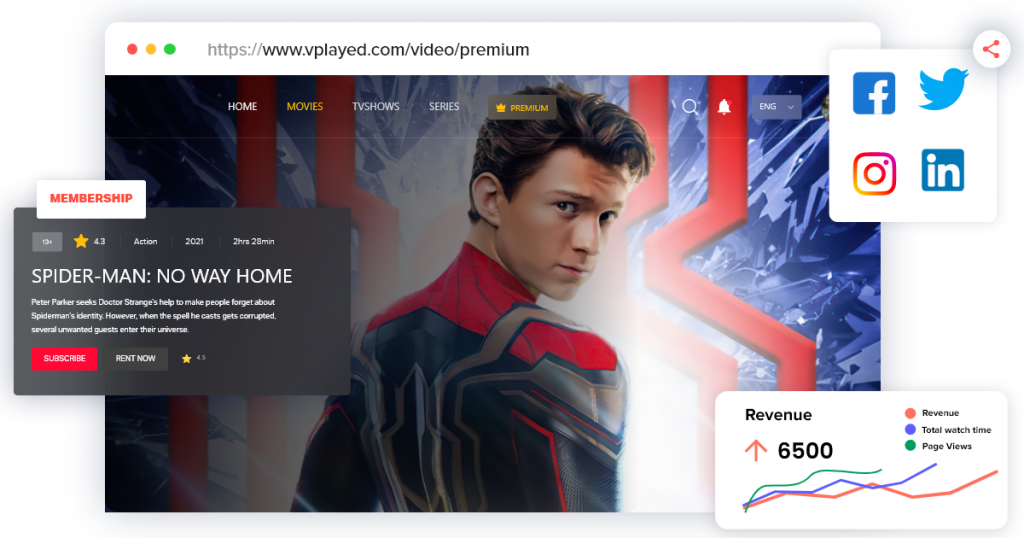 Let's see some of its unique revenue-driven features, by which content owners can reach  audiences by making streams compatible across devices.
# 100% Customizable
Customize and build your VOD platform according to your business-centric needs right from adding new features to integration of 3rd party resources.
# On Cloud/ On Premises
You can easily discover newfound flexibilities for organizations from CONTUS VPlayed. Now platform integration can be done either on cloud or at premises
# Video Hosting
Creating a Video On Demand (VOD) platform with the ability to host videos in multiple locations ensures that your viewers around the world can access the content with minimal latency and buffering.
# Multiple Monetization Model
A business model and monetization are linked ideas in that creating a way to make money and make a profit via top video monetization models which is a crucial component of a good business plan
Creating a monetization strategy for a Video On Demand (VOD) website is an important aspect of a solid business plan. Utilizing multiple monetization models can help increase revenue and provide options for viewers.
# Secured AES
With a meticulously conceived security , VPlayed's 3 tier security elements makes sure your content is safeguarded with AES encryption keys.
VPlayed's 3-tier security system ensures the protection of your content using AES encryption keys. This system is designed to keep your videos safe and secure with a meticulously planned security architecture.
# All Device Video Player
The players functionality of HTML5 video player provides consistent quality of streaming for all video and audio formats. Additionally, users can have choices of using customizable features such as pause, rewind playbacks of their selection.
# In Built Marketing Tools
To build a VOD app with built-in marketing tools, consider using a platform like CONTUS VPlayed which offers SEO optimization, analytics and social media integration. These tools will help you track viewer engagement, measure content performance, and promote your VOD website
Conclusion:
In conclusion, creating a Video On Demand (VOD) website is a great way to share videos with a global audience. If you're considering launching your own white label VOD streaming services, VPlayed is a great platform provider to consider. With its customizable VOD solution, you can easily turn your video business into a reality. Plus, if you run into any issues, their professional support team is there to assist you in all possible ways. Get started today and bring your video business to the next level.
If You Already Have an Idea About Starting a Video on Demand Business, Schedule a Free Demo and We'll Get You On The Road To VOD Streaming Success!

Frequently Asked Questions (FAQ):
1. How To Create A VOD Website For Your Business?
Creating a VOD website for your business can be a great way to reach a wider audience and provide them with on-demand access to your video content. The first step in building a VOD website is to plan and map out your video series. This includes determining the types of content you want to produce, how it will be organized, and what the overall tone and message will be.
2. What Are The Key Features Of A Video On Demand (VOD) Platform?
A VOD platform is a must-have for any business looking to provide on-demand access to video content. The key features of a VOD platform include content management, video transcoding, monetization models, content distribution and user management. Above all, it is important for a VOD platform to have SEO and marketing tools to promote the platform and customize as per the business requirement.
3. How Long Does It Take To Launch A Video On Demand Website?
It typically takes around 3-5 working weeks to build a Video On Demand website. This includes time for planning, content creation, website development, and testing. Indeed, the time frame may vary depending on the complexity of the project, customizations, and additional features such as monetization models and special add-ons. Overall, it is important for businesses to have a VOD website that can be accessed from any device and location.
4. How Much Does It Cost To Build A VOD Platform?
The cost to build a video on demand platform can vary widely depending on a number of factors such as the number of features offered, pricing models, and the level of customization required. In most cases, these primary factors help to determine the cost of building a VOD platform. Apart from this, any additional development services you may require will also affect the overall cost.
5. What Are The Benefits Of Video On Demand For Business ?
VOD provides a simple approach for businesses to stream and monetize their content online. With this facility, customers can easily buy and watch videos on their own schedule. Video on demand allows for streaming content regardless of geographic location and with an easy-to-use website interface. Indeed, building a VOD website also increases brand awareness and enables businesses to track and analyze viewer engagement through analytics.
6. What Are The Best VOD Revenue Models?
As the demand for video content grows, there are new opportunities for businesses to create and monetize their content. Some of the best VOD revenue models include subscription-based video on demand, transactional video on demand, advertising video on demand, catch-up TV, coupons and promotions, and video paywall. These models allow businesses to generate revenue through various methods, such as monthly subscriptions, pay-per-view, and advertising.