Do you find yourself exhausted after pouring immense hard work into creating amazing video content, only to witness minimal returns? If this is the case, you are not alone on the list. A number of business houses and content creators confront the similar challenge of monetizing their videos effectively.
In fact, creating great quality content is only half of the job done; you also need to know the ways to turn it into a profitable revenue stream. In this blog post, we will walk you through the recent and most effective video monetization tactics for 2024. Let's begin!
What is Video Monetization?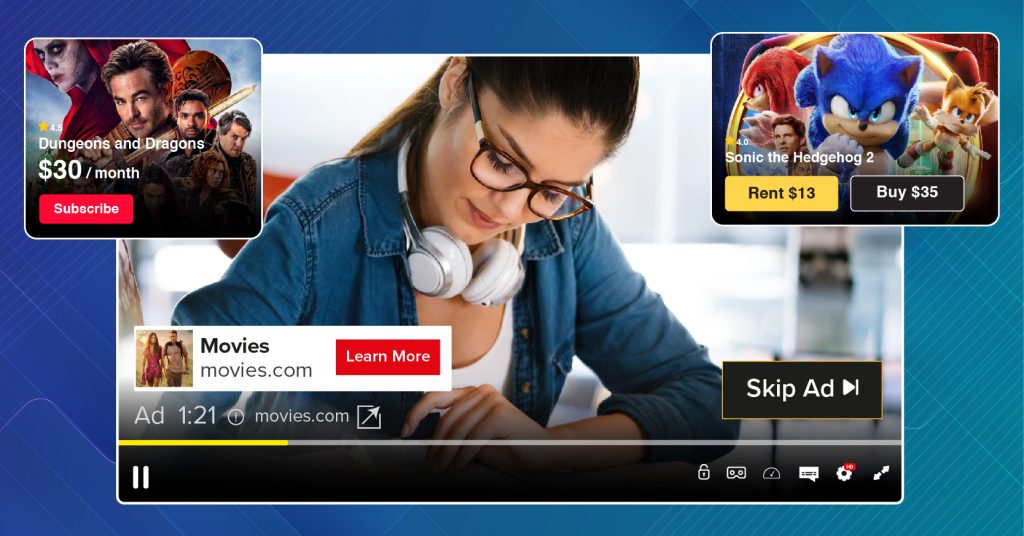 Video monetization is the art of making money by creating and sharing engaging video content. With the rise of online video platforms such as YouTube, VPlayed, and Vimeo, content creators now have more opportunities than ever to monetize their online video content.
Want to Monetize your Video Content for your Streaming Business?
Top Ways To Monetize Your Video Content In 2024
With the increasing popularity of video content, it's no surprise that more creators are jumping on the bandwagon to monetize their content. Fortunately, there are several options available for video monetization, including AVOD, SVOD, TVOD, Sponsored Ads, Coupons & promotions, and Customized hybrid OTT channels. Let's get to know more about them in detail.
1. AVOD: Advertising Video On Demand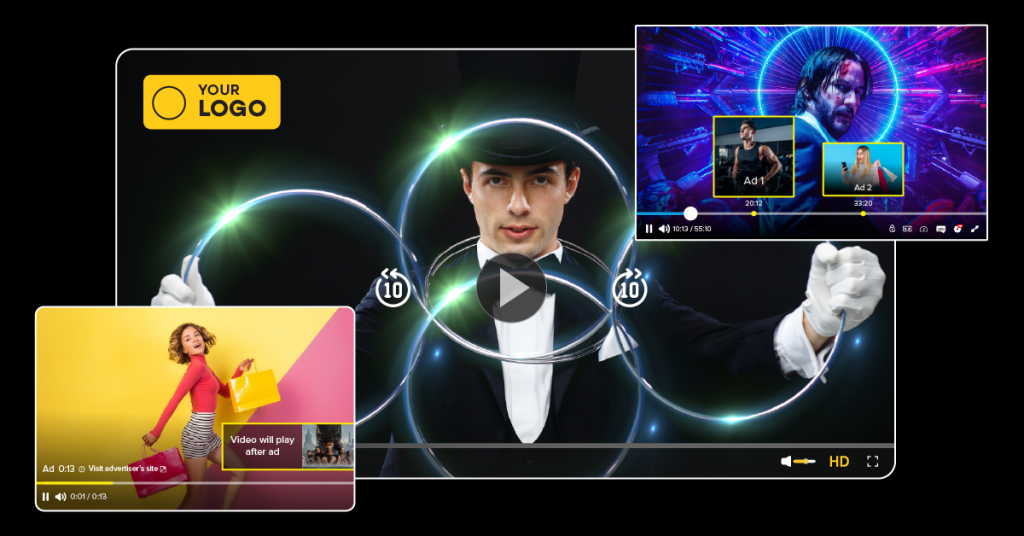 AVOD, or advertising video on demand, is a popular way to monetize your video content through ads. As a content creator, you can place ads at the videos' beginning, middle, or end and generate revenue based on the number of views or clicks.
In this method, the platform shares the revenue generated from ads with the content creators. One well-known example of AVOD is none other than YouTube's ad revenue-sharing model. Here, creators can monetize their videos by enabling ads, and YouTube compensates them based on the number of views and clicks on the ads.
Apart from this, creators can partner with brands for sponsored content, further increasing their revenue potential. For example, a fitness channel might partner with a health food brand to feature its products in an ad, reaching a targeted audience and earning money at the same time.
2. SVOD: Subscription Video On Demand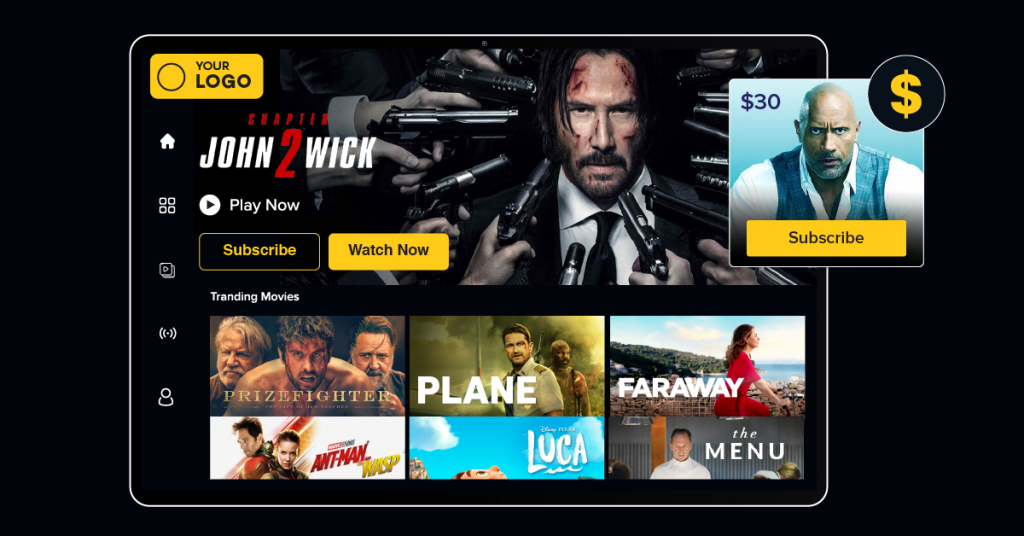 When it comes to Subscription Video On Demand, it involves viewers paying a subscription fee to access exclusive and premium content. Major platforms like Netflix, Amazon Prime, and Hotstar have successfully employed this approach, allowing content creators to leverage it as well.
By offering unique and engaging content to subscribers, creators can generate a reliable income stream for a quite long time. Indeed, OTT platforms typically compensate creators based on the number of subscribers or views they are able to attract.
A prime example of SVOD could be an online course session, where users pay a subscription fee to access a vast library of courses taught by experts from various fields. However, keep in mind that the success of this model heavily relies on the content quality. If the content fails to meet the expectations, the model may prove ineffective.
3. TVOD: Transactional Video On Demand
In this monetization model, viewers are charged for individual pieces of content. This method is commonly used for movies or special events, such as live concerts or conferences. With TVOD, the streaming platform shares a percentage of the revenue generated with the content creator.
TVOD appeals to creators because it allows them to set their own prices for their content and make it available for purchase or rental across various platforms. This enables them to reach a much wider audience while retaining the content ownership.
By embracing TVOD, content creators can seize the opportunity to optimize their revenue potential while simultaneously offering viewers a customizable and personalized viewing experience. This symbiotic strategy creates a win-win situation for both creators and viewers.
4. Sponsored Ads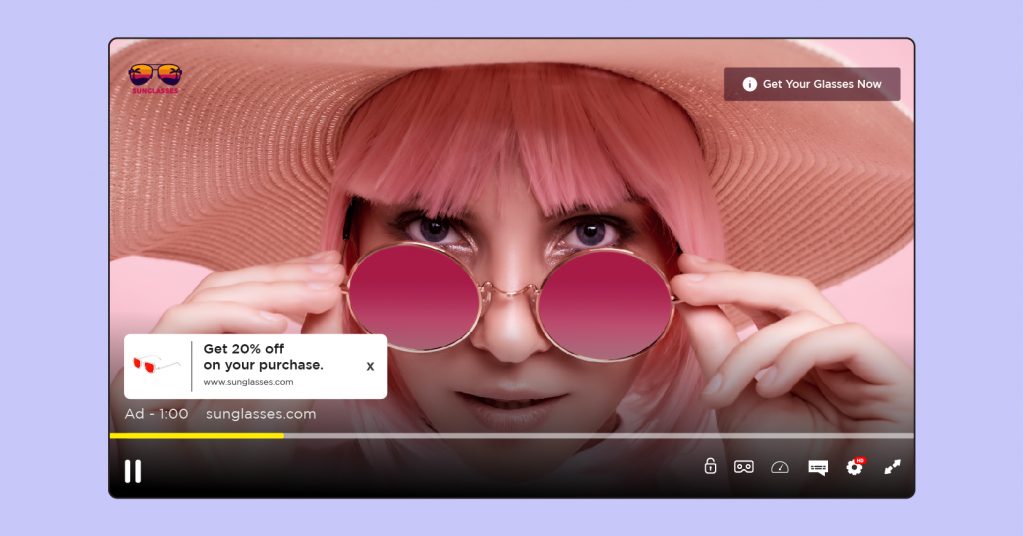 Since the pandemic, Sponsored Ads have gained immense popularity among content owners to monetize their videos. Brands of all niches seek to expand their reach, and collaborating with creators offers a more effective solution.
In this approach, creators are paid by brands to feature their products or services in their videos. One advantage of sponsored commercials is that they blend in seamlessly with video content, avoiding an unduly commercial feel. Yes, that's the beauty of Sponsored Ads.
However, it is always recommended that content creators must transparently disclose any paid partnerships to their audience. Provided this is done correctly, it becomes an advantageous outcome for both the brand and the customer.
5. Coupons & Promotion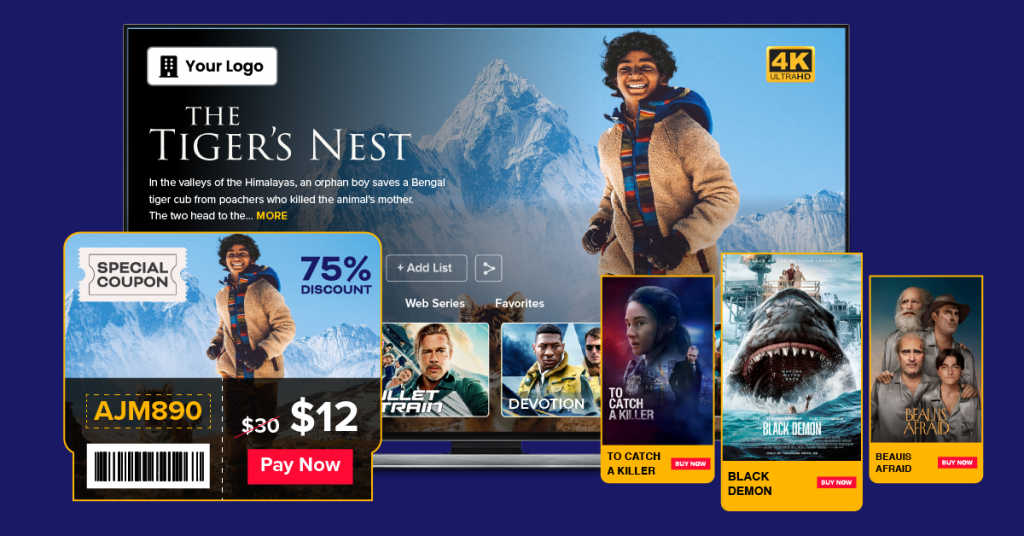 When the question of how to earn via monetization arises? Coupons and promotions enter the scene as an effective approach for content owners to monetize their video work. In this technique, they partner with brands to offer exclusive discounts or promotions to their viewers.
In fact, this method can benefit both the content creator and the brand as the content creator earns a commission on each transaction made, and the brand acquires a new customer. This can even incentivize viewers to make a purchase they might not have otherwise considered.
One thing to remember is that content producers should collaborate only with brands that share similar values and interests to monetize effectively through coupons and promotions. This will ensure that the promotion looks genuine and relevant to the end audience.
6. Customized Hybrid OTT Channels
Content creators now have a novel method to monetize their online video content. This approach involves creating a unique video channel accessible on popular OTT platforms, offering a mix of both free and paid online video content.
With a customized hybrid OTT channel, content owners have the freedom to curate their own channel and provide a combination of both ad-supported and subscription-based content. This enables them to deliver value to their viewers while generating immense revenue out of it.
In fact, by maximizing the use of hybrid OTT channels, creators can seize new opportunities for monetizing their video content while also building a dedicated user community. This further empowers creators to take control of their content and create a unique and profitable platform.
---
Note – In conclusion, creators have multiple options to monetize their video content in 2024 and have the flexibility to choose the one that suits their content and audience. It's crucial to experiment with different methods and analyze the results to build a sustainable business model.
---
How To Build A Video Monetization Platform in 2024?
To build a video monetization platform in 2024 to monetize your engaging content. We have outlined one-by-one steps below for your convenience. The part below will be extremely useful for starting your own platform.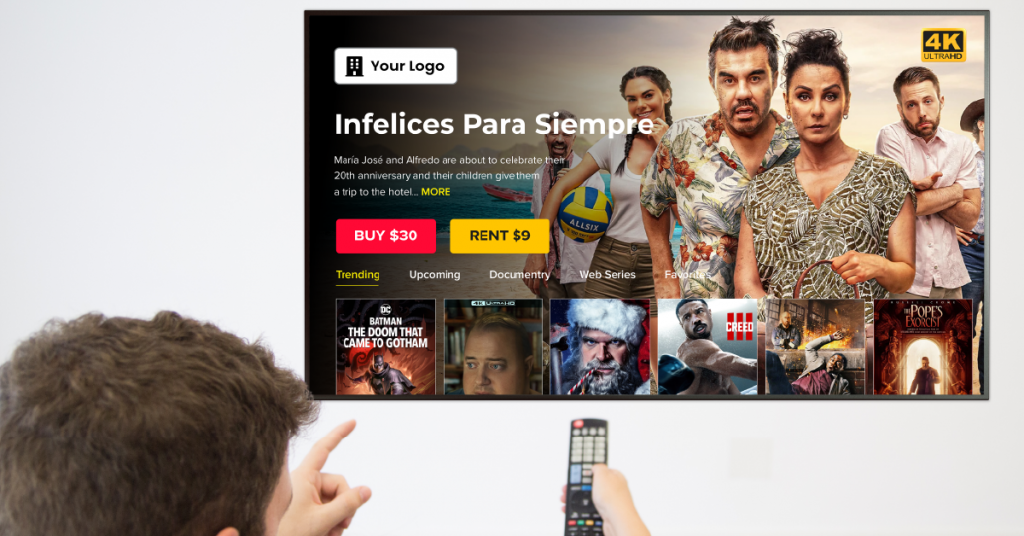 1. Plan Your Content Strategy
To build a video monetization platform in 2024, begin by creating a thorough content plan. This involves identifying the specific types of videos you plan to offer.
Acquire a deep understanding of your target audience through diligent market research and stay informed about the latest trends in video marketing.
2. Choose The Ideal Platform
After establishing your content plan, carefully select a platform that aligns with your goals. Consider factors such as pricing, payout options, and available video monetization strategies.
Look for a platform that offers a flexible pricing structure and supports multiple customization options. Also, ensure that it provides integrated security features to protect your content from piracy and other security threats, ensuring a good user experience.
3. Implement Diverse Monetization Strategies
To maximize revenue potential to the fullest, incorporate various video monetization strategies into your platform. This can include running ads, offering subscriptions or pay-per-view options, and exploring various sponsorship opportunities.
Tailor these strategies to suit your target audience and create a perfect balance between generating revenue and maintaining viewer satisfaction. Fortunately, if both things are done right, then no one can stop you from making the most of video monetization.
4. Optimize User Experience
A smooth and enjoyable user experience is crucial for retaining and attracting first-time viewers. Focus on optimizing the platform's interface, navigation, and playback video quality.
Provide a responsive design that works seamlessly across all of the devices, ensuring viewers can access your content conveniently from any of their network devices.
5. Track Performance And Refine Strategies
Consistently monitor the performance of your videos and monetization strategies. Utilize a range of analytics tools to collect valuable data on viewer engagement, conversion rates, and revenue generated out of your uploaded videos.
By analyzing this data, you can refine your content strategy and make informed decisions to continually enhance and optimize your video monetization platform for the future.
Summing Up
Video monetization is more than a passing fad. And when it comes to properly taking full advantage of video monetization, selecting the right platform is critical.
This is where VPlayed comes into play. VPlayed, with its powerful features and complete support, gives content creators the tools they need to monetize their video content successfully.
From customizable monetization options to advanced security features, VPlayed empowers creators to maximize their revenue potential to the fullest while delivering a seamless viewing experience to their audience.
If You're Ready To Incorporate Video Monetization Into Your Content Strategy, Get In Touch With Us Right Away.


Frequently Asked Questions (FAQ):
1. What is Video Monetization?
Video monetization generates revenue from videos by incorporating ads, charging for access, or employing other income-generating strategies. It enables content creators or owners to earn money from their videos by utilizing platforms, advertisers, and audience engagement.
2. How Can I Monetize My Videos Online?
To monetize your videos online, you can leverage platforms such as YouTube, VPlayed, or social media channels. Start by producing high-quality content that appeals to your target audience. Next, fulfill the platform's monetization criteria. Finally, activate monetization features and explore opportunities like ad revenue, sponsorships, merchandise sales, and more.
3. How to Choose the Best Video Monetization for Your Business?
When choosing a video monetization platform for your business, consider factors like your target audience, content type, revenue goals, and platform features. Conduct research on platforms such as VPlayed, Vimeo OTT, or Wistia, and assess their monetization capabilities, analytics, customization options, user-friendliness, and revenue-sharing models. 
4. What Are the Types of Revenue Models Available in Video Monetization?
Video monetization offers various revenue models:

Advertising-based: Placing ads in videos to earn revenue based on impressions or clicks.
Subscription-based: Viewers pay a recurring fee for premium or exclusive content.
Transactional-based: Charging users for video downloads, rentals, or purchases.
Sponsorship-based: Partnering with brands for product placements or endorsements.
Crowdfunding-based: Relying on audience contributions to support ongoing video production.
5. What Are the Benefits of Using Video Monetization?
Video monetization offer benefits such as revenue generation, wider reach, detailed analytics, diverse monetization options, and valuable support and resources for content creators. They enable earning from content, reaching a broader audience, tracking performance, choosing suitable revenue models, and accessing guidance and tools to optimize video quality.