Are you tired of pouring your heart and soul into creating amazing video content, only to see little to no returns? If so, you are not alone on the list. A number of business owners from different industries struggle during the video monetization phase.
But with the right strategies, it's actually possible to turn your video content into a profitable revenue stream. Also, never forget that creating great and engaging content is only half the battle; you also need to know how to monetize it effectively for higher returns.
Picture this: You have just finished editing your latest video – a showcase of your new product line. You are proud of the quality of the video and excited to share it with the world. But as the views start to roll in, you notice that your revenue remains stagnant.
Sound familiar? If you're nodding your head, don't worry – there are many ways to monetize video content and increase your earnings. In this blog, we are going to show you the latest and most effective video monetization techniques for 2023.
So, grab a pen and paper and get ready to take notes. By the end of this post, you will get all the necessary information you need to turn your video content into a money-making machine.
What is Video Monetization?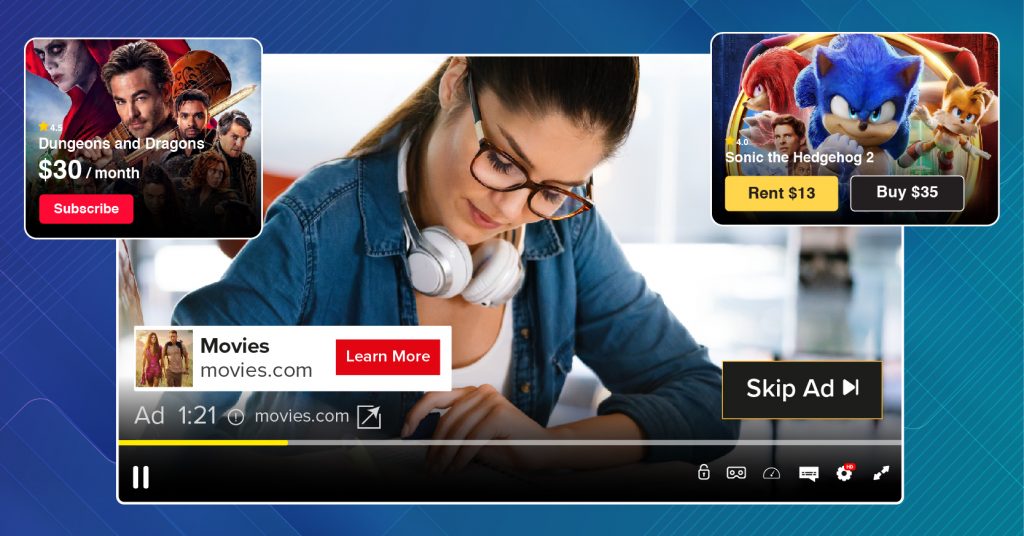 Video monetization is the art of making money by creating and sharing engaging video content. With the rise of online video platforms such as YouTube, VPlayed, and Vimeo, content creators now have more opportunities than ever to monetize their online video content.
Want to Monetize your Video Content for your Streaming Business?
From ads and sponsorships to merchandise sales and affiliate marketing, video monetization can provide content owners with a steady stream of revenue. Fortunately, if you are a content creator looking to monetize your video content, there are many reasons to jump on board.
Not only can video monetization help you earn a steady income from your content, but it can also help you reach a wider audience and build your brand image in front of people. So, why not take the leap and start exploring the world of video monetization today?
1. Access To Individual Content
As stated in the title, monetizing your individual video content can be the key to generating a steady income from your work. Running ads, sponsorship programs, and affiliate marketing are the most popular ways to monetize your video content.
With the right content strategy, you can create engaging and profitable videos for the end users. You can also use analytics tools to track the success of your videos and tweak your short and long-term strategies.
Nevertheless, by monetizing your individual content, you retain control over your personal brand and the message you want to convey. This means that you can actually focus on creating content that perfectly aligns with your values and vision.
2. Access To Your Audience
Monetizing your video content also gives you access to your audience. In fact, you can attract viewers who share similar interests and values. As your audience grows over time, you can build a community around your brand that supports and promotes your content.
This can pay way to opportunities for collaborations, sponsorships, and partnerships. Access to your audience also means gathering feedback and insights to help you greatly improve your content.
Overall, by listening to your audience and responding to their feedback, you can create content that goes hand-in-hand and keeps the viewers engaged. You can also use different social media handles to connect with your audience, build relationships, and increase your reach.
3. Access To Your Platform
One thing we all will agree on is that each platform has its unique features and tools that can help you create and promote your content. By understanding the strengths of your platform, you can create content that stands out and generates revenue from it.
For example, you can use end screens and annotations on YouTube to market your other videos and encourage viewers to subscribe. When it comes to VPlayed, you can use customizable video players to create a seamless viewing experience for your audience.
By making the most of the platform's features and tools, you can create videos that are not only high-quality but also optimized for the platform. Furthermore, this can help you build your brand and establish yourself as a leader in your niche.
Top Ways To Monetize Your Video Content In 2023
With the increasing popularity of video content, it's no surprise that more creators are jumping on the bandwagon to monetize their content. Fortunately, there are several options available for video monetization, including AVOD, SVOD, TVOD, Sponsored Ads, Coupons & promotions, and Customized hybrid OTT channels. Let's get to know more about them in detail.
1. AVOD: Advertising Video On Demand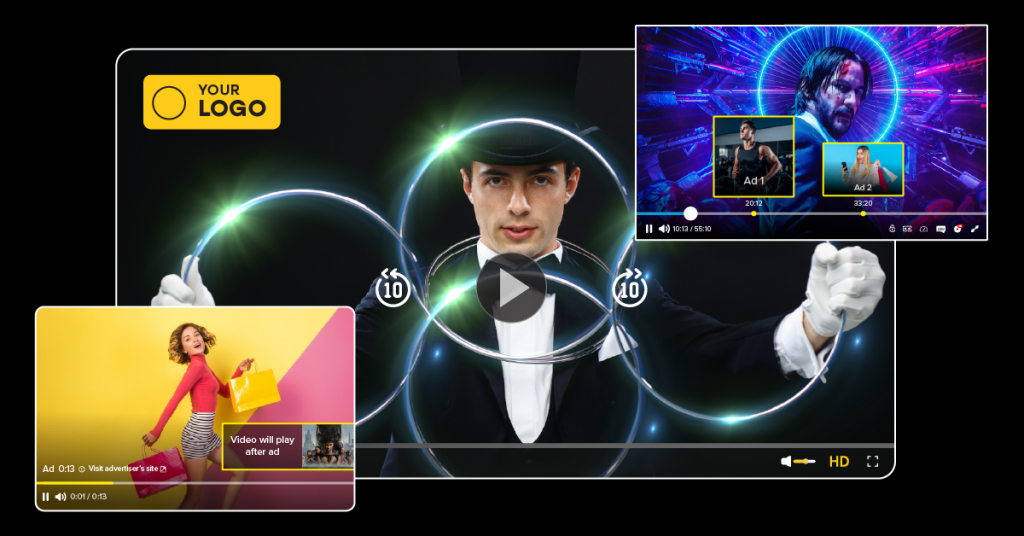 AVOD, or advertising video on demand, is a popular way to monetize your video content through ads. As a content creator, you can place ads at the videos' beginning, middle, or end and generate revenue based on the number of views or clicks.
In this method, the platform shares the revenue generated from ads with the content creators. One well-known example of AVOD is none other than YouTube's ad revenue-sharing model. Here, creators can monetize their videos by enabling ads, and YouTube compensates them based on the number of views and clicks on the ads.
Apart from this, creators can partner with brands for sponsored content, further increasing their revenue potential. For example, a fitness channel might partner with a health food brand to feature its products in an ad, reaching a targeted audience and earning money at the same time.
2. SVOD: Subscription Video On Demand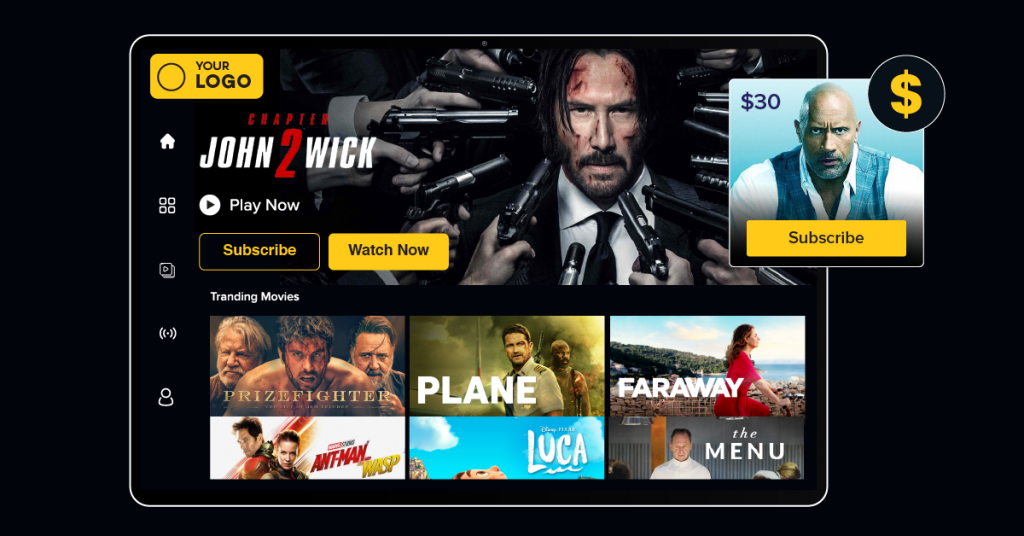 SVOD is another popular way to monetize video content, where viewers pay a subscription fee to access premium content. Platforms like Netflix and Disney+ Hotstar have popularized this method, and creators can leverage it by offering exclusive content to subscribers.
In this method, the OTT platform pays the creator based on the number of subscribers or views. One example of SVOD is MasterClass, where users pay a subscription fee to access a library of courses taught by experts who belong to various fields.
Creators can develop their courses and share their knowledge with a broader audience while generating a steady income stream from the subscribers. However, on the flip side, if the quality of the content is not up to the mark, then this model will fail badly.
3. TVOD: Transactional Video On Demand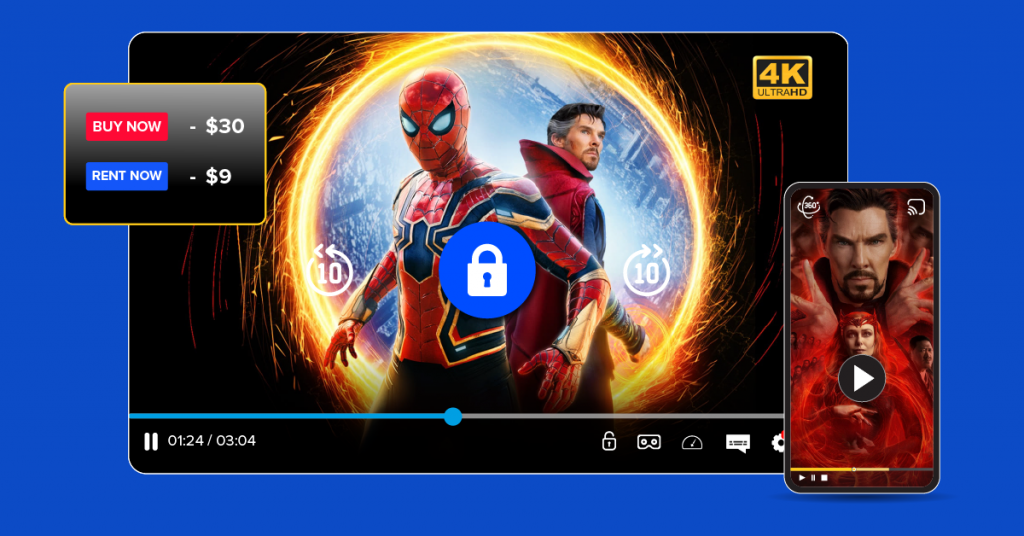 TVOD involves charging viewers for individual pieces of content. This method is popular for movies or special events, like live concerts or conferences. In this OTT video monetization model, the streaming platform shares a percentage of the revenue generated with the content creator.
With TVOD, creators have the flexibility to set their own prices for their content and make it available for purchase or rental on a variety of platforms. This means they can reach a wide audience while still owning their content.
One of the biggest advantages of monetizing video via TVOD is that it allows content creators to monetize their content on a per-view basis. This means that viewers only pay for the content they want to watch, rather than being forced to subscribe to an entire catalog or library of content.
4. Sponsored Ads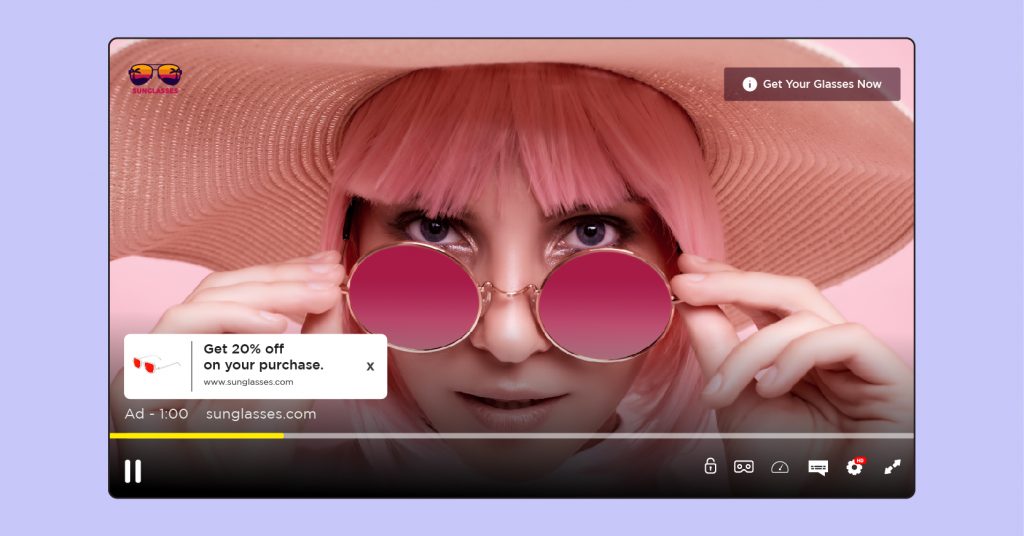 Since the pandemic, sponsored ads have become a more common way for content creators to monetize their videos. Brands are always looking for ways to reach new audiences, and collaborating with content creators is a great way to do so. In sponsored ads, a brand pays a content creator to promote its product or service in its video.
One of the benefits of sponsored ads is that they can be seamlessly integrated into video content without feeling overly promotional. However, it's important for content creators to be transparent about sponsored content and explicitly disclose any paid partnerships to their audience.
Overall, content creators can earn a consistent stream of revenue while also providing value to their audience by introducing them to new products or services. If the end-user required the service or product, it would be a win-win scenario for both parties (brand & customer).
5. Coupons & Promotion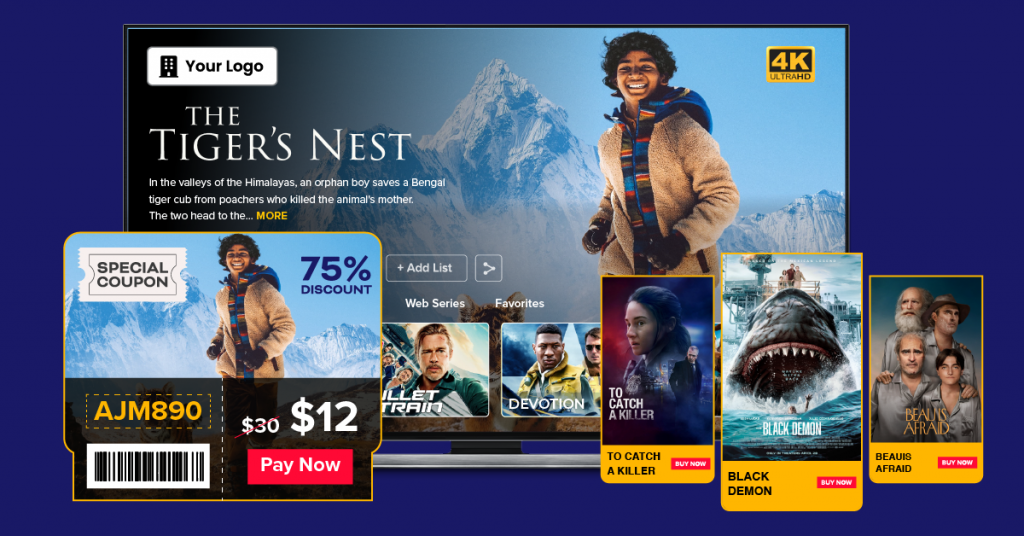 When the question of how to profit from monetization arises, coupons and promotions are another effective way for content owners to monetize their video work. In this kind of approach, they partner with brands to offer exclusive discounts or promotions to their viewers.
In fact, this approach can benefit both the content creator and the brand as the content creator earns a commission on each transaction, and the brand gains new customers. This can even incentivize viewers to make a purchase they might not have otherwise considered.
One thing to remember is that content producers should collaborate with brands that share similar values and interests to monetize effectively through coupons and promotions. This will ensure that the promotion looks genuine and relevant to the viewers.
6. Customized Hybrid OTT Channels
To be frank, this method is a relatively new way for content creators to monetize their video content. This entails creating a custom video channel that is accessible on any of the OTT platforms, such as Roku or Amazon Fire TV, and providing a mix of free and paid content.
With a customized hybrid OTT channel, content owners have the ability to curate their own channel and offer a blend of ad-supported and subscription-based content. This allows them to provide value to their viewers while generating revenue from ads and subscriptions.
One of the big advantages of this strategy is that creators can provide viewers with a more personalized viewing experience. Also, they can offer a tailored viewing experience specific to their niche audience and increase engagement and loyalty among viewers.
---
Note – In conclusion, creators have multiple options to monetize their video content in 2023 and have the flexibility to choose the one that suits their content and audience. It's crucial to experiment with different methods and analyze the results to build a sustainable business model.
---
How To Build A Video Monetization Platform in 2023?
Creating engaging content and monetizing it is not easy; you must have a checklist and a firm plan in place, which we have outlined one by one below for your convenience. The part below will be extremely useful whether you are making video content for fun or for a living.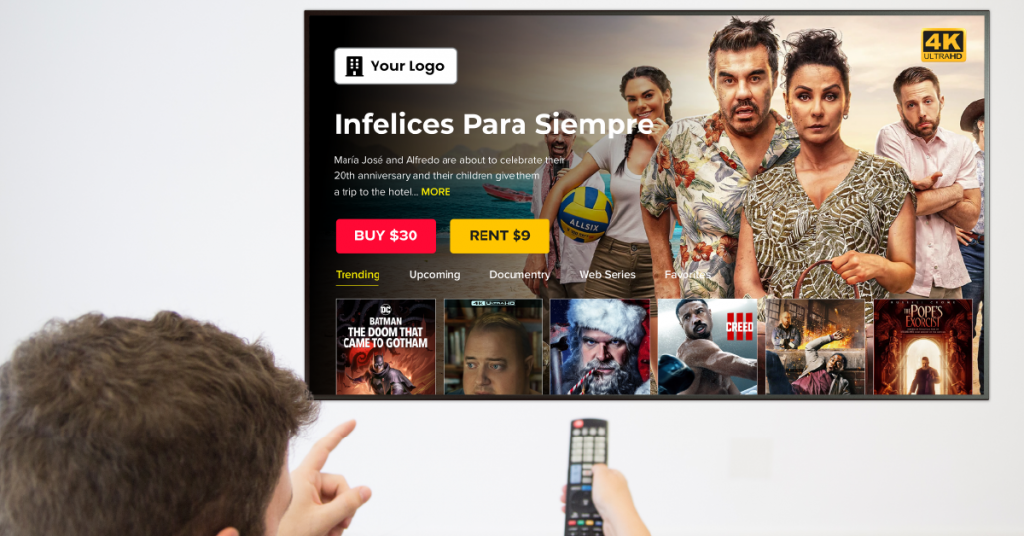 1. Plan Your Content Strategy
If you want to build a video monetization platform in 2023, you first need to create a content plan. This means figuring out what kind of videos you want to offer on your platform, and how you plan to monetize them in the best way possible.
As you have planned to effectively monetize video content, you need to clearly understand your target audience. This can involve conducting market research, analyzing existing video streaming platform, and staying up to date with the latest trends in video marketing.
2. Select The Right Platform
Once you have a content plan in place, the next step is choosing the right platform. When selecting, it is important to consider factors such as pricing, payout options, monetization strategies, etc. Look for a platform with a clear, flexible pricing structure that meets your needs.
You should also ensure that the platform supports multiple monetization strategies with high customizability and integrated security features in order to provide a seamless user experience and safeguard your content from piracy and other security threats.
3. Create Compelling Videos
Now that you have a solid plan and a platform in place, it's time to produce your content. Depending on your video monetization strategy, you may want to create a variety of different types of videos, such as tutorials, product reviews, comedies, interviews, etc.
When producing your content, make sure to focus on quality over quantity. It's always been that High-quality videos are more likely to attract and retain viewers. Finally, consider leveraging social media and other marketing channels to promote your content and attract new viewers.
4. Choose Profitable Monetization Options
Once you have produced your content, it's time to configure your monetization preferences. This involves selecting the specific monetization strategies you want to use, setting pricing for your content, and configuring payment and payout options.
When selecting your monetization strategies, consider the options that are best suited to your content and audience. Popular options include advertising, sponsorships, subscriptions, pay-per-view, etc. By carefully configuring your preferences, you can optimize your revenue streams and maximize the profitability of the best video monetization platforms.
5. Launch Your Video Site
Now it's time to launch your site; before doing so, make sure to thoroughly test your platform to ensure that everything is working fine and that your users will have a smooth experience. This may involve testing video playback, payment processing, and other key features.
You should also make sure that your site is optimized for search engines and mobile-friendly, as this can help attract more viewers and increase engagement. Finally, consider launching a special promotion or offer to encourage users to sign up and start using your platform.
6. Maximize Reach And Revenue
Launching your video monetization site is just the first step in building a successful platform. In order to continue growing and optimizing monetization, it is important to focus on expanding your reach. One way to do this is by actively promoting your content on social media.
To optimize monetization, consider experimenting with different pricing strategies to see what works best for your content and audience. You may also want to offer subscribers exclusive content or special access to increase loyalty and overall revenue.
Summing Up
In conclusion, video monetization has become crucial to online content creation. With the increasing popularity of online video streaming platform, it has become essential for content creators to find ways to monetize their content to generate profit it.
Whether through advertising, sponsorships, or brand promotions, plenty of opportunities are available to monetize online videos. By staying up-to-date with the latest trends, one can maximize their earnings and build a sustainable career in this growing space.
Overall, video monetization is not only about making money but also about creating valuable content that goes well with the audience. As a content creator, finding the right balance between monetization and audience engagement is essential to witness long-term success.
By keeping up with the latest trends and developments in video monetization, you can ensure that your content remains relevant and profitable in the years to come. Also, partnering with the right online video platform can also make a huge difference in your success as a content creator.
If You're Ready To Incorporate Video Monetization Into Your Content Strategy, Get In Touch With Us Right Away.