The global over-the-top services market has significantly driven the growth of various streaming companies.
As the demand for Smart TV app development continues to rise, newer innovations.
And advancements in Internet penetration, smart TV, mobile, and 5G infrastructure are set to further fuel the streaming marketplace, with a particular focus on original content production.
Nevertheless, a number of Smart TV app development companies in the market offer a remarkable platform that engages consumers with bigger screens, delivering a grand viewing experience.
Also, these apps provide users with enhanced surround sound, leading to positive adoption rates, especially after the outbreak of the pandemic.
What is OTT & what does OTT stands for? Explore the meaning and definition of Over The Top with its working and why it matters to your video business.
Over The Top, also known commonly as OTT, is a technology that enables content owners to manage the process of delivering video content across multiple devices using the internet.
OTT is quickly gaining attraction as a viable alternative to traditional cable television programming.
This new trendsetter of OTT platform streaming is particularly popular among teenagers due to the availability of new web series, tv shows, play stations, & what not!
The meaning or interpretation of OTT has bridged the possibility to watch preloaded television episodes or on any kind of OTT content an unlimited number of times. All of these are structured in a large & centralized library of multilingual movies.
With all of this information, you might be curious to learn more about what does this " OTT " actually means, right?
Alright, folks… We are here to unveil this ever exciting subject to talk about which represents the future of entertainment the one that is already taking shape.
What is an OTT?
A dedicated OTT is compiled with any number of streaming services that is delivered over the use of internet. Its media services are configured to any device & content broadcasters can outreach audiences with their content globally.
For example, consumers would sign up for subscriptions or for one-time view added with in-stream ads in services like Netflix or Spotify to access thousands of content from anywhere at any time.
An OTT media service is any online content provider that offers streaming media as a standalone product/service. The term is commonly applied to real-time-based streaming service.
Usually, traditional media distribution routes such as telecommunications networks and cable television providers are bypassed by OTT services. The best highlight is, as content owners you can provide the entire service whenever you wish to use it, or else you can also allow your users to download videos and play them in offline mode too. All that it takes is to have a stable internet connection – either locally or through a mobile network.
What does OTT stand for?
The term generally refers to the commercialized practice of streaming content on the world wide web. OTT stands for "over-the-top" televisions, which provide a simple and exclusive way to enjoy entertainment over the internet.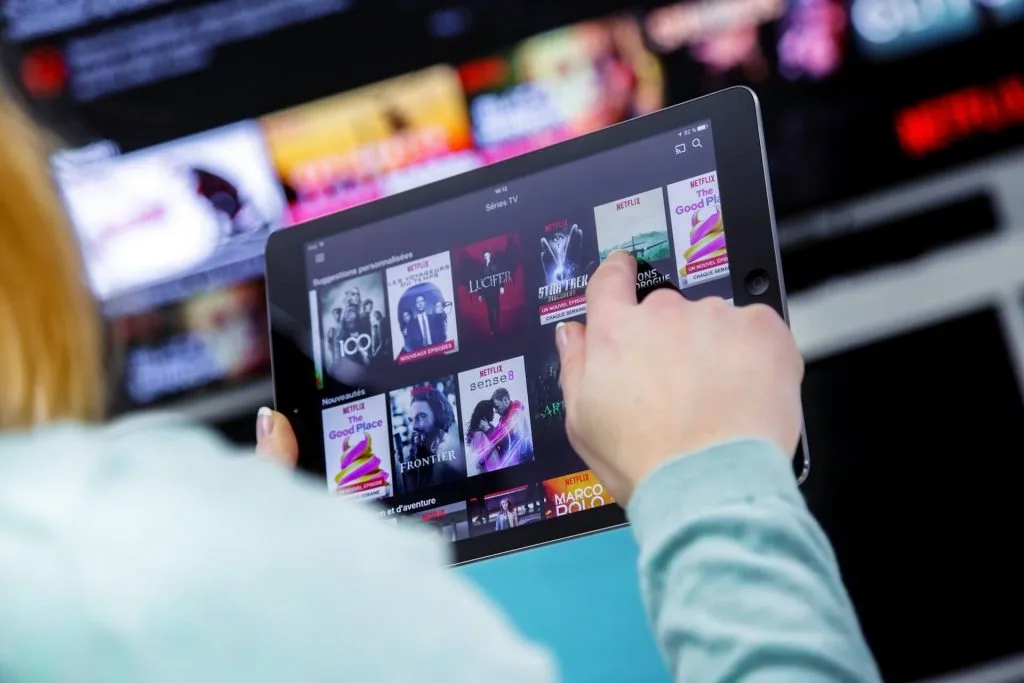 The term OTT refers to services such as movies and television shows that are supplied over the top of the internet by content owners, broadcasters, distributors, etc such as production companies, broadcasting channels, etc.
Paid subscriptions are the most common way for OTT services to be monetized, however, there are exceptions. Genres of content that many top OTT platforms showcase through the digital source of the internet include movies, audio advertising & albums, short documentaries, periodic reality shows, exclusive premium shows, live TV, etc. The main industry player examples are Netflix, Disney Hotstar, Apple Music, Spotify, Hulu, Amazon Prime, and much more.
What is the meaning of OTT?
OTT means "topping up the excellence of entertainment," as it moves beyond YouTube & social media. Yes, of course, this mighty industry of OTT stands for over-the-top. This content is available to watch on computers and other OTT devices. However, the word right from regular viewing to "premium" HQ viewing makes a vivid difference. Using wireless internet, premium material, and high-quality, eye-gluing experiences are offered.
Here is how OTT Media technology works in action:
Firstly, media broadcasters upload video material to an

over-the-top (OTT)

streaming services.

Next video data is transmitted through remote servers via seamless CDN Networks.

Later, your viewers can have varied content choices from user-end video gallery & stream

Finally, HLS video player on device pulls video content from CDN's video streaming server via internet & disseminate
---
---
How Do OTT Services Work Technically?
The integral aspect of choosing OTT streaming over conventional methodologies of showcasing entertainment depends on a promising video delivery environment that is at par. While noticing the inherent problem in serving TV content stereotypically it doesn't maintain a wide range of network performance.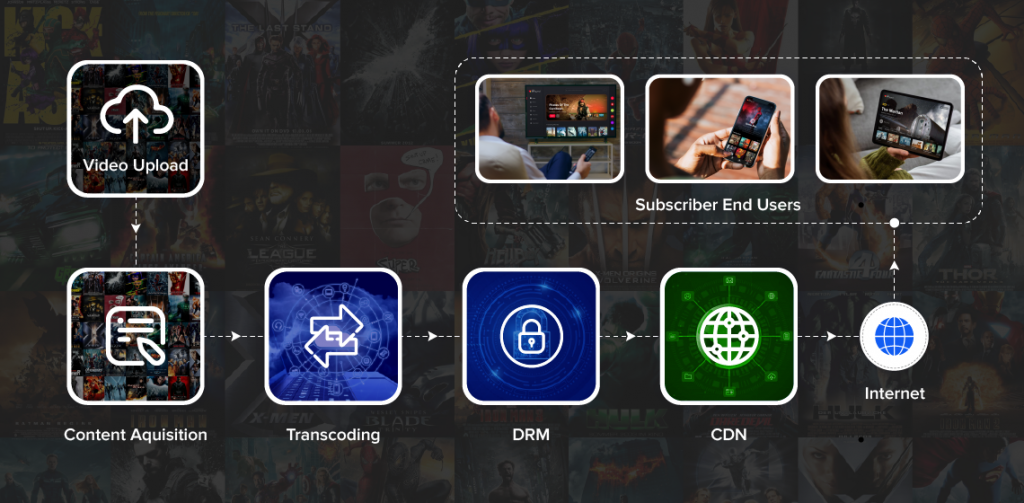 Being at a high level, over-the-top media services are distributed in an unparalleled way to minimize the impact of such parameters. OTT technology will flexibly adjust to network performance of the entire transmitting chain live, withholding any buffers in between.
Ideally, during a swift network, the advanced player will buffer additional content in the first place & get ahead when smoothening periods of stagnation. This is done with ABR technology accelerating streams across devices like Roku, Firestick, Apple TV, Android TV app, or Laptop.
What Types of Content are Suitable for OTT?
While most people associate over-the-top streaming with video-on-demand, the technology truly encompasses a wide spectrum of web-based content. They are fragmented into: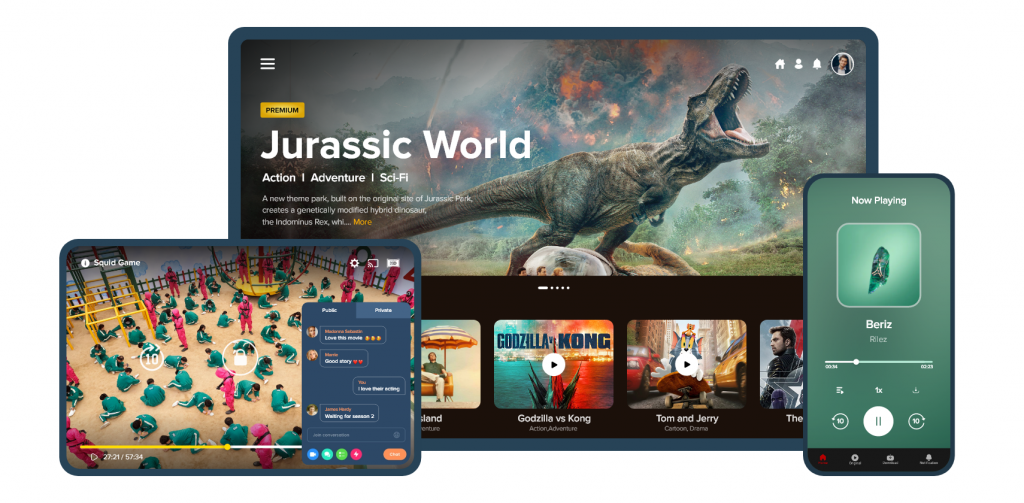 The most well-known form of OTT media services is associated with video streaming. Monthly-based or full-scale video subscription services like Netflix paid stores like iTunes, or ad-supported services just like YouTube are all popular.
OTT solutions integrated into a streaming service can also be used to stream audio. It has led to defining the future of digital music. Online radio stations live audio talk shows and podcasts are some of the most popular examples. Therefore, has become a viable model for monetization.
Users are connected directly through the internet, bypassing mobile SMS networks, via over top-based instant messaging services. These services are available from Facebook, Google, Skype, WeChat, and a range of other companies. Most can replace or integrate with text messaging functions on smartphones.
Now let's look into how OTT videos are delivered
How OTT is Delivered?
One of the major reasons why OTT entertainment is so popular is its all-time accessibility. Customers only need a high-speed internet connection and a connected device that can run apps or browsers which is finely created through OTT app development to watch your exclusive content.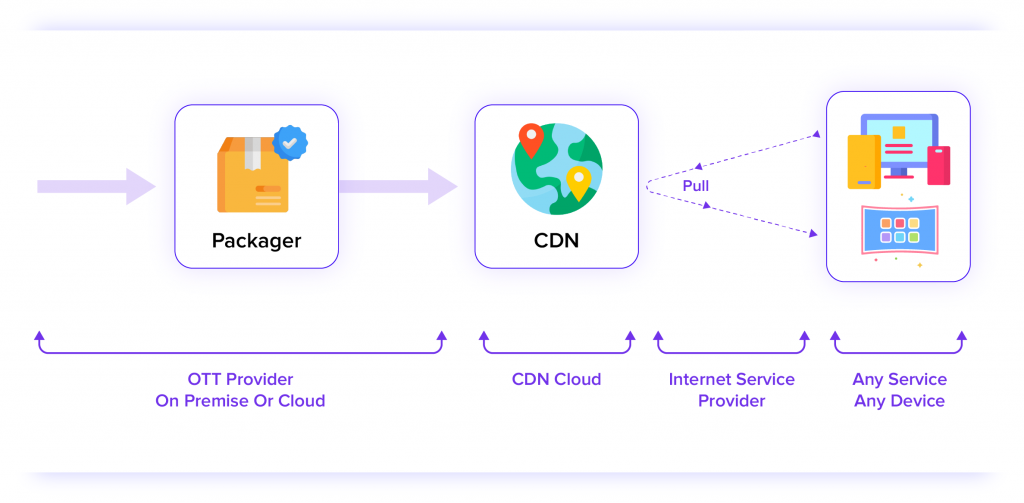 There are many devices through which you can entice larger segments of the audience.
1. Mobile OTT Devices
As you may know, with the HQ stream renditions OTT media can be downloaded for relishing entertainment on the move on smartphones and tablets.
2. Personal Computers
This medium of OTT stays with unlimited boundaries, and this makes it easier for people to access materials using desktop apps or web browsers in every corner of the globe.
3. Smart TVs
The ability to sign in to your personalized account on the OTT media is made effortless! Therefore, through devices like Roku, Apple TV app, or Fire Stick you can access your subscriptions anywhere at home.
4. Gaming Consoles
Target demographic within console games can be acquired via online video content where users tend to stream their favorite shows with popular Playstations like XBOX one, Sony Playstation4, etc.
When we find OTT's definition through different sources, we come to know that this streaming technology has evolved so much in trend that binge-watching has made a susceptible change in the industry. Let's look into its key takeaways!
---

Launch Your Branded OTT Service Instantly!
Schedule a Free Demo With Our Product Experts
---
Benefits of Having OTT For Your Business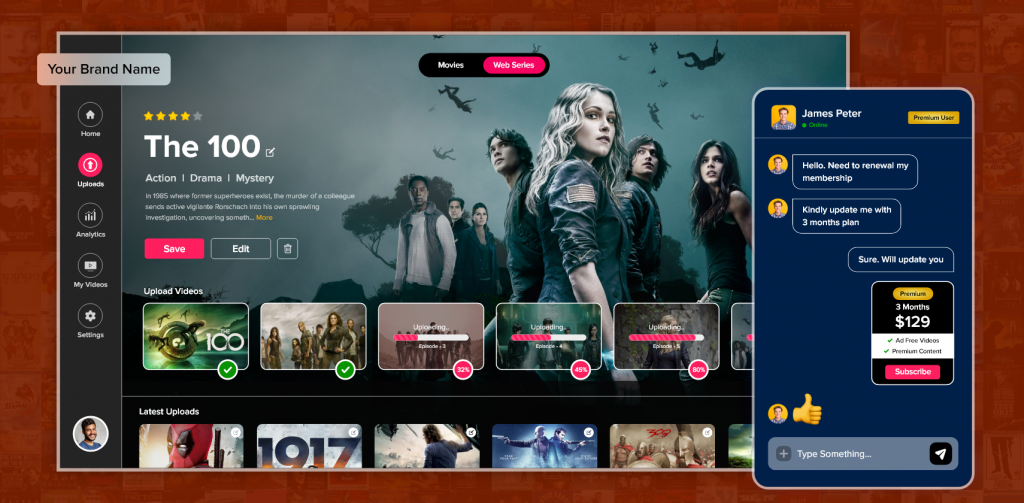 1. Control & Take Charge
OTT means you have complete control over your creative content along with the brand, UX, audience analytics, monetization & other archive data during the time of launch. Youtube doesn't give you that option.
2. Power Up with Ad-Free Content
OTT has opened up the biggest possibility for showcasing ad-free content, with subscription services powering digital campaigns, targeted video advertising & inclusive of direct sponsorships.
3. Approach Directly to Consumer
If your viewers ask what does OTT means and how it will be useful to me, then you can surely let them know, it is the best way to reach the target audience with valuable content. Then, you can directly give a VOD premium experience that you control. This enhances direct engagement, gaining prompt feedback.
4. Consumer Freedom is the Game Changer
Consumers find exactly what they are looking for since the emergence of OTT. More than ever, it gives maximum industry uptake, when users find utmost convenience and only pay for services that they opt for.
So far we have looked into what's all in there in OTT & saw how much we can have effective results adapting it. One of the leading digital-first OTT video streaming, CONTUS VPlayed gives 100% solutions in over-the-top services that you are looking for yourself to empower in this trend.
Let's give a brief overview of some of its turnkey features!
---
---
What Are The Great OTT Business Opportunities?
OTT undoubtedly symbolizes the future of media, whether you're following up-and-finding new or binge-watching the latest Netflix Original series. Being a part of it is an exciting moment. To get an overview, OTT technology has enormous potential to gain leverage, especially in non-entertainment sectors, added to worldwide adoption.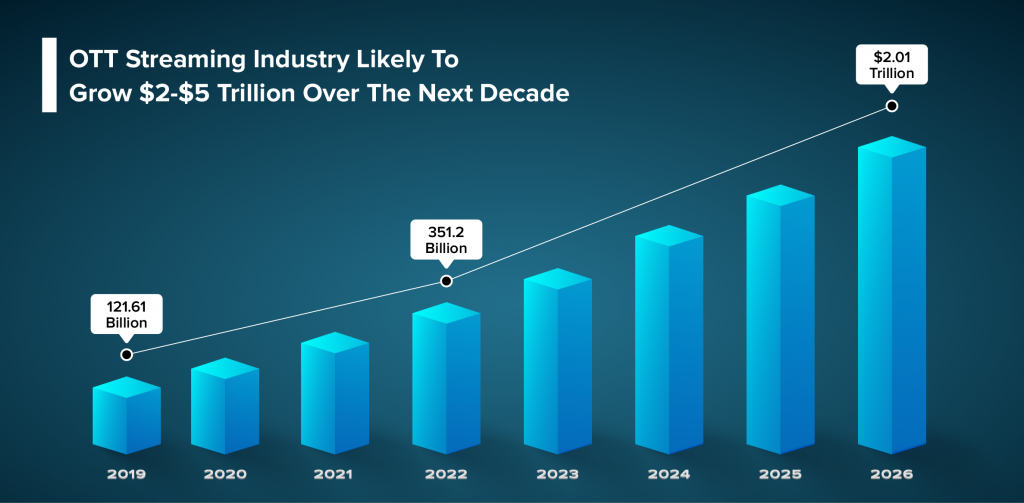 As stats indicate that on a scale of 100% nearly half of it has witnessed huge adoption of over-the-top services in North America leading the way.
As the major broadcast networks such as ABC, CBS are prone to become extinct, the need for content is forcing these businesses to reconsider their marketing and delivery strategies. The main TV channel networks aren't giving up their broadcast streams but likely work to pitch the OTT audience with digital streaming through OTT apps, and more.
What are the key challenges of OTT to consider?
Of course, there are some significant pitfalls in OTT that you should be aware of!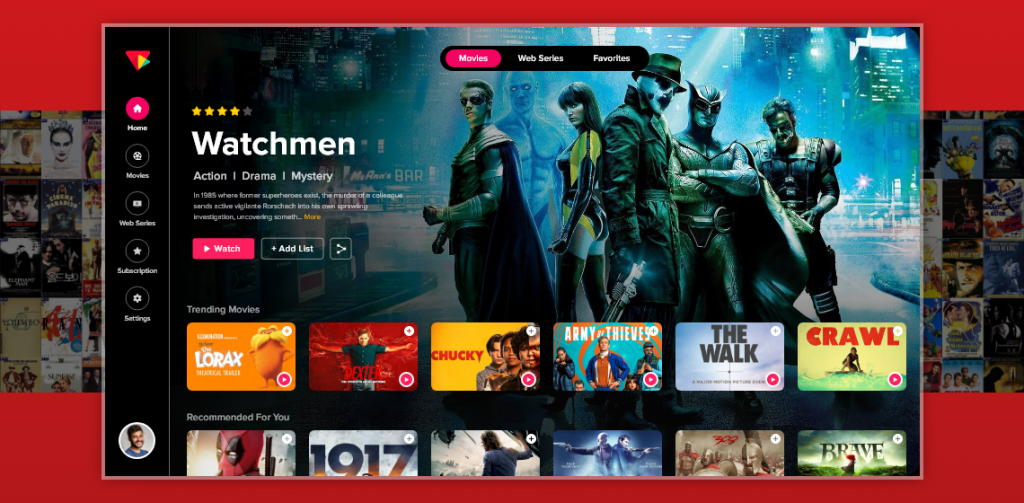 Definitely unveiling them would help you to know the other angles of the aspect, and make a wise decision that's perfectly a business fit in relation to brand objectives.
Some of them are listed below:
With heavy loaded distribution picture quality is a challenge, but premium OTT testing and monitoring tools can help
Multiple video streaming services, CDNs, and local Internet are frequently used in OTT applications, creating room for troubleshooting issues
For OTT providers, surely a good user experience will be a critical difference, impacting services
Live OTT delivery is a bit more difficult because it must work across, non-reliant internet networks and distribute to an infinite number of devices
Also guareeded HQ delivery, operational intelligence becomes a key aspect to ensure for users as OTT providers
How to Build a Prospective OTT Service?
When most people think they get reminded of OTT services such as Netflix, Amazon Prime, Disney+, Hulu, and others. Are you looking to be one of the top ones?? Here is some primary stuff that you'll need to do!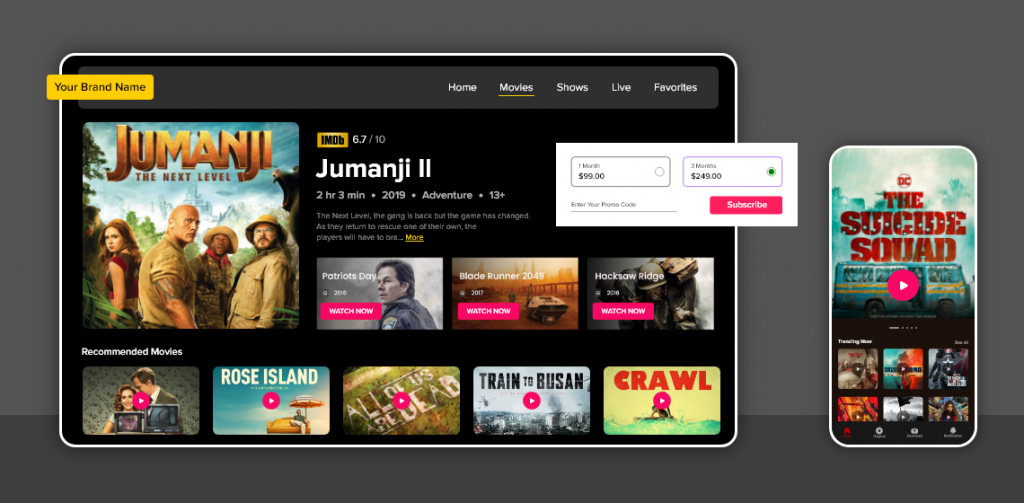 1. Select a Popular Category
You'll need to choose a popular industry niche when you start building your self-hosted OTT service. Today, one of the most identified & trending niches is entertainment. If you are ready to make one, where audiences can associate with behemoths like Netflix, you would stick as a competitor in the market outlining a meaningful streaming landscape.
2. Go For A Unique Monetization Model
OTT channel owners can monetize both on-demand and live videos. On-demand content is becoming prevalent, where targets can view them leisurely or engage in ongoing live content from anywhere across the globe. Both of them can be integrated once created with revenue-building of video monetization platform models like SVOD, AVOD, TVOD, PVOD, Catch-Up TV, SSAI, etc.
Recommended Read: Difference Between CSAI vs SSAI
3. Make Your OTT Video Website
It's time to develop a website where you can embed & host your films now that you've decided on your business plan. Using a website to distribute your content creates a lucrative room to scale up the business. Right from adding it to your budding email list, integrating payment gateway, engaging audiences live & furnishing quick customer support will help you to grow prospectively.
4. Develop a Professional OTT App
OTT apps are the frontiers of video streaming, giving customers the freedom to view anything they want, whenever or wherever they want, on any device. Firstly, you will have to decide what kind of content you are aiming to put across which can be interest-friendly & have leaping visits on your app. Let's say, if your videos are focused on fitness, you can offer the best stay-fit practices.
5. Let Your Curative Content Be Device-Friendly
It's vital that your content delivery shouldn't be restricted just to mobile or desktop. Ensure that it can be conveniently downloaded or accessed from any device, which includes Tablets, Gaming Consoles, Blu-ray players, Smart TVs, etc. Making sure of content available across devices can help you to outreach larger audiences effortlessly.
6. Prefer To Shape Your Brand With End to End Support
Unless you allow in-app purchases with secured payment gateways or incorporate multi-DRM solutions, subscribers will be unable to purchase or access content with surety thus allowing them to utilize the app. That's why end-to-end solutions for your best video streaming platforms support are vital. This helps to consistently serve nothing but the best, assuring heightened brand loyalty.
Hire Our Dedicated OTT Developers
Looking to bring your innovative OTT vision to life? Our team of dedicated OTT developers are ready to turn your ideas into an engaging digital reality. We understand that your unique content deserves a platform that mirrors your aspirations.
With years of experience in crafting seamless streaming experiences, we take pride in building not just apps, but immersive entertainment ecosystems. From conceptualization to deployment, our approach aligns with your distinctive style.
We know that creating an engaging user interface, supporting various monetization models, and ensuring cross-device compatibility are crucial for your success. Our developers excel in designing custom OTT solutions that seamlessly adapt to evolving industry trends.
Let's collaborate and redefine the way audiences experience entertainment – all through a dedicated OTT solution that goes hand in hand with your brand's identity.
---
If You're Thinking of Creating Your Own OTT Channel To Generation High Revenue
---
OTT Features on CONTUS VPlayed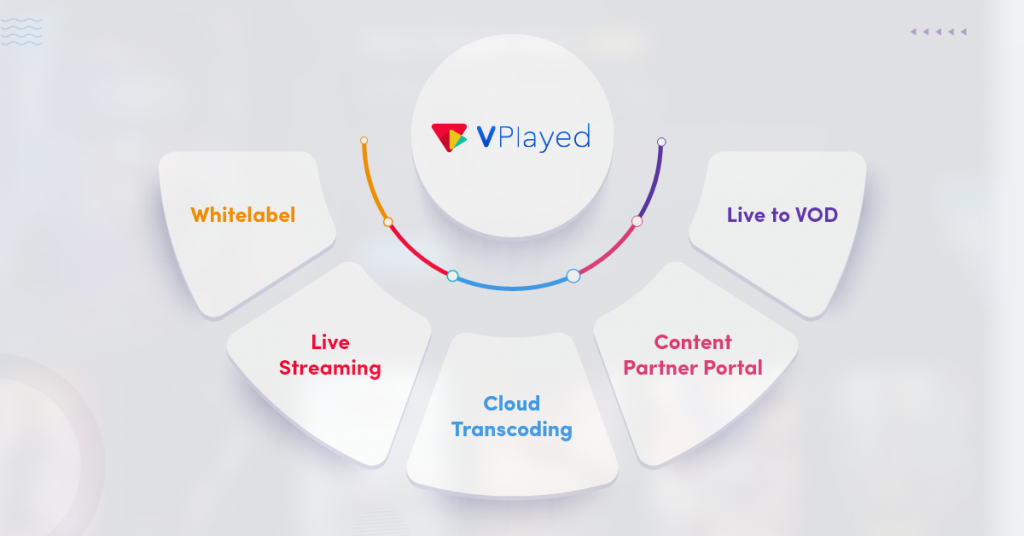 Whitelabel it Completely
Get a completely tailor-made White label OTT solution and grow your brand exposure for a one-time cost rather than thinking of hiring an in-house development team full-time.
Live Streaming is an instant survivor
Live streams give the basic video on demand definition when one looks for what is OTT is and knows its beneficiaries. By distributing & monetizing live content, you can deliver an excellent viewing experience.
Cloud Transcoding makes it crystal
Now you may start an OTT platform by streaming your films by encoding & transcoding on an HTML media player, in a variety of codecs such as MPEG-2, AV1, H.264, and others.
Content Partner Portal is the best option
Collaborate with the finest over-the-top channel partners and host your patent content on your service. Fix OTT pricing with digital partners to provide access control measures & track your partners' activity.
Live to VOD lets you draw sustainable means
Record live streaming videos on your VOD automatically. For a semblance of real-time viewing needs, make them available as top-rated on-demand videos to your regular viewers as well.
Final Thoughts
Finally, when it comes to surviving in this fast tide of rapid moderation, digital streaming infrastructure has served as a boon. Mainly for broadcasters, video publishers, content owners like you, who can create profitable revenue stream engines on the go!
VPlayed helps you to skyrocket your streaming business to the next level by breaking down the barriers of entertainment, in contrast to traditional television broadcast networking.
If You Already Have An Idea About Launching An OTT For Your Services, Schedule A Free Demo And We'll Help You Implement It!

Frequently Asked Questions(FAQ)
1. What Is OTT (Over The Top) And Its Meaning?
OTT stands for "Over The Top " which refers to any kind of streaming service that transmits content through wireless internet. Usually, over-the-top(OTT) is named with reference to devices that allow users to easily access media content by going "over" satellite or cable connection or can say without using a cable box. The key difference is users needn't depend anymore on traditional broadcast providers, after shifting to OTT.
2. How Does OTT Work?
As the meaning of the name 'OTT' implies about services delivered 'on top of the other service, it depends on providing contended user experience at a wide range of network performance. OTT technologies are designed to minimize the impact of parameters like internet speed, a display device, network loops between provider & end user. Thus, it will adapt to the entire chain of network performance in real-time to scale up the best quality.
3. Why OTT Is Important For Your Business?
The definition of what is OTT carries high importance since its seen as a new phenomenon, where there's a lot of room for expansion. Many media companies are entering the OTT industry, giving consumers plenty of options to view & boost the amount of content inventory available to broadcasters, advertisers. As more people cut the cord and go-to online media consumption, OTT services will have a huge scope to captivate revenue growth for long years.
4. What Are The Challenges Of Launching An OTT For Your Business?
Talking about what kind of real challenges does bother our OTT businesses in the industry, we get to know the importance of distribution, exclusive pricing, and futuristic affordability. These limitations directly mean that big transitions counter more implications than just cutting cords with cable services. Undoubtedly, the fact can't be ignored that conventional entertainment has shifted its way of offering services, but also determines how we watch them too.
5. How To Create An OTT Service For Your Brand?
It is important for you to have first-hand benefits of knowing what is all in there in an OTT service. Business components like the bespoke solution, white labelling services, lifetime ownership, one-time licensing cost, cross-platform support & much more. They underplay in creating an OTT service while you can enjoy reaping maximized revenue paybacks supported through customized monetization models.
6. What Is The Way To Become More Successful In The OTT Industry?
The OTT video market stand for global media opportunities for decades, so a wait-it-out approach for growth is not a viable option. Content brands can smartly answer what does it take to create a successful OTT offering. Some of them are: defining content strategy, building core business model agility, sketching a distribution roadmap across streaming, marketing tactics, refine video services with technology, etc.