The number of video outlets has increased dramatically in recent years. Since there are so many VOD platforms in the competitive edge, the revenue approach is equally diverse. On certain platforms, the steady standpoint mentions about the revenue flow which is generated through video advertisements, monthly subscriptions, and keenly through transactions or PPV model.
TVOD or Transactional video on demand which is also known as PPV can assist with individual videos to be sorted & allow consumers to either rent or buy. These video monetization platform are commonly known as AVOD, SVOD, and TVOD, respectively. Some of the key VOD players in the market are Netflix, Prime Video, Roku, & HBO.
The scenario with cable or telecom operators face a double-edged sword, in the form of new technological landscape of OTT. As a result of this, operators need to device a strategy that they have been looking for, in case of diminished profitability.
Some platforms earn money by charging customers with a monthly or annual subscription fee (SVOD), while others make money by casting instream ads several times. They are streamed throughout a viewer's experience (AVOD).
Today, we'll be taking you through how transactional video on demand will refine your strategies of revenue upscaling in the world of video streaming & know about its whereabouts in this blog post.
Let's get started.
Generally, TVOD models have the ability to generate volume revenue business making it a clear-cut path for immediate scale-up.
For example….
iTunes make revenue share from a consumer while renting 2 or more films in a month, as compared to Netflix providing its entire catlog on monthly basis..
An interesting fact crosses us which says..
On an average,
"TVOD providers with a multi-country presence, advertise a lower percentage of EU27 and European films: 11% and 25% of all brand promotional spots, respectively." Source:BroadbandTVNews
What Is TVOD?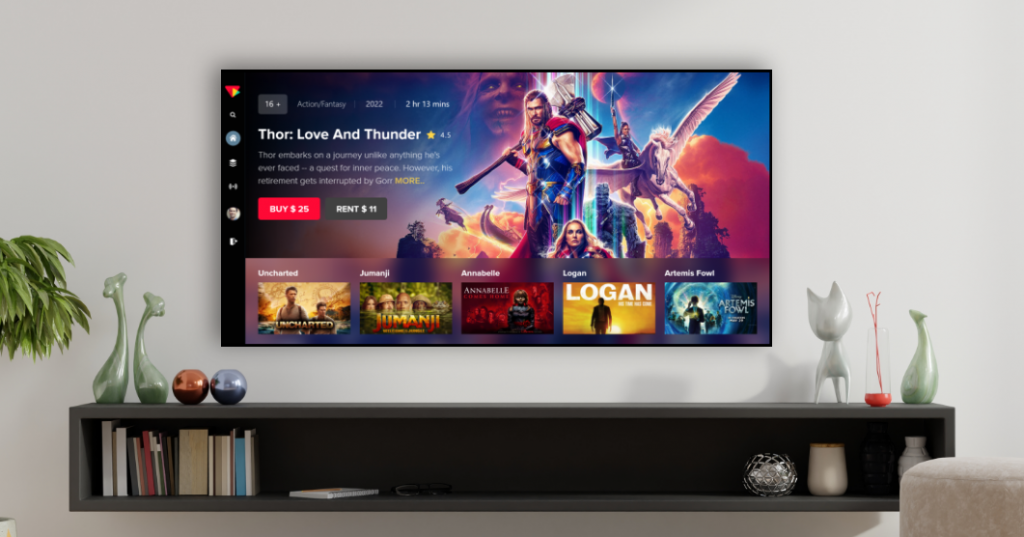 The definition of TVOD or Transactional video on demand is a business model that involves charging customers a one-time cost for a set number of views. Usually, when it comes to Electronic Sell-through platforms, owners have full-fledged right to actually own the entire movie, as such.
Moreover, talking about its viability its known that whether be it a single view, or a set period of time or infinite views "transactional" comes before "video on demand." Furthermore, the TVOD video streaming business is directly opposes to the what SVOD model. Users choosing the offered services pay individual fee for each bit of content that they wish to view.
Next, let's jump in to see some of its advantages….
Key Benefits Of Transactional Video On Demand
TVOD offers a number of unique features that ad-based and subscription-based models do not. It's potency is nothing to ridicule at, all the more if it is better used as a supporting monetization model.
Quite the contrary, despite its low popularity among viewers, TVOD offers a huge financial aid to build lump sum revenue. But what's more to look at it..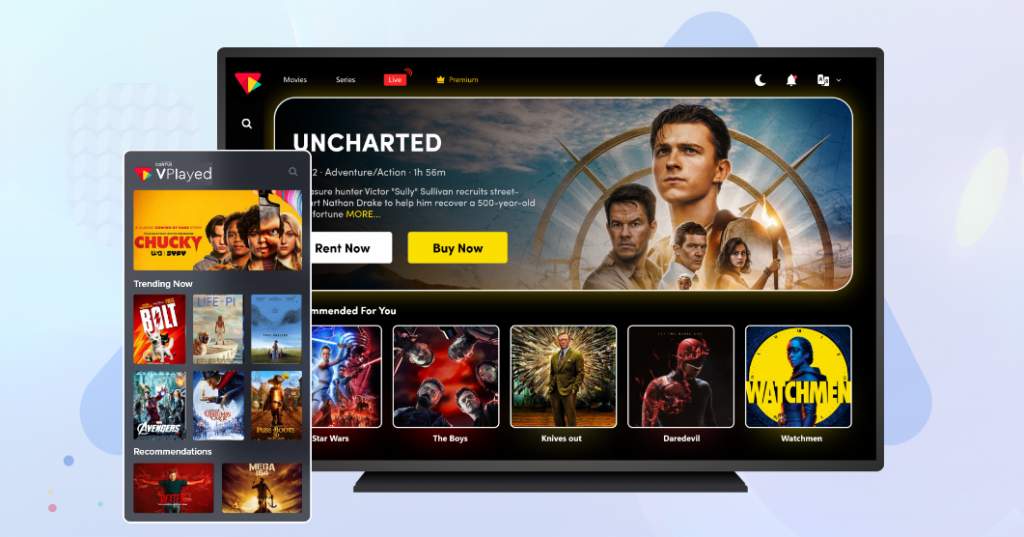 Coming up next, let's venture some of its benefits of TVOD over other models.. Also, we can have a look at a few examples:
One of the most obvious advantages of TVOD over other monetization strategies is that it allows publishers to place a paywall around their content.

Although there are various monetization techniques to monetize original material, TVOD allows you to make the most money from it. Indeed, it uplifts your revenue ladder.

While you have complete control over its distribution network, the added takeaway lies with zero risks of piracy & copyright infringement of

TVOD services

.

If you are looking for generating hiked revenue & profit most of it , then I ll suggest you to hybridize TVOD with other top video monetization platforms.

Lock your premium content behind a paywall while hooking your audience to your free material is the most effective strategy to generate long-term revenue.
In terms of relatability of these benefactors, let's explore some of the..
Thinking Of Starting Your Own Transactional Video on Demand Service?
What Are Some Examples Of TVOD Platform?
iTunes, Amazon's video shop, & Sky Box Office are some examples of TVOD.
These TVOD services offer a diverse selection of TV shows, movies, events, and other content at individual viewing fees, letting customers to either rent or buy an electronic copy of content that they can watch anytime they want, forever. In short, you have given complete freedom to consumers to utilize the content once you get complete profit share out of it…
Also these most-popular TVOD platforms examples lets it rule in terms of monetization, is that it perfectly makes the most pricey category out of all 3. Thus, it carries a quite a big shot to hit upon, while bringing out the shellings earned from this best video monetization platforms.
Different Types of Transactional VOD Monetization Model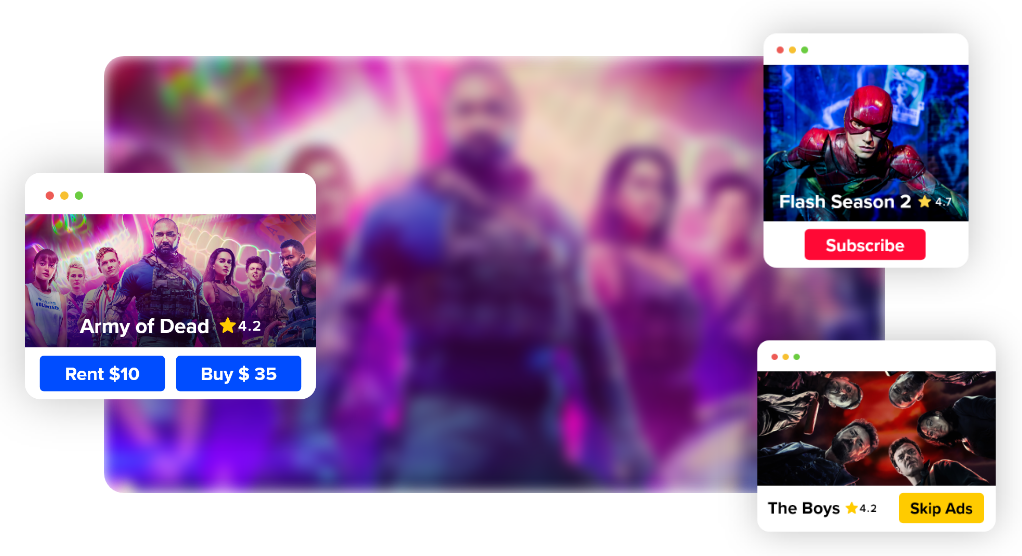 The meaning of TVOD is suitable for highly differentiated and compelling content. This is because users are open with the idea to pay a premium fee for videos that are offered in a unique value.
Ideally, audience prefers to enjoy content that furnishes to their tastes. In that category you can deliver content with comparative types of TVOD. Here they are:
TVOD vs PPV(Pay-per View)
Another category within TVOD platforms tell us about PPV or pay-per-view. In this it allows viewers to pay a sum for a one-time viewability for watching a show, event, etc. In general this payment model is reserved for sports, concerts, or entertainment.
TVOD vs EST(Electronic Sell-through)
EST or electronic sell-through is one of the subcategories of TVOD. In this model, viewers are charged with only one-time fee for limitless viewability of certain piece of content. They can view at their own discretion.
TVOD vs DTR(Download To Rent)
DTR represents download to lease, wherein a piece of content is accessible to look for a specific timeframe at the cost of a one-time expense. It is another subcategory of Transactional VOD, and the most widely recognized model is the exemplary web-based film rental.
A happy news for content aggregators comes with this satisfying fact …
Did you know: " The business revenue income in the TVOD which also means Pay-per-View section is estimated to reach with a ground figure of US$10.42Bn in 2022! "
Moving on let's see..
How Is TVOD Different From Other Monetization Models?
Subscription-based Video on Demand (SVOD), and Advertising-based on demand video (AVOD) or Premuim-based video on demand (PVOD) are the three main models that can be leveraged by video streaming owners, creators, broadcasters like you in many distinctive ways. Even though, all are equally popular and are found amazingly good for making money, it is understood that requirements of your user-base decide which can work best for your streaming business.
Further down the line, we'll give you the brief of all 3 top monetization models..
In subscription video on demand (SVOD) a large library of video content is created for a big set of targeted audience and give them the access for a longevity period in order to make consistent & healthy revenue.
Likewise, Hollywood Studios are analyzing another alternative of TVOD, called as Premium Video on Demand. In this model, recently movies that arrived at the box office would be delivered within the premium weeks of theatre release at a more exorbitant cost on Blu-Ray.
There's also a stated fact that, viewers are shifting away from platforms that use AVOD (advertising as a form of video monetization), & what AVOD is?, in order to request streaming companies to rely more heavily on alternative revenue streams.
Distinctions Between TVOD And SVOD Model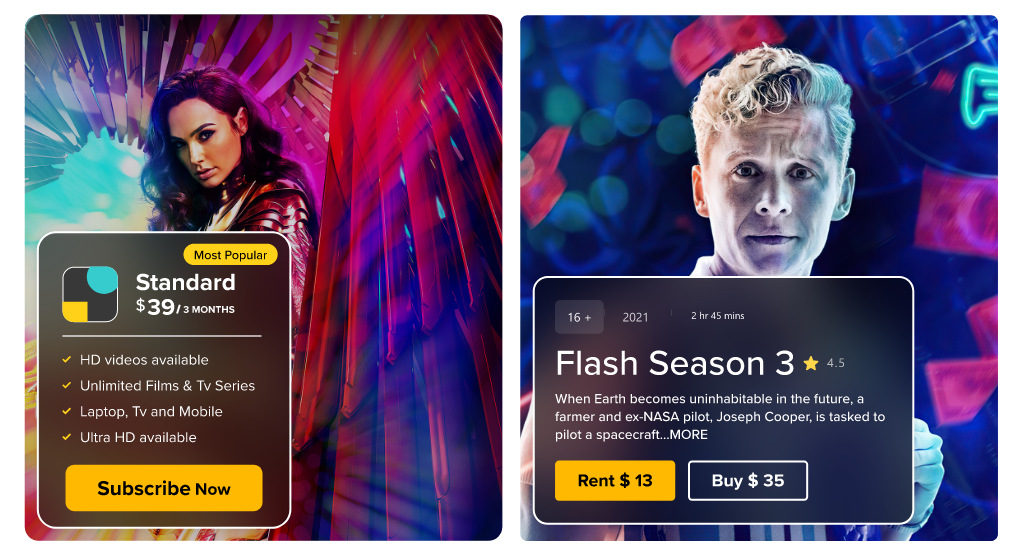 TVOD's full form is nonetheless than Transactional video on demand which seems to offer a good deal in terms of quality-graded, in a one-time fee content. On the other hand, SVOD platforms can assist your audience to go for monthly or yearly subscription package having differed genre of content.
Secondly, in the case of TVOD having unbeatable marketing efforts, you can vouch on having new customers. Having said that, SVOD means retaining the existing ones since the pieces of your content would have reached much superiority.
Next, important aspect to ponder upon is about TVOD can be best-suited for newer platforms who have started out their journey in this industry. Finally, the key point that's literally defines what does TVOD stand for, indicates through royalty rights ranging high for video owners.
In the end, only one question is most essential and that would be…
Is it Worth It To Take Up Transactional Video On Demand Platform?
By now, it should be obvious that TVOD is a significantly stronger monetization alternative than many people think. As we all know the importance of a video helping to rise your revenue scaling having constant growth, it's essential to plan it for fetching them in leaps for generating bountiful ROI. And, given the turbulence in the online video market, it's safe to predict that TVOD will only gain in popularity.
If You Already have an idea about launching a Video Monetization Platform, Schedule a free demo and We'll Get You On The Road To VOD Streaming Success!


Frequently Asked Questions (FAQ):
1. What Is TVOD Platform?
Transactional video on demand is used in a video streaming platform where content broadcasters get to leverage on exclusive monetization method. Basically, it allows users to access content on pay-per-view basis which is much different than AVOD & SVOD models. Further to that, the solution is split into providing permanent or temporary access with one-time payment. Ultimately, it gives media publishers a chance to release their online blockbusters. 
2. What Is The Difference Between TVOD And SVOD?
In TVOD there are two subcategories which are EST & DTR. With electronic sell-through consumers can comfortably make a single payment to own content indefinitely. Whereas Download to rent helps you to gain a small fee from consumers with limited period of content accessibility. In SVOD, you can provide users with an entire calong of content for a flat rate that's typically charged on monthly or yearly basis. You can include ad-free content too. 
3. Why Choose TVOD For Your Video Streaming Business?
Some of prime reasons to choose Transactional VOD is that it caters to those customers who are simply interested to view particular content for which they pay to see. Indeed TVOD services increases the value of each piece of content with its pricing. Also there is a chance of gaining prospective userbase when you set any range of price instead of charging them with higher membership cost. Also price flexibility assures if you can make content accessible for shot period or allow users to retain it permanently. 
4. What Are The Advantages Of Transactional Video On Demand?
It is certain to have an approximate estimation for operational margins, before the business is kickstarted. Definitely for that matter, you never run into the risk of bandwidth exploitation, whether it's in the case of single of group of users. The infrastructure costs in TVOD platform concerns with the cost of server along with CDN to stream videos in particular size, etc.
5. Why Effective Paywall Is More Important For TVOD Video On Demand?
When we define what is TVOD, one-time costs are likely to be associated with it. Usually, potential users seek many other means to procure video content for free, thereby increasing the dominant prevalence of content piracy. All the more, there are chances where users will download the video content & share it among the common social circle, for saving one-time access fee or split the fee.
6. What Are The Examples Of TVOD Models?
While we unveil the meaning of TVOD, we come to know that users can get flexible options. Instead of watching content with free access having couple of ads sprinkled in, users can pay a specific price for a piece of content. They tend to have an ad-free experience thereafter. This is due to lot of popularity gained in TVOD. Some of the examples of TVOD are Apple iTunes, sky box office, youtube movies, Google play etc.