Let's jump straight to the topic – Are you excited to learn about VOD app development?
This detailed guide will take you on a journey to explore the amazing features and advantages of building your very own VOD app in 2023.
When it comes to VOD app development, you possess the immense power to engage audiences with on-demand video content, accessible anytime and anywhere.
From addictive TV series to exclusive documentaries and live events, the possibilities are limitless. And there's a lot more.
What Is a VOD App?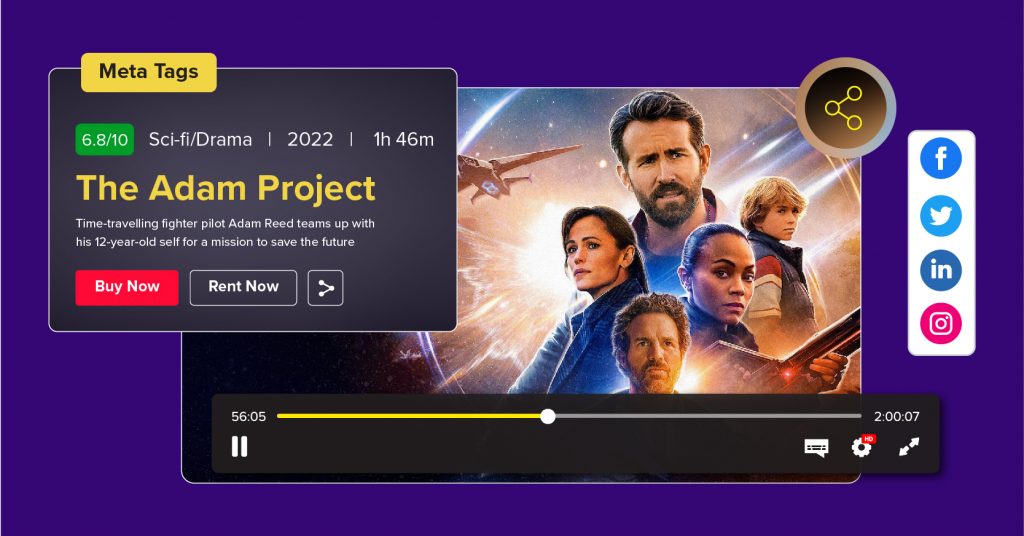 In the first part of this guide, we will establish a solid foundation by explaining about VOD apps.
Essentially, a VOD application enables end-users to stream and watch video content on the go, unlike traditional television broadcasts with fixed schedules.
By the way, here, users can explore different categories, discover new releases, and even create personalized watchlists.
Also, many video on demand apps provide a recommendation system that suggests content based on the user's viewing history, thereby enhancing the user experience.
Why Develop A Video On Demand App?
To be honest, considering today's fast paced lifestyle, the demand for on-demand content has soared in recent years, prompting a surge in VOD app development worldwide.
In fact, countries such as the United States, the United Kingdom, India, and China are aggressively investing in the best VOD apps, recognizing the immense potential it holds.
Furthermore, the revenue-generating prospects in the VOD Platform are substantial.
Therefore, investing in VOD app development not only positions you at the forefront of the digital entertainment revolution but also presents a lucrative opportunity to engage audiences,
drive engagement, and earn money in an increasingly connected world.
Are You Ready To Develop Your VOD App With Top Customized Features?
Must Have Video On Demand App Features
Below are the essential Video On Demand app features that are crucial for enhancing user experience, driving engagement, and also staying competitive in the online entertainment market.
1. Extensive Content Library
A vast content library, consisting of movies, TV shows, documentaries, and more, is an essential feature that every VOD application should have.
With such an extensive collection, users can actively engage and enjoy a diverse selection of entertainment options.
2. Multiple User Profiles
Allowing multiple user profiles within the VOD app gives rise to personalized experiences for each individual.
In fact, users can create their own profiles, customize preferences, and keep track of their viewing history, thereby ensuring a tailored journey through the content library.
3. Multiple Subscription Plans
Next comes the subscription part – Offering multiple plans gives users flexibility in choosing the one that best suits their needs.
Whether it's a basic free plan or premium packages with additional perks, providing options is always recommended. It allows users to select the subscription level that aligns with their budget and desired features.
4. Convenient Payment Methods
Seamless and secure payment methods are vital for a user-friendly VOD app.
By integrating popular and widely accepted payment gateways, users can easily subscribe and make payments, ensuring a smooth and hassle-free experience throughout their interaction with the app.
5. Enhanced Search And Discovery
A robust search and discovery feature simplifies the overall content exploration.
With advanced search filters, recommendations, and genre categorization, end users can quickly find their preferred content. Discover new titles, and also make their viewing experience even more pleasurable. 
6. Offline Viewing Functionality
Enabling offline viewing functionality empowers users to download content and enjoy it without requiring an internet connection.
This invaluable feature proves particularly beneficial for users who are frequently on the go or reside in areas with limited connectivity. Guaranteeing uninterrupted access to their favorite videos at any time and from any location.
7. Social Media integration
By integrating social media features, users can actively share their favorite content with friends, create personalized watchlists, and also engage in lively discussions within the VOD app.
This integration significantly enhances the social aspect of the VOD experience, fostering a strong sense of community and also promoting increased user engagement.
8. Detailed Analytics
This functionality is very beneficial for those involved in the Video on Demand app development process.
In fact, having access to detailed analytics provides useful insights into user behavior, content performance, and trends.
By analyzing data such as viewer preferences, watch times, and user demographics, app owners can make informed decisions to optimize content offerings and enhance the overall app experience.
A Step-By-Step VOD Application Development Process
Developing a VOD app entails executing a detailed step-by-step process that involves planning, designing, developing, testing, deploying, and marketing.
Each phase actively contributes to the successful creation and launch of a feature-rich and also engaging VOD application.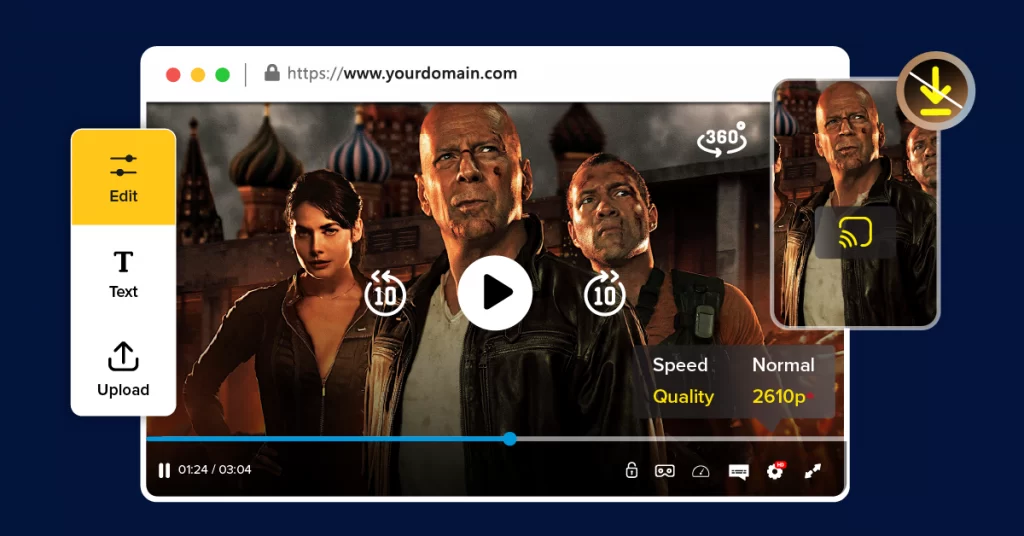 1. Planning & Design
During the planning and design phase, a clear roadmap is established, outlining the goals, target audience, and desired features of the VOD app.
In fact, user interface (UI) and user experience (UX) design are meticulously crafted to ensure a seamless and also engaging app interface.
2. Development & Implementation
In the development stage, the VOD application comes to life. Skilled developers write efficient code, bringing together the planned features and functionalities.
This involves backend and also frontend development, integration of APIs, and ensuring scalability for future growth prospects.
3. Testing & Quality Assurance
Thorough testing is conducted to identify and resolve any bugs or glitches in the VOD application.
Rigorous quality assurance processes are followed, including functionality, performance, and user acceptance testing to ensure a smooth and also error-free user experience.
4. Deployment & Release
Once the VOD application is thoroughly tested and refined, it's high time for deployment.
The app is released to the desired platforms, such as mobile app stores or web platforms, ensuring compatibility and accessibility for users all across the globe.
5. Marketing & Promotion
After deployment, marketing and promotion activities play a crucial role in creating awareness and also driving user engagement.
Strategic marketing campaigns, social media promotion, and collaborations with content creators and influencers help attract users and also build a strong user base for the VOD application.
Benefits Of Developing A VOD Application:
There is no denying that developing a VOD application offers numerous benefits. Such as the opportunity to engage audiences with on-demand video content, earn income out of it, provide users with a personalized entertainment experience, and much more. Let's get into more detail.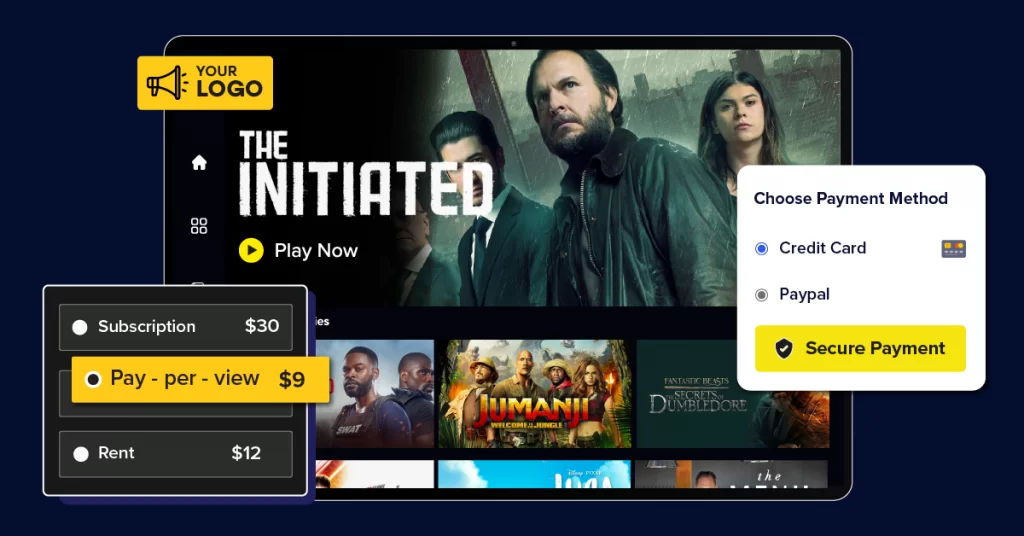 1. Convenient User Experience
Users across the globe benefit from a seamless and convenient experience with a VOD application, as it allows them to access their favorite content anytime and anywhere.
Fortunately, intuitive interfaces, personalized recommendations, and also user-friendly navigation effortlessly guide users through a vast library of on-demand videos.
2. Interactive Features
VOD applications engage users through a number of interactive features that enhance their viewing experience. I
nteractive menus, customizable playlists, social sharing, and also real-time comments create a sense of community and enable active participation in the consumed content.
3. Cost Effective Option
Developing a VOD application presents a cost-effective alternative to traditional distribution methods.
By eliminating the need for physical media production and distribution. VOD platforms offer an affordable means to reach a global audience and also generate revenue through a number of monetization models. 
4. Opportunity for Passive Income
Now comes the main benefit – App owners can generate passive income via a VOD application by monetizing content through subscriptions, ad revenue, partnerships, etc.
This allows them to earn revenue continuously, even when they are not actively involved in the whole process, thereby creating a potential source of ongoing income.
5. Enhanced User Experience
Last but not least, a VOD application enhances the overall user experience by empowering users to choose their preferred shows or movies, decide the viewing time, and also enjoy content on their preferred device.
In fact, users have the freedom to select, schedule, and personalize their viewing experience, resulting in a more satisfying and enjoyable user experience.
What Does It Cost To Develop A VOD App?
Determining the cost of making a VOD app depends on many factors like the app's complexity. Desired features, compatibility with different platforms, design needs, development time, and future maintenance.
However, when it comes to custom VOD app development, it might cost more, based on the project's size and scale.
Summing Up
As we reached the end of this blog – we can confidently say one thing that the VOD app development presents an exciting and lucrative venture.
By making the most out of the on-demand video content, app owners can literally provide convenient access to a wide array of entertainment options, and also generate revenue with the help of diverse monetization tactics. 
Moreover, one thing to note here is that transitioning into the app development process. Diligent planning, thoughtful design, and stringent testing is of utmost importance to create a feature-rich and user-friendly VOD app that stands out from the competition. 
Above all, a number of interactive elements can enhance the overall user engagement. While the flexibility to choose from multiple subscription plans and also payment methods can cater to diverse user preferences. Indeed, the possibility of passive income further adds to the allure.
With the right approach and strategic marketing efforts, a well-developed VOD app can make a lasting impact in this dynamic world of digital entertainment.

Frequently Asked Questions(FAQ):
1. What is a Video On Demand (VOD) app?
A VOD app is a mobile or web application that allows users to stream or download video content on-demand. The app offers a library of movies, TV shows, or other videos that users can access and watch at their convenience. It is typically run via subscriptions, rentals, or advertisements.
2. What are the benefits of developing a Video On Demand app?
For platform owners, developing a VOD app can benefit from generating recurring revenue from subscriptions and reaching a wider audience base. It also results in improved user engagement and brand visibility.
In addition, it also allows for effective content monetization and tailored user experiences, thus enhancing customer loyalty.
3. How much does it cost to develop a VOD app?
The cost of developing a VOD app varies widely depending on factors like features, platforms, content licensing, and development complexity. Developing a basic VOD app might cost you around $40,000. However, more advanced apps with custom features can cost hundreds of thousands or even millions of dollars.
4. What features should be considered while developing a VOD Application?
Key features that you should consider when developing a VOD app include user registration, content categorization, search functionality, secure payment gateways, and reliable streaming capabilities. Besides, features like offline downloads, user profiles, personalized recommendations, and built-in analytics for content performance tracking are also helpful.
5. What are the different types of VOD apps?
VOD apps can be categorized into Subscription Video On Demand (SVOD), Transactional Video On Demand (TVOD), and Advertising-Supported Video On Demand (AVOD).
For example, SVOD apps like Netflix offer access through subscriptions, TVOD platforms like iTunes charge per view, and AVOD apps like YouTube provide free content with ads.
Ultimately, you should decide the type of VOD app based on factors like your target audience, the size of your business, and the character of your niche.