When you talk about video monetization, what's the first thing, that comes to your mind? Probably, you'll assume with in-stream ads it's the only way to rev up your money! But, that isn't the only way… This stresses the need to look out for other video monetization techniques PPV which is also known as pay-per-view streaming.
Streaming via a pay-per-view video platform gives you the best alternative means to captivate lump sum revenue from your exclusive content in order to deliver an immersive UX.
It can help you to deliver a professional-grade streams to your audience, taking business to the next level. This increases the demand for viewers to engage into your appealing content with absolute ease.
If you're trying to look into best possible way to provide value to your premium content, then don't worry.. We have got you covered!
What is Pay Per View?
Just like the name suggests pay-per-view video streaming that is otherwise known as transactional video on demand (TVOD) is a unique monetization model where users get to access content that is exclusive at a viewing cost. As content streamers you can provide two options: either by renting PPV videos for a particular time or providing lifetime access to the content.
While we look into the weightage of rest of the monetization methods, pay-per-view offers an alternative resource in making up. Moreover, PPV streaming ensures you to have a seamless viewing experience which is uninterrupted by non-stop ads.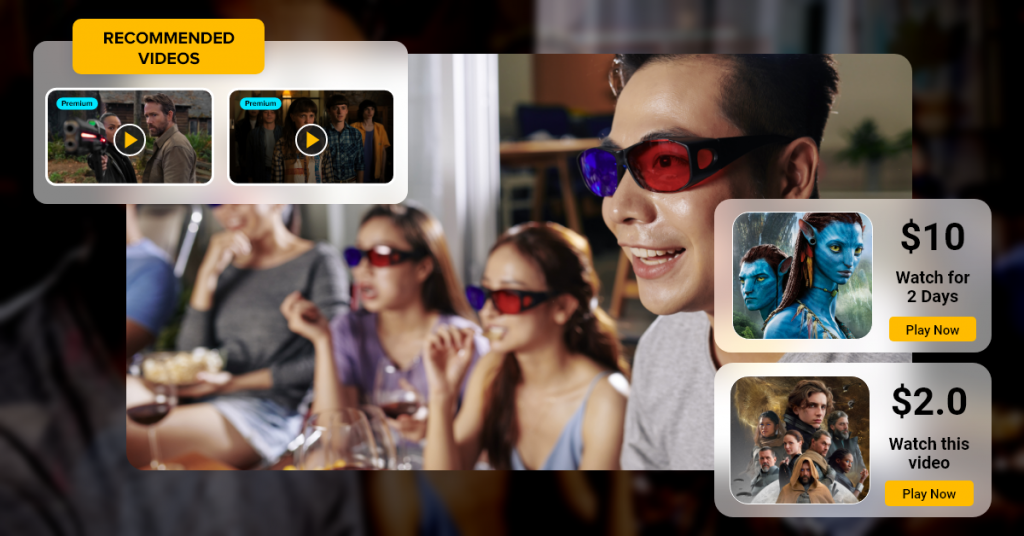 Also, you get an effective way of bringing in the user to the online platform & get a hang of your OTT video viewing experience, before they decide to choose a particular subscription. Indeed, user get to checkout most of the gated content in the pay-per-view platform, since it creates a sense of urgency due to its validity period. There is an option to monetize both live & on-demand videos with flexible options.
How Does Pay-per-view (PPV) Work?
Pay-Per-View (PPV) actually means the way it exactly sounds like. The actual meaning comes to highlight when a user adds PPV to a package, as business owners you give the flexibility to viewers in order to watch shows on a pay as they watch basis. This unveils that fact that each individual content either premium movie or a first-class show can be charged when watched on a specific pay-per-view video platform.
There are many unique ways of charging for Pay-Per-View online content on a video streaming platform. Entirely, it depends on the genre of content with which you can charge your viewers.
Some of them are:
1. Accessibility To a Single Video
In this case, it allows you to generate surplus money from users who don't want the pressure of accessing your content only in restricted period of time. Many of them find this package more valuable as it gives them a chance to buy content with just one cost.
2. Reach via Any Special Occasion
Presuming in a case that, you are charging for any special-featured event such as contest or a concert, virtual conference or a play.. Normally you may choose to base your event price's charges on per-person. However, there might set in for challenges in order to bring users to the sponsored online event, as there might be number of expectancies.
3. Streamline Educational Content
There are situations where you would love to sell your series of video courses in order to train a specific audience with a particular skill. In that case, you may fix pricings based on market value for your precious educational content. Meanwhile, you can also research on how other players in your industry chage for similar courses & price them competitively. Ultimately PPV content gives you more control over how the content is presented to your audience.
Thinking Of Starting Your Own Pay Per View Based Video on Demand Service?
Why Choose Pay-Per-View Streaming?
There are many reasons for choosing pay-per-view vod hosting platforms. The premium content is usually offered at a higher rate by broadcast network & give video content producers full rights to charge their followers as much ever they want to.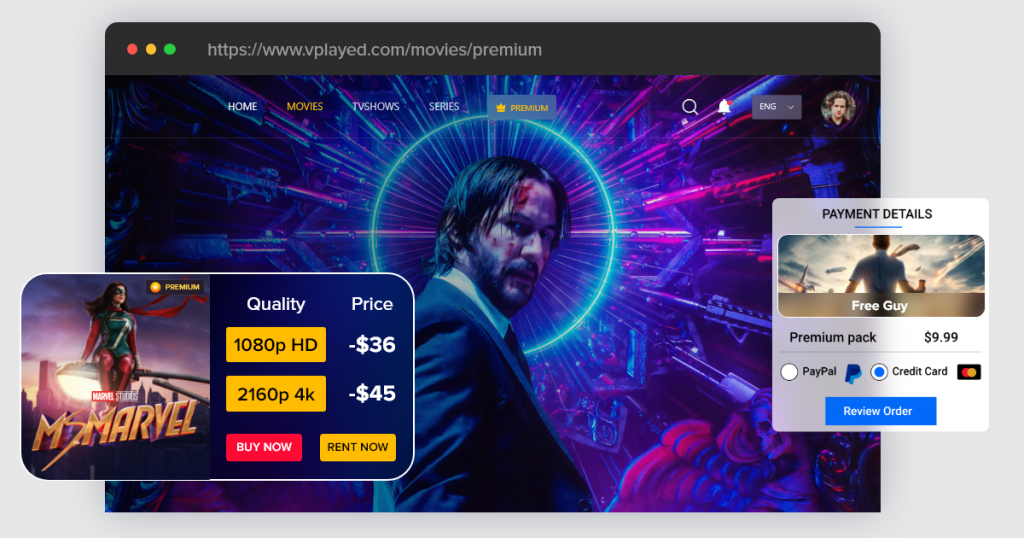 For example, if we consider Diney+, they adopts to the model of this sort when it comes to new release movies as they charge more to watch the premium content at home, which has a chance of ranging on top of monthly fee.
And there are many more reasons for you to monetize ondemand or live streaming content. Here are some to consider:
Prime Ancillary Benefactor
Live streaming goes beyond expected ROI can give deeper insight within your pay-per-view app. Collect core audience insights for you to enhance your content production quality over time.
Diversification Into Variety Of Markets
i) Many industries are embracing the PPV model. It is basically designed to push out non-subcribers & bring in consumers who find content more appealing, even if the price is little higher.
ii) Now we are seeing the shift of digital streaming that's with offline downloading where cable providers like Viacom, Warner Media are wanting to shift their infrastructures. They are looking for focussed genre in order to appeal to viewers rather than streaming content as a bundle.
iii) Even, if at all you think no one will pay for your exclusive content, you'd be surprised at some of the unique pay-per-view live OTT events that have been engaging in the past. With micro targeting you can find enough demand, & therefore monetization of wide variety of content becomes easy.
If done correctly, live streaming on a PPV platform could prove to be lucrative! All the more, the fact gets valuable when you are able to share your precious content across core audiences! Certainly you might consider to bridge the gap of content & its viewers
Additionally live streaming costs high and somehow it needs to stay accountable. To elaborate on that, there are equipment costs, bandwidth, providers costs to name a few. Mostly, it works to video broadcaster's advantage only when people can view the content in which they are interested in.
How To Get Started With Pay-Per-View Streaming?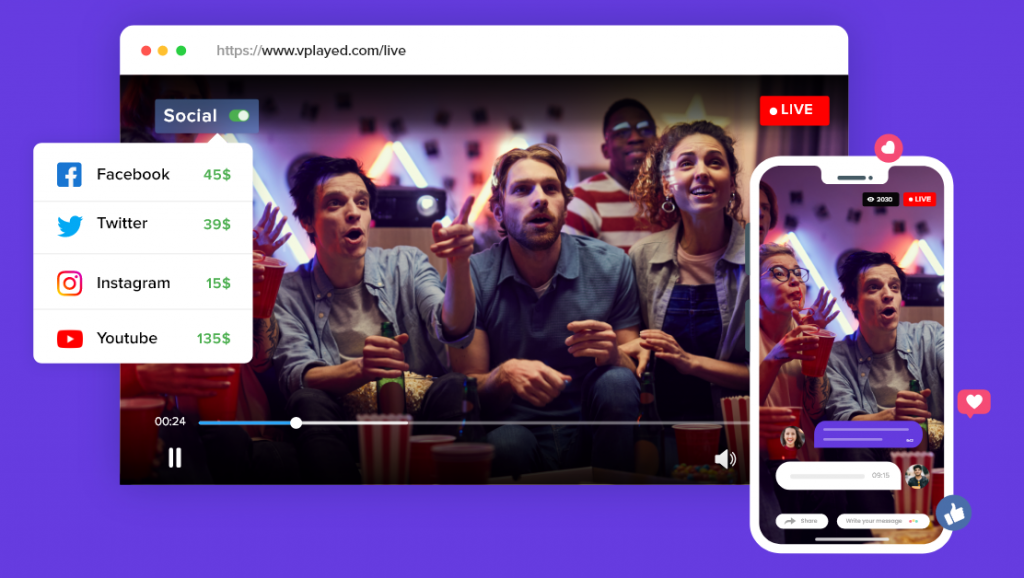 Pay-per-view streaming involves 3 critical components. They comprise of:
Dominant Pricing

Accurate Timing

Advanced Hosting
It is essential for you to decide on optimal pricing for any content of yours so that you are in a position to earn expected revenue without overcharging your viewers. And for this, it becomes necessary for you to offer mulit-tiered pricing plans based on how long a viewer can realistically access the content.
Also, if at all you are planning to offer pay per view streaming services on rental-basis, it becomes necessary for you to ensure with content, that's available for longer than video duration.
It's just as important to choose the right OTT streaming platforms in order to host. While you may find plenty of fee & paid hosting options, you may cross your way with the fact that not all of them would be favoring pay-per-view streaming. Also, it is becomes pivotal with the platform's rapidness, reliability & security.
Pay-Per-View Video Platform Considerations
As PPV video platforms have many factors to consider, while you could determine which is most suitable for your content.
Before getting into any streaming plan, you can start answering a set of questions such as:
Does it particularly have a global CDN?

If there is a scenario of mobile streaming support, how much does software cost?

Can it provide its support across all devices?

Does it have plans to match your business needs?

Will it be scalable as you grow your streaming business?
Let's look into more of it below..
1. Ensure To Broadcast OTT pay-per-views Worldwide
The quality of your streams is hugely impacted by the content delivery network which are used pivotally across OTT platforms. When you look into how does PPV work, the CDN answers this question by broadcasting content into specific regions to your inparticular audience. If your user-base is situated across the globe, then you'll need CDN which helps to distribute streams at any location or region you name.
2. Deliver Hassle-free Video Hosting Across Devices
Major criteria that you may want to consider, is whether your ppv streaming platform supports mobile streaming so that your viewers can access content that is unrestricted to a device. These days, mostly users prefer a platform that's flexible in terms of content playability. In other words, they seek a domain where they can stream pay per view live on OTT Tv apps, sites from their smartphone, tablets, smart tv, PCs, etc.
3. Cost Of Services Meets Your Business Investment
When we look into how much profitable money does pay per view services can provide you.. Then let me tell you it will purely depend on software & its range of customization that you prefer with. Most services are opted with multi-tiered pricing models which consists of a system with in-stream purchasing & redeeming credits. It becomes vital for you to analyze the actual need of PPV streaming services in order to quickly scale it.
4. Get Inbuilt Video Content Management System
A streaming service with PPV is only effective in the long run just as like having an inbuilt video CMS. If at all it's intuitveness to access & easy-to-use feature wouldn't be there, then your company's content can have a chance to have certain limitations. Definitely a CMS is needed for your assets to be easily organized, managing to monetize your content frequently without any restrictions.
5. Make Sense Of Your Growth Plan
Initially at the beginning of your company's video platform, first learning of how to set up PPV video takes place. Then a smaller price tier lets them experiment & slowly learn its workflow to manage its content. As you grow more, you may look for a full-fledged streaming solution. It goes without saying that you'll want to upscale with it fully, reaping its maximum potential.
Conclusion:
In a case you want to live stream but you're not a the one who owns content rights, you can still succeed in getting into the game with PPV. Without PPV, there is a chance of you investing out of your pocket to acquire the rights to stream content. With pay-per-view streaming, you're not paying anything to any entity for streaming rights.. Instead it just splits with further process.
All you need to know is you deserve most money for your content by selecting remunerative model as you can place your content behind the paywall that accumulates money to your wallet with each view.
If You Already have an idea about launching a Video Monetization Platform, Schedule a free demo and We'll Get You On The Road To VOD Streaming Success!