In today's digital world, videos are more prevalent than ever before. And there's a good reason behind it. According to various research reports, more than 78% of buyers prefer video as their primary source of information for learning or knowing about a new product. With businesses employing videos for a variety of external purposes, a white label video platform could really help the existing business in the long run.
Today, both giant corporations and small businesses are betting big on the creation of online video platform, thereby viewing it as a fantastic opportunity to assert themselves, promote their businesses, and acquire client loyalty. One can confidently say that quality content draws a large audience, and white label vod platform is an excellent way to provide that content to the end consumers.
What is white label video streaming?
White label video streaming is a solution where a third-party provider offers a video streaming platform that can be branded as your own. White label streaming allows you to launch your own video streaming service without the need for costly infrastructure or development.
In terms of online video streaming, white-label streaming entails broadcasting your own content with custom features and branding. To put it in simple terms, white label video streaming employs a custom video player that largely reflects your branding strategy and allows you to grow independently rather than relying on any of the third-party solution providers.
With more advanced integrations, there are a few user-friendly VOD Platform and white-label streaming providers that do not require any technical expertise. Indeed, they are able to assist more content broadcasters in promoting their video content online. Isn't that amazing?
How does white label streaming work?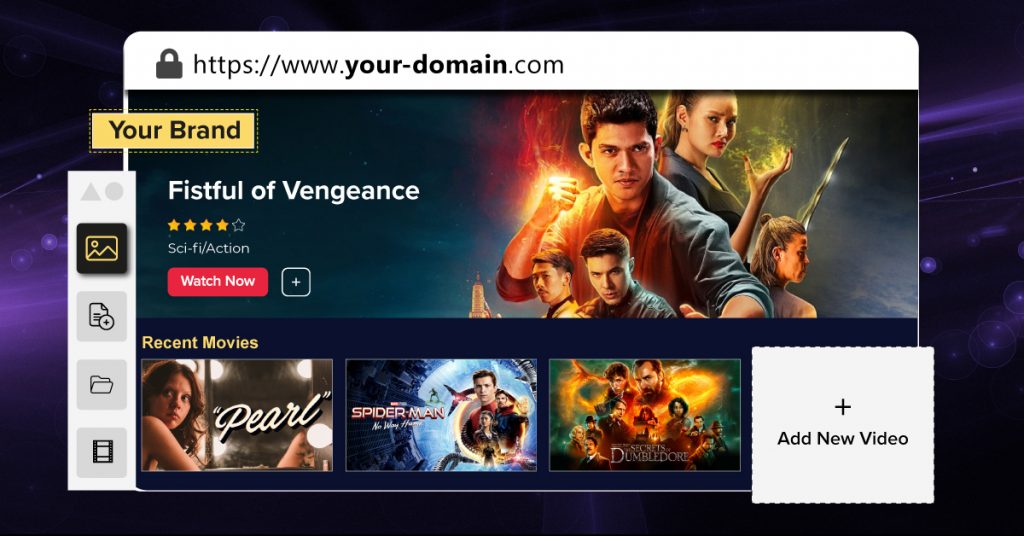 White label streaming is accomplished via the use of a feature packed online video solution that is equipped with an advanced video player and the necessary tools to customize it to meet the needs of the business. When your targeted audience consumes the video content, they will link it with your brand rather than the site through which you broadcast it. As a content owner, you will then have complete control over your viewers' viewing preferences and will be able to adjust the video content accordingly.
Stream On Multiple Devices
A solid white label ott video streaming platforms, regardless of device, will offer a wide variety of capabilities such as audio streaming, video streaming, and live streaming, as well as choices to manage, advertise, and monetize content. A fully customized video player can provide a rich viewing experience on multiple devices like Android, iOS, and Smart TVs.
APIs are becoming increasingly important in a wide range of sectors. On a basic note, an API is similar to an electrical plug in many ways and can be considered as a standardized interface. In fact, a video API access can allow content owners to gain access to a dedicated video infrastructure created with SDKs and made available across multiple screens and devices.
Another significant component that contributes to the functionality is fast integrations. A good white label streaming service can make it simple to integrate and customize with both Android and iOS. So, no matter who your viewers are, there is always room to provide the best streaming experience, regardless of the operating system. In short, any type of integration from a third party or key add-on may be facilitated all in one place.
The costs associated in setting up your own infrastructure will be quite high. That's the reason why OTT streaming providers should support highly scalable custom-built server storage on client premises or in the cloud. Also, for effective integration, use flexible streaming deployments that may be done on-premises or in the cloud.
One crucial aspect that can make or break your audience's attention is the overall viewing experience. When streaming live videos, you need to focus on providing an immersive experience for your viewers. One way to create a fantastic live video viewing experience is by keeping the latency of your streams low, which is where low latency white label streaming comes into play and shine well.
Simply put, a video player is any software (or hardware) that allows for the playback of video. A branded video player can function on PCs, smartphones, and other web-browsing devices. HTML5 video player are currently the most prevalent sort of video player in the digital domain. Some of the functionalities of branded video players include control, compatibility, customization, Auto play, Affordability, enhanced security, and many more.
Are You Planning To Start Your Own White Label Video Platform?
Types of White Label Streaming Platforms
When addressing white label streaming, it becomes a bit crucial to distinguish between different types of online video content, including white label live streaming, white label OTT and white label Video on Demand (VOD).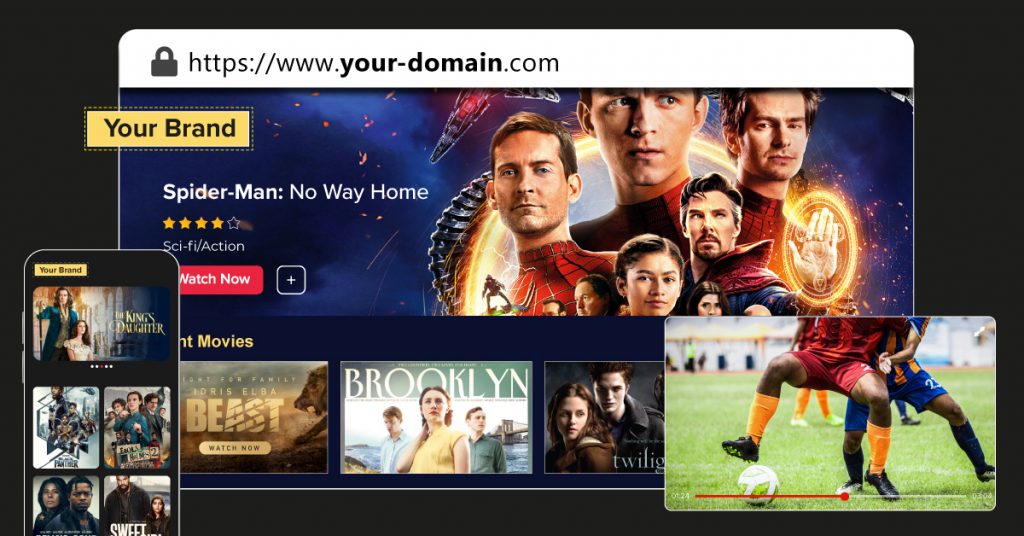 1. White-Label OTT :
A white-label OTT is a ready-to-use solution that can be swiftly customized and released. It has a plethora of user-friendly features and is built on a cutting-edge technology stack. Most importantly, it can be modified to fulfill specific business requirements while remaining consistent with the company's unique selling proposition, thus allowing it to stand out among competitors.
In regards to video streaming, the one that might come to mind is the traditional way of creating a video streaming app from scratch, but it has its own drawbacks. In fact, it is a more time-consuming process for the development team and will necessitate a major involvement from your end as well, which is by the way a bit cumbersome. On the other hand, you may consider employing a ready-made OTT app development that can be launched swiftly and readily customized to meet your specific business demands.
2. White Label Live Streaming:
As the name suggests, it is intended to stream video content in real time. In today's date, video broadcasting is more important than ever. It's difficult to envision a legitimate business not utilizing the technology that enables online video conferences, meetings, webinars, and interviews. For a fact, the video conference participants will be from all over the world. So, streaming video with advanced security protocols and low latency can deliver a more immersive viewing experience.
This lifelike style of media content delivery provides a sense of urgency and exclusivity to its audience that on-demand video lacks behind. However, modern age white-label streaming not only offers the illusion of being present at a virtual event, but they also have a number of advantages to the consumers. These include the recording feature, virtual whiteboard, screen & document sharing, subtitles & translation, and so on.
3. White Label Video On Demand (VOD):
Basically, VOD or Video on Demand is a sort of online video streaming that is distinct from live streaming. Here, viewers can access VOD content at virtually any time. It provides broadcasters with the tools they need to host and deliver on-demand video content through a customizable white-label video player. Apart from this, it allows consumers to buy or rent content.
Broadcasters of today's age use on-demand video streaming to make live streams available after they have ended live streaming. This allows them to boost viewership on their content and generate more revenue if and only if the content is monetized. For example, a company could charge one fee to broadcast a live event and another price to stream the live event video. However, the prices of the content will vary, depending on the user's desire and demand.
How to Pick the Right Online Video Streaming Solution
If you want your online video streaming to reach your intended audience without any technical difficulties, then a reliable streaming partner is very essential. If you intend to live broadcast, seek for an online video streaming partner that provides top-tier CDN and low-latency streaming. Above all, you would require a mobile-friendly transcoding to ensure that your content plays smoothly on any device.
Consider any online video streaming partner. Some of the must-have features include bespoke features, lifelong ownership, a one-time license fee, and much more. Usually it is seen that the underlying processes work in the backend, but you can benefit from optimal revenue paybacks supported by specialized monetization strategies.
Robust security and privacy features should be at the top of your bucket list. In today's digital world, strong encryption and digital rights management are essential for protecting your content and copyrights. A trustworthy partner can provide you with total permission-based control over who can view your video content.
A customizable OTT video streaming partner should be 'invisible' to your audience. It should offer significant customization and branding tools to ensure that your video stream is entirely branded for your target audience. Apart from this, the best online video streaming providers usually come up with API access and developer tools, allowing for even more customizations.
Revenue Making Possibilities
In addition to Subscription Video on Demand, an OTT provider should come up with pay-per-view or ad-based Video on Demand content for creating more than one revenue making possibility. This helps to diversify the revenue of Video On Demand and widens the market opportunity, allowing all kinds of people to access premium content through a mode that suits them the best.
While choosing a professional video CMS for video content management, you need to check if it provides a centralized content library that supports bulk import & export, drag & drop, and scheduling content from anywhere at any time. Aside from that, your powerful CMS should offer multi-currency, multilingual support, and custom thumbnail upload.
White label Video on demand Streaming Support For Various Businesses:
A trustworthy OTT gives you absolute control over your content. Completely customizable and offer a wide range of features adjusted to specific business requirements.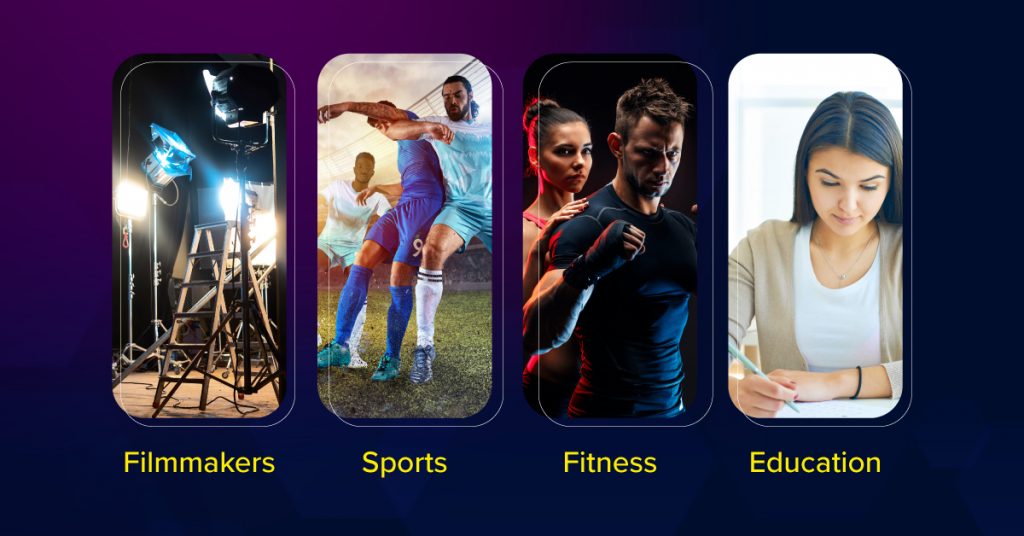 A white label Video on Demand streaming allows you to stay competitive and relevant in the digital environment by focusing on major industries like sports, fitness, media, education, worship organizations, corporate communications, and so on.
How to Create White label OTT platform?
Creating a white label OTT platform requires extensive planning, design, development, and deployment. Here is a brief overview of the steps involved
Before you begin, there are a few things you should consider. Here are a few things to think about and keep at the back of your mind.
Reveal your brand identity
To start with, you need to create a strong brand identity. Choose a unique name and logo. After that, select the appropriate colors, and showcase your content so that your target audience can easily distinguish it from your competitors.
Choose the monetization model that suits your brand
After analyzing the previous data, pick the right monetization model. For example, there are numerous monetization models (AVOD, SVOD, TVOD) to choose from, you need to choose the monetization model that suits the best for your business and brand.
CMS is in charge of organizing, delivering, and controlling all VOD content. So, investing in a strong CMS will enable you to enhance your users' overall viewing experience while also supporting various viewing habits such as live video streaming, etc.
Provides in-depth analytics
Analytics can assist you in gathering relevant data. The insights will assist you in providing a superior white label VOD solution to your target audience. All in all, it should have a robust analytics section for content owners in order to utilize the data to the fullest.
Conclusion
While modern video streaming apps are quite capable of doing wonders for any online video streaming business, organizations must understand what to expect from them in order to make an informed decision of which white label VOD to use. In fact, a branded video streaming service should let content owners customize the entire interface to fit their brand guidelines or requirements. Indeed, many others offer customizable video players or color schemes, but that's not enough at all.
CONTUS VPlayed, a white-label video streaming platform, takes things a step further by offering a number of customizability options – no basic stuff at all – It recognizes that this portal is the face of your company, acting as an extension of your brand's long term vision. Overall, one can say that CONTUS VPlayed provides organizations with a completely customized white label video streaming solution for storing, managing, and sharing their videos and other digital media assets.
Get in touch with one of our strategists today to know more about how white label video streaming can help grow your business.