The over-the-top market is witnessing innovative and advanced transformation which enables customers to access anything and everything they want in a single space. There have been predictions with the incredible growth of digital TV and streaming in the last couple of years.
This has duly accelerated further during the development of COVID-19 pandemic. Stuck at home without knowing the amount of time, consumers started engaging to OTT technology and other forms of connected TV to stay entertained.
Over the top services refer to content like movies and TV shows that are directly delivered to digital users without any need of satellite or cable television network. The content showed over the top technology can be directly downloaded and user can view as per their demand.
This type of content includes documentaries, movies, TV shows, web series & it is seamlessly delivered over the internet that are connected to smart devices such as PCs, tablets, smartphones, consoles & more.
OTT tech-enabled services are typically broadcasted to monetize via paid subscriptions, & exceptional models. For example, some OTT platforms might offer advertising to rev up their service or provide different types of in-app purchases.
Stats indicate that the OTT market is expected to grow $1.039 trillion by 2027 which was worth $121.61 Billion in the year 2019. Source: Allied Market Research
What is OTT Technology?
The ongoing digital revolution have been a catalyst towards the increased consumption of content via OTT, as we all know. The meaning of OTT technology explains itself by ensuring easy access to entertainment unlike traditional media, they provide users with varied subscription models.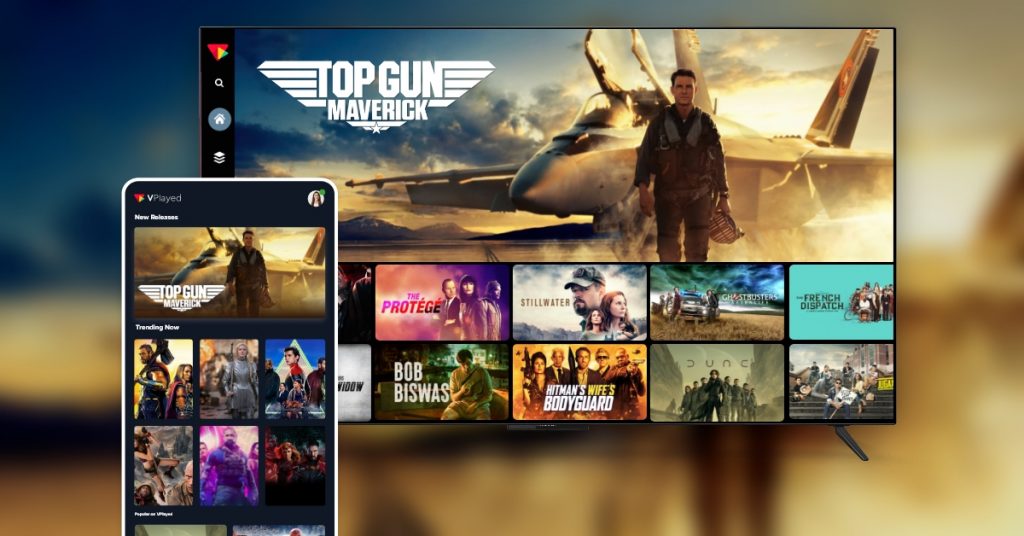 The major advantage where consumers attribute to significant growth is due to facilitation of an ever-expanding content library by predominant OTT players. Further to that, with the increase of numerous internet service providers, users are able to gain access to OTT tech solutions conveniently.
If we explore more on what is OTT platform, for all content providers, starter businesses, etc. store all sorts of media in the cloud. The cloud is purely made up of thousands of physical data centers that are spread globally, compete with cable connecting heavy equipment's. These are majorly set up by tech giants such as Google, Microsoft, Amazon & are popularly known as Google cloud platform. Amazon Web Services, Azure, respectively.
Then, OTT players rent space in cloud for storing & broadcasting their content files. Presently, over the top services are at a nascent stage & are hugely accepted as a trending technology all over the world. Its market is projected to witness undefined growth which is stimulated with innovative & advanced transformation in consuming entertainment. Moreover, it enables customers to access everything under a single space that they want.
Indeed, the software and equipment of OTT streaming platform has made it possible to broadcast content over the wireless internet which is a plateau higher to traditional television. Some of the prime online streaming platforms are Prime, Netflix, Hotstar, etc, use OTT for major content distribution.
How Does OTT Technology Work?
It is known that while accessing video through the means of OTT it is definitely more convenient for viewers. Yes, there is a change of infrastructure workflow behind the scenes in OTT streaming as compared to traditional broadcasting. The serving of TV content over the internet is being able to meet high set expectations with wide range of network performance.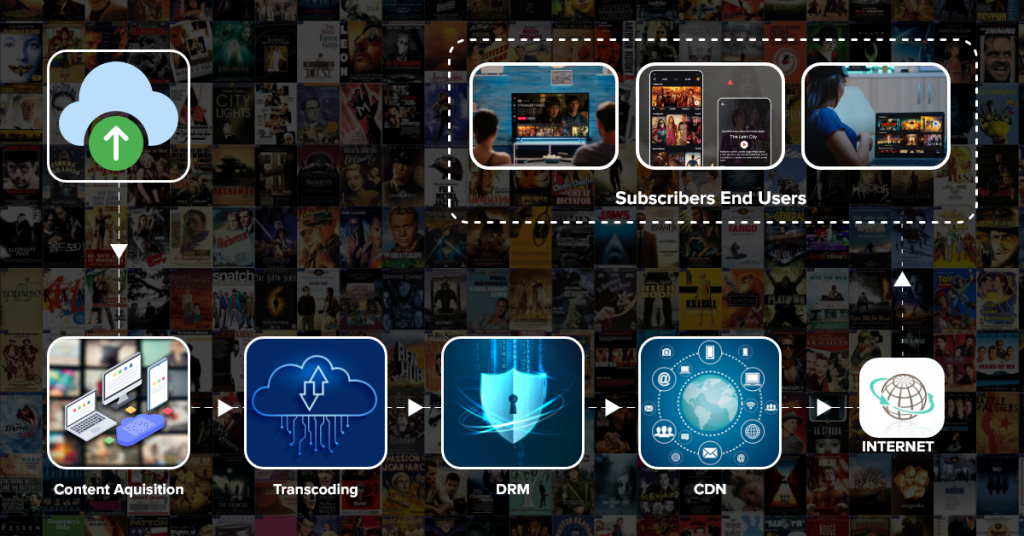 The streaming performance depends on what speed the internet connection (WiFi, Fiber, DSL) supports the display OTT devices such as Roku, Apple TV. Firestick, etc. And then how many network hops between the provider & the end user! OTT systems and technologies are developed at a high level to minimize or zero down these parameters by providing best medium of approach to serve up the limitless content.
Whatsoever, OTT technology will adjust to the network performance of the entire chain in realtime, as there are no pauses caused due to buffering while videos or audios are delivered. Moreover, these pauses might extremely frustrate the viewers wandering attention and may decide to abandon the content completely.
Here's how OTT platform works in action:
The video or audio host transmits the content to high-defined remote servers via a robust content delivery network
Viewers decide to select the content that they are interested to stream on user-based video gallery
Then, the video player on the device fetches the content from the CDN's server using the internet
Delivery of OTT Content?
If we look into the whereabouts of how to use OTT we come to know that it's entirely based on internet delivery system but not by any other means. Basically, the accessibility of content in OTT is dependent on high-speed internet connectivity with a compatible device that is adaptive to apps or browsers.
Play on Mobile OTT Devices
You can readily use a smartphone, tablet to download OTT apps from a digital storefront like Google Play or Apple App store to steam on the go
OTT on Personal Computers
With a personal computer users can have access to any genre of OTT content from desktop-based apps or web browsers that have stable internet connectivity
A Route to Digital Media Players
There are some third-party devices such as Chromecast, Apple TV or even gaming consoles where users can tap on to download OTT apps instantly to gain access to popular content
Latest Streaming on Smart TV
There are latest addition to stream OTT content & one among is to do with smart TVs. These commonly come with numerous pre-installed over-the-top apps & some of them include Apple TV, Smart TV, Chromecast, Xbox, Firestick, etc. They have the ability to download additional apps of OTT.

Launch Your Branded OTT Platform Instantly!
Schedule a Free Demo With Our Product Experts
Benefits of OTT Solutions
Once users opt for a subscription, anybody can access quality content at anytime & from anywhere. Along with this, there are many contributors of OTT platforms where content broadcasters provide a superior experience at par in comparison to Netflix & Hulu. Mainly you can't get away with the prime perk that users needn't require a cable TV subscription to watch any sort of content.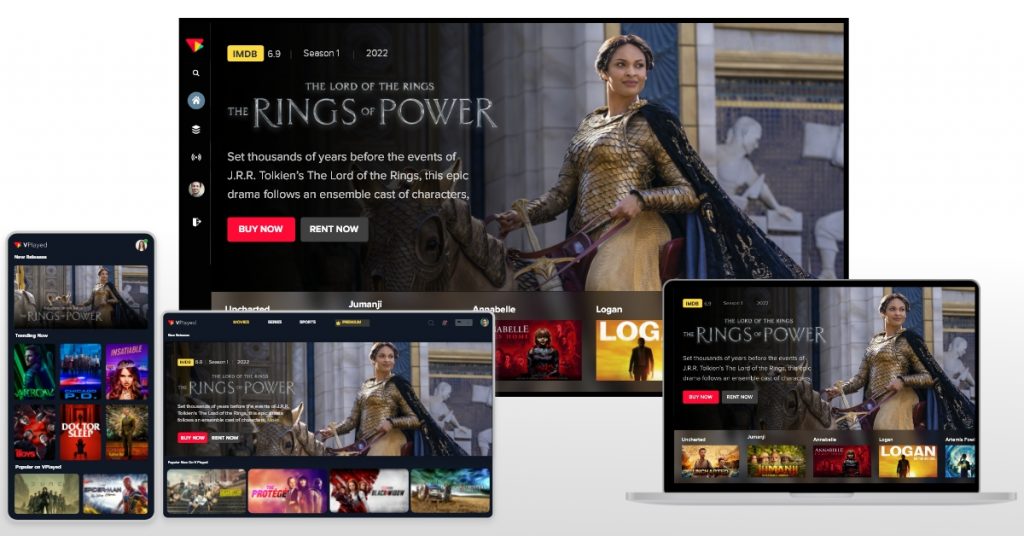 As the innovation grows tremendously with the level of enjoying entertainment, businesses have seen a positive upsurge in OTT media streaming. Some of the benefactors of choosing OTT solutions are:
Connectivity By All Means
The OTT broadcasting platforms are quite easily accessible for audiences to use. All that is required is a stable internet connection and compatible device just like a smartphone, smart TV app, etc. The internet connectivity through a dedicated network is provided to stream your valuable content along with a monthly payment. You can completely provide the flexibility to the viewers to choose any subscription plan based on different viewing requirements.
Biggest Plus Is Its Cost Friendly
When we compare traditional TV connection OTT platforms are found to be cost-friendly. The targeted audience get to have easy access on unified over-the-top platforms that are shown on cable for a relatively low price. However, the cost involved for users depends on how much they consume OTT and subscription fees are allocated accordingly.
Convenience Factor is the Key
OTT platforms lets your audience access favourite content at any point of time from anywhere as they prefer to view. Accessing content on OTT platform on any device has become quite easy due to the availability of internet. This isn't the case with traditional cable networks as viewers get bound by geographical locations. The freedom of location becomes convenient for users to stream their favourite content via OTT.
Variety Content Stays Personalized
With traditional cable networks, viewers tend to face a death of limitations in channel selection, the type, qualtity, or variety in content. They are quite restrictive in the content distribution. Whereas while viewers go for an OTT TV app solutions it opens up a wide variety of content which includes free as well as paid content. The choice is left to users when they subscribe to become prime members, or even other wise they have an access to unlimited content.
Importance of Device Independent
One of the major advantage that you ought to consider is digital OTT platforms allow users to access media services across any device. All thanks to VOD services which has made it possible to enjoy free or premium content anytime from anywhere. Also services stay compatible across digital devices such as smart android TV, iOS, web, tablet and other devices so that they can enjoy streaming at any device irrespective of any network carrier.
How OTT Technology is Changing the Media Industry
OTT technology has seen a huge growth due its massive role in the media & entertainment industry's evolution. As a result of this, it has led viewers to 'cut the cord' globally on cable. Lately the TV industry has been crossing with lots of challenges & increased competitiveness due to the emergence of new streaming technologies.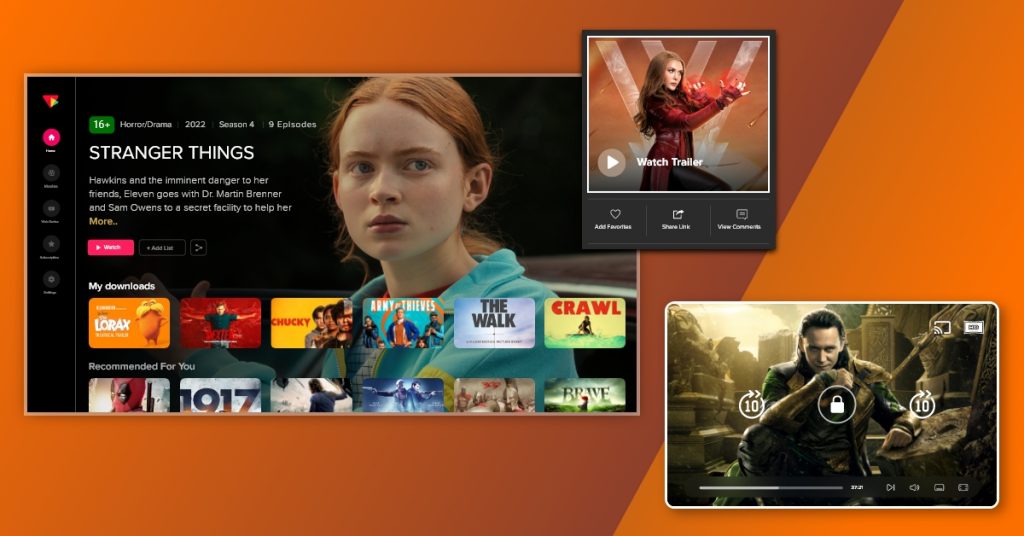 Traditional operators such as telecos, broadcasters or mobile operators although are owning infrastructure they are facing technology disruption & other milestones on how to monetize further with their large subscriber networks.
Currently pay TV operators are facing cut-throat competition on the market which puts us to a thinking that there might a pressure on the pricing for the service. This has subsequently caused subscriber churn & decrease in the profit margins as far as traditional business models are concerned.
Further to add, users have limited budgets for subscription based services. However pay TV operators are battling hard for them to sustain & upkeep their business models developed with traditional offerings.
With improved connectivity there has come new ways of accessing & consuming any genre of content where end users have been increasingly rising as there is subsequent demand.
Like for example..
Did you know 75% of US citizens own 2 or more OTT subscriptions that of which Netflix alone houses around 30% population spread throughout plenty of countries globally? Source: Lemonlight
By this fact, we come know this massive change has contributed to the rise of OTT media which has played a major role in emerging trend of cordcutting, as more people are choosing to cancel their cable subscriptions in favour of tipping streaming content.
What's more is live TV has become a base service which is an uphill for interactivity features such as catchup TV, timeshifted media, on-demand content to access across multiple devices in varied regions. Future cord cutter competition will be won by operators who offer a better user experience combined with engaging content and interactive features.
To Sum Up:
All thanks to Over-the-top technology which has changed the way how people consume media. Those were the times when people use to gather in a common room to watch news, sports and now its history. Today, people carry their own device sets to watch anything filled with entertainment using methods that help to access the content at all times, making it cost-effective. This shift has keenly contributed to deliver high-quality content in such a way that it breaks down the barriers that we associate with pay or traditional television.
Consequently, the paradigm shift has been boosted by OTT technology innovation paired with the ability to stream cohesively through HTML5 streaming, adaptive bitrate techstack & more. All in all this has bridged the gap faced by content aggregators who strive to deliver content just the way audiences prefer with any internet-enabled device that you can think of. Also this has brought opportunities to ultize and reach more targeted and larger audiences.
If You Already Have An Idea About Launching An OTT Platform For Your Services, Schedule A Free Demo And We'll Help You Implement It!