In the last few years, OTT has developed at a breakneck pace. How big has it gotten? That's what we're about to show you, with a plethora of data and resources to back it up. The way broadcasters distribute the material is changing thanks to over-the-top (OTT) technologies. OTT platform offered better accessibility to audiences enjoying content & deliberately look for them to access at their own leisure space.
According to the statista the revenue of OTT delivery platform is expected to have an increased percent of 11.01 that's resulted in annual growth rate
Knowing its effect on the OTT Broadcasting segment the market projection has indicated in volumes & peaked at a scale of US$427.80 Billion by the year of 2026. All the more, when it comes to user penetration there has been expectancy of achieving fifty percent in the year aforementioned.
We might know, that the term "over-the-top" refers to how the OTT approach precede the way by bypassing the limitations of traditional broadcasting.
In this article, we'll begin by outlining OTT and explaining the applications of OTT broadcasting. Followingly, we'll go through some of the main types of OTT broadcasting, such as live streaming and video on demand.
Continue reading to learn all about them…
What Is OTT Broadcasting?
Professional broadcasters now have the unparalleled capacity to communicate with live viewers thanks to over-the-top or OTT in broadcasting. It also offers a unique way to target a rising user population that is losing interest in stereotypical media venues. Additionally, as a matter of fact, we get to know that it's not too long since we have been watching tele content via network ablers but shifted to a new mode of medium, nonetheless than over-the-air broadcasts.
Next, lets unveil..
---
Read Also: What is OTT Platform? A Definition of OTT & Its Meaning
---
How does OTT Broadcasting Work?
OTT broadcasting relies on dedicated online video streaming platforms to stream any kind of media. Hosting for internet-enabled video material is provided by these specialist software alternatives.
Movies and TV shows are delivered directly to users via several OTT platform providers. Moreover, users only will require a stable Internet connection as well as a gadget that is suitable. To name a few, a computer, tablet, smart TV, gaming console, or even a smartphone can be used anytime, anywhere for streaming as many contents your viewers prefer to watch. However, now cable or satellite TV subscription is not required.
---
---
Benefits of OTT Broadcasting
The digital broadcast delivery in OTT's evolution started with the shift from cabe operators or satellite providers who began offering video on demand services in mid-90s. The huge surge of internet-based development have unlocked the way to scaling up when it comes to media delivery.
Without any doubt, we can say that OTT channels have helped to have predetermined schedule. Broadcasters can now have the real power of broadcasting as earlier TV viewing trend helps to override all of that.
And, let me tell you that it doesn't stop till there.. Primarily this video delivery solution within Over-the-top industry allows content broascasters otherwise known as publishers to have a viable internet connection like I mentioned before.. Next it makes it able for users, to access content regardless of location, time of day or any network provider for that matter.
Up next, we'll see its distinctive types..
Different Types of OTT streaming
A wide range of OTT delivery platforms that offer a better content viewing experience in an unparalleled way are Netflix, Disney+, Hulu, Amazon Prime Video, Hulu, Peacock, Pluto TV, & many others. Pivotal reasons that help them to unleash quality along with generating revenue, is because two main genres of streaming..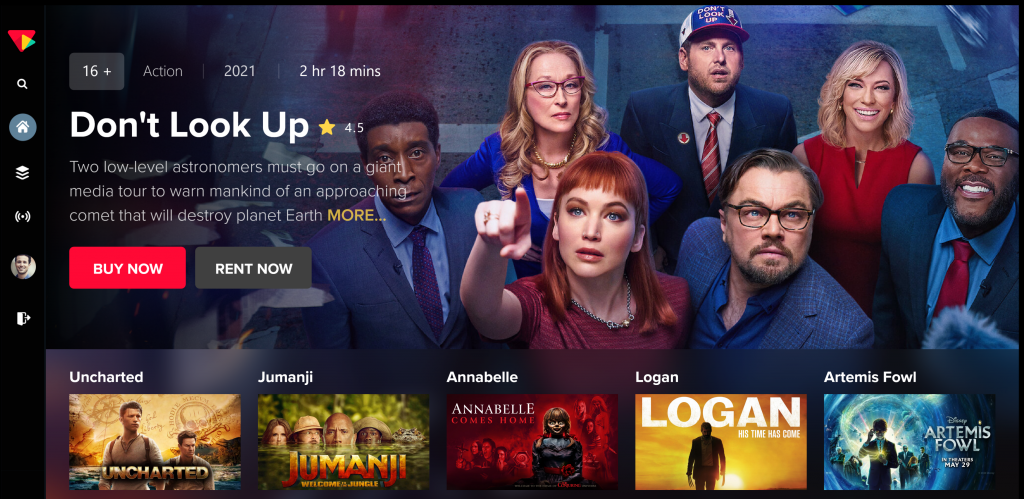 Scroll down to know more..
Let's look at the two primary types of OTT streaming: live and on-demand, now that you know how OTT broadcasting works.
VOD, or that's commonly termed as video on demand, talks about the video content that viewers can watch any feasible time that works to their advantage. In contrast to traditional TV programming, VOD streaming allows viewers to watch content wherever they want, either at smart TV, iPad, Mobile, etc. The idea here is to remove barricades of enjoying media rather than sticking to the broadcaster's schedule.
The act of broadcasting events in real-time is known as live streaming. It's a one-of-a-kind way to create engaging experiences with consumers that on-demand video can't match. Real-time broadcasting encourages viewers to participate more since it allows them to be a part of the action as it occurs. They can also ask questions and provide comments to hosts via chat and other tools.
Want to launch an OTT channel for your broadcasting business?
How Broadcasters Excel In an OTT Streaming World?
The reason TV stations are doing well on OTT is that they provide something that Amazon & Netflix don't: online access to local news & sports. Rather than putting an end to the industry, over-the-top streaming media increase viewership for broadcast television, with local TV stations. Adding to that ownership content groups reap the most of these advantages.
Meanwhile, even if they don't live in the market where this coverage is televised, viewers have a strong need for local sports. People equate broadcast TV with stronger coverage of local news & sports, which is why they are increasingly looking for this local information on the web.
The migration of broadcast television will improve when its industry's position in the competitive OTT market, tend to qualify with better, & enhanced consumer experience.
The OTT TV app is available on iOS & Android TV app stores as well as most major streaming platforms, that relies on a simple business model: local stations provide the with feeds, where the company then distributes to the web for free. 
Top platform and its member stations divide the revenue & provide seamless OTT delivery generated by web ads embedded inside those feeds. Later, it is distributed to the web for free. The real meaning of broadcasting is evaluated from this meticulous process in line.
Conclusion:
One of the significant benefits of combining OTT & linear TV is that OTT can fill in the gaps left by cord-cutting with its swift content delivery and other broadcast TV audience losses. Some of the business owners let us know that OTT also allows advertisers to reach people who aren't reachable by traditional OTA signals.
Also, utilizing robust technology solutions assists broadcasters in offering a smooth viewing as well as the engaging user interface. All of them put in one place sets offset this challenge & initial fear of taking away their TV audiences due to the Over-the-top streaming industry. And, that's where a successful OTT platform for business comes into play.
If you already have an idea about starting an OTT channel, Schedule a free demo and we'll help you implement it!