We list the best OTT streaming services based on our extensive research about the provider's advanced features, UX, Subscription counts, Content variety &, etc.
As there is an increase in the domination and penetration of smart devices like smartphones and smart TVs, the growing demand for VOD content and a higher rate of user payment are the prime reasons for the rise in streaming services.
With the availability of Multiple attributes like flexibility in packages, narrow genre choices, availability of wider devices, lower costs, and penetration of high-speed internet facilities, the adoption of OTT services has become the face of New-Age OTT platform.
More than 82% of the people in western countries prefer OTT services to watch their favorite content.
Do you have any idea about starting an OTT service?
It's the main reason most of the content owners from various industries prefer OTT for their business.
This is the perfect time to kick start your OTT with 400% ROI
Success and Presumption of OTT streaming lies in the flexibility of the content
Over the Top(OTT) services deliver flexible and compatible content anywhere or anytime across all versions and devices. The presence of OTT streaming services is not restricted only to movies or television, as more and more businesses are approaching them for their business needs.
The OTT market across the globe is touted to register a whopping 11.22% CAGR in revenue and add up to 2.25% in the subscriber count over the calculated period.
Source: Businesswire
OTT is becoming an impending phenomenon in the everyday life of Consumers
The OTT Live streaming in this pandemic has catapulted the masses to maintain their routines and connect with their communities. Live streaming brings the scope for connecting with any area of the field right at your convenience with ease of access.
The Leading OTT streaming services across the Globe in 2023
Although there are a few best OTT service provider in the market, few of them top the list for their niche services and wide range of offers in OTT delivery. Presently, the focus lies on both OTT streaming and On-Demand.
Let's dive below to explore them further.
1. Netflix
Stream Unlimited Movies, TV shows, and more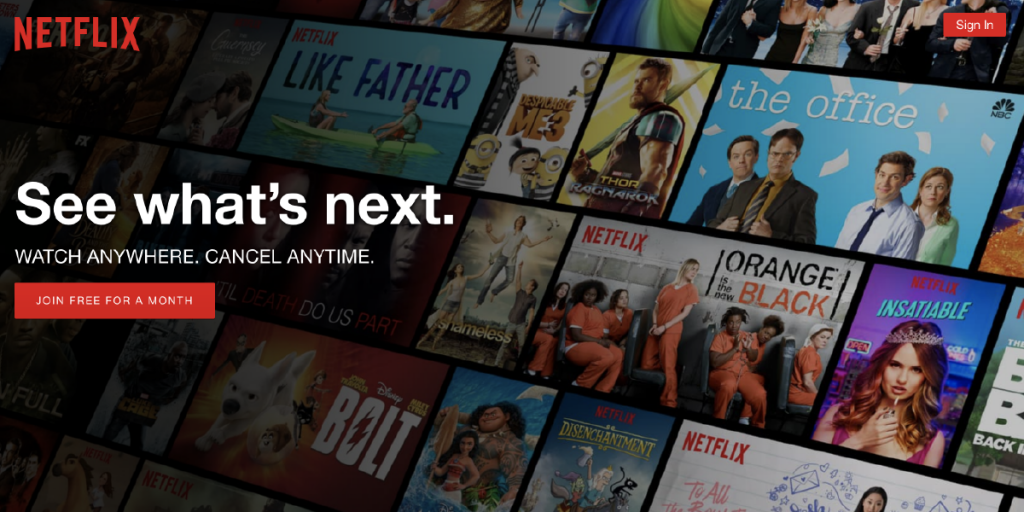 It is simply touted as one of the largest On-Demand streaming channels on the internet by featuring more than 15,000 titles.
Netflix holds 35% of the global OTT streaming share and is undoubtedly the leading over the top service provider in the U.S. Starting from original shows to Anime, there is a wide range of series and films delivered in state-of-the-art video quality.
It is labeled as one of the original OTT streaming services with the evolution of streaming technology and Netflix holds three different monthly pricing plans for exclusive, ad-free, and unlimited streaming. Netflix holds a massive library of original and On-Demand video content with the availability of a large number of OTT devices. You may also find out how does Netflix makes money.
Top-Notch Video Quality

Includes Exclusive Anime

Availability on a larger number of OTT devices

Wide Library of Contents
2. Disney+
Watch TV Shows, Movies, Specials, Live Sports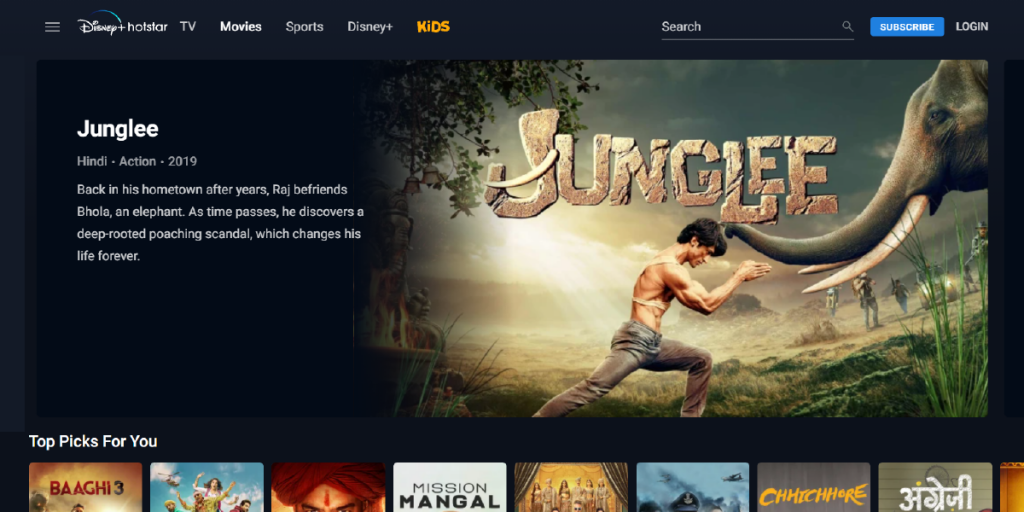 An over-the-top streaming service owned by the Walt Disney Company with access to TV series, movies, and programs by Marvel, Star Wars, Pixar, Disney, and National Geographic.
It is quite famous for memorable cartoons and its streaming service offers more than 7500 video content varieties of animated and feature films. Disney+ offers unlimited access to premium, Ad-free streaming and can be wrapped with other streaming services such as Hulu and so on.
It has more than 116+ million global subscribers and offers 100 shows in HD quality but does not have the provisions for Live TV.
Excellent bundle deal with other streaming services

Disney+ App made available on multiple devices

A wide variety of Animated and Family feature films
3. Hulu
Get endless entertainment, live sports, and the shows and movies you love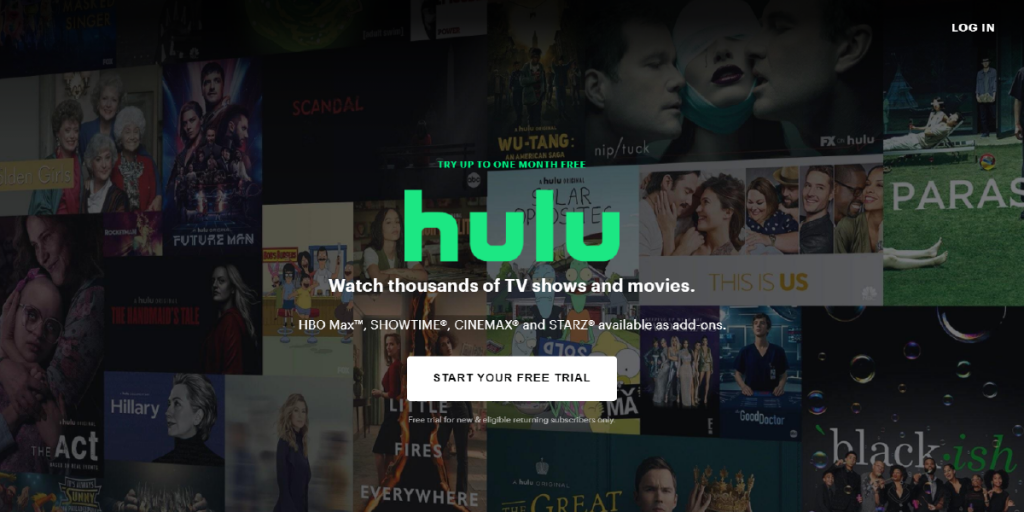 Hulu is touted as the Third highest OTT service in the U.S. and covers 11% of the market share globally. It is a versatile streaming service with multiple OTT pricing plans and a Live TV package.
Hulu subscribers get access to comedy shows, dramas, blockbuster movies, documentaries, and much more. Concerning Netflix, Hulu holds a minor difference in terms of the availability of new episodes as they get uploaded a day after their premiere.
It is a popular OTT service with four ranges of pricing plans and multiple add-ons, wrapped packages that give viewers access to collections of content.
Cheaper subscription plans have Ads and Ad-free content costs additional and the Live TV package is quite extra.
Availability of Free trial

Excellent Bundle deal with ESPN+ & Disney+

Versatile service in the market
---
Have plans on starting an OTT Streaming Services for your Business? We'll take care of it
---
4. ESPN+
Step Up Your Streaming Game with ESPN+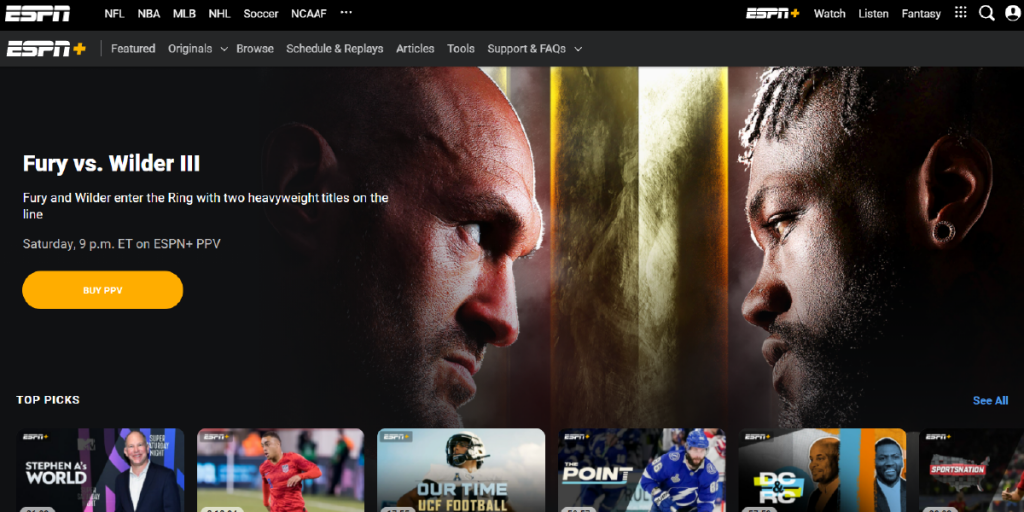 The first dedicated sports OTT streaming is unique in terms of focusing on the live streaming of sports events. The package possesses a rich category of sports streaming content, sports series, original shows, and live events.
The subscribers can follow a different range of sports such as boxing, basketball, wrestling, soccer, and much more.
With an attractive package rate, you can avail it with Disney+ for a nominal prize. ESPN+ Live shows come with multiple advertisements and it offers a bundle deal with Hulu and Disney+ to make up for the non-sports-related content.
Special bundle deal with Hulu and Disney+

Wide range of sports-oriented content
5. Amazon Prime Video
Watch the latest movies, TV shows, and award-winning Amazon Originals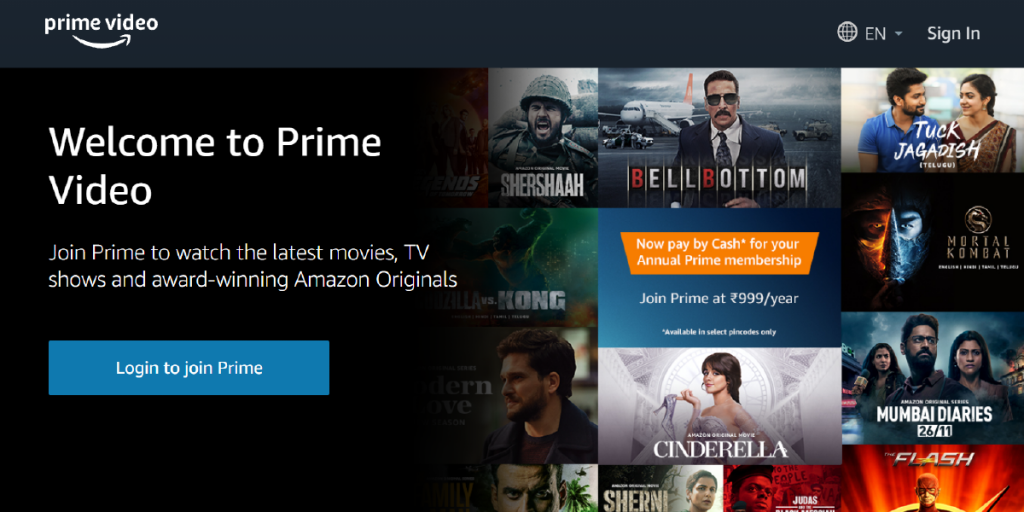 An OTT streaming channel from Amazon that enjoys massive loyal audience support and offers twenty-six thousand On-Demand videos with wide genres to choose from.
Prime Video offers unlimited access to a huge video content management library with a subscription fee and gives the availability of additional content for rent. The prime feature of Prime video is the direct access to films premiering and running in theatres.
You can also have additional access to sporting events, live programs, popular shows, and so on. It gives excellent HD quality streaming solution and compatible streaming on up to three devices. Prime Video gives an excellent all-around offer and is value for money who access their Amazon TV app account.
Availability of Free trial

Included with the Amazon Prime subscription

Balanced Library of live and original content
6. HBO Max
Streaming blockbuster movies, epic originals, and addictive series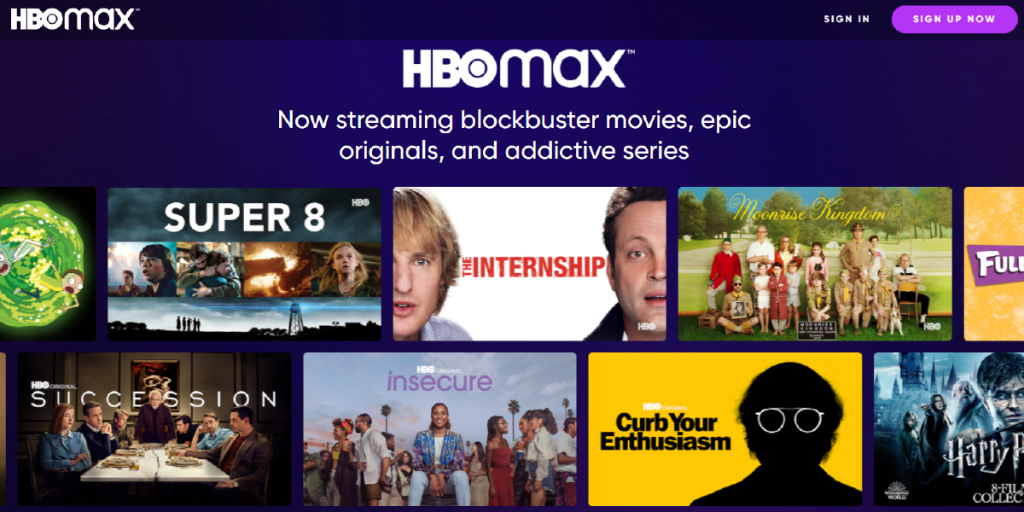 An OTT streaming service that streams content from Warner Media (a parent company of HBO) offering more than two thousand five hundred celebrated shows and Warner Media exclusives.
You get the right to access the most popular franchises like The Big Bang Theory, Morty, and much more. There will be access to all the premiering movies at no additional cost.HBO Max gets you covered in watching all the newest movies in the market. There will be limited sports content and it does not support Live TV.
It comes in two flexible pricing models across the globe. Viewers have to pay extra charges to get access to Ad-free content and make downloads. HBO Max supports 4K streaming and gives HD delivery of content.
Premiere of New Films at no additional Cost

Wide variety of Original shows & Franchises
7. CBS All Access
CBS TV Network Primetime, Daytime, Late Night and Classic Television Shows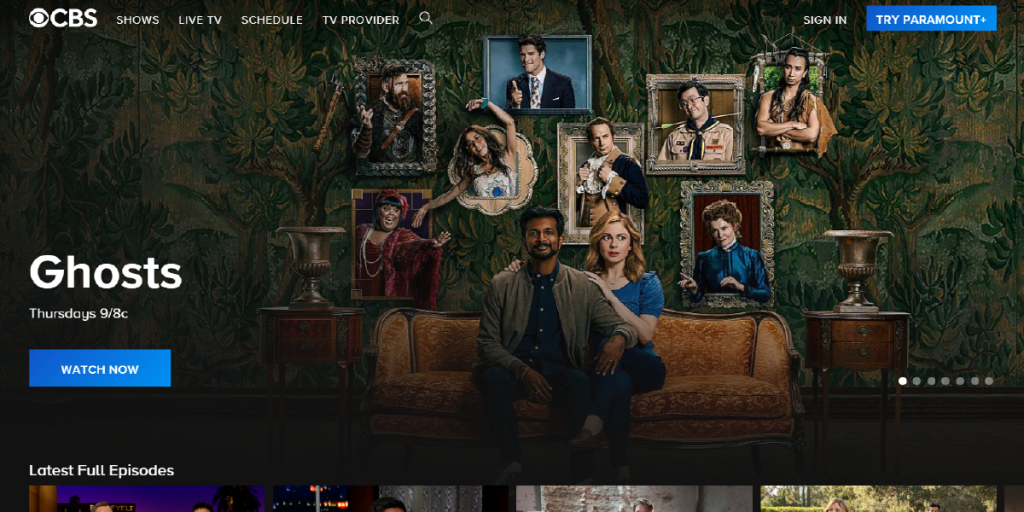 Paramount+ is the OTT streaming channel that gives exclusive access to CBS content at a very affordable price. It holds a rich On-Demand library of exclusive news as well as classic shows like CSI, All Rise, Twin Peaks, and much more.
By making the subscription to CBS All Access, you get access to tons of shows from the extensive CBS On-Demand catalog and live content from the CBS channel. There are specific CBS shows with attractive costs and competitive pricing as it supports multiple devices.
The prominent advantage of Paramount+ is that it is very affordable and costs a bit extra for access to Ad-free content.
The Ad-free package offers Live TV services inclusive of world sports broadcasts. You get offline downloads, HD quality, exciting offers with the availability of the OTT TV app on multiple devices. It is the perfect balance of On-Demand and Live content.
Availability of a variety of devices

Very much affordable

Balanced display of Live sports and On-Demand content
8. Pluto TV
Free TV added 120+ channels with the best place to buy or rent movies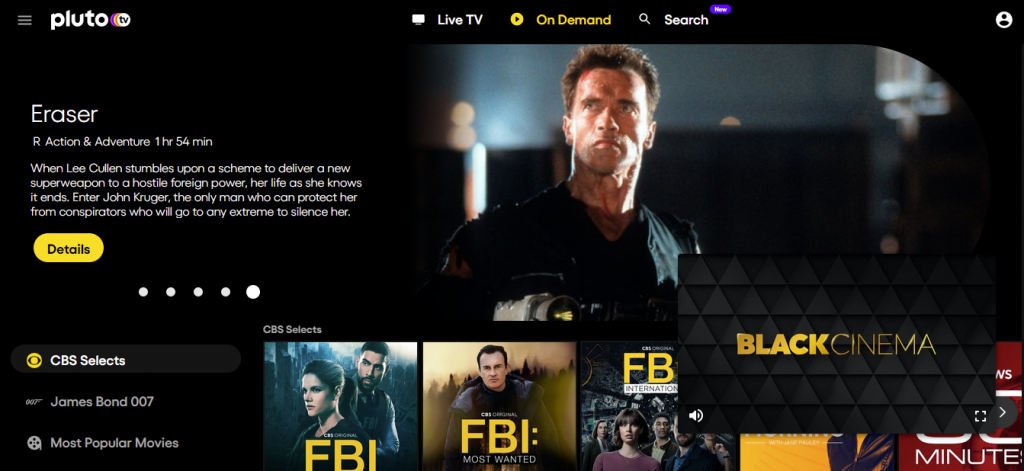 Pluto TV is one of the most reliable OTT services that can be approached by all fans of traditional cable television. The huge plus factor that is left unnoticed that is ad-supported bundled with 190 unique streaming channels. With more than 1,000+ on-demand movies, a wide range of content can be explored via Pluto TV. Also, it has some of the best original entertaining over-the-top shows and channels that you may seldom find on cable TV.
Moreover, choices of informative channels with additional programs is a sure takeaway that you can leverage, despite lacking sporty content. On the other hand, Pluto TV's accessibility with unlimited concurrent streams makes it a go-getter & suitable alternative for a wide number of fans who are in search of these in traditional TV.
Watch Exclusive Shows limitlessly
Stream on any devices alright from Chromecast to Roku
Next-best entertainment alternative compared to traditional sets
9. Tubi
Leading free movies & TV shows in HD streaming premium app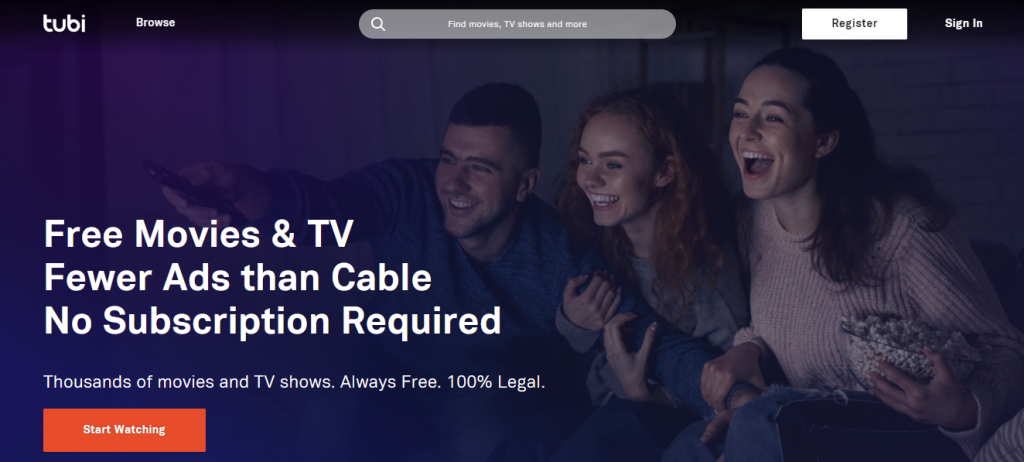 Tubi offers you a carrier-grade over the top streaming service consisting of 20,000+ movies and TV series for free. Many popular films are available in its extensive library, which includes titles like Legally Blonde, Teenage Mutant Ninja Turtles, Lion, Butch Cassidy, and the Sundance Kid, Karate Kid, and many others. Tubi was launched in the year 2014, started to spot top flicks especially when it comes to TV shows online.
The American streaming service which is owned by Fox corporation is here to stay in order to showcase classic films regardless of ultra HD streaming. Also, another catch on the back is since it relies on an ad-based monetization model as users you will have to deal with commercial breaks occasionally.
Access to both TV shows, Movies plus Tubi Originals
No subscription required
---
---
10. Sling TV
First-grade online TV streaming services with top customizability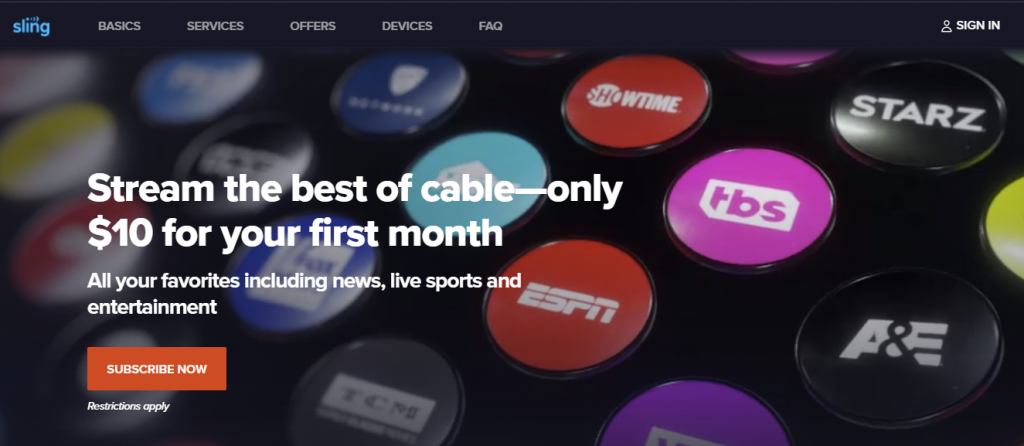 Sling TV is one of the finest streaming services that originated as a television network. It combines the traditional live tv experience with a more alluring on-demand streaming experience provided online. Its app-based TV service lets you have access to local stations at a starting rate of $35 per month. Sling TV OTT providers unveiled their presence in the entertainment market in the year 2015.
The service providers of Sling TV are led by Erik Carlson, who is the President & serves as the COO of Dish Network. This virtual multi-channel distributor among top OTT companies aims to complement services like subscription video on demand for cord-cutters & provide a wide range of major cable channels with OTT-originated media. It can be streamed through apps, smart TV, digital media players, etc.
Selection of programming is offered free
Watch Ad-supported programming without signing up on supported devices
11. Fubo TV
Stream & record live sports with other top-most channels like ESPN, FOX, NBC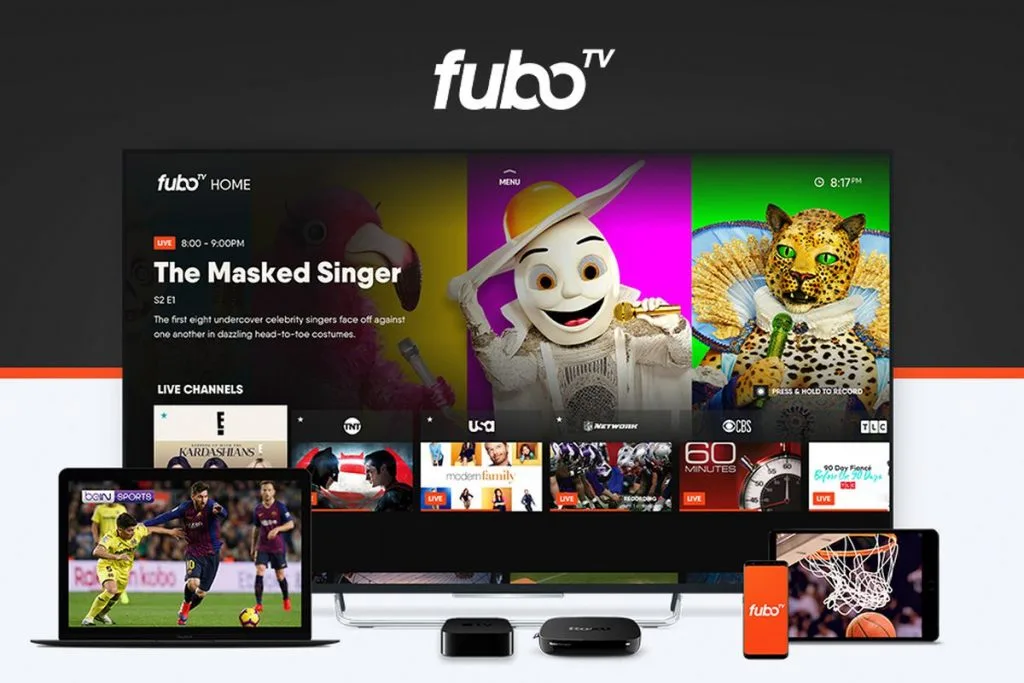 Fubo TV serves its customers with its prime OTT streaming services made available in places like the United States, Canada & Spain. Fubo TV was launched in the year 2015 and introduced itself with a service for soccer streaming. Later it changed into an all-sports service provider using a multi-compatible Over the Top video distributor where content is segregated country-wise that includes access to plus news, network television series & popular movies.
The best comes to notice is they offer simultaneous streams as part of the subscription packages. In their base plan, they offer a 1000 hr DVR with a family share with limitless screen for $69.99/month.
Cloud storage with unpausing & pausing of live streams
A lookback of previous-aired content nearly for 72 hours
Integrated to the TV app on Apple TV, iPad, iPhone
12. Peacock tv
Binge-worthy originals with the best free OTT streaming services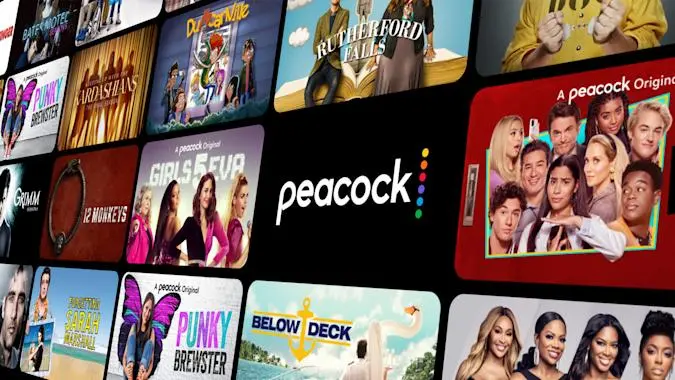 Peacock TV – The OTT streaming services from NBC Universal's Peacock which was launched on July 15, 2020, covers some of the major advantages which can't be ignored. It is nothing but, gaining 13,000 hours for free programming along with more exclusive shows, live sports or movies, originals once you pay.
This US-based streaming app can help you to have a premium upgrade for a month of about $5 that's included with ads. Or if you are looking to unlock more content with zero ads you can avail of premium plus for a month which costs $10. This includes every season of fan favorites of TV series likeGirls5eva, Five Bedrooms, popular originals like Dr.Dearth, MacGruber, soccer & WEE events
New movie premiers after theatrical releases included for 45 days
Try out the Free version by signing up with your email address
Peacock will stream games for both paid or premium tiers
13. Vudu TV
Best OTT price deals from Vudu on all your favorite digital viewing devices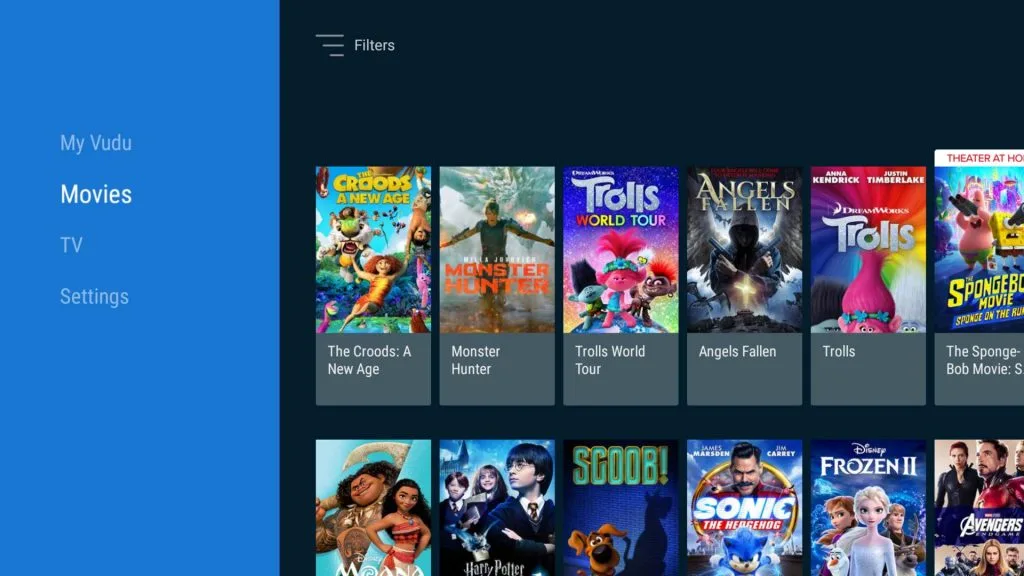 Vudu TV – Vudu's top OTT media services were initially launched in the year 2007 as a set-top box & were called a Vudu box. The video streaming solution became quite popular and offered digital movies in HD. Bringing home streaming experience alive, which was aimed even higher than the theatrical one, is their primary take on consumer satisfaction.
They offer more than 200,000 new releases that consist of a catalog of classic content of movies, TV shows on rent or buy & these extensive collections were of 4K UHD titles. Since Vudu is available in 75+ Million households, it serves across Smart TVs, Connected Devices, Mobile & online.
Founding partner of movies anyplace & converts physical discs to digital
1000 titles available for free watches without any need for subscription.
Ultimate OTT entertainment streaming network for big screens, at home & on-the-go
14. Crackle TV
Multi-streaming of OTT video entertainment network & studio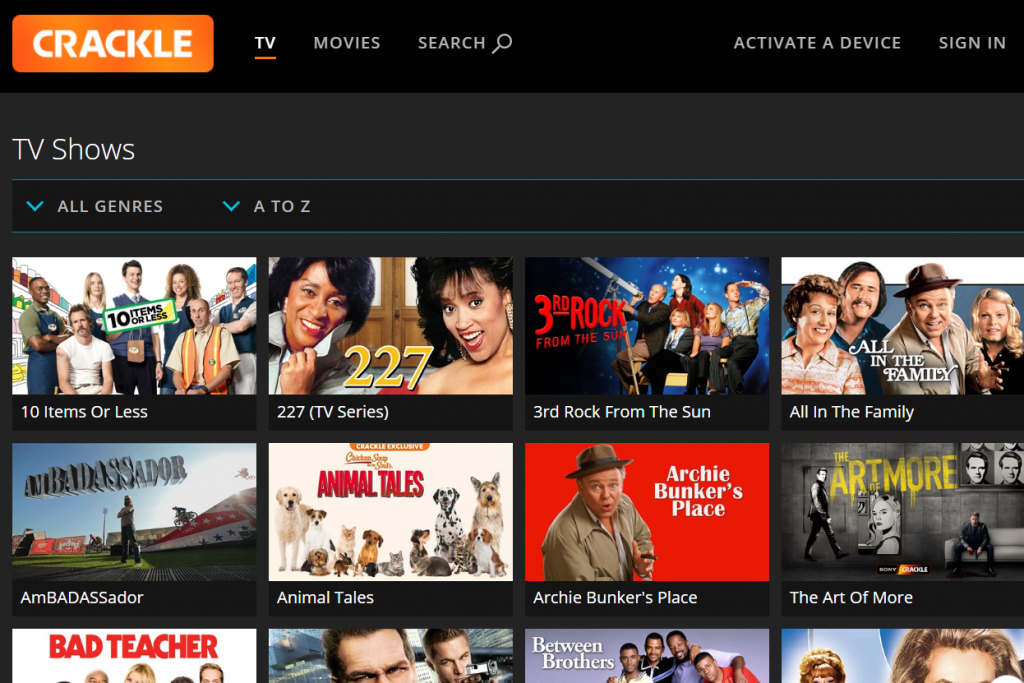 Crackle is one of the best video streaming solutions which is owned by Chicken Soup for the Soul Entertainment. Their services are offered in 21 countries on devices like Mobile, Tablets, Smart TVs, Web, inclusive of Gaming Consoles & Connected Devices. Crackle features its originals like Safe Haven, The Oath, etc.
Their content library gets a change each month as new titles are added and others were taken down. Furthermore, the company was originally known as Grouper, where its services were purchased by Sony Pictures in the year 2006. Later it was renamed Crackle in July 2007. Now Crackle facilitates in-flight entertainment which includes some hotel chains.
Works on an ad-supported model
Subscription starts for free with adverts
15. Kanopy TV
The best OTT digital resources to watch ad-free video services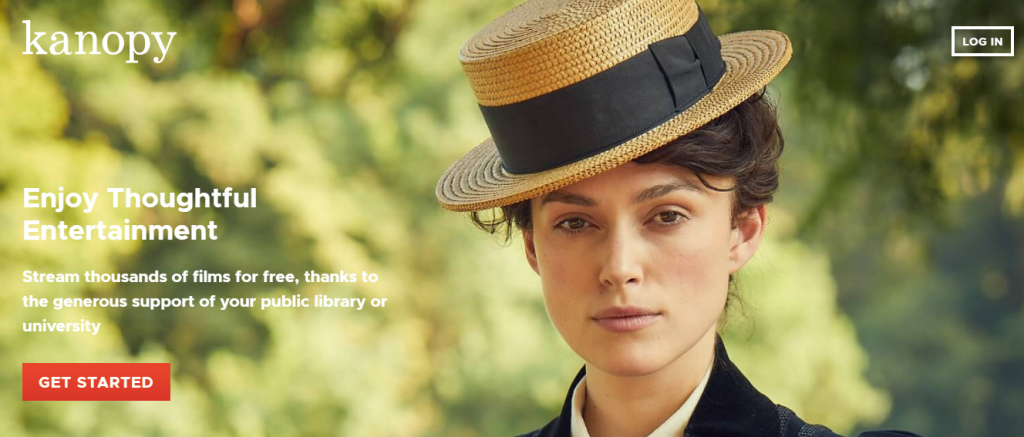 Kanopy is one among the list of all OTT services which aim for quality with thoughtful entertainment. In this on-demand streaming services you can find not only over-the-top movies, documentaries, and classic cinema, but also provides content delivery for public libraries & university chains.
Kanopy service providers offer educational streaming service especially for kids where they can have exposure to ad-free streams that can be enjoyed on your TV, Mobile apps, Tablets, etc. It was founded in 2008 in Western Australia by Olivia Humphrey. And he came up with the idea that Kanopy could be used as a tool for education purposes.
Provides each public library with a customizable website to stream films
Service includes captions, playlist creation, clip creation, to allow users to share videos
Institutions pay on a per-view basis for movies that are watched by students & faculty
Ample Opportunities of OTT Streaming
The OTT industry is booming as technology becomes a dominant video consumption medium. As the OTT is massively growing over the past few years, there is an exponential growth in the revenue from 6.1 dollars in the year 2010 to a huge spike in the numbers in 2021.
Are you planning to build an OTT streaming services for your business?
"OTT media revenue is speculated to reach 159 billion by the year 2024"
The US SVOD market is the largest across the globe and there will be the emergence of More OTT channels with a further five million subscribers by the end of 2025. With heavy competition from young OTT providers, the growth for big players like Netflix and Amazon Prime will get hindered.
Did you know?
According to Research dive, The World OTT market is regarded for 110 billion in the year 2018 and is speculated to rise in the year 2026 at 439 billion
How to Start Your Own OTT Streaming Services?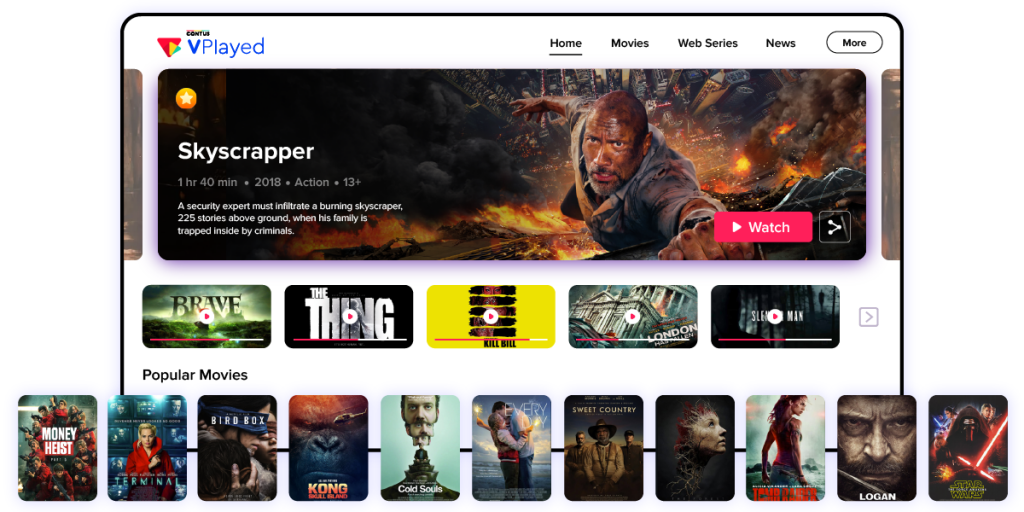 Building an OTT platform with the assistance of CONTUS VPlayed will enable the capitalization of the opportunities and prospects to reach out to global audiences directly. You can shape your unified streaming channel with the infusion of highly sophisticated technologies to access on a variety of devices.
CONTUS VPlayed enables you to own the OTT streaming channel with complete ownership of the content and the freedom of picking the right revenue streaming model. Listed below are the ways in starting your own OTT services.
1. Choosing an enviable niche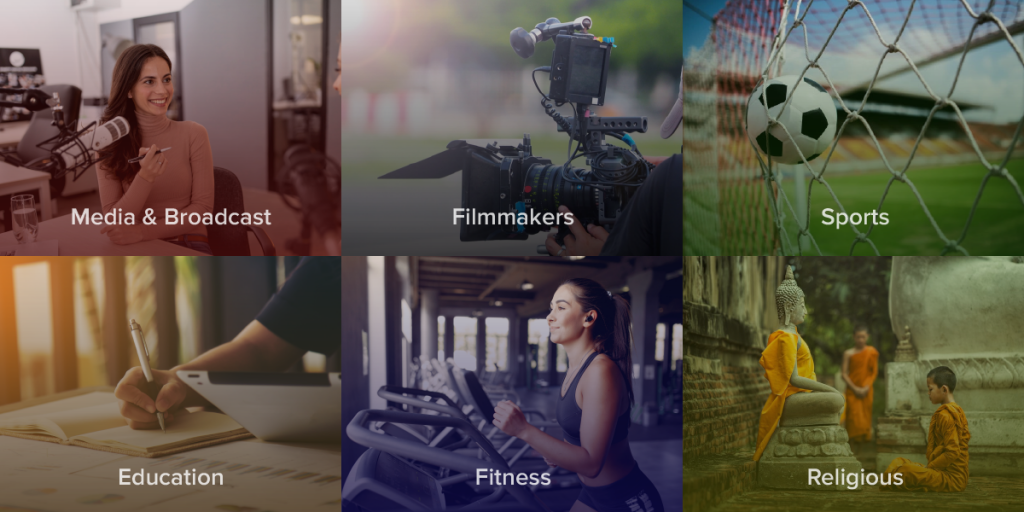 Before starting an OTT business, it is mandatory to decide on the niches in the market such as sports, Fitness, Entertainment, eLearning, Lifestyle are some of the popular ones in greater demand. The revenue prospects of your OTT will depend on the chosen dedicated niche.
2. Building Content for OTT site
Business owners should focus on the planning of the content and have an efficient content-building plan to involve the customers in your niche. This enables clear transparency of what viewers can expect out of your OTT service.
3. Find your target audience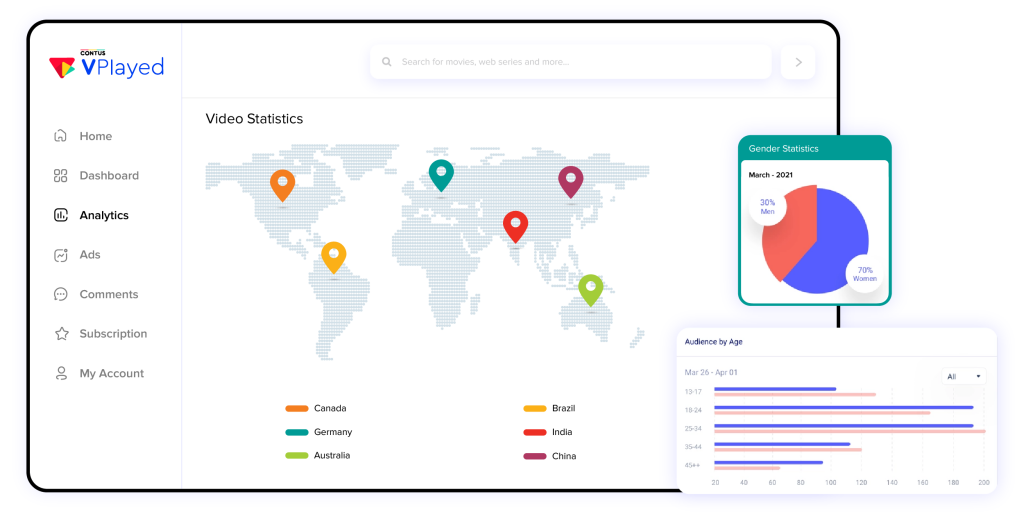 The ultimate goal is to deliver a superior streaming experience that caters to the needs of the target customers and ensures retaining of customers and increased revenues for business growth.
4. Prominent attributes of OTT streaming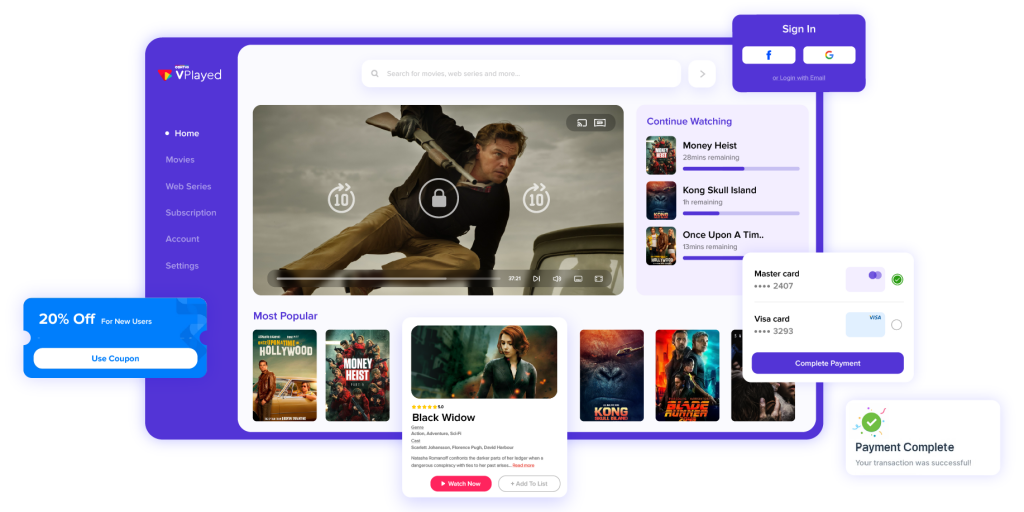 The features and functionalities are the mandatory essentials in formulating an OTT business plan. Listed below are the basic and advanced technological features necessary for VOD platform providers.
Sign-in and Registration-

To allow the users to access your OTT content, there must be the proper creation of verified accounts and log-ins using phone numbers, email, and so on.
User Profile-

Virtual dashboards allow the users to make smooth navigation and get significant insights. Ensure your users have multiple profiles and management of content.
Finest UI experience-

OTT streaming providers need to hold UI & UX as two major aspects for efficient streaming. You have to personalize your OTT services to deliver a superior viewing experience.
Search-

The Search option must be visible for varied age groups and you must ensure the inclusion of multiple genres in the drop-down menu to satisfy the interests of your audience.
Watch List –

The watch list functionality is a prime feature that is most sought after by users. The users can add videos to watch later with this feature.
Screen Mirroring-

Integration of screen mirroring feature will ensure the user access on multiple devices and screens.
Payment integration and In-App purchases-

Integrating this attribute into your streaming service will allow the users to make purchases or payments without leaving the

OTT app

as the secure payment gateways will ensure seamless money transfer.
Video Player-

Integrate the features of analytics and report to the video player to bring insights into the performance of your content.
Create and Manage Video-

There must be proper video library management for effortless access to the content. Ensure easy management for content creators to upload, organize, create, and change the details.
Discount and Promotion coupons-

You must generate the discount coupons and promotions in a fashioned manner to bring in more audiences.
Analytics-

With the addition of strong analytics tools and features to measure the engagement and performance of the users.
---
---
5. Creation of the Right OTT App

You have to customize and make decisions based on your streaming services or videos for increased business growth. Choose the OTT apps based on your streaming content and there are apps such as Apple TV, Android TV app, Apple Ios,iPad, iPhone, Roku TV, Amazon Fire TV app , LG TV, and so on.
6. Choose your Business Model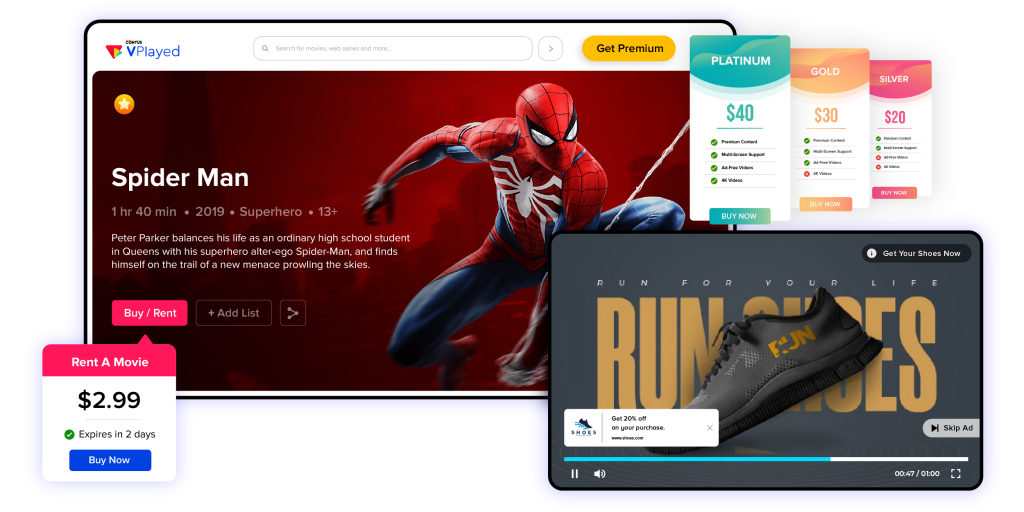 The right business model is essential for streamlined video monetization and the business model is a significant aspect in determining the success of your OTT business.
There will be a wider distribution of content and maximization of income with the customized video monetization models of CONTUS VPlayed. They offer custom-built multiple subscription models that are designed to increase revenues and maximize the content potential across all mediums.
Transactional Model- What is TVOD? The users can freely sign-up for the OTT service but should make the payment to access the content. It is generally like a pay-per-view model as it holds a one-time payment and users can own or download content and allows maximizing on the profits in a short period.
Subscription Model

-The users can access the content for a fixed subscription fee. This model will be the perfect alternative for a viable revenue strategy

.

OTT giants like Netflix, Hulu, Prime work based on this business model.
Advertisement business model – What does AVOD stand for, advertising video on demand the

most common business model for OTT monetization. Advertisements are the most profitable source of income and it is very effective while you own a large audience base. This

model will be effective in the instances where the target audiences are less likely to pay for the content regularly.
Hybrid Model-

This model combines the transactional, advertisement, and subscription-based models in a new pattern. It helps in making money from content and simultaneously satisfying the interests of your audiences.
Conclusion
With a significant study of the market, launch your own streaming services for improved business prospects as more businesses are leveraging the OTT services to deliver quality content and attract larger audiences.
Avail the expert assistance of CONTUS VPlayed for increased ROIs, progressive streaming, and technological nuances to ensure a seamless viewing experience for every business demands.
If You Already Have An Idea About Starting an OTT Services, Schedule A Free Demo And We'll Help You Implement It!


Frequently Asked Questions (FAQ)
1. What Are OTT Services?
Over the top media, services are offered vividly to any audience under varied genres via standalone OTT platforms. They are usually connected to on-demand streaming, live streaming & monetize limitlessly through them. All of these services can be accessed in internet connection or through mobile apps by end-users leisurely.
2. How To Find The Best OTT Service Providers?
Every collection of OTT services carries pivotal importance that greatly gets involved in maximized monetization. So, it is quintessential to have the best research on what kind of services are showcased via eminent OTT providers. There are 4 factors that underplay to start before making an informed decision & they are best streaming reliability, complete customization, level of privacy and, dependent cost factors.
3. How Is OTT Replacing Traditional Media Streaming?
Today, with technological advancement traditional means of viewing entertainment have vanished since consumers lacked choices. It is replaced by several OTT companies with their dynamic streaming services. They are viewed by users through different mediums like mobile devices, game consoles, smart TVs, and other connected devices
4. How To Start A Successful OTT Streaming Service?
Until now when you have decided to kickstart with successful OTT services, it's better to take a look at the list of all content providers & check which genres they are offering to their audience. You can opt for top industry niches like Entertainment, eLearning, Esports, Fitness, etc. Then create an OTT streaming services with quality content pieces, while managing them in an organized library after setting flexible OTT prices.
5. What Are The Ways To Generate Revenue From The OTT Streaming Service?
When you look into crucial aspects of monetizing the best OTT services that comprise live streaming & an on-demand set of video/audios, it depends entirely on the scope of your niche business. Presently, you can generate high ROI through multiple monetization models like AVoD, TVoD, SVoD to ensure good revenue flow in your service packaged with flexible pricing. Also, you can monetize through coupons & promotions, paywall video delivery, etc.