It is of no surprise that Apple TV app development is getting popular every single day. Infact, not only apple's streaming services are easy to use, but tvOS integration gets seamless with other Apple devices. As we all know Apple TV 4K runs on tvOS – the most powerful TV operating system it is said to offer a truly crystal-clear experience.
With its tightly packed integration with Apple devices & services, it gives the comfort of their living room for everyone in the family with a range of entertainment to enjoy. So, if you're a video streamer or broadcaster creating an Apple TV app is one of the greatest investments that you are thinking to make.
While taking an estimate from a survey, Apple TV+ was found popular amongst millennials with 11% of respondents in the United States with a current Apple TV+ subscription – Statista
Moreover, Apple TV delivers the most charismatic home theatre experience, while providing easy access to users with their favorite entertainment on biggest screen at home. For an instance we can say that Apple Fitness+ on Apple TV app can bring in exclusive studio-style workouts to customers at their own suitable space, featuring some of the world's different workout types from renowned trainers.
Right from apps that let your users binge on movies & TV shows to ones that are dedicated to solving puzzles, practicing yoga or shopping these are meant to be the best Apple TV apps available. The best usage comes into the highlight when it also allows individuals subscriptions to certain channels & movie rentals or purchases. Generally, app comes pre-loaded on the set-top box of Apple TV.
Come, let's explore more of Apple TV in the upcoming segment.
What is Apple TV?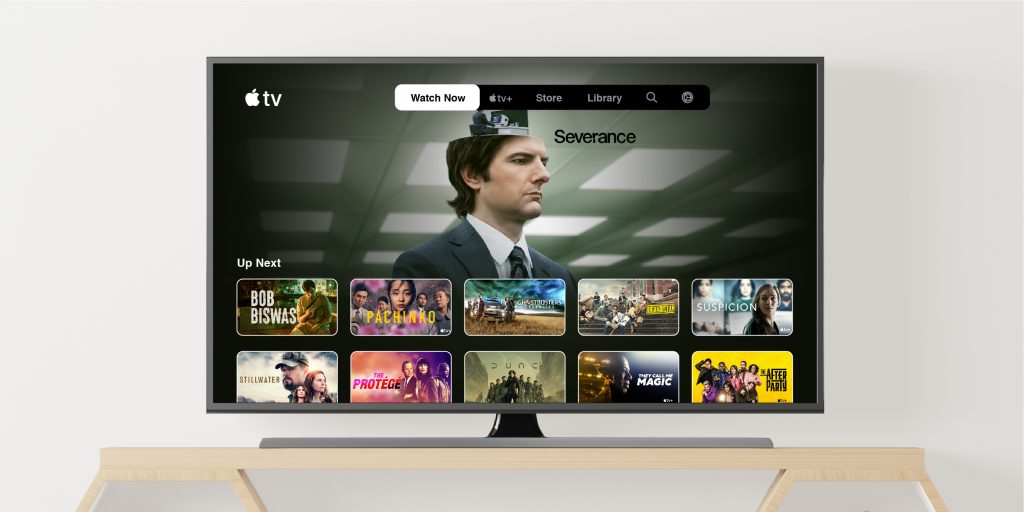 First and foremost, Applet TV refers to the box device which can turn any television into stead-fast streaming ready set. Also, Apple TV refers to the advanced tech software that accelerates this device. The major attributes stand out with Apple's device, all thanks to its voice-powered Siri remote and the wide range of Apple TV apps.
With Apple TV's software, platform users can now enjoy native TV app solutions of Apple from their favorite line of video broadcasters such as Netflix, Disney+, HBO, etc. Users will need two major things while setting up an Applet TV (apart from actual television) & are HDMI cable along with internet connection.
Apple TV also includes an Ethernet port that is required for a hardwired internet connection which is supportive of WiFi. Once it is connected, Apple TV allows end users to display any form of digital data from their own iOS devices, as well as from a varied partner source. It is understood that Apple TV is high-ranked competent in the marketplace at par with Roku, Google Chromecast & Amazon Fire TV.
Why Apple TV?
The landscape of streaming device has witnessed its changes since 2007. Right from Fire TV to Android TV app, there's absolutely no shortage of set-top boxes to choose from. When we talk about why need to choose Apple TV, it comes down to its quality of reach. Apple TV plus is not a separate app that's standalone. Instead, your users will get to using Apple TV app, looking into its further expansion to many more devices over a period.
According to some of the data collected, it's found that Apple users spend almost twice as much on apps fetched from Apple's app store than android users spent in Google play store. When you tend to create it, Apple TV app will be an exclusive way that you can provide your users to watch that content.
Although most of the revenue comes from gaming apps, there are several reasons as why to prioritize an Apple TV app as opposed to other set-top streaming box apps which indeed makes most sense for your business. The Apple TV app was first launched on the fourth-generation Apple TV & iOS at the time of 2016. Now it is pre-installed app on all iPhone, iPad, & Apple TV devices.
What's more is Apple positioned the app as a moderized TV guide where it's titled as all-in-one hub for finding recommended shows for viewability. It offers personalized picks suited to audience tastes. Apple TV app also has a flashy sport component that offers live scores & notifications for other games. It provides the opportunity to monetize as it provides access to iTunes TV show & movie purchase or rentals.
Things to Consider while making a Apple TV App
Apple has been allowing content owners to build & launch apps for iOS operating system for a while now. And, from all possible options, we've found some of the best options that you can leverage: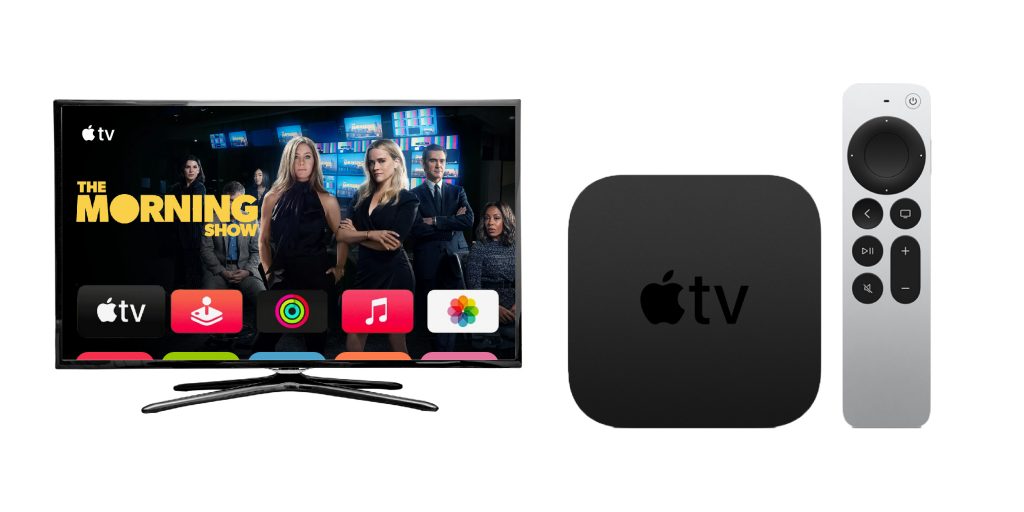 Convenience is at top priority
Users need to simply connect to favorite devices and transform their house into a smart & entertaining home environment enabling conveniently. They can control lights, locks with their iPhone or just by sending voice commands. Ultimately you can provide them flexible features by creating an apple TV app to elevate their theatre-like picture & sound.
Limitless Users having maximum accessibility
There are countless users in iOS platform as compared to other devices because Apple has a list of accessibility features that include voice over screen reader, magnifier, pointer control & more. The platform also extends its support to external hardware switch controllers with hands-free mouse followed by head movements.
Content Availability at All Corners
Depending on country or region there is a possibility that users might not be able to buy, download or subscribe to certain types of media. It entirely depends on its availability with features of those apps, movies & more which can vary. If your target audience wants the media to be broadcasted in your country, then you can give the option to contact you directly.
Right to Content Licensing
While you think of developing your apple TV app, it allows content entrepreneurs like you to repurpose otherwise republish iOS-based content via a legal contract. Often it is named as copyright license. It is made flexible for companies to distribute their own media & leverage on different OTT platforms for specific set of audience consumption.
Pick A User-Centric Monetization Model
The App store lets you scale your TV apps distribution globally by powering you with various types of business models. It is in sync with the right business model for your personalized Apple TV app that balances your business objectives with the needs of target market. Therefore, it becomes vital to choose your business model before building one to provide smooth user experience.
Enable Multi-Currency Support
It is important for your business to provide customers with a seamless shopping experience with possible ways to limitlessly deliver across any region. The language barrier & currency conversion provides feasibility to increase online purchase where online retailers look for ways to build trust among international audience.
Nothing less than Quality-Driven Content
Users can now get hold of the streaming quality of Apple TV app content over Wi-Fi connectivity. And it's particularly for those who have taken unlimited streaming plans or may not want to hog on household bandwidth. They can get relieved of their worries since through Apple TV app, you can provide as many numbers of services ensuring buffer-free experience.
Video Sharing and Distribution
The distribution method that's selected during the app deployment usually depends on how apps are scoped during the entire process. For example, if apps are distributed internally to the employees, it makes a difference within the business entity. Or if the organizations may choose to provide the high-defined apps to the general target audience then the distribution process might vary end-to-end.
With smart downloads, the recommended videos will automatically get added to user's library for watching offline. Viewers can discover new content time & again without any hassle of searching. Once your target audience turns on smart downloads & connects to Wi-Fi, the new videos would be put to save every 7 days within the library.
How To Create An Apple TV App
An iOS video streaming app is flexible in terms of downloading application for iPhones, iPad, etc. that capacitates users to broadcast streams on demand directly to their chosen devices. In one interactive app, iOS streaming apps are utilized by content owners – both big entrepreneurs & mid-scale enterprises – for connecting with audiences on preferable device.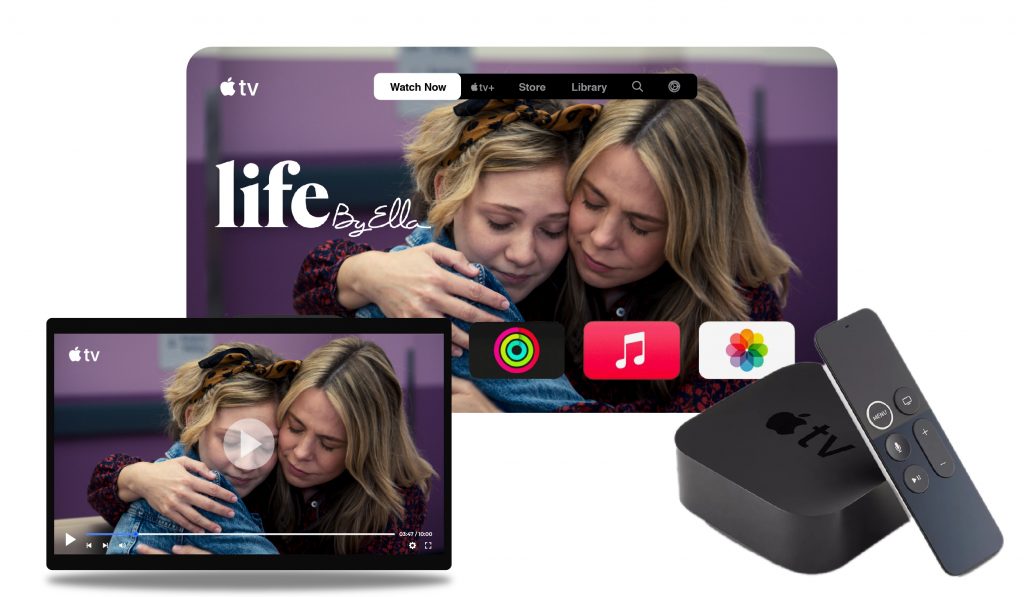 Use a White Label Over The Top Platform Provider
When you starting to create your branded own apple TV, you tend to create an opportunity where it lets you to meet all kinds of user demands in the right place at the right time. With a professional & high-valued platform provider there are chances that you can drastically increase your audience base & grow your streaming business in no time. Also you can benefit with your owned platform with a life-time value.
Apple TV Apps Streaming Features
User Login, Profile & Registration
While your audience sets up an Apple ID, it lets them to sign in & purchase or rent videos. It also allows them to view change of account information & crosscheck with purchase history.
Notifications & Push Messages
Allow your apps to send users notifications where it can be visible on the homescreen of Apple TV. Notifications appear as badge on apps. Let users turn these notifications on or off for your unique app individually.
Your target audience can now adjust streaming & download settings for your Apple TV app. Also, you can modify how Apple TV app uses their viewing history to furnish tailor-made recommendations.
Multiple-Language Support
Within your tvOS app development you can allow users to choose audio languages that can be downloaded with videos. All they need to do is to tap add language & choose one among them that they want to add.
One of the major preventive measures that you need to make sure is to not let screen grab of your content from online trespassers. You can refrain it by sharing content with a self-destruct on them. Users in platform can only view for X seconds & then it sends you the notification.
It is an online interface that will allow you right from manipulating & managing app's data up to user-related functions & track key performance metrics. Moreover, you can utilize admin panel to gain valuable insights about your audience & use them to boost conversion rate.
By understanding multi-platform support, it is referred as there's no need to introduce any kind of new programming languages to your codebase for making your app cross-platform. Make your existing app work on iOS devices to gain the benefit of creating native apps.
Payment Gateway Integration
When it comes to iPhone or iPad, users of your Apple TV app always get to seek that offer more easy method to make payment without requiring too much information. Indeed, it is turned hassle-free & secure online payments are best way to keep your users stick to your app.
Hire Dedicated Developers for Your Apple TV App Development
Creating an Apple TV app requires more than just a brilliant concept and the technical know-how to turn that vision into reality. It requires experience and collaboration between teams.
At VPlayed, we offer a distinctive solution — dedicated OTT developers to build, customize, deploy, and maintain your Apple TV app. Here's why this approach stands out:
1. Access to Apple TV App's Source Code: When you hire dedicated developers from us, you gain access to the Apple TV app's source code. This empowers you with the freedom to fine-tune and customize your app to meet your exact requirements.
2. Add or Remove Any Features: Whether you want to introduce innovative features or remove existing ones, our dedicated developers give you the flexibility to adapt your Apple TV app to evolving user preferences.
3. Flexible Hiring Model: Tailor your development team precisely to the unique needs of your project. You can effortlessly scale your team up or down as your project evolves.
4. Ready-to-Work Team: Our developers are not just experts but also primed and ready to dive into Apple TV app development, staying abreast of the latest trends. This means there's no waiting – they start delivering results from day one.
5. Pay As You Use: Our cost-effective pay-as-you-use model ensures you only pay for the resources you need, making your budget work efficiently for you.
6. Product Maintenance and Support: Building an app is just the start of the journey. We offer continuous product maintenance and support. So, it is assured that your Apple TV app remains robust and up-to-date, delivering an exceptional user experience as long as you want.
In summary, collaborating with VPlayed and our dedicated developers empowers you to create a dynamic Apple TV app that aligns precisely with your vision, budget, and timeline.
Conclusion:
Creating an Apple TV app provides an exclusive standard of your streaming brand & with millions of users are hungry for hitting them with an engaging streaming content. There's never been a better time to all get started. The best part that you can look upto is no matter how big or small your business are, there's a room & solution out there which is right built up for you to cater nothing to less than best, to your audience viewing trends.
If You Already Have An Idea About Launching An Apple TV App, Schedule A Free Demo And We'll Get You On The Road To TV App Streaming Success!


Frequently Asked Questions (FAQ)
1. How to create an app for Apple TV?
To create an Apple TV app, you have three options. 
Step 1, you can build a custom-built, fully white-labeled app from a leading tvOS provider like VPlayed. It comes with a one-time payment for the tvOS app, but has no recurring payments. 
Step 2, you can lease an app from a third-party provider and customize it with your branding and content. It comes with recurring payments and user fees.
Step 3, you can use the DIY method by using Apple's tvOS development tools and resources to build the app yourself. But, choose this method, if you have the necessary coding skills and knowledge.

2. How to choose the OTT app builder for Apple TV?
When choosing an OTT app builder for Apple TV, consider factors like ease of use, customization options, monetization features, compatibility with Apple's guidelines, and customer support. 
Also, evaluate their track record, customer reviews, and pricing structure over the last few years. 
Request demos or trials to assess the platform's capabilities. 
Ultimately, choose an app builder that aligns with your niche-specific requirements, target audience, and budget. 
3. What are the features required for an Apple tv app?
An Apple TV app requires essential features like seamless integration with the Apple ecosystem, intuitive user interface design, support for high-quality video playback including 4K and HDR. 
Of course, features like compatibility with Siri voice control, access to the Apple TV App Store, and the ability to offer monetization options such as in-app purchases or subscriptions are a big plus too.
4. What are the benefits of launching a tvOS app for Apple TV?
Launching a tvOS app for Apple TV gives numerous benefits. They are: 
1. It expands your app's reach to a wider audience. 
2. Allows for seamless integration with other Apple devices and services provides a cohesive user experience. 
3. High-quality content support ensures an immersive viewing experience. 
4. Access to the Apple TV App Store boosts app visibility. 
5. Innovative features like Siri voice control enhance user interaction. 
6. Monetization options and regular platform updates offer revenue opportunities and continued innovation.
5. What is the difference between Apple TV and Fire TV?
Apple TV and Fire TV differ in several aspects. 
Firstly, Apple TV integrates seamlessly with the Apple ecosystem, offering a cohesive user experience.`
In contrast, Fire TV is tightly integrated with Amazon's ecosystem. 
Secondly, Apple TV emphasizes high-quality content and supports 4K and HDR. But, Fire TV offers a wide range of streaming options and features Alexa voice control. 
However, both platforms provide app stores and diverse entertainment options.

6. How much does it cost to develop a tvOS app?
The cost of developing a tvOS app varies based on factors like customizations, complexity, features, design, and development time.
If you hire a developer, on average, it can range from $10,000 to $50,000 to develop a basic tvOS app. However,  more complex apps with advanced features may cost upwards of $100,000. 
So, it's important to consult with tvOS providers like VPlayed to get an accurate estimate based on precise requirements.