We all know that video has transformed many streamlines and stays universal in the current scenario in professional space like enterprises. Right from business communication to training and learning it has travelled a long way in changing the means of partnering with teams.
Today, organizations embrace digital workspace and they are increasingly rely on video to communicate and share data. Many enterprise video applications can support business areas.
To name a few, product marketing, corporate training, employee onboarding and team collaboration count the use of online video.
Enterprise content management allows organizations to securely manage content and its related data throughout its lifecycle. It stores the content in the centralized library and makes it accessible to authorized end-users.
It is surely intended to manage and deliver one to many, live as well as on-demand videos across the globe via internet. Content team are now empowered to manage videos like business documents and images.
Enterprise content management can enable digital experiences for focussed business audience and help organizations to manage video distribution efficiently, addressing a wide range of business needs.
Infact, stats indicate that 94% of marketers who have deployed videos in their business strategy has contributed to better understanding for consumers about the product or service.
Therefore, once a business commences to curate and share video content, the content management system plays a pivotal role in their intricate operations.
So, an ECM software comprises platforms which plays an important role in consolidating all activities that are required to manage content under a single roof.
What is Enterprise Video Content Management?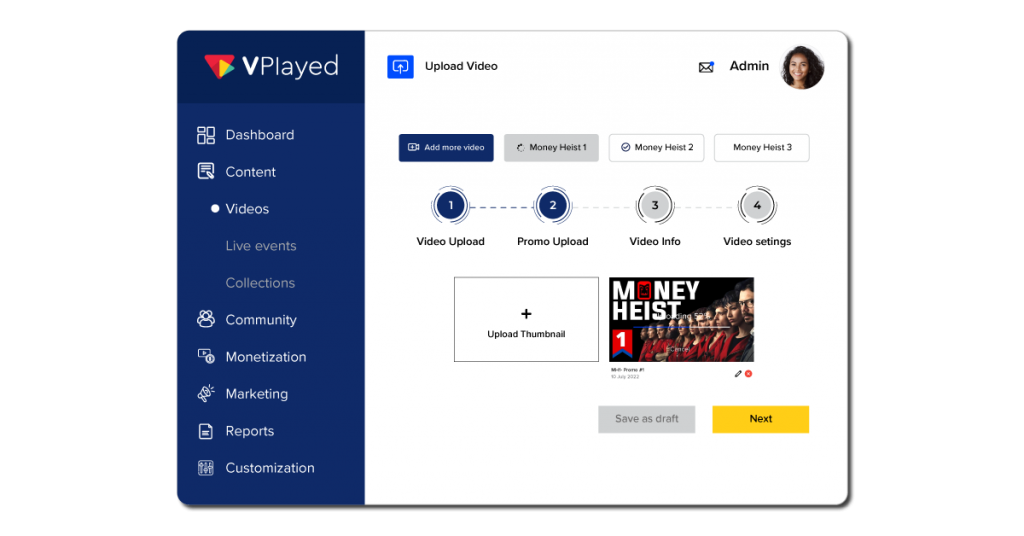 Enterprise content management provides a cohesive way to manage an organization's video along with its essential digital assets. It empowers content owners to capture, process, store, discover, and distribute media in a protected and centralized platform and they can be used for both internal as well as external use.
In other words, the products or services of any organization are intended to manage and facilitate the delivery of one-to-any, whether in the form of on-demand or live videos through seamless internet protocols.
They might also also include associated network services just like video content delivery networks (CDN) that intend to facilitate the delivery of any video in the collaborative space. Enterprise video management serves co-workers and customers the efficient solution of content delivery who need to watch and other employees who need to share video content within the organization.
Moreover, video content has expanded its reach to small, mid and large-scale enterprise firms with capacities like video conferencing, employee-generated content, organization's event coverage or on-deman training which has been the primary growth drivers.
Additionally, live video content has promoted better medium of collaboration between teams from varied parts of the world that has also resulted in travel costs reduction. Indeed, this capacitates to streamline the procedure of establishing all of your video content and makes it easy to manage.
Want To Choose The Right Enterprise Video Content Management System?
The Key Benefits of an Enterprise Video Content Management
Enterprise video has definitely become a vital component of the territory of contemporary workplace. Let's look at enterprise video content management benefits for your business.
After all, it might seem like there's lies extreme difficulty to set a whole system in place. It might feel quite simple, but managing video content has unique attributes that aren't similar to manage other types of data such as images & text.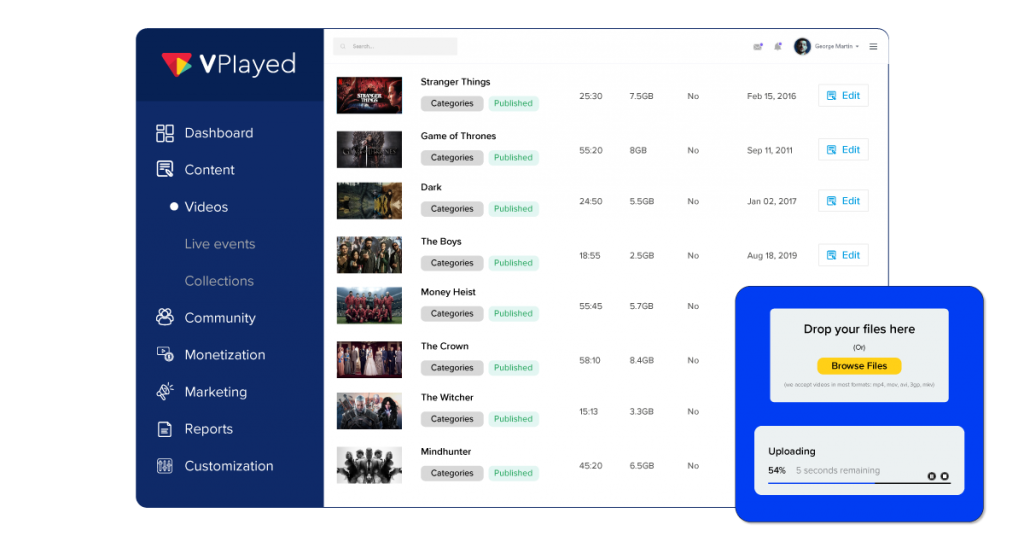 1. Better Support for Huge Video Libraries
If your business are puting their foot in creating video content, you'll be surprised to learn how big, some video files can get. For example, a regular 2-minute long HD video that's recorded on an iPhone will occupy as large space like 200 MB. Beyond storage capacity issues, you might even start getting challenges to deliver the content across you entire enterprise.
This is the reason why hosting services in the market require paid subscriptions for more than 500 MB worth of videos in a week. The apt video CMS will make content management a much more simpler process. It capacitates your business with instinctive user interface and ready-to-use API which can help developers integrate other key enterprise systems into.
2. Best Means of Enterprise Video Delivery
Hosting is a single part in entire process of video management. Another aspect of enterprise video management is to optimize video delivery to your targeted audience. Using the best enterprise content delivery network will ensure that the viewer's video experience is seamless.
If you want to leverage the complete value of the video assets that you create, you are surely going to need a video CMS which will ensure that your content can reach your audiences quite quickie, efficiently with high quality.
3. Methodical Organization & Search
Metadata management and categorization continues to be an integral part which ensures your video library is well organized and user friendly. There are common approaches in categorizing videos which include content type, topic, department, and publish date.
Regardless of your knowledge in technology management approach that you choose, be sure to keep your categories future-proof and more intuitive for your audience.
An enterprise-class video CMS will not only allow you to conduct searches across metadata of your library, but also within the content of actual videos. Right from automatically transcribing and translating subtitles, or searching across visual content, video content management can definitely manage all of them with ease.
4. Crucial Element of Access Control
In the enterprise environment video content is prime knowledge asset which is required to be managed and governed like any other intellectual property.
Compliance teams will need potential abilities around video approval workflows and legal authorization to ensure videos have been properly examined before sharing. User roles and governance features will safeguard sensitive data from being shared with other parties.
How To Choose the Right Enterprise Content Management?
Here are some important considerations to take into account while choosing the best video content management for your company:
1. Built-in CDN
There's nothing worse than an enterprise video platform which is unresponsive, or loading too slowly. Here a noteworthy aspect lets us focus on the big selling points of standalone video content management platforms which is getting swift to deliver content, and allow consistent playback without any buffers in between.
2. Online Video Player
Live streaming is much more important than ever, especially more events are going virtual. Primarily, you'll need a compatible video player that can maintain large-scale & high-volume content broadcasting in real-time. Even when on-demand videos are delivered streaming in HD quality with zero latency and stream crashing problems sight important consideration.
3. High Security
Select a best enterprise content management with high server security and is tested to protect content against security threats. It is important to shield your content with security-grade features, and step up against pirates who are looking to steal your valuable assets. Some of the diligent protocols like MultiDRM, AES Encryption, Password Protection assist you keenly.
4. User-Friendly
The only means in which your enterprise video content management can be a good investment is if users across features and roles adopt them with ease. Over all what is required is streamline processes through automated workflows and ECMS is one such innovation that has brought organization's business objectives together with a unified infrastructure.
5. Scalable
A few video platforms are designed appropriately with enterprise scale in mind. While thousands of users across the organization would demand HD video quality, you will quickly find network bandwidth in minimum supply. And, which is why streaming content at flexible bandwidths are more of a better option that provides durable solution for the long run.
6. Adaptable
Make sure the video CMS that you choose should be easily integrated with key systems in your technology stack such as video conferencing platforms like Webex, along with collaboration solutions such as Microsoft Teams, Share Point, One Drive, etc. A futuristic vision of how a adaptive CMS would accommodate your evolving business needs may serve as criterion.
7. Customization
A bespoke online video platform can offer a ton of customizable video interfaces to align with your user experience and designing standards. You can now enhance your user experience by seamlessly integrating configurations, which includes skins, thumbnail settings, video recommendations, and much more.
8. Anti-theft Options
Unauthorized use of copyrighted material is quite rampant online and brands are looking for ways to protect their valuable assets. With advanced digital rights management or DRM uses encryption to prevent copying, redistributing, or converting content for other use. Also some of the major features like domain restrictability, geo-blocking can help you cover at all bases.
9. Monetization
You've investing your resources to generate best quality content for your awaited audience. Surely to maximize your ROI on the table, you'll consider paramount options, isn't it! Revenue-generating models like advertising video on demand, subscription video on demand, and transactional video on demand would help you to raise the ladder of business value.
In a Nutshell:
Enterprise content management for small or large-sized businesses provide the tools and expertise which stimulate a node of transformation, whether it's implementing cloud-based solutions or a raft of new-emerging technologies. One has to know that an enterprise content management provision a solution helping businesses cope with these swift and prolific changes.
This is by providing ways to organize data in a manner that optimizes performance and minimizes error within business operations. Finally, in an increasingly competitive market businesses must leverage the ultimate power of productivity to keep their advantage over differently changing environments at times.
If You're Ready To Incorporate Enterprise Video CMS Platform On Into Your Video Streaming Platform, Schedule A Free Demo And We'll Get You On The Road To Video Streaming Success


Frequently Asked Questions (FAQs):
1. What Is Enterprise Content Management?
Enterprise Content Management is a cohesive approach to storing, organizing, and managing an organization's digital content and documents. It involves strategies, tools, and practices to streamline document workflows, enhance collaboration, and ensure secure enterprise information access.
2. How To Choose The Right Enterprise Video Content Management?
Choosing the right enterprise video content management solution involves assessing factors like scalability, security, user-friendliness, integration capabilities, and cost. For example,  you can choose a platform like VPlayed that offers 100% customization, built-in video analytics, and robust video hosting features to align with your organization's needs.
3. Why Do You Need An Enterprise Video Management Platform?
An enterprise video management platform is essential for effectively managing, distributing, and monetizing video content within organizations. It facilitates secure content storage, seamless sharing, and enhanced employee training, communication, and engagement through video.
4. What Features Matter The Most In An Enterprise Content Management System?
Essential features in an enterprise content management system include document version control, access controls, seamless workflow automation, etc. In addition, features like metadata tagging, search functionality, audit trails, and integration capabilities with other business tools to ensure efficient content management and compliance are also valuable. 
5. Why Is Enterprise Content Management Important To An Organization?
Enterprise content management is important to improve productivity compliance and enhance data security. It also enables efficient document handling, collaboration, and retrieval, fostering better decision-making and enhancing overall business processes. Thus, it ultimately leads to increased competitiveness and success.