The video industry is fast expanding everyday as well as birthing new concepts of video interaction for one-on-one or mass communication. These days, we have a lot of motion visual output in sight, in ways of webinars, video conferences, live streaming and sorts. Evidently they are a result of the positive receptivity of video medium over the years that has gradually moved us towards accepting it as the world's way of communication on this day.
Nevertheless it comes with its own risks owing to the distinctly large scale of the medium's reach. The general objective of the video content intended for ushering in views is common yet prone to an equally wide scope of risk. These risks being invasion of the cyber security, piracy of your video assets and other violations of cyberethics.
Want To Know Why Video Encryption Is Necessary For Your Streaming Business?
Video encryption can be described as a resolve in secured governance of a video streaming business so as to bypass the discussed risks threatening such a business. The following article extensively discusses the security model of AES encryption with minimal weightage spared for other types of video encryption as well.
What Is Video Encryption?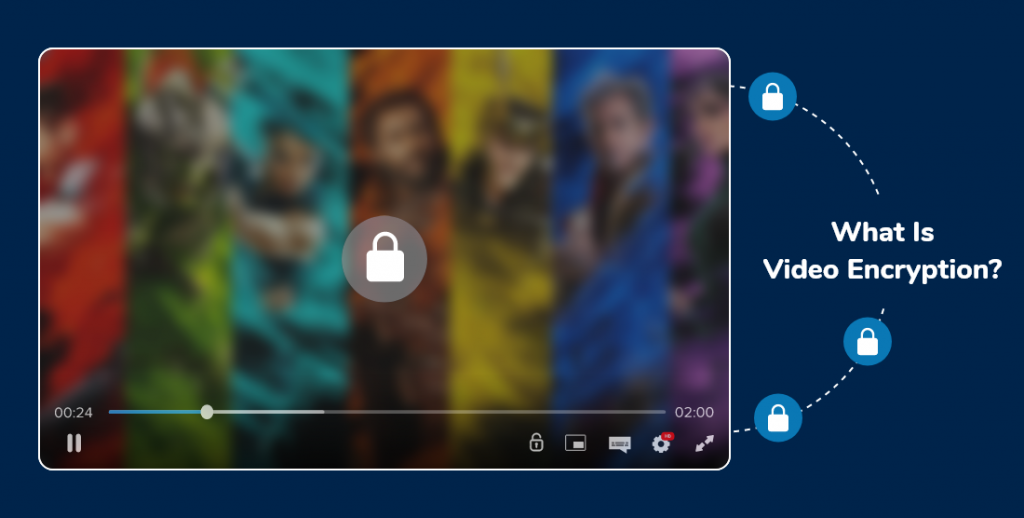 In order to protect videos from cyber attacks they are made obscure by encoding and decoded later at the hands of the authorized personnel using an encryption key. This whole process can be defined as video encryption. It is a much needed mediation in the business of video streaming platform especially since the videos are deemed as most valuable assets of a video monetization business.
Now, the purpose of encryption can be either personal or in the name of video DRM. In the former case, the authorized individual is the only one qualified to access the encrypted video whereas in the latter case, people are generally blocked out on a temporary or permanent basis perhaps in accordance with a set of conditions.
What Are The Types Of Video Encryption?
There are quite a few types to video encryption. We are following three different technologies here, in use for video encryption
1. AES 128 Encryption:
Advanced Encryption Standard (AES) is the most common type of all. Its technology follows encryption of the video to cover up the visibility of raw video in the network. The encryption takes place using a 128-bit cipher. Though, this technology has been upgraded to something called Sample AES 128 Encryption that is tied to play back action.
2. HLS Encryption With AES-128:
The AES-128 encryption works alongside the employment of the HLS video streaming protocol. This way about aes video encryption is different because of HLS' way of streaming in clumps. A well-known upside to HLS being, its compatibility with a majority of devices. When the aforementioned clumps of videos in HLS' way of streaming are encrypted using an AES-128 algorithm, it arrives at this type.
3. Real-Time Messaging Protocol (RTMP) And Real:
Real Time Messaging Protocol Encrypted (RTMPE) was developed for encryption of live video streaming. Though, they are being de-popularized at a fast rate owing to the cancellation of flash support for browsers. Since this video encryption model is streamable on HLS video player in desktops and apps.
How Does AES Encryption Work?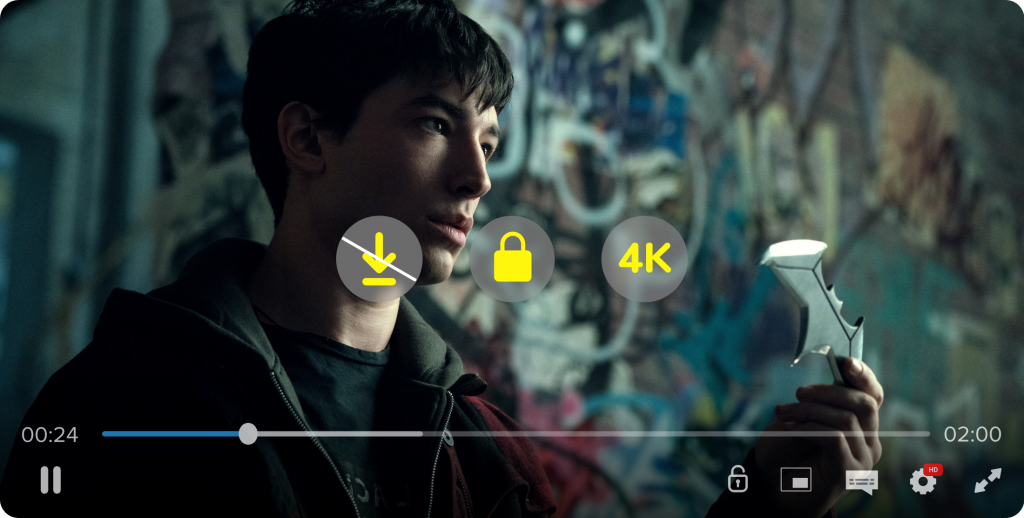 The mechanism of encrypted video streaming under AES methodology works based on three different lengths of cryptographs called 'secret key'. The cryptograph of talk is the element central to the whole mechanism. It facilitates the encryption and encryption processes. The length of the cryptograph also decides the strength of the aes cryptographic operation.
The three bit-lengths offered for a secret key are 128 bit, 192-bit and 256-bit. The aes encryption process can be explained as follows: it takes one of the keys with some data, could be plain text, and scrambles it to make it unrecognizable. This ciphertext will also carry parts of the plaintext. Though, computers might not read it without a cipher that will decrypt the code for the computer. Therefore, the cipher must lie with the appointed user so as to be able to decode the video at the end of its transit.
Who Is In Need Of AES Video Encryption?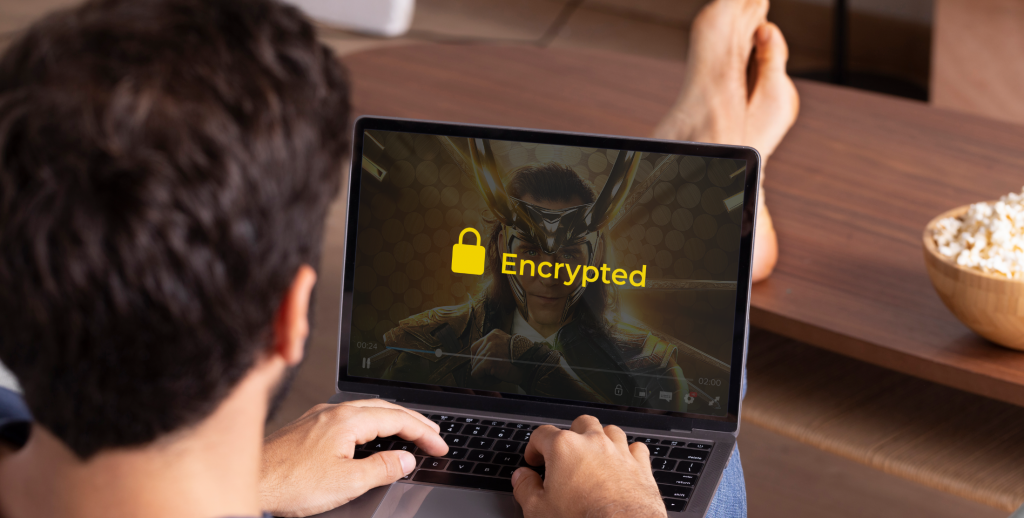 As for the intended users of AES encryption, they can be anyone seeking security for their digital assets. For businesses that are entirely based on selective distribution of their video assets, encryption matters highly in such places.
Imagine the workings of a video subscription platform like Netflix and Amazon Prime. Their business solely runs on the premise of their audience paying to watch the content offerings in store. This nature of their business dictates that their offerings be gated behind a paywall that will necessarily take help of a security mechanism such as AES encryption.
⚡Also Read: How Does Amazon Prime Video Makes Money? ⚡
Not just the entertainment industry but other fields of work may also depend on the video security associated with this form of encrypted streaming. Their businesses predominantly belong to domains of,
Federal Government
Independent Enterprises & Small to Medium Business Ventures
OTT Entertainment Services
Educational Technology
Note again that the encryption technology is surely good enough for use in other fields amongst the ones discussed above. Nevertheless the discussed industries are realistically sourcing encryption security from this technology.
The price of piracy incurred by most businesses is higher than the affordability of a OTT video encryption technology.
Which Is More Secure: AES-128 Or AES-256?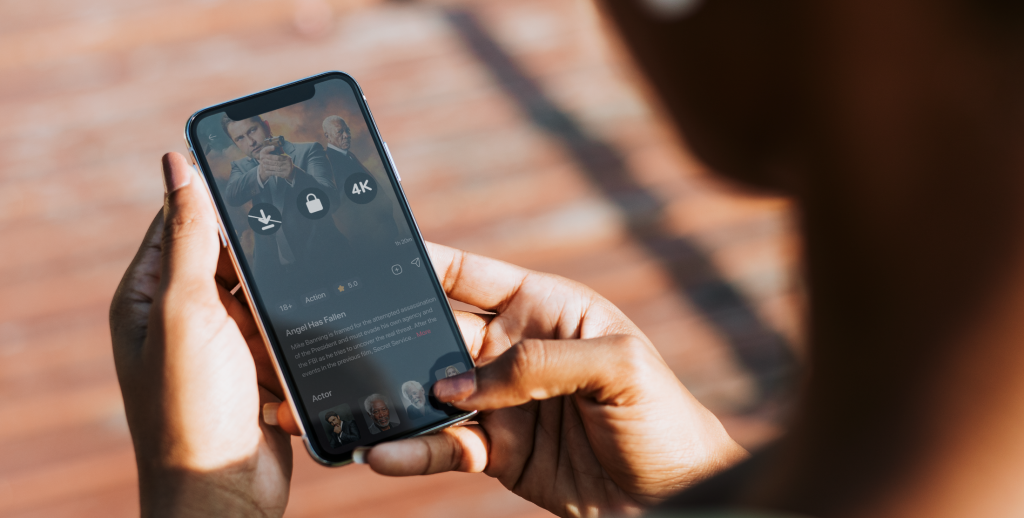 We have this prevalent dichotomy when it comes to choosing one of the two AES technologies. It confronts all unitedly in this respect and leaves a content owner indecisive by the end. There is an accountable angle to hold on to in the debate of 128 vs 256 AES encryption.
The AES-128 is a solid choice for any encryption need, it is simply overlooked for AES-256 in case of encrypting high sensitive data. While the choice of AES-256 only proves extra protective, it poses a setback in encoding and playback functionalities of video. It takes up a relatively high measure of CPU resources.
The status of AES-128 became almost obsolete in 2015 when the National Security Agency (NSA) stopped recommending it. This supposed a clear signal to go for the second choice anymore. Nevertheless both kinds are in use to this day.
What Are The Key Benefits Of Video Encryption?
If you are wondering why encrypt at all, you have plenty of good reasons as follows,
A provision of privacy and security- in order to confidently take your video business forward it is imperative to safeguard your video assets without hindering their mobility. This is achievable by encrypting the videos.
A regulated business proceeding- the advantage with utilizing a video encryption software is that it can streamline your business in accordance with the standards of the industry. This also helps with completely avoiding the costs involved in containing a case of piracy.
Overall safety assurance- the video encryption also ensures that there is no violation of the privacy surrounding the subscriber-platform exchange. Since violation may ensue if the video is illicitly accessed on its transit from the platform to the subscriber.
In Conclusion
And so this article discussed video encryption and its merits in a video business. We have covered the fundamental aspects of such discussion. Following which, you ought to do what is important for your video streaming services.
If you are someone looking for launching your own video on demand platform with complete security and control, we present to you CONTUS VPlayed a well-rounded ott solution. Our sales team will shortly be with you.
If You Already Have An Idea About AES Video Encryption, Schedule A Free Demo And We'll Get You On The Road To Video Streaming Success