We hope that the title of this post has piqued your interest enough to keep reading. By the way, it only took a few seconds. Isn't it? That is the basic idea behind pre-roll video ads: Show viewers why they should continue watching your advertisements and then make them click to know more.
In simple terms, if you have spent ample time watching videos on YouTube, you would have probably encountered different types of advertisements as much as the intended video content. A frequent example is an ad that plays before you see the video, followed by a "Skip Ad" button after five seconds. That is known as pre-roll video advertising.
However, with so many commercials battling for our interest, consumers are less likely to engage with the majority unless it is a brand or product in which they have previously expressed interest. With that being clear in our mind, we will go over why pre-roll ads should be part of your advertising VOD model, where and how to utilize them in your business strategy, and some meaningful examples are along the way.
What Are Pre-Roll Ads?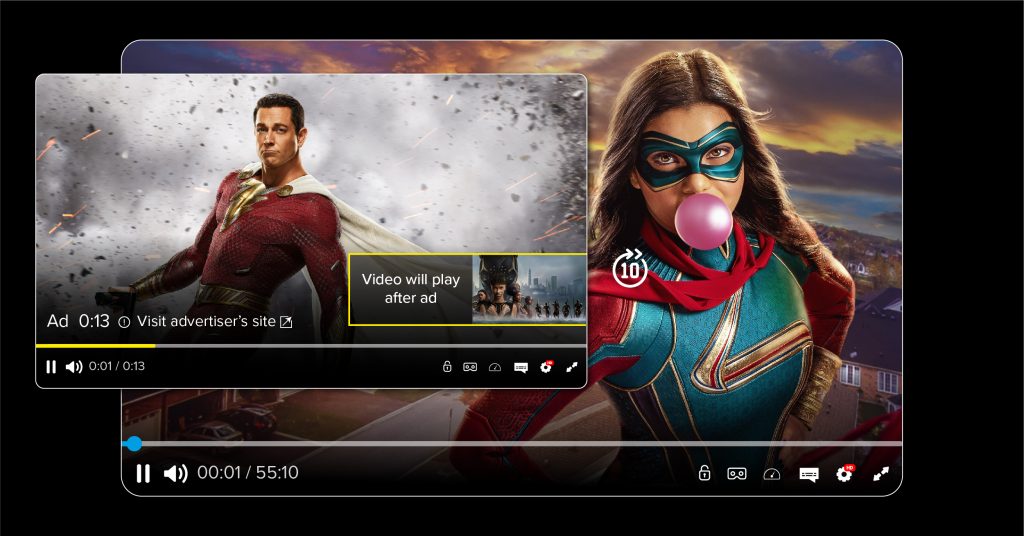 A pre-roll ad is an online advertisement displayed before the content that the viewer has requested to watch. They range from 15 to 60 seconds in length
Pre-roll ads or pre-roll videos are played on online platforms such as YouTube and Vimeo or custom-built ones like VPlayed.
AVOD streaming has surged by more than 74% in the previous year, creating an ideal opportunity for companies to use pre-roll video ads in the OTT space.
These ads are a common form of advertising and reach a large audience. They allow marketers to target their audience based on demographics, interests, and other factors.
Want To Know Why Pre-roll Video Ads Are Becoming a Go-to For Advertisers
What Are The Types Of Pre-Roll Video Ads?
Now that you're aware of some of the advantages of using pre-roll advertising, let's go a little deeper into the different types of pre-roll ads so that you can use these three forms of pre-roll advertising to enhance your overall video marketing or digital advertising efforts.
1. Skippable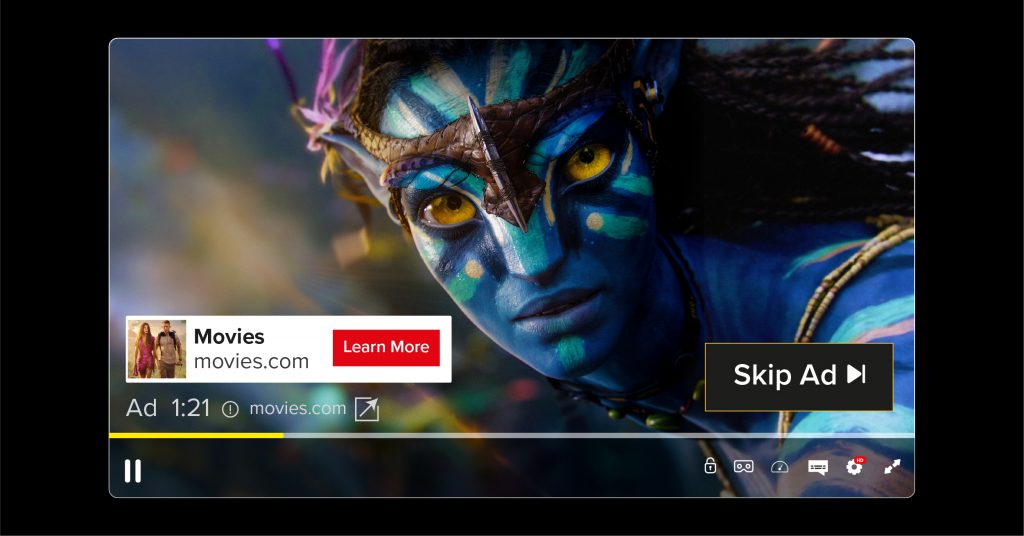 These are ads that users can skip after viewing for 5 odd seconds. These tend to employ a pay-per-view streaming platforms approach, which means advertisers pay only when the user views 30 seconds or the complete ad. According to a study, very few viewers watch skippable ads all the way through. However, as compared to non-skippable ads, viewers' message retention and brand recall were just 10% lower. In fact, skippable advertising can further be tailored to increase online sales, leads, brand and product awareness.
2. Non-skippable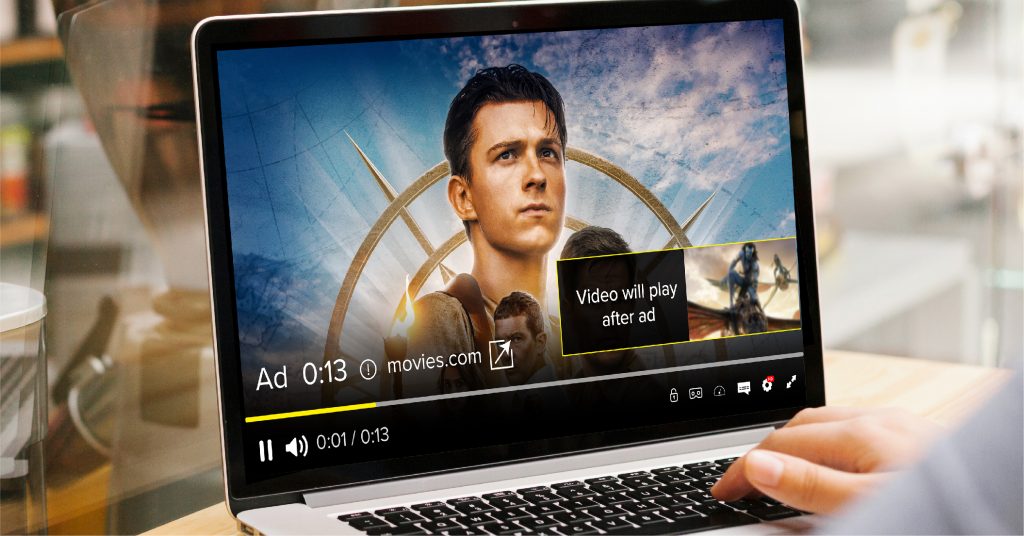 Basically, non-skippable ads are typically 15 to 20 seconds long. There is a saying that the longer a viewer interacts with an advertisement, the more likely the person is to purchase. One campaign saw a 97% boost in conversions among consumers who watched an ad for at least four seconds. Indeed, non-skippable advertising can assist you to raise your brand awareness as well as increase conversions. And for your kind information, non-skippable ad bids are based on CPM (cost per mille).
3. Bumper
Bumper ads are short, non-skippable that typically last 6 seconds, and use target CPM bidding. As a result, bumper advertising allows you to reach more audiences and increase brand awareness to a much greater extent. Bumper ads are more ideal for mobile devices as they are designed to be quick and memorable for on-the-go customers. After conducting a thorough analysis, Google discovered that 9 out of 10 bumper advertising resulted in a significant increase in ad recall. As a result, one can say that these pre-roll ads are also effective.
Key Benefits Of Pre-roll Video Advertising
Pre-roll ads are versatile because they can target consumers based on their viewing patterns, age, demographics, and interests. Pre-roll advertising has been shown to be less intrusive than mid and post-roll ads. Also, Pre-roll advertising has a larger potential audience than mid and post-roll commercials.
This is due to the fact that viewers leave before a mid-roll ad can be played. Furthermore, by watching free content on platforms like YouTube, users decide to watch your pre-roll almost as an implied kind of payment, necessitating more patience not just to view but also to wait for the ad to finish. With that being said, let's see some of the key benefits of pre-roll advertising.
1. They Guarantee Views
By now, you would be aware that pre-roll advertising appears before the actual video is played, that's the reason why pre-roll ads are more likely to be viewed than mid and post-roll ads, which appear in between or after a video. Viewers who wish to see the video that follows the ad rarely have the option to skip the ad. One thing to keep in mind is that the shorter the commercial, the more likely the viewer will watch it from start to finish and respond to any call to action.
2. They Can Be Highly Interactive
After watching a pre-roll commercial, users may interact with it in a variety of ways, such as clicking on the link, sharing it on social networking sites, or clicking it to see relevant content. Many video streaming platform allow advertisers to categorize their ads in accordance with the targeted audience. Some platforms even allow advertisers to design short surveys with fun animations and graphics. That is why pre-roll advertisements are often more interactive, eye-catching, and engaging.
3. They Captivate The Audience & Help Boost Brand Acceptance
Pre-roll advertisements frequently display content that is directly related to the interests of potential buyers. A well-crafted advertisement increases the likelihood of a viewer remembering the brand and recommending it to their friends and family. After creating an ad with a high engagement rate, a marketer can tweak it and use it in future advertisements. All in all, a good pre-roll ad increases brand acceptance and awareness among people of different age groups.
4. Purchase Decision
It has been seen in the past that customers initially hear about a brand through various social media sites (such as Facebook, Twitter, Instagram, etc) or television before making any purchasing decision. What's more interesting is that millennials are more likely to trust pre-roll video advertising than any other type of video ad, with 57% reporting that these types of ads effectively build their confidence when making a purchase decision.
5. Brand Favorability
Introducing pre-roll ads into your marketing strategy can give viewers more confidence in purchasing your products and services. As a result, it can improve your brand's favorability among customers. And, if you are lucky enough, the user might also tell his/her family members and friends about your brand. All in all, a well-crafted pre-roll video can aid viewers in remembering and recalling your ad as well as the products or services that are being displayed on the mobile or desktop screen.
6. Lead Generation
Pre-roll ads are beneficial for a variety of reasons, one of which is their ability to target a specific audience. As a result, it's ideal for lead generation. With pre-roll advertising, you can target your audience based on their interests, age, gender, geography, and more. With specific demographics to target, your digital advertising campaign becomes a lot easier and more effective, resulting in more users entering the lead generation funnel.
7. Pre Roll Ads Targets The Right Audience
As mentioned in the above section, pre-roll ads have the ability to target the right audience by understanding their interest, online behavior, geography, topics, keywords, and whatnot. As most of the user data is available online, making the most of it can help businesses in selling their products or services to the right person.
---
"Oberlo's detailed market report states that video consumption is swiftly becoming one of the most favored ways to consume content. In fact, 85% of US internet users watch online videos, with 73% of buyers saying that the brand's video presence has influenced their overall purchasing decision."
---
And since pre-roll ads appear at the start of the video, users have a choice if they want to skip it or not. What makes this kind of ad even more fascinating is that it creates a better video environment by not forcing users to watch the ad. Isn't that good for the business? It certainly is.
How Long Can Pre-Roll Video Ads Be?
The pre-roll ad must be concise, lasting no more than 15 to 30 seconds. If you want to see good results, then the time of the pre-roll ad should not be more than five seconds. In any event, the ad should grab the viewer's interest within five seconds or they would most likely skip it (when the option is clearly visible on the screen).
The ideal pre-roll ads are clickable and include a URL and call-to-action that sends customers to the website where they can know more about the brand or product and finally make a purchase decision. If you want to monetize your video with AVOD there are rules to follow based on the platform.
---
"When you combine great video content with smart ad targeting capabilities, you could increase your chances of advertising your product, service, or brand to the right audience at the right time."
---
Why Do Advertisers Choose Pre-roll Video Advertising?
Rolling pre-roll ads have a number of benefits, which is why they are so popular among marketers. The main scenario that takes place here is as follows – Users will initially click on the video by seeing the catchy title and thumbnail; till now, they will be uninformed of what ad will be displayed to them. With pre-roll advertising, the audience is more likely to watch your advertisement because they are pretty much interested and eager to watch the original content. In fact, pre-roll advertising has a greater success rate than most other forms of advertising.
For example, if you place an ad near the end of a clip/video, there is a high chance that the user has already skipped during the video or knows it is going to end and prefers not to stay and watch the ad at the end. Even if it's a skippable commercial and they don't watch the entire thing, catching a glimpse for a few seconds will still benefit you in the long run, especially if you're just paying for an advertisement depending on the number of views.
How VPlayed Helps You To Start Your Pre-roll Video Adversting?
We all know that there is nothing more vital than effectively reaching and interacting with your target audience – but doing so effectively is one of the most difficult tasks marketers face today. Now that consumers have recognized video as the preferable method of content consumption, pre-roll ads are the weapons you need to utilize to lift your brand among your target audience. Indeed, science backs it up, and consumers support it by watching relevant video ads.
Working with CONTUS VPlayed can assist you in automating the process of distributing and monetizing video content, allowing you to focus solely on running your business. Furthermore, the platform can help you in running all ad types (pre-roll ads, mid-roll ads, and post-roll ads) that can accelerate your success and capture consumer attention before anyone else does. In other words, rather than looking for a third-party network, you can monetize all of your content by joining hands with the VPlayed OTT platform.
If You Already Have An Idea About Pre-roll Video Ads, Schedule A Free Demo And We'll Get You On The Road To Video Streaming Success!


Frequently Asked Questions (FAQ):
1. What are pre-roll video ads?
Pre-roll video ads are short advertisements that appear before the main video content on websites, social media platforms, and streaming services.
2. How long are pre-roll video ads?
Pre-roll video ads can vary in length, but they typically range from 15 to 30 seconds.
3. How are pre-roll video ads targeted?
Pre-roll video ads can be targeted based on various criteria such as location, demographics, interests, and behaviors. Advertisers can use data and analytics to identify their target audience and serve ads accordingly.
4. How effective are pre-roll video ads?
The effectiveness of pre-roll video ads can vary depending on the quality of the ad, the targeting strategy, and the viewer's interest in the product or service being promoted. However, studies have shown that pre-roll video ads can have a higher click-through rate compared to other types of digital ads.
5. Why are pre-roll video ads used?
Pre-roll video ads are used by advertisers as a way to reach a larger audience and promote their products or services. They are also used to generate revenue for content creators and website owners.