Thinking to make money out of your curated media, but not really sure where to start?
Don't worry! You aren't alone anymore..
As you may be familiar with this field for a longer period of time, you would probably know how well the video industry is booming.. Viewers are looking for entertaining content, so it's the best chance you can get to get into action & monetize priceless videos into reaping best cashback!!
Quite surprisingly, though we had a dip with the high rise of global lockdown, the market seems to be profitable ever since now.
There's a fact that unfurls the stage of how well to monetize videos….
The majority of American households have 3 to more streaming subscriptions. Moreover it is astonishing to see that quarter of households have opted for more than 5 subscription streaming services reaching 29% – Streamingmedia
So, this
The accelerated shift to streaming worldwide services has initiated a resurgence after a big setback & that helps you to research on how to make money with many videos..
Getting a hang of this ever-flourishing trend, this blogpost focuses on video content monetization tactics of 2023 which enlightens content owners, media broadcasters. Narrowing it down further, we'll discuss about essential benefits.
Furthermore, we'll also cover how well you can leverage on exploring varied models in your video monetization platform & unveil lots more…
Let's go!
What is Video Monetization?
Video monetization is the process of captivating potential income through the videos that you are sharing them via online on any platform. Usually it is achieved through distinctive types like advertising, subscriptions, one-time transactions or through coupons & promotions, etc.
In short..
Once you're done with the creation of your content, you look to get paid for it & that's all about the monetization business.. You can explore more of this in different ways – but the key thing which highlights is the way you get paid through 'accessibility'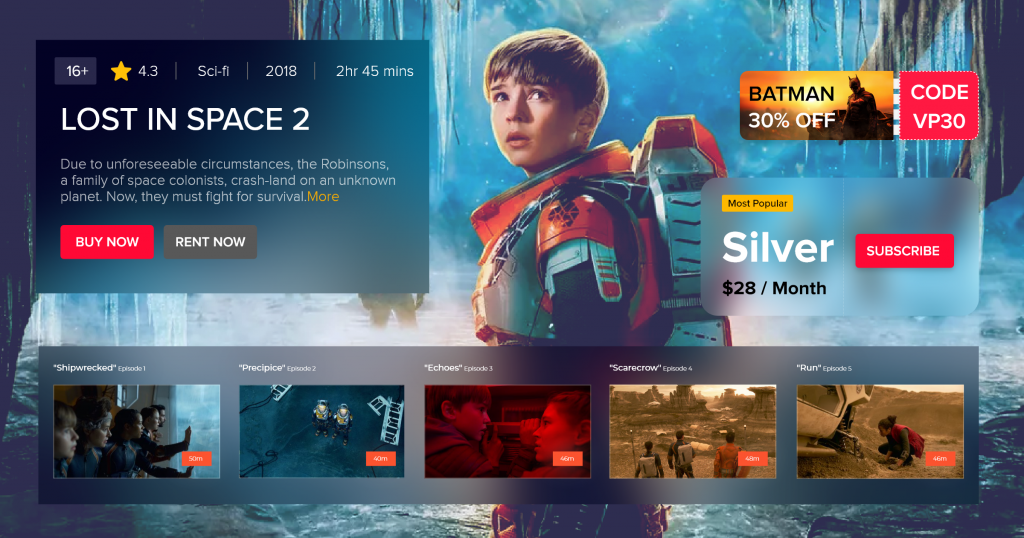 The ratio is quite simple… It tells us that the more consumers watch your A-graded content, the greater your shellings get!
Majorly, this can be through
Access to your video content

Access to your audience

Access to your platform
Let's take a look at some real-life instances that you may be familiar with:
Access to video content: This category will count when users tend to buy a new release movie on Disney+ or Amazon Prime
Access to your audience: Corporate organizations paying for ad spots to stream in between. YouTube video is a major example
Access to platform: Netflix subscription for a monthly access to the entire library counts in this category to relate with
Next, we'll look into some key..
Benefits of Video Monetization Platform
There are many benefits while you look into how to earn money with curative pieces of videos. Some of them consists of increased brand visibility, audience engagement, and scaling up for your organization's growth.
They are just a few of the advantages of monetizing video!
Let's start with the three most important advantages of video ad monetization. The first benefit is the most obvious: greater revenue.

Businesses can make a lot of money through video advertising. Overall, digital ad spending is increasing. According to TVision report, The State of CTV, United States viewers now spend more time with AVOD nearly 9.3% & OTT content aggregators in comparison to SVOD. Some examples are Hulu, Roku, etc. Video owners who invest in video ad monetization are reaping maximum benefits.
In particular, many brands use videos as the objective to growth indicating 86 percent more preference towards the product showcased, rather being dependent on non-video users. As a result, the first and most crucial benefit of video ad monetization is that it generates substantial revenue.
Reach Every Device Directly
The capacity to reach any viewer's device is the second main benefit of video advertising. Users face barricades before they can watch your content if you monetize through a membership or pay-per-view paywall.
In 2019, it was estimated that in global video viewers smartphones were considered as primary device to watch online video accompanied by other devices. Those figures are still rising now. As you are probably aware, the younger generation strongly favors mobile devices.
Maximize Your Target Audience
The third advantage of video advertising via monetization services allows you to reach a larger audience. Some of this has already been discussed in the preceding section. But there's a lot more to think about!
Researchers have found that U.S households of nearly seventy percent subscribe for at least one service Furthermore, it is found that forty percent of households go for two or more. As a result of this, there's one sided effect to this growing trend called as subscription fatigue.
Socially Establish your Fanbase
You'll be able to distribute live video to a variety of platforms, including social media, if you incorporate it into your content creation. Apart from Facebook, Instagram, Twitter, YouTube, and LinkedIn, new services like Twitch.tv, DailyMotion cater to the likings of live-streaming consumers.
When it comes to live video, the opportunities for keeping your audience engaged with your brand stays virtually unlimited.
Thinking Of Starting Your Own Video Monetization Platform?
How Do You Monetize Videos?
You have 3 quintessential options to choose from. All of them center around how to make money with videos online. Let's break down into specific tactics and applications.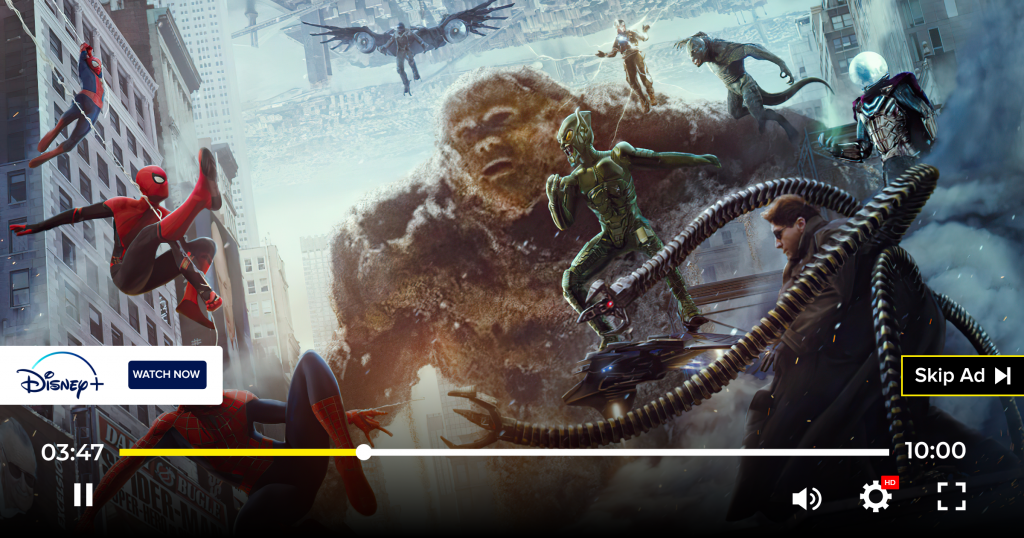 1. Build Your Own VOD Platform
While you are looking into how to monetize a platform it is a fantastic method to provide value for your business with VOD streaming platform . You will have the ability to set your own prices, keep control over content distribution, & adapt your video marketing approach depending on user review and market demand are all advantages of having a platform.
2. Monetizing Opportunities to Existing Content
Considering your search on how to make money with videos at online platform, try adding a paywall to existing VOD library. This can favor you to charge users for content access & subscription models are an ideal way to start it off. Once you have your videos created, all you require to do is to keep adding it to your growing library & build brands with sustenance.
3. Engage Audiences with Subscription Offers
The best method which you can think to monetize your content steadily is through what SVOD model. You can create new videos at your own pace as library that you own is here to bring-up consistent income increasing its scalability. You're free to create offers within the subscription packages, offering alluring content at discounted rates.
Choose Profitable Monetization Models to Make Money in 2023
Like any other kind of business, top video monetization platforms does have selective types to capitalize ROI. Here, we'll explain each & every crucs of what does it actually mean to monetize in a video business & things that you'll need to be cautious about!! Some of the common video monetization methods are: SVOD, TVOD or Pay-per-view & AVOD, etc. Let's take a look at these one after the other!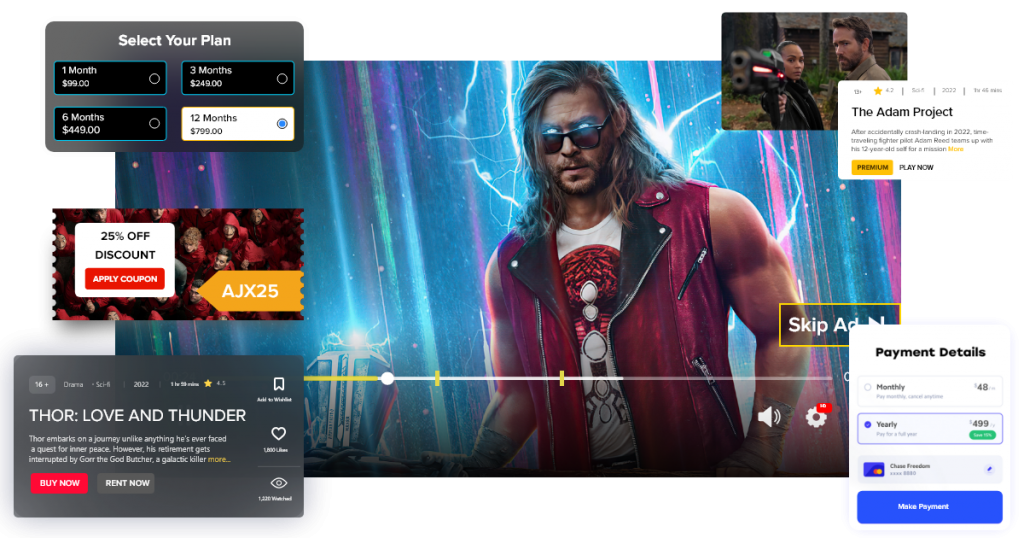 Subscription Video On Demand
A subscription-based video on demand model is a monetization model where it allows consumers to pay a recurring fee in order to access video content. Members can access massive library of video content anytime and wherever they choose as long as their accounts remain active.
Transactional Video On Demand
What is TVOD? Transactional video on demand which is also known as Pay–per-view is another monetization method that requires viewers to pay fully for every video that they prefer to view either by owning or for renting it somewhere. Especially for broadcasters its quite advantageous as they can cover a large array of topics or with those that's specialized in a particular genre.
Advertising Video On Demand
Advertising-based video on demand is based on instream ads where the cost for placing them is typically planned based on audiences size. What AVOD is the classic monetization model with which brands rely upon. Generally when the ads run in front of the selective audience, brands pay to retain their attention & eventually grow engagement.
Premium video on demand
PVOD stands for Premium Video On Demand, which is a form of streaming business model where users are given access to watch videos at a later point in time. Most OTT and top VOD platform providers take full use of it to stream premium material before it is released in theatres. You will achieve best value by delivering quality watchful of premium video streaming services.
Video Paywall
A paywall restricts access to copyrighted video content and requires the user to take a specific action before continuing to watch. Using a video paywall to unlock subscription opportunities helps you to figure out how to monetize video. In turn, it is an essential component of streaming industry which tries to boost conversion rates.
Catchup TV
The concept of catchup TV is little different from other models. It works in such a way that when a broadcaster have streamed his episode of that particular series and it is later viewed by the subscribers. So, when a particular subscriber have missed one episode of it, then he/she can view it later through this innovative service.
Coupons & Promotions
Working with coupon firms benefits businesses like you by increasing traffic to their platform in order to encourage users with first-time visits. Some people make money through direct sales, while others rely on various means to supplement their income, such as free gifts. Ad-placement services can be used by online coupon distributors to offer advertising space on their video on demand websites.
3rd party Ad Integration
Associate with a variety of additional third-party ad vendors to maximize platform's flexibility, interoperability, and customization. You can place any type of advertisement on your channel and track how well it performs. Enjoy maximized flexible means to monetize your content with varied mediums of ad collaboration.
Server Side Ad Insertion
When you in search of how to monetize your server-side ad videos you can easily utilize the advanced technology. A combination of manifest manipulation, ad server communication, ad bitrate & resolution normalization will help to stitch advertorials into a single stream. Thus it combines & eliminates any kind of ad block requests to external servers.
Now the question arises..
Which Video Monetization Model Will Help You to Make More Money in 2023?
Although broadcasters can commercialize video content in a variety of ways, the majority of their efforts fall into one of these mentioned categories. Or, would you can take a chance on either choosing SVOD or AVOD?? Options are in plenty, keeping your choices & business goals in mind.. While all can be profitable, each has its own set of advantages and disadvantages. The ideal option may change over time depending on where you are in your company's life cycle.
Wrapping it Up!!
Growth, profitability, and long-term viability aids to video monetization. Providing audiences with high-quality content is more crucial than ever. And companies who do it well may earn a lot of money through adverts, subscriptions, and pay-per-view transactions. When it comes to monetization, it becomes quintessential to give audiences what they are in search of..
Finally, catering to user's interests either through any of the mentioned models is the actual need of every broadcaster. Thus it assists in enriching user experience while earning surplus revenue.
If You Already have an idea about launching a Video Monetization Platform, Schedule a free demo and We'll Get You On The Road To VOD Streaming Success!


Frequently Asked Questions (FAQ):
1. What Is Video Monetization?
Video monetization is the process of captivating potential income through the videos that you are sharing them via online on any platform. Usually it is achieved through distinctive types like advertising, subscriptions, one-time transactions or through coupons & promotions, etc.
2. What Are The Benefits Of Video Monetization?
There are many benefits while you look into how to earn money with curative pieces of videos.
–> Drive ROI At Best Level
–> Reach Every Device Directly
–> Maximize Your Target Audience
–> Socially Establish Your Fanbase
3. How Do You Monetize Videos?
You have 3 quintessential options to choose from. All of them center around how to make money with videos online.
–> Build Your Own VOD Platform
–> Monetizing Opportunities To Existing Content
–> Engage Audiences With Subscription Offers