Ad personalization is the most popular way for content aggregators to generate maximized revenue via their content & drive growth through online video monetization platform. The key purpose here is to initiate major ways of increasing subscriber base. Ads initiates this in a better way by technically employing them into videos – either through CSAI which is known as client-side ad insertion and SSAI or server-side ad insertion.
There are plenty of opportunities on ad personalization, since you can connect with individual viewers in many ways. Audiences can freely consume content either for free or by watching the ads without paying or subscribing to the service. Having said that, ad insertion growth quests for broadcasters, pay TV operators, content programmers & several video providers, to meet various needs of the business & target audience??
Let's look into those criterions in this article..
As per statista, in 2021 the most ad-supported video-on-demand service other than YouTube was nearly chosen by 18% of respondents in North America such as Facebook Watch, Twitch & more.
What is CSAI?
CSAI is the method used in delivering ads to devices like desktop, mobile, CTVs, gaming consoles where the video player requests the ad server to stream an advertisement when it reaches certain ad-markers in the stream or technically known in the manifest file (HLS/DASH).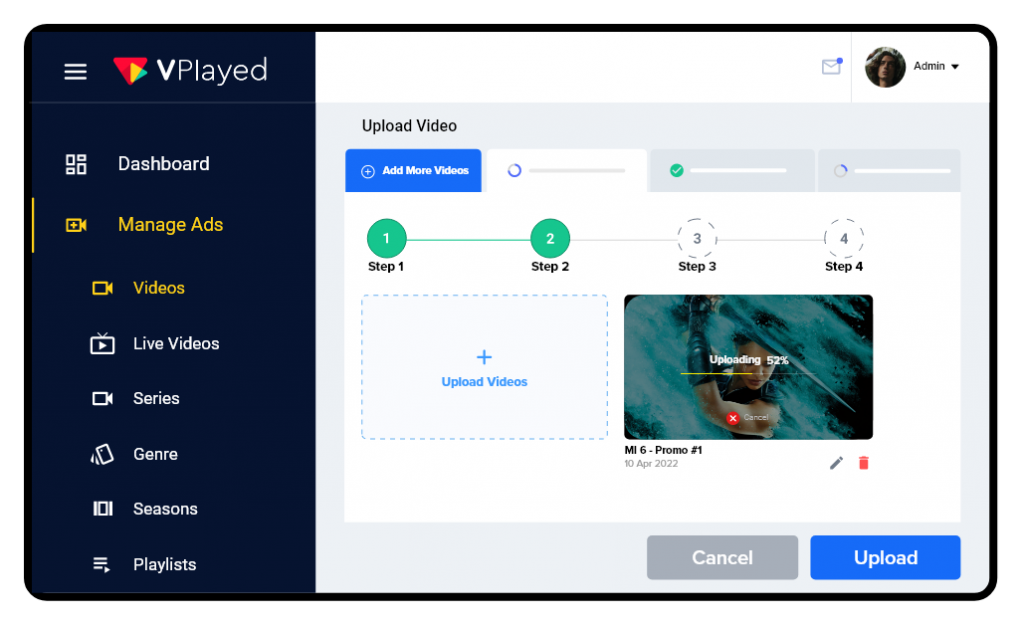 Upon receiving the request from the player/device the ad server then responds with the strategic ad for it on the basis of data collected from other information such as campaigns & audience preferences.
It functions in accordance with the video player then pauses the content, in between the ad is been played. After that, the content or the video playback resumes. Here it takes the major responsibility of the client to report on the ad performance through various metrics & dimensions. Some of them are:
VAST (ad metadata)

VMAP (ad timing)

VPAID/SIMID (interactive ads) and

OMID (viewability measurements)
How does Client-Side Ad Insertion Work?
Now in this section, let's take a glimpse through the working or processes of how CSAI (Client-Side Ad Insertion) works.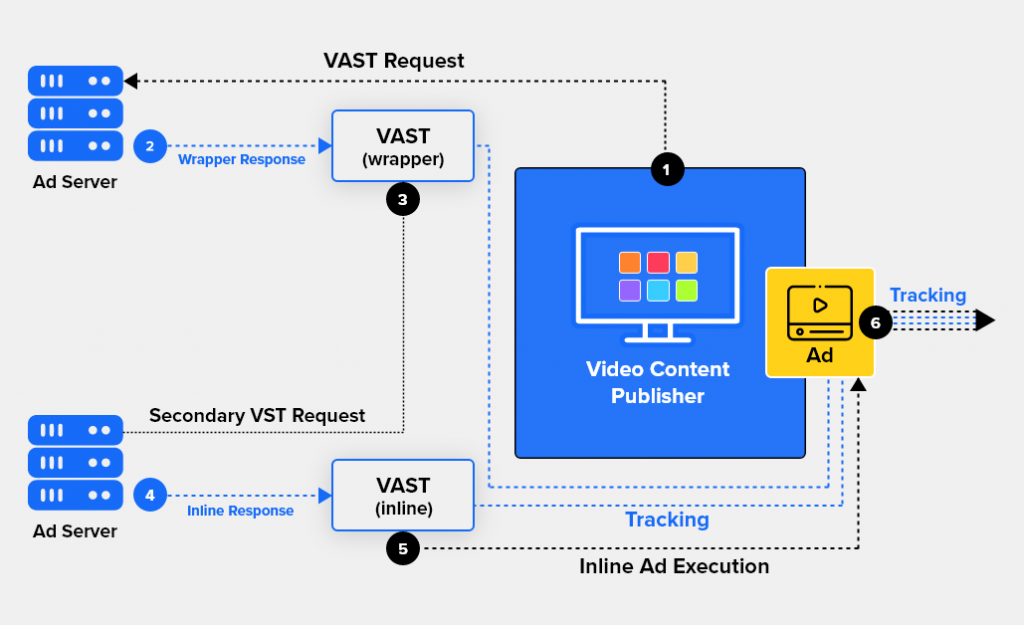 In the beginning, the player downloads the file from the CDN before the video playback commences. For instance, in a pre-roll ad, the ad begins to play before the video sets in.

When the video player reaches an ad-marker, it makes an API call to the ad server, requesting for an ad in the playback

Typically, the

ad insertion server

, will respond with a VASY XML that contains data about the ad, the ad's media as well as tracking information

The video player uses the VAST tag in order to play back the ad

After the ad has run, the video player continues playing the video stream

Usually, streaming platforms embed their video players with SDK support provided by 3rd party ad services

SDKs monitor the position of the ad playback, completion rates, errors, etc & report back to servers recurrently with this data
Thinking Of Starting Your Own Video Monetization Platform?
What is SSAI?
SSAI which is commonly known as server side ad insertion is a way of stitching an ad directly into the video that's being streamed at the server but not the client/player. Basically, it is different from how CSAI work.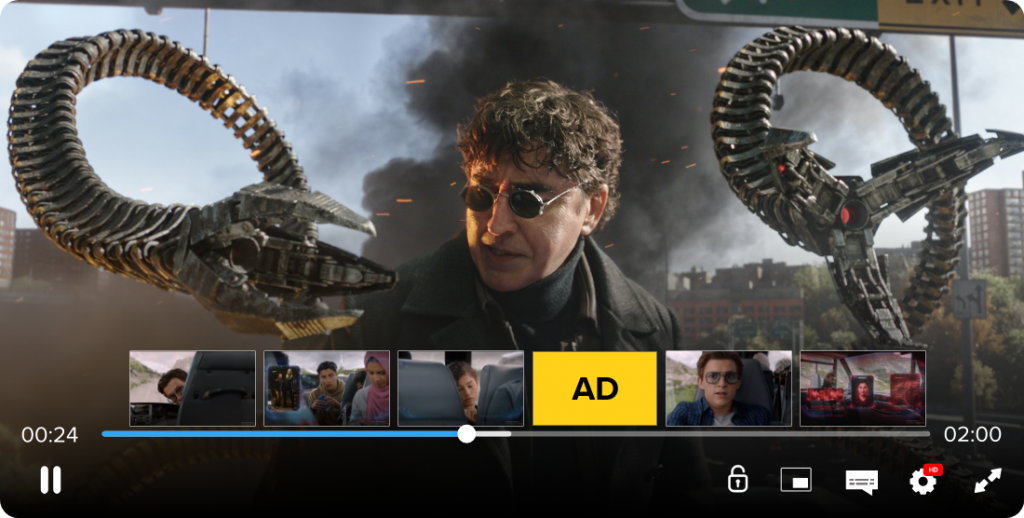 SSAI has its own merits and demerits that we would be seeing the next couple of sections below. The key advantage is that the client is no longer making any server calls which informs us about how hard it is to block ads inserted using SSAI.
Moreover, SSAI functionality is further emphasized, when the request sent contains viewer data, that is required to pick a personalized ad. 3rd party ad server can now quickly respond with an advertorial to the SSAI module.
How does Server-Side Ad Insertion Work?
Server side ad insertion is a combination of many individual functionalities. It starts with manifest manipulation, ad server communication, ad bitrate with resolution normalization.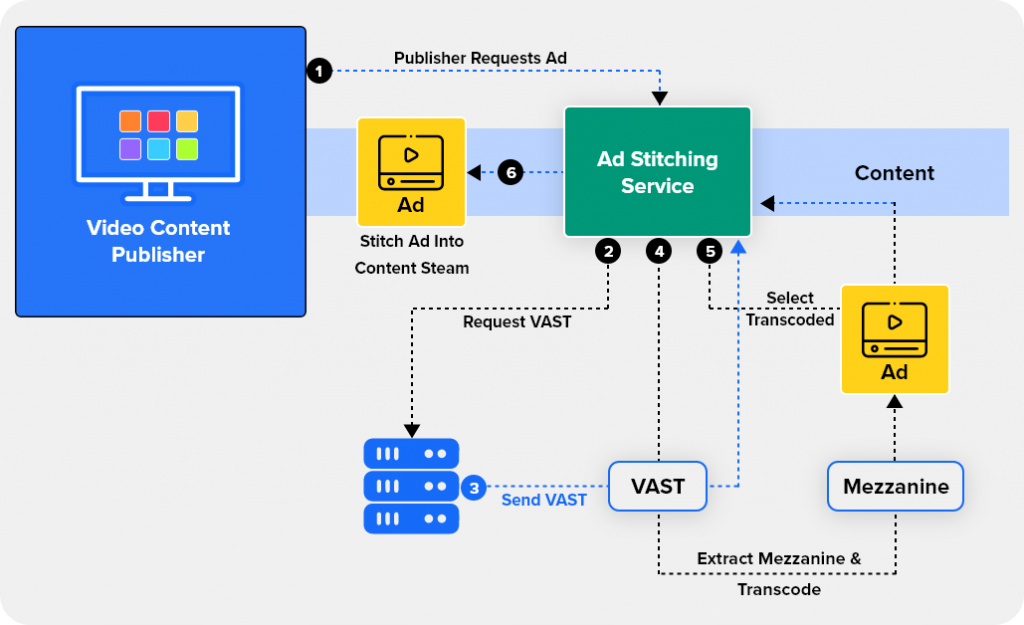 Manifest manipulation talks about personalizing the video experience for every viewer when a stream is requested with video & audio segments. It is then, accompanied by a manifest file which acts as a playlist & control the playback order
Secondly, ad servers help advertisements to store & serve them to online web pages. Moreover ad server communication is facilitated by advertisements trafficking which provides analytical insights on ad performance.
Thirdly, when we relate insights with video bitrate, we know that bitrate is simply number of bits of video information that is then transmitted per second – either in kilobits/sec or megabits/sec.
Furthermore, when a video is compressed, you'll have to command the video compression software to not to exceed certain bitrate.
Next, video resolution plays a major role in which it affects what your user is seeing. Most video players adjust themselves according to the viewing window or device's screen resolution
All of these happens on the server-side architecture before presenting a manifest to clients. SSAI is also referred as dynamic ad insertion or ad stitching.
Differences between CSAI and SSAI
Generally speaking, SSAI said to be a little high in terms of cost factor than CSAI, despite having effective results in ad impressions. In the case of integration of client's-side server ads, they aren't always been available to play due to ad blockers. This typifies the errors that happen on client side, time outs during loading an ad or error in VPAID ads, etc.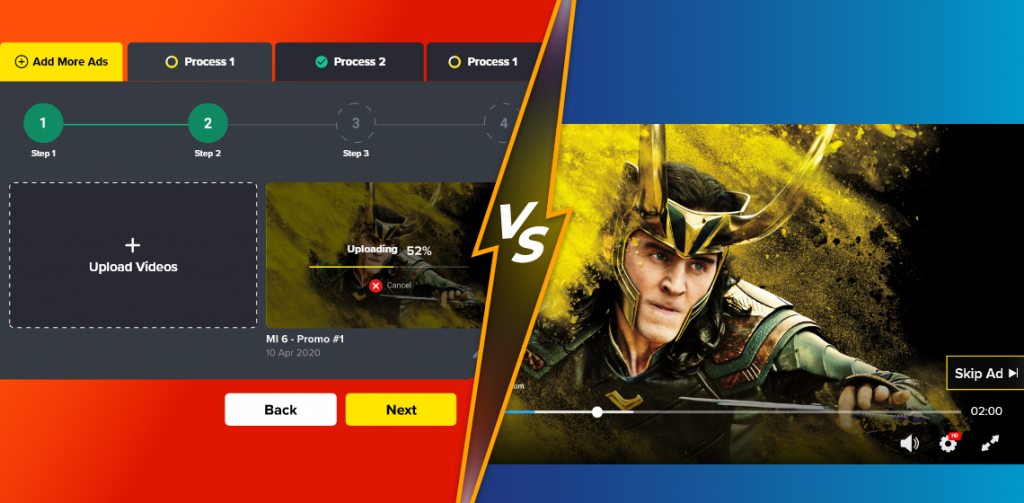 Let's look into both similarities & dissimilarities in its nature more..
Server-Side Ad Insertion vs Client-Side Ad Insertion Pros & Cons
Pros of CSAI
Cons of CSAI
Publishers & Advertisers can create bountiful experiences with surveys, click-throughs, overlays,
via transitional ad serving techstack.
Viewing Experience: In CSAI ad stitching is done in downstream by player that results in frame drop in video.
It is easy to set up a detailed tracking in the case
of CSAI. Capacitates with lot of data for ad-tracking services
In CSAI the player needs to request ad-server for an ad to be delivered. Apparently, it induces latency
With the help of CSAI technology, lot of highly personalized ads can be served
If the ad-server isn't orderly, the video player doesn't request the correct bitstream which can lead to buffering
In CSAI system, players usually stitch the ads with content. Therefore there is in need of it
There is no perfect solution which is able in handling live streaming seamlessly
Pros of SSAI
Cons of SSAI
SSAI delivers a broadcast-like experience for users by stitching the ad directly to the stream
Ad-blockers via SSAI advertising may block origin of ad providers & end-users can't view it in first place
Ad-insertion in the server is taken cared by SSAI, so it supports devices where at times it becomes hard to insert code
Spoofing in SSAI: The end-devices usually send HTTP headers to ad-servers. With this anyone can setup servers & spoof this data
With varying bandwidth conditions, SSAI can effortlessly deliver a smooth playback experience which improves quality in streaming
Lower degree of personalization:
If SSAI vendor wants to provide per-used custom manifests, then there's massive drain on resources
In SSAI system, the ads are stitched in upstream which reduces the need of players since HTML5 is used for the video
Manifest caching issues: Since customizability is done on server-side per-user manifests is difficult which stays inefficient for caching services
Why should You choose CSAI or SSAI?
As far as streaming is concerned, the ad-serving technology for VOD has been a primary takeaway since it is dependent on monetization of your entire video on demand platform/app. Certainly, it rules..
Having said that, CSAI & SSAI have their own pros and cons.. There's no doubt on that..
However, if one feels worried about either constantly sticking to CSAI, or moving to SSAI, I feel the first thing they should do, in my opinion is to engage with an ad-tracking service, whether its in 3rd party or independent one.. Additionally, one needs to get a thorough understanding with regards to basic data on how the ads are actually performing.. Some of the probabilities are below:
Is there any sort of latency, or buffering?

Where are the most of errors expected from?

What's the cost of maintaining CSAI on any device that's supportive?

What is the duration of ad-rates completion? Are people interested in watching the content after the commercials?

Are there any kind of 'my' marketing campaigns dependent on inner streaming operations?

And the list goes on.
All of these get connected to gaining raw data that can help the publisher to decide either to choose CSAI or SSAI. Ultimately, data-driven decisions will have its positive implications on the revenue making process, keeping user experience in mind!!
Key Takeaway:
The ability to personalize viewing experiences is one of the important criteria that separates itself since the advent of online TV against the traditional one. Since customer expectations are steadily rising, be it for quality or value it is essential to showcase content at a granular level. Meanwhile, content providers also need to make an effort in managing regional rights restrictions in order to safeguard content's integrity. This counts monetization with ad serving too.
As we have discussed, the dynamic ads can be implemented in two ways. One with CSAI & other with SSAI. We have seen its individual importance!!
Ad severs and ad networks provide tracking, trafficking & analytical solutions for both collaborators: advertisers & publishers. Some of the key parameters are considered in targeting ads which include the following:
User profile (based on location , OS, browser, etc.)

Audience Behavior

Context of content & many more
If You Already have an idea about launching a Video Monetization Platform, Schedule a free demo and We'll Get You On The Road To VOD Streaming Success!