In less than a decade, some of the top OTT platforms have literally transformed the television viewing experience to a greater extent. People all around the globe are turning to online video streaming services for ad-free on-demand video content. According to various reports, cable TV providers have lost nearly 10 million subscribers in 2022, with the figure expected to rise further in 2023 and beyond.
The OTT industry is experiencing increased competition as many new players emerge each year, intensifying the battle. Amazon Fire TV is one such video streaming platform that is sweeping the entire television industry. Considering the current war in Amazon Fire TV app development. If you're a content owner looking to capitalize on this growing trend, developing an Amazon Fire TV app could be a smart way to expand your viewership.
"Owing to the desire for ad-free on demand content, almost 70% of American households now have at least one subscription to an online video streaming service."
What is Amazon Fire TV App?
We're all aware that Amazon's Fire TV platform is one of the world's most popular home video streaming services. Millions of potential customers are eager to be entertained by Fire TV smart televisions, Fire TV sticks, Fire TV cubes, and tablets.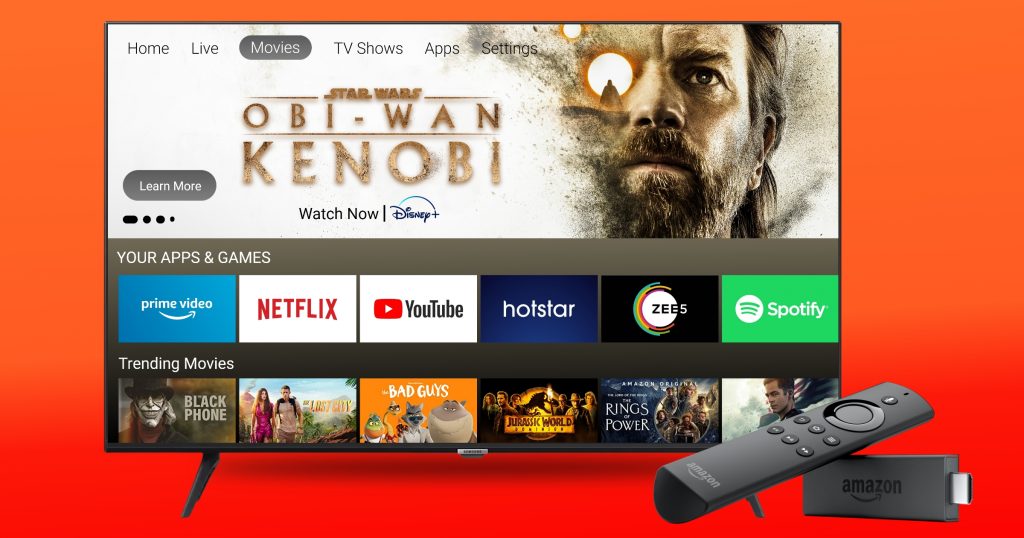 As a content owner, developing a Fire TV app is not as difficult as you might think. Even better, once you have successfully coordinated with a person, who has worked with Amazon Fire TV developers in the past can help you in a great way. By the way, after a successful Amazon Fire TV app development, you can easily bring any of your on-demand video content to other video streaming platforms as well. Isn't that cool?
What's the Necessity of Amazon Fire TV App?
Developing an Amazon Fire TV app is a great idea as it gives you access to a variety of apps and games. Furthermore, developing for the Amazon platform will make your job even easier as Amazon provides all the relevant tools that can assist you during each phase of Amazon Fire TV app development.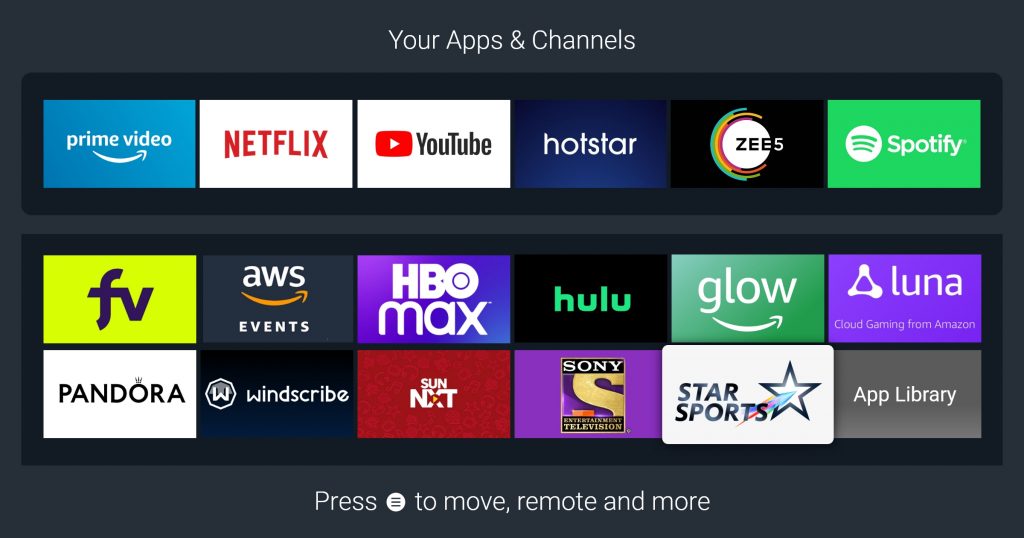 In fact, developing an app for Amazon Fire TV is an excellent way to reach millions of new customers. It's simple and quick to implement, and you can do it with your existing web application or microblogging site.
According to a Strategy Analytics survey conducted in March 2021, Amazon's Fire TV became the market leader for Connected TV devices in 2020 for the first time. It ascended to the top spot as global sales of all Connected TV devices reached 305.3 million units, representing a 7.6% increase year on year.
All of the above figures demonstrate why now is the perfect time to invest in Amazon Fire TV app development for your company or organization.
Factors That Make Amazon Fire TV Apps A Grand Success
The creation of Amazon Fire TV apps enables TV users to stream web content across their TV screens while utilizing TV-specific features. They offer a great deal and value to professional developers, but there are many additional benefits that give them access to the world's largest smart TV audience.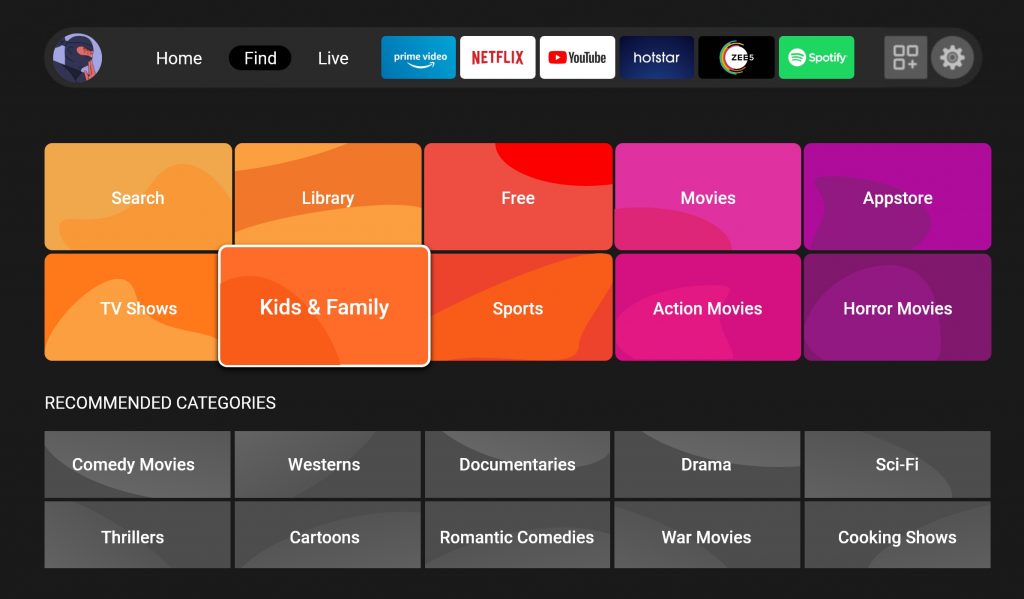 1. Convenience
Streaming OTT technology is on a roll these days, and there is no doubt that the majority of people want to be a part of it. However, streaming shows and movies can be a difficult task that often necessitates a lot of effort, which can demotivate people. However, with the assistance of the Amazon Fire Stick streaming app, everything will become much simpler and easier.
2. Unlimited Customers & Accessibility
The built-in screen reader, as well as closed captions and other features, make the user experience more pleasant. The features in Amazon Fire TV apps give users the ability to customize the app settings in order to improve the overall app experience. Furthermore, it readily provides the ability to enhance capabilities in any situation.
3. Content Availability
As a reflection and identity of the brand, it is essential to frame your content collection in abundance to compete with today's extreme competition. Furthermore, it is critical that you focus on the Amazon Fire TV app experience that it provides to users with a variety of content genres to play.
4. Content Licensing
To stream original content on your OTT platform, you must first obtain certain permissions from the content owner. Depending on the content type, there are several licensing policies. When learning how to create a video streaming service similar to other online video streaming platforms, you must consider how you will be compensated as the owner, whether through royalties or viewership-based compensation.
5. Choose The Monetization Model
Content creators are constantly coming up with new ways to monetize their content, whether through subscriptions, advertisements, or transactional models. The rapid rise in on-demand video content provides OTT businesses with endless money making opportunities. Simply put, video monetization platform / app would be based on allowing users to choose from a variety of plans.
6. Multi-Currency Support
As we all live in an online world, and the audience are from different geographical locations. Many OTT solutions are likely to prioritize global reach. As a result, the number of active users connected to the OTT platform have increased drastically. Making your own digital space, with multi-currency support and convenient options.
7. Quality-Driven Content
High-quality video content can have a positive impact on the overall viewing experience. When it comes to online video streaming, providing a flawless viewer experience should be your top most priority. For example, if a live stream has quality issues such as buffering, pixelated images, or delays, you should be aware that this is not good for your business and may result in viewers turning out from your video platform.
8. Video Sharing And Distribution
When you want to get your message across multiple channels, video distribution should be a central part of your marketing strategy. It is said to be the section of your videos that deals with where you're going to publish your online video streaming content in order to get it noticed by the right audience at the right time.
9. Smart Downloads In Apps
Smart downloads enable users to download content automatically when connected to a strong Wi-Fi connection. This allows users to save data while listening to music on the go. In fact, videos will be chosen based on an algorithm that considers their viewing history as well as the genres of content that they may enjoy watching.
How to Create Amazon Fire TV Apps
Amazon Fire TV is making quite a stir in the OTT space. If you are a content creator looking to capitalize on this growing trend, developing a customized Amazon Fire TV application can help your brand stand out from the crowd. Furthermore, give your users access to high-quality content, resulting in a fantastic streaming experience.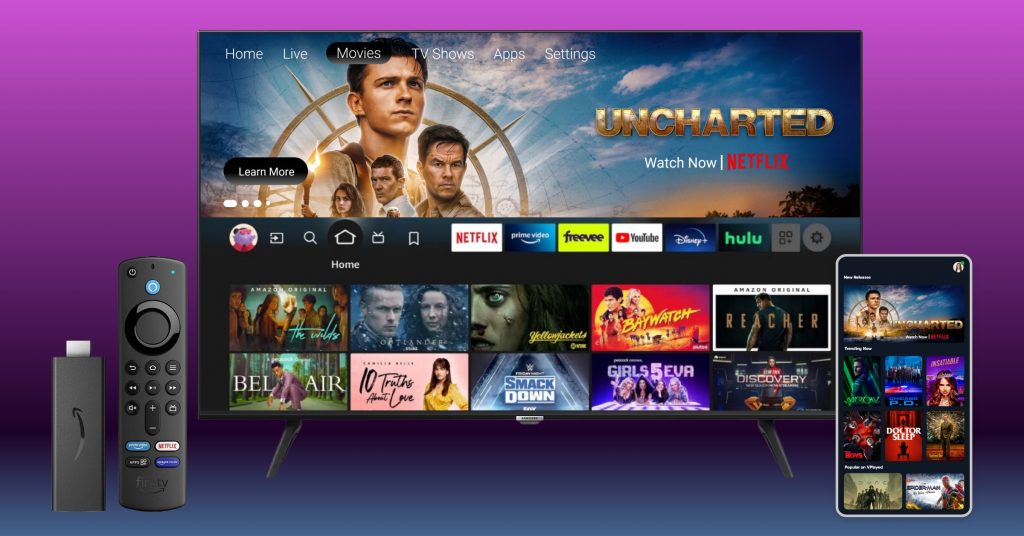 Use a Branded Over-the-top Solution
One significant difference between OTT and other platforms is that viewers' attention span appears to be very high. This is because of the quality of content that some of the top OTT platforms provide for their end users, and this works extremely well for brands that have a huge scope to capture the entire market share.
Amazon Fire TV Apps Streaming Features
#User Login, Profile & Registration
When developing your own OTT platform, understanding user registration procedures is critical. Users should be able to create profiles and later log in with their personal credentials (email, Google account, or any other social media account). User login is basically required for the app to identify which user is making the request and serve related data accordingly. In short, it is the first step in determining the user's identity.
#Notifications & Push Messages
Setting goals for what you want to achieve through this communication channel is the first step in laying the groundwork for push notification success. These objectives will most likely range from very basic communication objectives to more complex business targets. Keeping these goals in mind will also help you establish your push strategy, build push notification infrastructure, and design the type of notification content you need to meet short and long-term objectives.
#Diverse User Settings
This feature is usually found in the last row of the home screen. When your users click through, this dedicated area allows them to access other features such as timers and help guides. When any user enters the setting option, they will be able to see smart TV app settings such as channel setup, display, sound, external inputs, network settings, and so on. Additionally, users will have options such as Google Cast, Bluetooth, and so on.
#Multiple-Language Support
Businesses thrive when they are able to establish effective communication with their customers. Furthermore, it becomes even more important when considering expanding into new geographies as credibility must be repurposed. Typically, content providers or well-known brands tend to localize all of their offerings in order to maximize reach.
#Blocking of Screenshots
Designing the Amazon Fire TV application with screenshot prevention technology allows you to intelligently identify screen recordings, which indeed helps to make your content highly secure. Overall, this feature effectively solves the screen recording issues that have long plagued content owners.
#Administrator Panel
Once a dedicated admin interface panel is created, you can have complete control over the backend and can add, update, delete, or track artists as well as quickly change the various configuration files. Keep in mind that performance and functionality are two of the most critical factors for an admin panel that should not be overlooked.
#Multi-Platform Support
Having multi-platform support can assist content creators in reaching a larger audience. All of this is made possible by cutting-edge online video streaming software. It also means that if one of the video streaming platforms has a problem, you can still facilitate a large number of users to stream on another platform at any time.
#Payment Gateway Integration
The current trend to create your own white label OTT wallet allows a user to transact on other apps or websites. The gateway encrypts all sensitive data to ensure that no information is lost between the user, merchant and acquiring bank. It also performs a number of tasks in order to complete the transaction.
Conclusion:
The video streaming market is growing rapidly with a compounded annual growth rate (CAGR) of 18.5%, this tremendous growth can be attributed to a variety of factors, including increased availability of high-speed broadband internet, declining data prices, and the growing popularity of a number of online video streaming services.
Amazon Fire TV app development is a step toward discovering new audiences, expanding your business's reach, and adding value to your app. If you are looking to build an app-based platform and need help creating an OTT app from scratch, CONTUS VPlayed can provide a fully furnished OTT solution that can cater to all your business needs. Find your exploding OTT TV app development platform with increased revenue-generating strategies. So, what's holding you back? Choose the best option for your company's needs and start growing your OTT audience right away.
If you already have an idea for Amazon fire TV app development, schedule a free demo and we'll help you put it into action!