Have you ever figured out that you may tend to lose out on a huge customer base that are selectively dependent on Samsung Smart TVs for streaming content? Are you a video content owner who is planning to diversify your OTT bandwagon? If so, it would surely be a great choice if you find ways to expand your reachability beyond your current followers to skyrocket your ROI.
OTT platform have travelled millions of miles and has taken over the global market. As a result, Samsung TV has emerged as one of the top players. As a content publisher, if you don't have a video streaming app or service for this major platform, you're leaving money on the table…
Set your foot on Tizeon ecosystem to offer your customers with seamless video streaming experience by instantly deploying Samsung TV apps. Having built applications for many types of TVs, many media entrepreneurs find Samsung's Tizen Smart TV to be particularly interesting to work on.
Did you know that recently available data on number of connected TV users in the US showed that there were 56.8 million users among millennials, and it is estimated to hit a figure of nearly 62.6 million by 2025! Source: Statista
Having your own Samsung TV app, will help you reach global audiences in addition to a major percentage of US households.
What Is A Samsung TV App?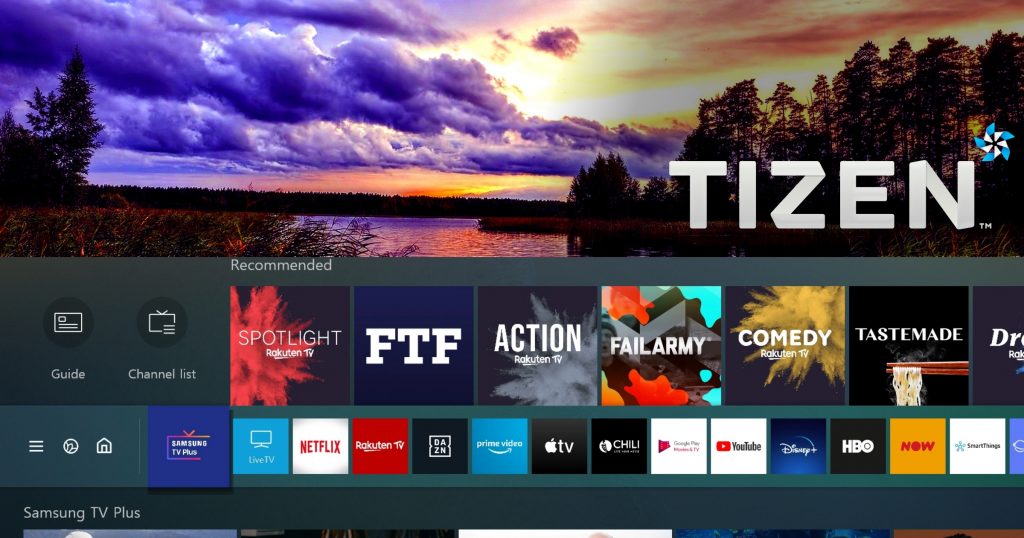 Samsung Tizen holds a 23% share of the world TV market, making it a prevalent operating system. Especially, in the Scandinavian countries, many people look for key advantages of the hardware provided by their TV such as Tizen's voice recognition from the remote control as well as some native integrations.
Tizen is the operating system which powers smart TV sets by Samsung. It's an open-source OS that's based on the Linux. Other than smart TVs, Tizen OS is also utilized to build smartphones and wearables.
Earlier, Tizen was released in 2015 after the Samsung TV platform was deprecated. This shift had brought a lot of milestones to TV developers which required support of two different platforms as well as relearn another API for supporting them. Now, years later we have tools for dealing with the split as market of Samsung TV platforms begins to decline & die out.
Let's understand more about..
Tizen Connecting Devices
Tizen is known entity for tech fans and its mostly regarded as the operating system that Samsung has built its wearable devices in the past. This only tells a part of the story. Tizen OS has been around for some time and not just on watches but on fitness trackers, smartphones, too.
Connected streaming devices generally work the same way through its shape and size may vary. Most of them are simple to set up – as users only need to connect devices to Samsung Tizen TV with an HDMI cable (in case of stick device, directly connects to HDMI port).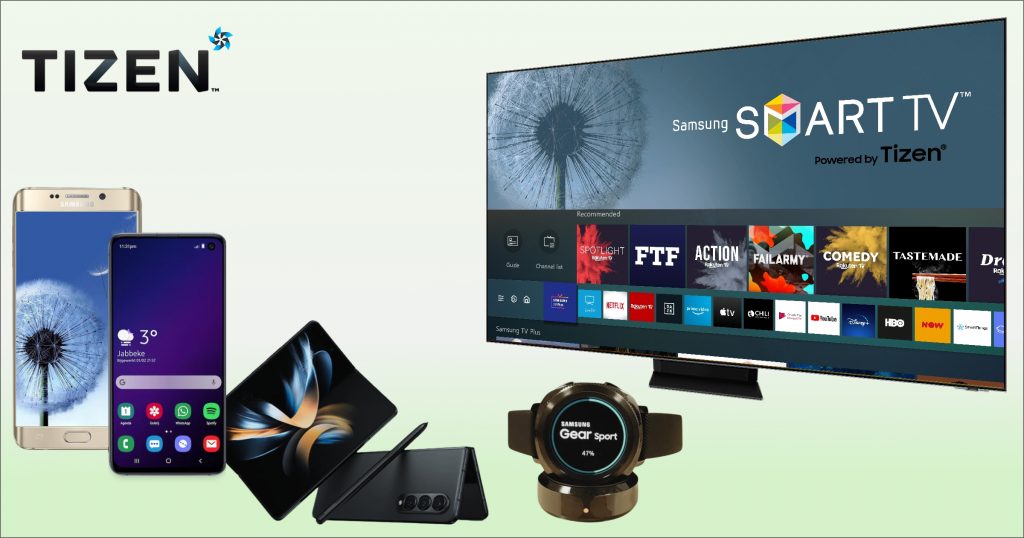 Then to start with, all is required is to connect to a Wi-Fi service (either a modem/router). The content that your users subscribe will now be able to stream through your advanced television set.
1. Smartphones
Tizen-based smartphone technologies include a rich and powerful user interface, 3D window effects, location-based service framework along with multi-tasking and multi-touch capabilities. Additionally support for scalable screen resolution means that the platform can consistently deliver seamless user experience across a broad range of handset types.
2. Wearable
Tizen wearable teckstack brings the cohesive and same exquisite features from mobile profile to much smaller form factors like smartwatches, without any kind of compromise on performance, battery life and ease of use.
3. Tablets
Tizen enables users to leverage a touch-optimized user interface for tablets with a suite of applications that are built-in for web surfing, personal data management as well as media consumption.
4. Smart TV
Tizen smart TV delivers a complete open source-based Linux stack that is accurately optimized for living room devices, such as Blu-ray players, set top boxes and digital TVs. It is designed for shaping an internet-connected TV experience, for allowing users to enjoy access to multiple apps, services all while watching TV.
Factors That Make Your Successful Samsung TV Apps
Creation of Samsung Tizen TV apps allows TV users to stream web content across their TV screens employed with TV-specific features. They provide a great deal and value to professional developers, but there are many added benefits which inculcates the opportunity tap into world's largest smart TV audience. Create app for Samsung smart TV making it easier for users to search their content, connect and view on TV or have an option to switch to the same content on a mobile device.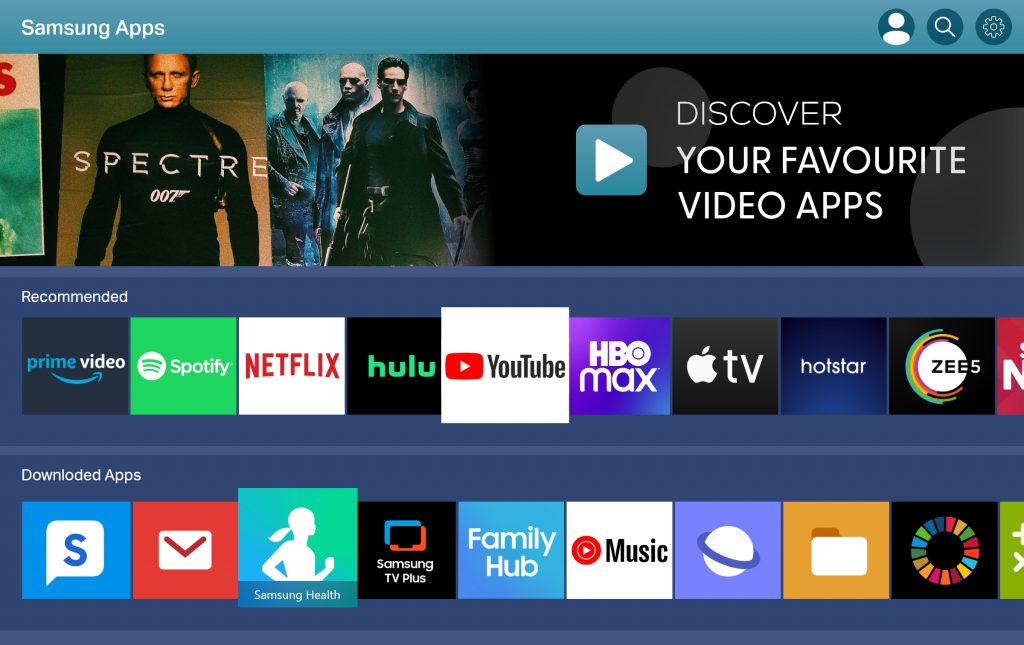 Other factors include:
With Samsung business TV app, it gives content broadcasters to explore with an extremely intuitive features like dynamic uploading, to store eye-catching content for your business TV. It incredibly suffices with a simple interface allowing you to edit, review, and deploy content all in one place.
Unlimited Customers & Accessibility
In an era where everything seems to come with a monthly fee, Samsung TV plus offers best accessibility with a mix of regionally-based & other content at no cost. The variety of on-screen data digital TV sets carry both shows and viewers find shows they watch, making it accessible than analogue predecessors. Users may find TV shipped with pre-installed apps.
You must choose the type of content you will convey to the audience because it will be based on an on-demand or live streaming service. The two possibilities, such as videos from distributors or original content, would determine those requirements.
To stream original material on your platform, you must obtain licencing consent from content producers. The kind of licence that is necessary depends on the kind of content. When learning how to create a video streaming service similar to Netflix, you must consider how you will be compensated as the owner, whether through royalties or viewership-based compensation.
Choose The Monetization Model
Content producers are finding innovative ways to include advertisedments or monetize their content via subscriptions or from transactional-model. The rapid rise in demand for video content provides endless opportunities to OTT business to generate revenue.
Many OTT platforms is more well-liked despite having a rather wide global reach. The number of users has expanded as a result all over the world. So making your own space in the digital world is essential with multi-currency support with convenient options.
When it comes to streaming high-quality video, creating your own streaming channel similar to Netflix is quite important. We all know how customers become addicted to Netflix streaming when there is a comparison.
Video Sharing And Distribution
Users have the option to watch them on many platforms and devices. Another choice that may be used at any time and from any location is sharing. For example, you may easily check in to the Netflix platform from a computer or even from other devices.
Once viewers have seen an episode, it will be automatically deleted with the use of the smart downloads feature. Next, use a wireless Wi-Fi network's reliable resource to download the next one.
How To Create Samsung TV Apps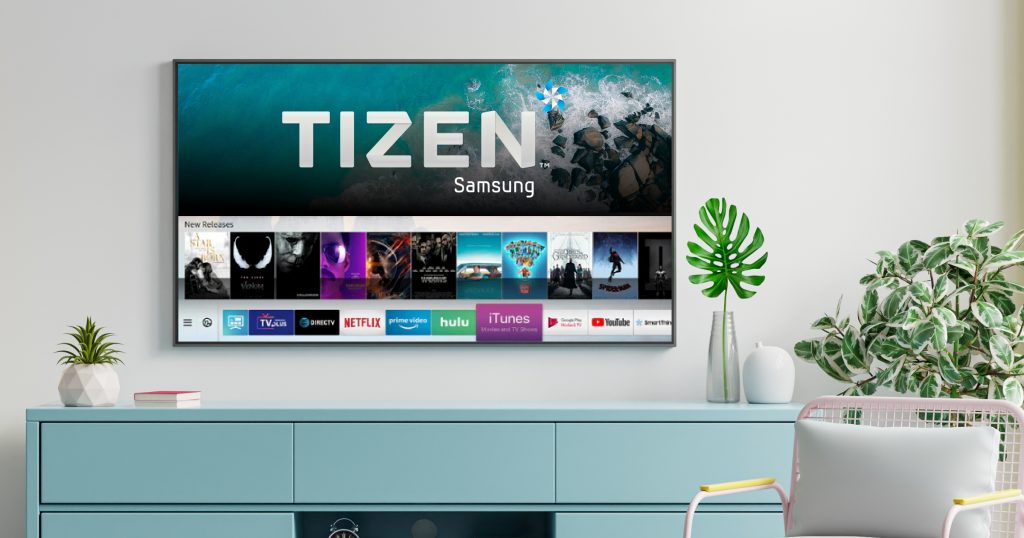 Use an branded over-the-top solution
Unlike traditional channels where audiences need a TV to access their favorite channels, with OTT paired with Samsung Tizen TV app development, they can watch their shows at any point of time. All that is required is to have a stable internet connection or Wi-Fi. Moreover, content aggregators have been struggling to know a path that consumer takes while purchasing a product online. With branded OTT solution, businesses can effectively track potential customer's journey has made things simpler.
Some of the essential Samsung TV Apps streaming features are:
User Login, Profile & Registration
It is necessary to know about the process of user registration while creating your samsung TV apps. Consumers can register in accounts & login later via email, Google or any other social platform.
Notifications & Push Messages
Push notifications majorly assists users with receiving messages or notifications when subscription is about to expire. Also intimate when it has to be renewed or choice of cancelation or upgrade of subscriptions. With that, when a new episode is made live also come into play.
Users in the platform like Amazon or Netflix can be provided with user-level accessible settings. It provisions them to upload photos, choose preferred genres, wide selection of movies, shows, artists from the advanced CMS.
Multiple-Language Support
While broadcasting samsung TV app, you can have an option to deliver media assets with multilingual support to audiences worldwide. Also, you can translate and stream live content paired with numerous audio languages along with closed captions.
Enable screenshot prevention that has inbuilt mechanism in your samsung tizen tv as compared to competitors in the market line. You can easily leverage to block all screen recording options effortlessly.
While researching how to launch a company like Netflix, one fact makes everything clear. You have complete control over the admin interface, including the ability to add, update, delete, or track artists from the backend and swiftly alter the different configuration files.
Multi-platform viewing support can help you reach and engage your target demographic in some of the finest ways possible. Connect with them at anytime, anywhere, using various streaming devices.
Payment Gateway Integration
After a free trial period, any service that users choose will require payment connections like PayPal, Stripe, Visa, etc.
Conclusion:
Tizen app development involves various steps and requires thorough knowledge of techy coding. Make sure to choose the right programming language for building your extensive Samsung Tizen TV or app. Also, you may want to hire a Tizen app developer to create, test and deploy your applications without any technical hurdles. The best bet though you can leverage is OTT streaming platform providers who can provide complete surety in build your Tizen-based app all under a single platform.
If You Already Have An Idea About Launching An Samsung TV App, Schedule A Free Demo And We'll Get You On The Road To TV App Streaming Success!