Transmit Your Subscription Content Powered By HLS Player
Stream subscription on-demand videos for buffer-free views
Improved Quality of Experience
With our cloud video encoder, auto-optimize your bitrate ladder for unparalleled adaptive bitrate streams that can give flawless outputs even at excessive bandwidths.
Discover Art of Speedy Streams
Deliver subscription video streaming in a smooth pace with jet-speed playbacks providing accurate & high-quality view experience at any given time.
Cast With Smart Alternatives
Cast live streams and subscription on-demand material like TV shows, Movies, Games to any device like Smart TVs, Mobile, and engage every audience.
Streams Accessibility In Varied Devices
Enable cross-viewing compatibility and let your viewers reach you through any medium using multi-device development for Desktop, Smartphones, Tablets, and TVs.
Increase Overall Watch Time
To watch any foreign or regional content on any device, allow your loyal users to avail subtitles along with respective fonts. OTT subscription packs also give multilingual capability.
Explore HLS player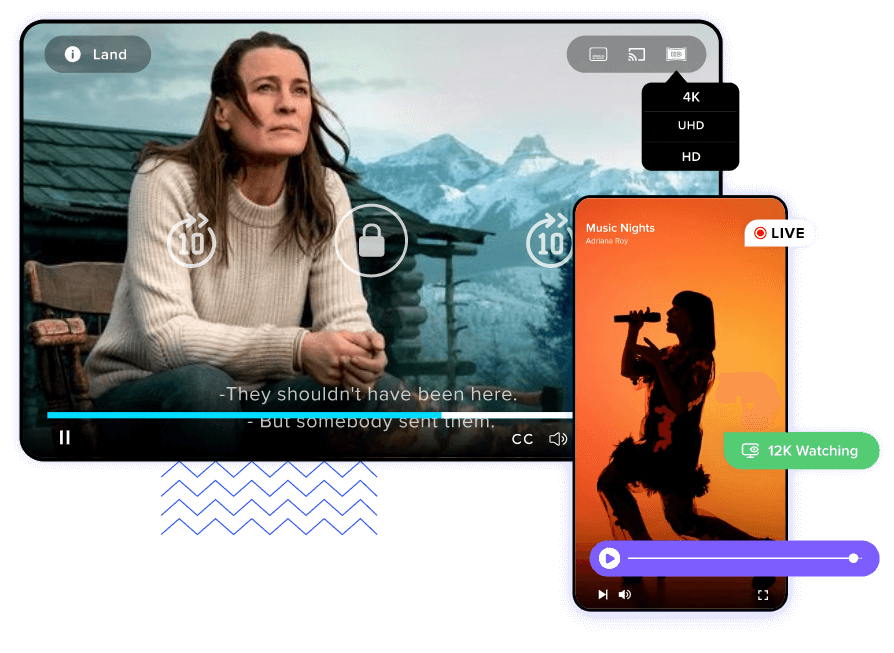 A Complete SVOD Platform To Manage, Engage & Measure
Exclusive availability of potential performance Indicators In SVOD streaming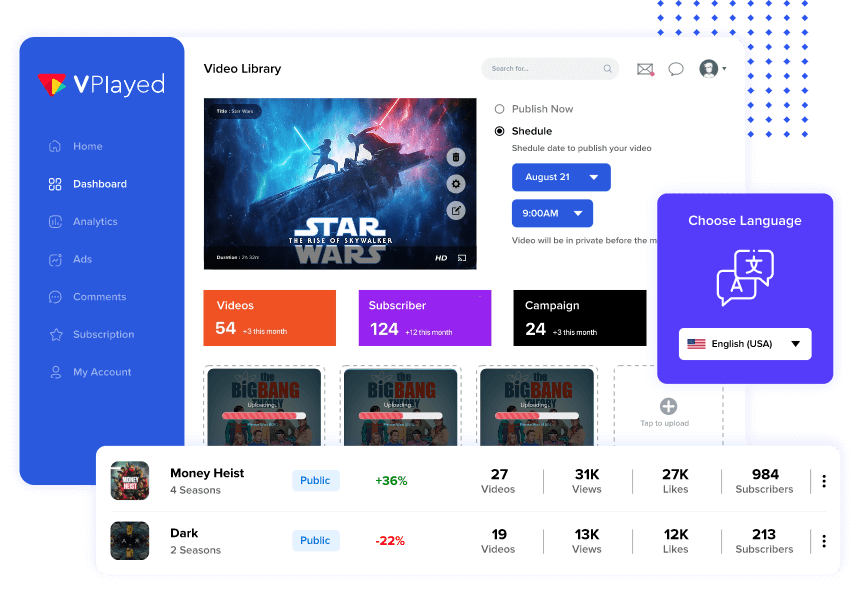 Advanced Inbuilt Video Content Library
Compile & stream every content In real-time
Explore video cms
Streaming Infrastructure to Secure Videos from Piracy
Reinforced video security backed by standardized protocols
DRM Security
Now your intellectual property stays intact against copyright infringement through advanced Digital Rights Management solutions delivered via VPlayed.
AES Encryption
Advanced Encryption Standard protocol ensures you have secure means of video streaming by encrypting your videos & not letting hackers barge-in to steal them.
Paywall Integration
You can now ensure a layer of content integrity by initiating secure checked paywall. Until the payment transaction has been made, users won't be allowed to view videos.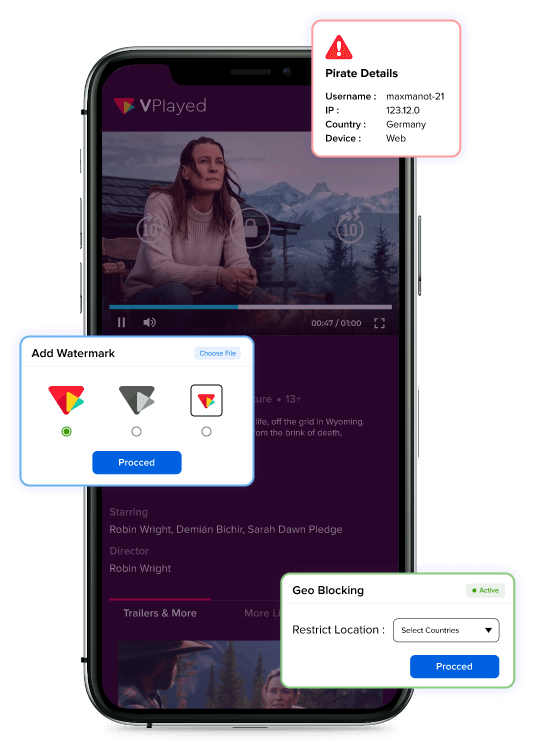 Authentic Access Control
Create firewalls between your content & bypassers with adequate access control features & ensure to give safe content access to only platform members.
Secure Video Storage
You can preserve your precious video assets safely with DRM storage extension, that facilitates you to have distinguished storage costs.
Advanced SSL Certification
With standardized SSL certification you can ensure cryptographic key exchanges transmitted with sensitive data are in safe connection amongst servers & browsers.
Explore DRM & security
How Long Does It Take To Launch a SVOD Platform?
Building a video subscription platform from the base with all sort of customizations in features, functionality, and monetization strategies takes about 3-5 weeks in VPlayed.
Why is SVOD the best monetization model?
You can have several perks via subscription based service model like, delivering free trials, in-app purchases, offer special coupons, offer flexible plans with withdrawal options & more.
What are the features to look for in video subscription platform?
The features that can boost your video subscription streaming services are: own branded platform, ensure complete individual gain from profits, independent growth with lifetime value, and no limitations in streaming powerful apps, etc.
Are there any hidden fees on subscription platform?
When it comes to whitelabelling video services, getting your brand identity isn't the only advantage. The functionality of your video streaming platform will have a complete control at your surveillance which can be tracked & monitored to suit your video business objectives. Also, quality regulation can be adhered by procuring branded platforms at a single cost to have lifelong ownership.

Book Your Free Demo Today!
See how VPlayed works through a 1-to-1 demo with our product experts.
Let's Talk To Sales Team
We'd love to answer your questions. Tell us your needs, and we'll contact you shortly.
Contact Sales