In the age of digital content, the demand for video streaming platforms has skyrocketed, and so has the need for reliable video streaming server.
Finding the best streaming server can be daunting with so many options available.
However, creating a streaming server can offer you complete control over your content without third-party interruptions.
This article will guide you through setting up your own media streaming server.
From selecting the right hardware to choosing the best software, we will cover everything you need to know to create a video streaming server that meets your needs.
Whether you're a content creator looking to share your work with the world or a business owner seeking to establish a video streaming platform, this guide will help you get started confidently.
So, let's dive into the world of video servers and learn how to set up a streaming server that stands out in today's market.
What is Video Streaming?
Video streaming is the continuous process of media transmission over the internet from the streaming origin to your personal computers and smartphones.
What is a Video Streaming Server?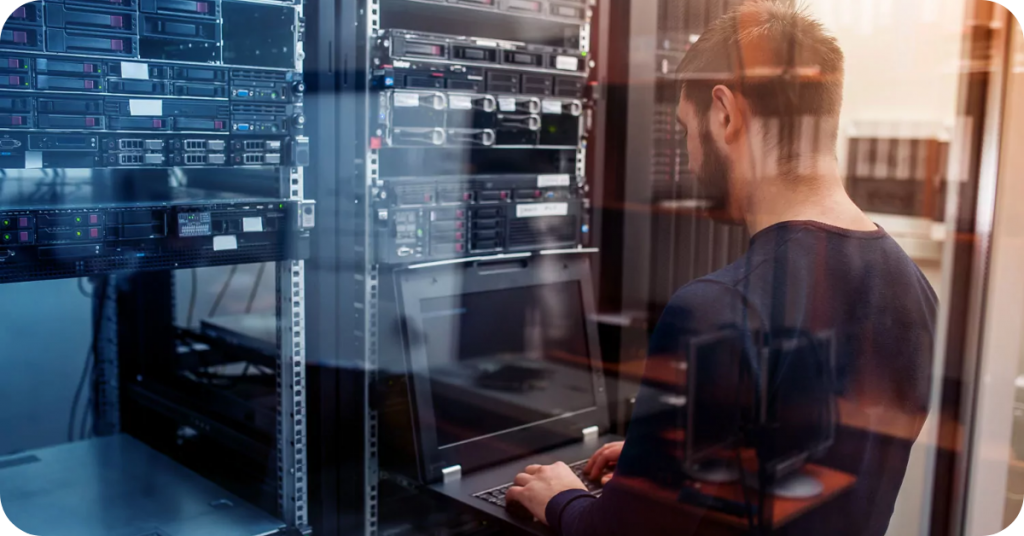 The video streaming server is a web server with an integrated RTSP functionality that delivers live or on-demand video to internet-connected devices.
The only pre-condition is that the video must be encoded and transformed into a data format before using video streaming software.
The data must then be transmitted as a stream from your origin server to the user's computer or smartphone.
Want To Create Own Video Server For Your Business?
Who Needs a Video Streaming Server?
A video server is necessary to distribute high-quality video content online. You will need a video streaming server if you are:
Content creator who wish to distribute and monetize your video content online.
Media company and content owner/aggregator looking to offer your customers live streaming or on-demand video streaming services.
Educational institution that offer online classes or distribute recorded lectures.
Event organizer who want to offer live streaming of video conferences, concerts, and other events.
Religious organization that want to live stream their services to remote audiences.
Sports franchise that want to offer live streaming of games or events to fans.
So, a streaming video server is a necessary pre-requisite for anyone who wants to share video content with a large audience online.
What to Look For in a Video Streaming Server?
When it comes to choosing the best streaming server, there are several factors that you must consider to ensure an uninterrupted streaming experience for your audience.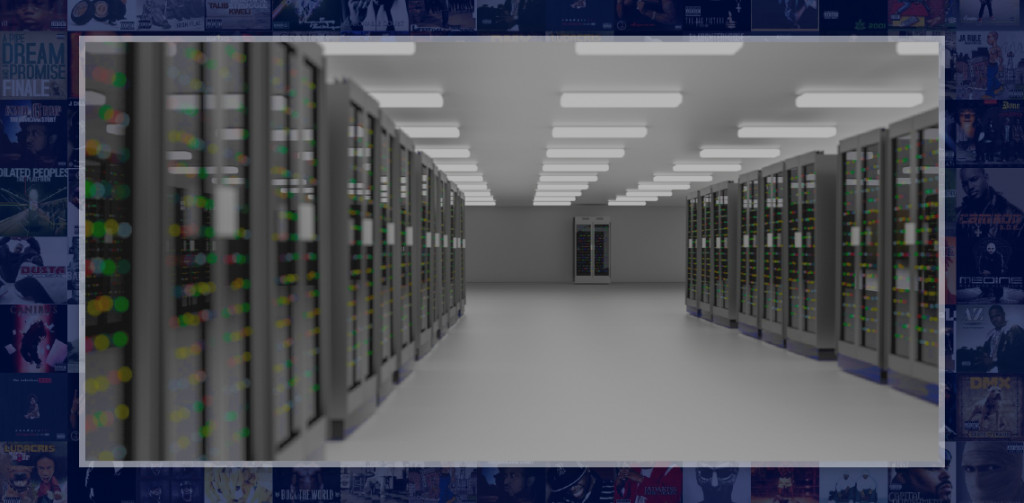 Here are some key aspects to look out for in a media streaming server.
1. Build a robust CPU
The central processing unit (CPU) is the brain of your server and is responsible for handling all processing tasks. A powerful CPU ensures smooth video playback and prevents buffering issues.
The CPU must be powerful enough to handle multiple requests simultaneously, as streaming involves transferring large amounts of data quickly and efficiently.
During the streaming process, the server must encode the video and audio, transcode it to different formats, and deliver it to the end-users device.
These tasks require significant processing power, and a robust CPU ensures that the server can handle these tasks without any lag or buffering.
Additionally, a powerful CPU is essential for live streaming, which requires even more processing power to deliver high-quality, low-latency video to viewers in real time.
In short, a robust CPU is critical for ensuring that your video server can handle the demands of streaming video content without any glitches or delays.
2. Ensure adequate RAM availability
Random access memory (RAM) is another crucial component in setting up a video streaming server. The amount of RAM you need depends on the number of simultaneous streams you want to support. More RAM means more concurrent streams.
Having said that, to determine if you need more RAM or not, you can follow this thumb rule.
Determine the size of 30 seconds of your video (if the video is in HD, it should come to around 30Megabytes)
Number of users accessing your streaming service simultaneously
Multiply the no. of users and the size of your video content. If the size is larger than 12 Gigabytes, you can upgrade the RAM size to 32 Gigabytes.
Similarly, if it's more than 28 Gigabytes, you can have RAM size of 64 Gigabytes or above.
3. Disk space availability:
Storing video files on your server requires significant disk space. It's essential to ensure that your server has enough storage space to accommodate your video library and future expansions.
Meanwhile, always have some "empty space" on your disk for your OTT app to use for caching, just like in the case of RAM.
Also, an SSD can improve your app speed by storing your videos and serving as an application cache.
Additionally, you can use the usual hard disk for bulk video storage due, to cut down storage expenses.
4. Bandwidth port size for playability:
The bandwidth port size determines the maximum bitrate that your server can support.
A larger port size means a higher bitrate, translating to better video quality.
Therefore, choosing a streaming server with a large enough bandwidth port size is essential to support high-quality streaming.
Considering these factors, you can choose a streaming server that meets your requirements and provides a seamless streaming experience for your viewers.
Why Do You Need A Video Streaming Server?
A streaming server is a must-have tool if you plan to create your own video streaming platform or deliver content to a large audience.
Here are the top reasons why you need a media streaming server:
1. Multiple video formats:
A good video streaming server supports a wide range of video formats, enabling you to deliver your video content to a diverse audience.
This means your viewers can watch your content in their preferred format, ensuring you reach a wider audience.
2. Secure video delivery:
Media streaming servers provide secure video delivery, protecting your content from piracy and unauthorized access.
By encrypting your video content, you can ensure that it can only be accessed by authorized viewers.
3. Cross-platform compatibility:
Video streaming software enables you to deliver content to various devices, including smartphones, tablets, and smart TVs. This means your viewers can watch your content on any device, anywhere, anytime.
4. Geo-restrictions:
An online video streaming server allows you to set up geo-restrictions, enabling you to control who can access your content based on location.
This is particularly useful if you have licensing agreements or want to restrict access to your content in certain regions.
How Do You Set Up a Video Streaming Server in 5 Steps?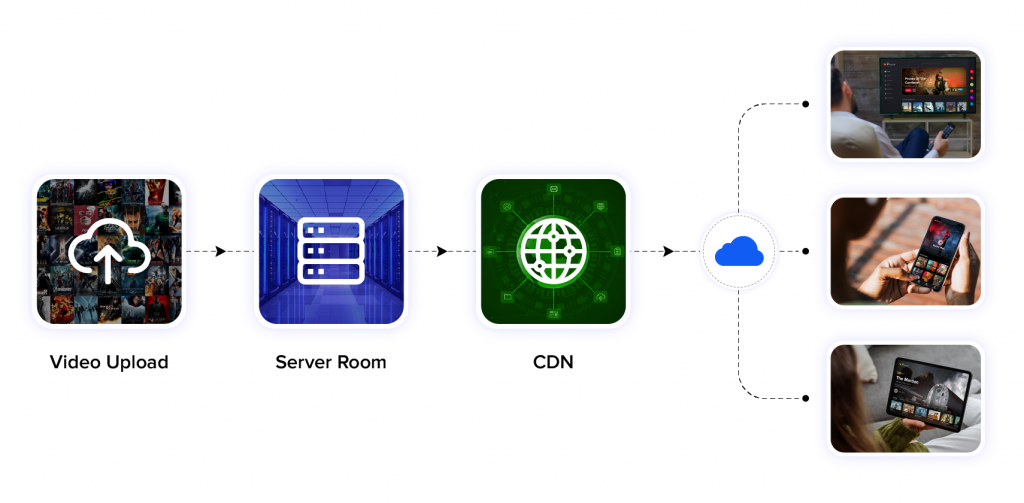 You must follow a few key steps to build your video server.
Here's a breakdown of the process:
Step 1: Know your requirements
Before setting up your video server, you must find answers to the following questions.
How large is your target audience?
How crucial is the quality of the video stream?
What operating system are you currently using? Windows, Linux (Ubuntu), or Mac OS?
What are the necessary system requirements for your streaming server?
Who will have permission to view the video stream?
Is there a need to archive copies of the video stream?
Step 2: Set up a web server:
Setting up a web server is your first step in building a video streaming server. This will allow you to host and serve your video files to your viewers. You can use any web server software that supports HTTP or HTTPS.
Step 3: Configure streaming software:
Once your web server is up and running, you'll need to install and configure your streaming software. Several different options are available on this front. It includes open-source solutions like FFmpeg and several other paid solutions.
Step 4: Setup a reliable CDN:
A video content delivery network (CDN) is a server network that works together to distribute your video content. This helps ensure that your viewers can access your content quickly and reliably from anywhere worldwide. You can set up your own CDN using software like Nginx or Apache or a third-party CDN like Amazon CloudFront or Akamai.
Step 5: Develop a media player:
Finally, you'll need to develop a media player to display your video content on your viewers' devices. You can use an existing player like VLC or HTML5 video player or create your own custom player using a framework like Video.js or JW Player. Ensure your player is compatible with all your viewers' devices and browsers.
Must-Have Features on a Video Streaming Server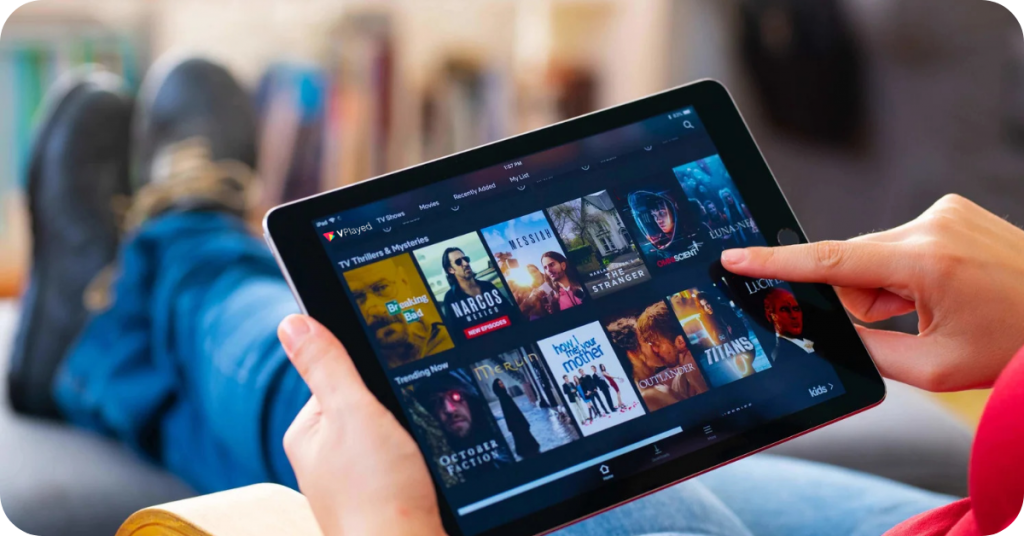 Choose the right streaming server to build the best online video platforms that meet all the requirements.
Let's discuss some top requirements when selecting a video streaming server.
1. Scalability:
The video server should scale per the demand and accommodate increasing users and video content without lag.
2. Video quality:
The media streaming server should support high-resolution video and audio codecs to ensure the best streaming experience for your viewers.
3. Adaptive streaming:
It is a crucial feature that enables seamless video playback on different devices and network speeds. So, ensure your video streaming software has in-built support for adaptive streaming.
4. Video transcoding:
The video stream server software should provide a feature for converting videos to various formats and resolutions, allowing playback on different devices.
5. Security:
The on-premise streaming server should have the necessary video security features to protect video content from unauthorized access, piracy, and data breaches.
6. CDN integration:
The video streaming server should provide seamless integration with a CDN to deliver high-quality video content to viewers without buffering or downtime.
7. Analytics:
The server should have a robust analytics feature that provides detailed insights into video consumption, viewer behavior, and engagement to help you make informed decisions.
8. Low latency protocols:
Low latency video streaming protocols reduce lag time between live broadcasts and viewers. Popular low-latency protocols include WebRTC, SRT, and RTMP.
9. Multi-device support:
The media streaming server should support multiple devices, including smartphones, tablets, desktops, and smart TVs. Because cross-platform compatibility is crucial for reaching a wider audience and maximizing user engagement
10. Technical support:
A proactive technical support team ensures the smooth operation of your media streaming server. It includes offering timely assistance with troubleshooting, updates, and maintenance can prevent downtime and other issues.
11. Customizability:
Customizable video streaming server allows content owners to tailor the platform to their specific needs and branding. Customization options may include layout, colors, logos, additional features, etc.
By ensuring your media streaming server meets these requirements, you can deliver your viewers a seamless and secure video streaming experience.
Benefits Of Building A Video Streaming Server:
Building an online streaming server offers a plethora of benefits to content creators, distributors, and viewers.
Here are some of the noteworthy benefits of creating a streaming server:
Instant viewing without downloading:
One of the significant advantages of video streaming servers is the ability to stream content without downloading it first. With video streaming, viewers can instantly access and watch their favorite videos without wasting time and space downloading them.
Video streaming servers are designed to stream videos with minimal RAM usage. It means viewers can watch high-quality videos without affecting their device's performance.
With a media streaming server, content creators can reach a wider audience, irrespective of location, as viewers can access videos from anywhere in the world.
Increased revenue and cost efficiency:
By building a video streaming server, content owners can monetize their content and generate revenue through subscriptions, advertisements, and pay-per-view models. This can also help cut costs associated with physical media distribution.
Increased audience engagement:
Video streaming servers enable content owners to engage with their audience by offering interactive features such as live chats, social media integrations, and other engagement tools. This helps build a loyal audience and can increase engagement and brand loyalty.
Conclusion:
Setting up your own video streaming server can provide numerous benefits, like instant viewing without downloading, increased revenue, better audience engagement, and so on.
By following the steps, we've outlined – knowing your requirements, setting up a web server, configuring streaming software, creating a reliable CDN, and developing a media player – you can create a robust, on-premise streaming video server that can meet the needs of your organization or video streaming business.
It must be noted that setting up a video server needs prior experience and expertise. And, if you lack either of them, VPlayed can help you set up a video server and build a video streaming app.
In addition, VPlayed offers extensive personalization options and allows for white-labeled video streaming.
VPlayed offers the most powerful video transcoding solution on the market and the experience and technology needed to meet the ever-changing demands of the streaming industry.
If you already have an idea about setting up a streaming server, feel free to schedule a personalized 30-minute demo at your own schedule.
Frequently Asked Questions(FAQ):
1. What is the Video Streaming Server?
A video streaming server is a software application that allows users to stream video content across the internet. It provides an interface for users to access and view video content, as well as a platform for delivering the content to clients. It can also include features such as encoding, transcoding, and storage for files.
2. How Does a Video Streaming Server Work?
A video streaming server works by receiving video data from a client, processing the data, and then sending it back out across the internet in the form of a live stream. The data is encoded and compressed to make it more efficient to transport and store and can be delivered in a variety of formats.
3. Why Do I Need A Streaming Video Server?
A video streaming server allows you to stream videos over the internet, enabling users to watch videos without needing to download them first. It is a great way to provide access to content on any device, at any time, and in any location.
4. How Do I Set Up a Streaming Server?
To set up a video streaming server you will need streaming software, a web server, a streaming media server, a content delivery network, a media player, and a video content management system. Additionally, you will need to set up the software and configure the settings, as well as establish a hosting plan for the server.
5. How Much Does a Video Streaming Server Cost?
The cost of video streaming server is governed by a number of things, but ultimately, streaming setup will be determined by your individual demands and business streaming goals. Considering streaming server costs, live streaming equipment costs, & professional service charges are the three key elements to consider.
6. What are the Requirements Needed for the Best Video Streaming Server?
The requirement needs for the best video streaming server that has many choices for setting up a secure video server and getting the videos up and running, depending on your business needs. To have exact components for your video streaming business requirements, you can now research various platform providers in the market & choose the individual components required. Some of them like CDN networks, adaptive bitrate protocols, streaming protocols like Apple Fairplay & more.