Are you looking for the best IPTV services in 2022? Get a handbook premium guide on how to choose an apt IPTV service provider along with key components that can help you to choose the right service.
Market Presence of IPTV
With the vivid proliferation of video service offerings over these recent years, Internet protocol television which is otherwise known as IPTV has been established in several business verticals
This has led to a grand innovation of IP-based services, all compiled under one place to provide you with a distinguished IPTV solution applied in varied kinds of streaming business models in the marketplace
You'll be surprised to know that with wide deployments in subscriber-based telecom networks with high-speed channel accessibility into user-end devices, IPTV has begun to flourish in Central & Eastern Europe along with Latin America streaming markets..
Further to that, South Asian countries like Srilanka, Nepal, etc are heading towards the game, to gain the best means of profitability!
Mainly, the platforms of IPTV due to the technological upgrade of automation have come into existence with a come back disruptive force that would retain its role in the Television (TV) industry.
The growing admiration for IPTV providers has positively impacted its advanced deployment in European countries hiking the count of subscribers. Amongst the popular service providers, countries like Australia, Romania, Sweden, Indonesia strike it rich to provide the best possible services, which notably results in increased adoption.
Some of its competitive landscape given a new dimension to experiencing entertainment outlines with leading companies like AT&T Intellectual Property, French Operator Iliad, Deutsche Telekom AG, Verizon Communications, PCCW, and many more industry stalwarts to follow.
As time passes by, many innovations are emerging in the IPTV streaming service market. They evolve as some of the video platforms using Over-the-top video applications to enhance their video-on-demand & live-stream offerings.
Considering the past record of a few insights here are some during the time of evolution:
" As indicated by Multimedia research group in the year 2008, it's last forecasted with 1 Million actual IPTV subscribers.
In the following year, it had scaled up to 26.9 Million user growth and saw a huge leap of 81 Million subscribers in 2013. "

Source: IPTV Magazine
Later on, it was seen that these best IPTV services are being used by 685 companies around the world.
Now, let us take a glimpse of its varied specifications offered by service providers:
Group of IPTV Providers
When the lucrative landscape of IPTV has hit huge numbers due to its quick rollout enhancements, it has stimulated the need to compete for most TV providers and deliver curative pieces of content.
Thus, it encourages streaming with an advanced set of futuristic services in order to entice subscriber loyalty in the long run.
There are two categories of IPTV providers to choose from: legal IPTV providers and IPTV providers that have not been verified.
Let's talk about them and see what are those comparative differences.
1. Legit Root of IPTV Services
A simple trick can help you to learn if the providers of IPTV are legally authorized or not.
If the app is available on 2 major wings like the Amazon TV app store or else in the Google play store it means the application is legitimate to use or otherwise download in your region.
It is understood by users that once conglomerates like Amazon or Google certify apps for use through their individual application stores, it defines a safety protocol assuring complete security.
Otherwise, both of the big giants will be liable for illegal streaming activities such as copyright infringement, piracy, etc.
2. IPTV Services that Aren't Verified
Unverified IPTV services can be defined as, those that aren't available in popular app stores. As compared to legal IPTV companies these usually seem to be less expensive.
Services of such kind might stream in TV series, movies, & social events without proper licensing.
Many media outlets would have official rights after their purchases to stream appropriately. In such scenarios, that content won't be available to users with region-specific countries, but not everywhere.
These are approached due to some price offs & wide content library. As a result, these services do undergo legal questions & vulnerabilities in regards to security.
Requirements for IPTV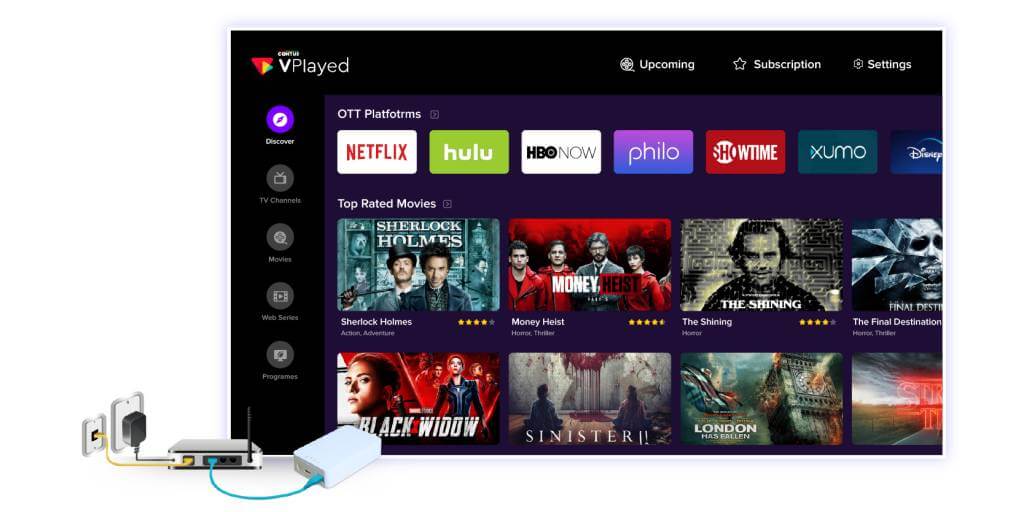 * Super-fast Internet Speed
First of all, it is important for IPTV service providers to deliver a buffer-free experience for their audience on various supported devices. So investing in a high-speed internet connection is a fundamental need. Around 25Mbps internet speed is of utmost necessity.
Since we know that most IPTV services come with full-HD live channel streaming it is important to provide a flawless watching experience. Many countries are adapting to a high-speed internet connection where users are able to avail themselves of streaming videos effortlessly.
* Premium Streaming Device
Yes, absolutely.. This goes without saying! A compatible streaming device would be far more comfortable for your users to reach and enjoy your content. To start with, you can invest in an Android-based system as it provides an open-source ecosystem that makes it easy for users to get a verified load on their devices.
Amazon Fire Stick has far more opted choices to stream in IPTV devices. Many factors underplay behind Firestick's popularity that offers additional features, an easy-to-use interface and lot's more to explore.
Also, don't forget that official app support can also be provided with top-known to create a video streaming platform like Netflix, Amazon Prime, Disney+, Peacock, Hulu, etc.
For years, people relied on a plethora of Internet streaming services via IPTV platforms and satellite bundles to satisfy their entertainment needs. The different features, pricing, and content of these will be seen in detail.
Factors to Consider While Choosing an IPTV Service
1. Check what do they provide
The first and foremost thing that you should look out for when you choose an appropriate IPTV provider is to look at what kind of services they offer… Keep in mind that many providers will offer you loads of channels, but withdraw primary focus on providing quality ones…
Just in case you are interested in getting a sports or kids channel, see if it's covered in the package or not.
2. Signal strength of streams
The quality of the signal networks is one of the pivotal components that you need to make sure of before opting for the best IPTV provider. If the signal strength is not up to the mark then you might encounter experience issues with regards to resolution and white noise.
Let's say you are watching the game placed in Canada, getting high-quality viewing issues can end up unsatisfying. So test things in the trial period.
3. Observe user ratings
The best reliable way to find out if IPTV services from the USA or other countries are advantageous is to skim through user reviews and ratings. At the end of the day, users would give their honest feedback which will point out many noteworthy factors.
While they state their opinions on why to choose them or look for others will help you to weigh two sides of a coin! Social forums should help it more.
4. Locations catered to
Some platforms might offer IPTV service locally! Not every brand might offer premium content in the global landscape. Major European countries that prefer connected TV solutions are Ireland, Spain, Germany, France, Portugal, Belgium, etc.
So it is important to observe what & where they offer so that you can have satisfaction for features that you pay for. And, you'll wish to access your profile at any place.
5. Device that suits your plan
Then, the next parameter that you need to consider is device compatibility. Despite people being accustomed to traditional TV sets, now others would have an option to watch favorite shows from smart devices that you might have been using a while ago.
Also, check how many devices could per-person use simultaneously so that it's uninterrupted by someone in your household.
6. Internet speed & buffers
Today we are in the modern era with unstoppable gen-Xers. We don't want our channels to display in minutes but rather expect to view within a trillion seconds!
As a result of advancements in online technologies, think to catch hold providers who offer a buffer-free experience. It is obvious that platform services aren't going to pitch themselves as slow-speed-paced. Therefore thorough research will clarify.
7. Valuable customer support
Tech support is one of the most essential. You should always have a check on it, as there is no way to avoid this. Since it is one of the critical pieces of equipment, you'll need one of the best video streaming platforms who can help you to reassure this factor.
And, once you are partnering with one of these trustworthy services, get to see how transparent they are for communication.
8. Budget factors
The last thing that defines choosing the best video streaming services, is of course with regards to the prices that match your budget. Remember that in the current market you find so many wide ranges of services that can be pretty pricey than others.
So the best thing that you can do is to have a checklist of services that offer your interesting set of features in your location & match pricing after going over the details
Best 14 IPTV Service Providers in 2023
Get the list of best IPTV services based on extensive research, features, pricing, region supports, and more.
| Name | Channels and Reviews | Website |
| --- | --- | --- |
| Yeah! IP TV | 6,000 live HD and FHD | yeahiptv.com |
| Apollo Group TV | 1,000 channels in HD & VOD | apollogroup.tv |
| Mom IPTV | 12000 channels & VOD | momiptv.com |
| Beast IPTV | 9,000+ channels | beastiptv.us |
| Kemo IPTV | 15,000 channels, & VOD | kemoiptv.tv |
| The Players Klub | 3000+ premium channels& VOD | playersklubiptv.com |
| Nikon IPTV | 10,000 live HD & FHD channels | nikoniptv.com |
| Necro IPTV | 2,000 live channels | necroiptv.com |
| SSTV IPTV | 8,000+ channels | sstv.com |
| King IPTV | 12,000 HD channels | king-iptv.net |
Find out which one is best for you to stream your favorite channels.
#1. Yeah! IPTV
Live TV service in High Streaming Quality
You'll also discover some recommendations for enjoying Yeah IPTV material in this article.
YeahIPTV is more than just a collection of live television stations. This provider's IPTV service allows you to view a lot more content for a lot less money…
The features and reviews available on each Yeah IPTV plan are as follows:
Over 6,000 live HD and FHD television channels.
Options for National and International sports channels.
Television News channels.
Dedicated channels for Entertainment.
Pay-per-view channels.
Compatible with any smartphone.
No restrictions on IP address location.
Compatible with VPN without a hitch.
M3U link support for usage with video players and an EPG.
Enhanced support with all major IPTV players.
Now I am sure, you'll understand why Yeah IPTV has become increasingly popular in recent years..
You may access all of these channels across the world with a wide range of devices using the service. Despite its high-cost plans, it's still worthwhile.
Speaking about some of its cons, reports indicate several bugs have come across, though. When you utilize a VPN, streaming it becomes a lot more enjoyable.
#2. Apollo Group TV
Eminent IPTV Provider With Subscription Service
Apollo Group TV is a high-end entertainment video streaming platform that lets you watch and enjoy a wide range of HD on-demand movies, pay-per-view events, TV shows, live TV channels, and other comparable content.
Many consumers enjoy this service because it has gradually come to outperform traditional IPTV services in terms of features. Apollo TV will, without a doubt, keeps you engaged for hours together.
The features and reviews available on each Apollo Group TV plan are as follows:
VOD options are available.
Over 1,000 channels in HD quality.
The free trial is currently on hold.
The conventional layout has five connections.
All Major Sports Packages are available.
International broadcasting channels.
VPN compatibility (when using service).
Electronic Program Guide (EPG).
Compatible with well-known IPTV players.
The IP address is not locked.
#3. Mom IPTV
Best IPTV service providers with 24 hrs Free Trial Period
MOM IPTV is a premium IPTV provider with over 12000 channels and a private server with a bandwidth of +10Gbps. Provides premium IPTV (Internet Protocol television) service through the Internet, using the Internet protocol suite instead of traditional satellite or cable television formats.
The features and reviews available on each Mom IPTV plan are as follows:
Most recent Anti-freeze technology with best compression & quality output.
Compatibility with multiple devices like Samsung smart TV, LG PC, etc.
Over 1200 + channels.
VOD options.
All major sports packages and PPV are available.
International Channels.
1 or 3 connection possibilities.
Subscription service with a 99.99% uptime guarantee.
PayPal and credit/debit cards are accepted.
24*7 customer service.
#4. The Amazing TV
Endless Choices of Channels in Different Languages
One of the most trusted IPTV streaming services is Amazing TV which is currently popular in the market. Many channels are available in Full HD and 60 frames per second. Amazing's IPTV service will provide you with live TV streaming as well as VOD movies and episodes.
And, in addition to that, it provides EPG (Electronic Program Guide) or TV Guide access to the TV schedule. For available channels, a catch-up TV option is also incorporated.
The features and reviews available on each Amazing TV plan are as follows:
It works well with popular devices like Apple TV, Firesticks, etc.
Playlist customization to keep only the favorite ones.
Multi-supported formats like M3U files, Xtream API codes, and more.
Sports, Kids, and other family-oriented channels are available.
A powerful IPTV server for premium streams.
Smart server backup systems.
Android devices are supported.
Catch-up.
External player assistance.
VPN friendly.
#5. The Players Klub
Best IPTV Subscription Providers in the USA
Many of the customers associated with Players Klub IPTV tell us that it is one among the popular service which offers 3500 live TV channels in countries like the United States, UK and Canada. Also, it has proven a track record in entertaining its viewers with 14000+ movies and 500 series.
They have the expertise to provide live streams with compatible devices like Android box, MAG, Firestick, & others too.
The features and reviews available on each Players Klub plan are as follows:
3000 plus premium channels.
Support for multiple devices.
VOD options.
One connection that comes with the standard plan.
Whole EPG source.
Packages start at $9.90/month.
Complete PPV Channels.
All major Sports bundles are available.
500 plus Adult VOD & channels.
Customer support via their online contact form and email.
#6. Nikon IPTV
Economical IPTV Service With Blazing-Fast Support
Having 4+ years as a global IPTV business provider, Nikon showcases a proven track-record of streaming 15000 International channels adding to 60,000 VODs & providing an enjoyable experience for its viewers. With trusted 14000+ clients all over the world Nikon IPTV solution gives access to 10000+ channels to have unlimited entertainment experience.
It aims to uncover an ecstatic broadcasting experience by providing the most advanced features suitable according to users. They also strive to make it personalized with vivid favorite shows, sports events, creating freezing feature for free.
The features and reviews available on each Nikon IPTV plan are as follows:
Packages begin at $12.00 per month.
Easy & flexible installation.
Over 10,000 live channels.
Image resolution: HD and FHD.
Transparent pricing.
VPN compatibility.
Electronic Program Guide (EPG).
Wide range of channels.
M3U URL.
24*7 Support.
#7. SSTV IPTV
Popular IPTV service with live channels & VOD options
SSTV's IPTV Subscription Service is revolutionising the way you watch TV by providing you with unlimited access to all of your favourite channels, movies, and TV series at a price that you'll love! If you are fed up paying thousands of pounds per year which is casted through satellite TV, then SSTV can be your best choice. Within just a few clicks you can watch HD channels & the latest movies, TV series across the world.
With high-quality picture delivery and economical pricing, factors have contributed to exploring this IPTV subscription service that provides access to the world's wide variety of IPTV content.
The features and reviews available on each SSTV IPTV plan are as follows:
Real-time viewing experience.
Dedicated team to take VOD requests for movies & series.
Zero to very little lag.
Impenetrable content security.
Device compatibility across FireTV, WebTV, Mag Box, etc.
International broadcasting channels.
Over 8,000 plus channels.
Offer free support with streams.
Stand-alone APK.
PPV and major sports channels.
#8. King IPTV
Best IPTV Provider with a Premium Free Trial facility
King IPTV is another best IPTV service that you can try on FireStick, Windows, Mac, and other devices. More than 12,000 cable TV channels and around 14000 VOD titles are available through King (movies and TV shows). Also, you may watch videos in a resolution of up to 1080p. However, some content may only be available in 720 pixels or even SD.
The features and reviews available on each King IPTV plan are as follows:
Over 12,000 HD Channels.
VOD choices for movies and television shows.
Helps with M3U URL and EPG.
Free 12-hour trial is available.
Packages start at less than $18 per month.
Subscriptions are available in three,6, 12, and 24-month increments.
All major sports packages are available.
Bitcoin and PayPal are accepted.
Prices are at 18 per month.
USA, UK, & Canada Channel options.
#9. Kemo IPTV
Top IPTV Services Available All Over the World
Kemo IPTV caters to your varied viewing needs with a rich catalog that includes more than 16000 channels, 30000+ movies, TV shows, etc. The services are equipped with complete HD resolution and it supports seamlessly across various operating systems out there. The pricing cost begins at $25 for the period of six months. However, it is only limited to only a single connection at a time.
The features and reviews available on each Kemo IPTV plan are as follows:
Over 15,000 channels.
Android TV boxes, iOS, and Android are all supported devices.
ExpressVPN assistance is available with a 24-hour trial.
Payments are accepted from Bitcoin in credit & debit card.
Package starts at under $9 for a month.
More than 3 device connections pricing goes up to $90 for 6 months.
USA, UK, & Canada channels.
Works perfectly with popular IPTV players.
M3U URL.
PPV & Adult channels.
#10. Falcon IPTV
The best IPTV Subscription Plan at Affordable Pricing
Indeed the selection of Falcon IPTV service is a noteworthy choice! This streaming service provider seems to be one of the pioneer competitors for traditional broadcasting networks. Furthermore, Falcon captures its users through entertaining features and new tech-stacks beating outdated feeble services! It offers its customers flexible pricing packages from 1 to 3 & 12 months in a range of $20, $50 & $80.
The features and reviews available on each Falcon IPTV plan are as follows:
Get 40000+ VOD titles in addition to 4000+ channels.
Comes with three connected devices.
Allows you to watch pay-per-view channels.
Free three-day trial period.
Packages begin at $20.00 per month.
Guide to the Electronic Program (EPG).
All Major Sports Packages are available.
Premium US channels are also available in UHD, HD, and SD.
International broadcasting channels
Customer service is available via live chat and email.
#11. Beast IPTV
Stream unlimited channels with Beast TV Subscriptions
BeastCast is a fantastic IPTV service that supports mobile devices where users can access content anytime on the go. The uniqueness of this service is that it doesn't need a long-term contract. You can order a monthly bundle whenever you require. BeastCast is well-known for watching movies and TV shows in Android set-top boxes along with mobile devices.
The features and reviews available on each Beast IPTV plan are as follows:
There are over 9,000 plus channels.
One connection with the regular plan.
Android 5.1+, NVIDIA Shield, iOS, and Firestick are all supported.
Users with 5 supporting devices can watch content.
Prices start at $23.99 per month for 800+ channels.
Allows VPN access as well as UHD and HD streaming.
24 hours of support along with a free trial.
VPN compatibility.
M3U URL.
External player assistance
---
---
#12. Necro IPTV
Suitable IPTV provider furnishing flexible plans
Necro IPTV has been giving top-notch video streaming services to its subscribers since its debut in 2017. Unlike traditional television, which requires a cable to transport its visual contents, Necro IPTV uses the internet to deliver streaming services to its many customers. This is done via the Internet Protocol (IP).
It provides distinctive streaming services at the click of a button, where users needn't rely on downloading a video, and can watch it live via the internet. They offer over 3000 full HD channels with a wide variety of channel genre options, including but not limited to sports, music, and movies.
The features and reviews available on each Necro IPTV plan are as follows:
Customers can enjoy a free 24-hour streaming trial.
Packages start at less than $15.00 per month.
The regular package has two connections, but you can obtain more.
Possibility of subscription cancellation based on viewer preference.
Catch up.
There are almost 2,000 live channels.
Channels from the UAE, Switzerland, Austria, and Turkey.
Provides over 1000 hours of VOD entertainment via Roku TV box, Android TV App, Firestick, Smart TV, and more platforms.
Firestick/Fire TV and Android devices are supported.
Compatible with the majority of common IPTV players.
#13. Bird IPTV
Reliable IPTV subscription services at 8K Quality
Bird IPTV is a premium IPTV subscription service that gives users access to over 12,000 premium HD and FHD live TV channels inclusive of over 15,000 VOD (movies and TV shows) through a dedicated server. Premium TV service is delivered via m3u playlist using the advanced tech of internet protocol suite which is at par in comparison to traditional cable television streaming.
The features and reviews available on each Bird IPTV plan are as follows:
Premium & Full HD all around 12000+ live streaming channels available.
With over 15000 VODs, users enjoy the HD viewing experience.
VOD choices for movies and television shows.
Smart TVs, LG, Macs, Apple TVs, and Firesticks are all compatible with the server.
Popular news channels.
Bird TV ensures crystal streams across the globe with the help of Antifreeze technology.
Firestick/Fire TV and Android devices are supported.
VPN compatibility.
Professional streamers of BirdTV can assist users 24*7.
Committed to reimbursing in accordance with the refund policy.
#14. Comstar
Top-quality IPTV with free android app services
Comstar tv is a premium IPTV provider which offers over 10,000+ stable channels, 8,000 and above on-demand movies that include tv series. The broadcasts are available 24/7 channels users can view favorite shows at their own convenience. Comstar has begun its journey in the streaming industry & gained its competitive edge in the past 2 years. Their prime objective has always been focussed to provide high-quality service, at low or affordable cost.
The features and reviews available on each Comstar plan are as follows:
TV episodes and movies are available in SD, HD, and FHD resolutions.
94+ load-balancing servers that ensure stable services.
Viewers can enjoy the content on TV, phone, laptop or tablet.
Customer service team with real-time support.
Premium sports channels are available with the push of a button.
Android, iOS, FireStick, Apple TV, and Windows PC are all supported and work well.
10,000+ HD channels are available.
Monthly cost is $14.99.
Yes, M3U URL.
VPN Support: Yes, ExpressVPN works well.
Witnessing the rapid movement where audiences choose to deliberately shift from television to digital watching trends, staying current in broadcast media is difficult, but crucial for long-term profitability.
Hence, it becomes worthy to note with different features which are primary to consider, achieving several broadcasting objectives.
Let's say, if you are thinking to provide a live stream or on-demand streaming service to generate the best income resource through video streaming, then factors like the best streaming player, monetization tools, quality of content broadcasts, etc are highly essential.
So, if you are using your own OTT platform which supplements IPTV broadcasts just with the above factors alone…. wouldn't be enough for you to crack deals over time…
On that note, let's have a look at the top-listed features offered of top players to deliver professional video streaming throughout the world.
Frequently Asked Questions(FAQ)
1. What Is IPTV?
IPTV is an acronym for Internet Protocol Television. For many households around the world, it seems to provide a new cost-effective technology that has replaced traditional cable bundles and satellite services. Users can save a lot of money in a year while watching lots of best movies, web series, and episodes with IPTV. That is because plenty of IPTV services are available to purchase on the Internet.
2. How Does An IPTV Work?
Users will need a broadband Internet connection and a device where the best IPTV provider offers them dozens of live TV channels. They will then be displayed, on various devices such as smart TV, laptop, or smartphone & let users enjoy viewing them at their own convenience. If they are having an older version of TV and a set-top box, it still allows them to stream & watch IPTV content of any kind.
3. What Are The Types Of IPTV Services?
IPTV streaming services can be defined into two categories. IPTV services that are verified and unverified. Usually, streaming services that are readily available at Google Play or the App store are assumed to be completely authorized & are understood to be verified. Also, they will be liable for any kind of infringements found in the copyrights if they are through illegal means. On the other hand, services that carry improper licensing will be regarded as unverified.
4. Do IPTV Providers Have Any Legal Guidelines To Follow?
In the United States, or anywhere in the world, IPTV providers with relevant licences necessitate legal TV streaming services. Consumers are always advised to check whether service providers have necessary licences to provide content services in your nation before acquiring a membership.
5. What Are The Common Features Of A Good IPTV Services?
When you need to select an IPTV service, it is necessary for you to check on what sort of features your service provider furnishes you with. Some of them include: Content in HD viewing format, multi-device compatibility, responsive customer support, regular update of piled content in library, and most of all with no hidden costs or long-contract terms.
6. Can People Outside The United States, United Kingdom, And Canada Access IPTV?
Sure… After any IPTV video subscription package-buy, one can get complete access to their library in and around the world using one or more devices that they prefer to stream.
7. Is IPTV Safe To Use?
The safety of IPTV service is purely dependent on its reliability and how far it's popularly known amongst audiences. In such unsure cases, VPlayed recommends their customers to get a VPN shield solution that allows them to check & ban unverified users in order to avoid unknown threats of any type.
8. Can I Start My Own IPTV Service?
Yes, you can begin using your IPTV service that is unique from other providers right away! To get started, you'll need to purchase necessary content licenses, dedicated servers, IPTV middleware, Centralized CMS, Live analytics Dashboard, IPTV player, and lots more to retain your target audience's attention.
9. What is the best IPTV streaming app?
There are numerous IPTV player solutions on the market. However, just a few provide high-quality services. Here are some of the best IPTV streaming apps for Android and Android TV that you should get familiar with right away: GSE Smart, TiviMate, Perfect Player, Tubi, Red Bull TV, Pluto TV, IPTV Smarters Pro, and so on.
10. Do you need a subscription for IPTV?
Subscribing to an IPTV service is merely the first step toward getting an IPTV service to work on your TV. Before you pay for a subscription, you must first purchase a set-top box or install an IPTV app and check that you are purchasing a legal service.
11. Is Netflix considered IPTV?
Netflix is a prime example of IPTV. Customers can watch hundreds of movies and TV shows in exchange for a monthly subscription fee. Whenever there is something to watch, all they need to do is open the app on their phone, TV, or computer, select the program they want to watch, and wait a few seconds for the packet switching magic to kick in.
12. What kind of devices are supported by IPTV service?
Majority of devices present in this modern era support Internet protocol Television service. Here is a list of devices to help you understand more precisely: iPhone, Android smartphone, tablet, laptop, PC, Fire TV stick, set-top boxes, Chrome cast, and a variety of other devices are all supported.