Hello!
The evolution of OTT has led to many advancements in its allied fields, especially technological advancements. Sure enough, it has also positively affected the Telecommunications or Telecom industry. In this article, we will delve a bit deep into the said impact.
If you are one to wonder how it could transpire in the first place, then we must take this up from the point of initiation of the impact on the telecom domain as a whole. It all begins as OTT platform start to pick up pace amongst its users whilst amassing a larger audience base.
As it so happens that OTT technology hooks its claws into multitudinous populations the world over. The revolutionary impact begins to set in, also right when telcos take a direct hit to their industry arising from the similarity of services at a monetary & featural advantage for users of OTT.
---
Read Also: What is OTT Platform? A Definition of OTT & Its Meaning
---
The Rise of OTT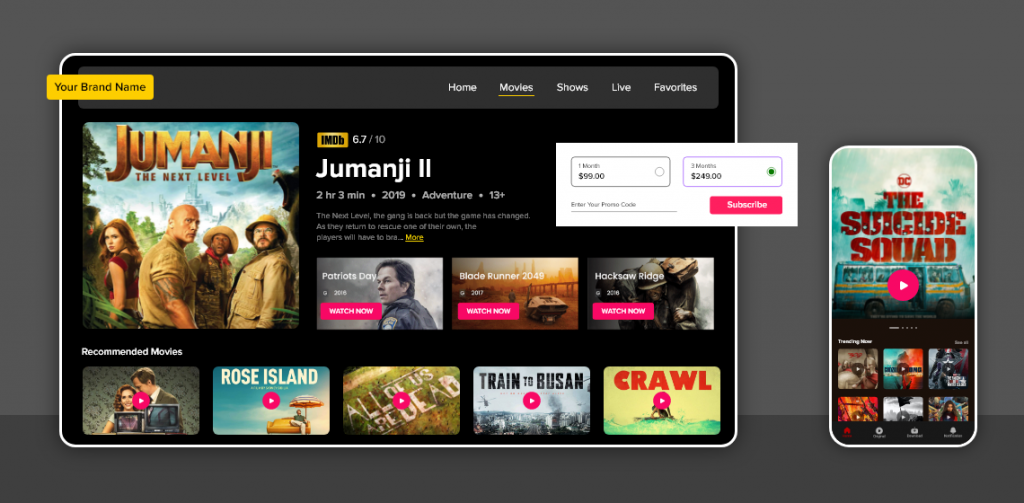 The telecom industry originally centered around communication services embedded within networks. As in the case of 2G or 3G networks, the call and text services take place in association with a network-based communication system. This is also similar to fixed networks as in telephony.
Nextly, the boom of IP-based communication systems proved possible the separation of service and network layers. This further evidenced another possibility such as telecommunication services being functional as an application powered by a broadband connection. This brought about OTT comprising telecommunication services over any network whether fixed or mobile.
They deliver over the top of networks without having a need to communicate with the operator handling that network. The first ever service to replace telephonic communication was Skype. Though, this segment of OTT is now shared by various providers; rather, the service is accommodated as a part of many others under certain platforms namely Facebook Messenger, Linkedin, and more.
All of the aforementioned shifts in the two domains under discussion have led to the decline of call and text services provided by telcos whereas there has been a rise in the broadband services that facilitate such OTT services as have been mentioned.
Impact of OTT On Telecom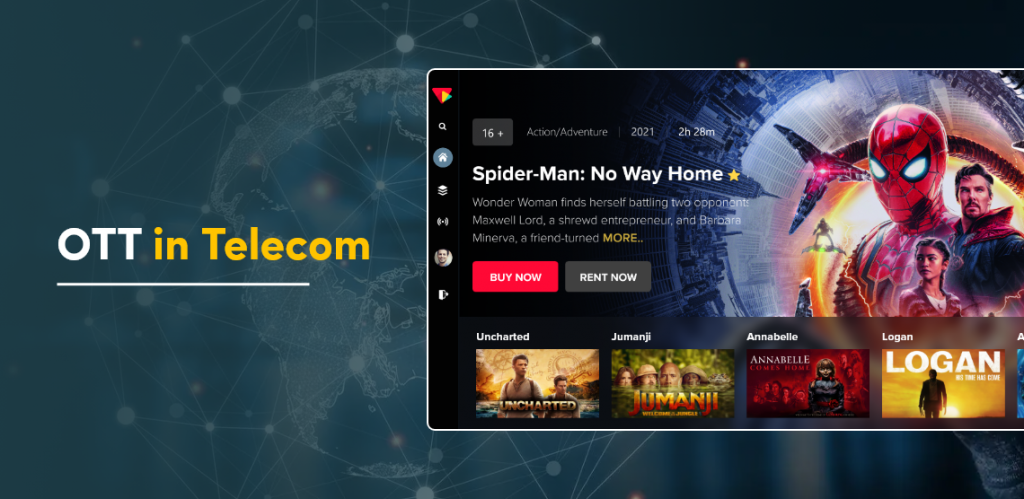 Individually Attentive Viewer Experience
High-end advancements of the generation such as smartphones and 5G networks have paved a course of attraction for digital content consumption as has the effect of an abundance of content (old & new) for streaming on any device as available to the viewer. With this, a possibility has arisen for personalizing the content in accordance with the likes of the viewer. Considerably the biggest virtue in this sort of business, for attracting a loyal customer base and perpetuating the said business.
Popularization of OTT Apps
The common yet biggest revenue stream of telcos is actualized in messaging and call services provided by them. But since their domain took a hit following the ascension of OTT messaging to the esteemed position in a statement, telcos have been rendered useless in this regard. Nevertheless, they still provide for broadband connection needs that shall be the base requirement of an OTT services.
Content Distribution
The demand for content for consumption is ever high. And content distribution mechanisms are constantly evolving and proliferating to keep up with the depth of their consumption needs. One of the tactics to cover this ground is simultaneously publishing a piece of content on multiple platforms for maximum possible reach. The services oriented toward gratifying this need often take into account the aspects of convenience and user experience at the other end of the business.
Users' Affinity For Media Exchange
People are widely turning to OTT's way of messaging or exchanging information. For it makes feasible an elevated communication that shall accept audio, video, gif, and other interesting formats of content. In contexts pertaining to emotionality, people get better expressive here than they might be able to in a plain old setting of a call or text service. Perhaps, this is why too, people have become considerably well-connected in this day & age.
Do you have any idea about starting an OTT platform for your telecom business?
Strategization of Telecom
Although the telecom industry may have taken a terrible hit, it shall rise back too with just a little bit of strategization. For it still is a significant domain in backing up the internet facilities world over. As a part of rethinking the business of telecom we have,
This is the way to club two or three services of a telco together in order to turn profitable. The content bundling, especially, is quite popular amongst telcos of times now. Their service or sub-service offers to freely subscribe the user on to an OTT platform concentrated in entertainment content such as Netflix or Prime, in exchange for availing the bulk data plans of the service provider.
Developing Original Services
This idea encourages telcos to develop their own OTT platforms from scratch to have more autonomy over the OTT telecom enterprise they are experimenting with. The idea in a discussion can also prove profitable to the telecom service provider on the basis of customer insights, network authority, distribution channel, and customer service knowledge they have accumulated.
However, maybe the impact of over-the-top (OTT) services on telecom service providers yet it doesn't justify a telco frightfully risking it all over anything less than a strong technology base and acquisition of requisite skill sets.
Here, telcos partner up with established and highly demanded OTT platforms. This measure arises out of a need to compete with top OTT platforms having a staggering customer base. The telcos would be able to profit off of the heavy traffic such platforms see and may do so by improvising the broadband package plans for customers.

However, there would not be autonomy over the direction of the platform that will be leading the sales for the telcos. Naturally, the success of this business concept lies in the association of a successful platform for the period of success of the latter.
In Conclusion
And so we have covered a brief discussion on the impact of OTT in telecom, wherein we have seen the struggle of telecom amidst the uproar of OTT all around as well as the projection of an ingenious concept (OTT telecom) in the picture concerning both players.
You too can launch your own OTT platform in association with a telecom company with the support of platform providers such as CONTUS VPlayed. Connect with us today.