In this era of smart TVs, WebOS & Android TV are the two most popular names that are quite popular & much heard frequently. The smart TVs brands are equipped with integrated system. Visually, the system looks have minimalist & professional streak approach. A push of a button is more than enough to open a bar which consists with most popular Apps & TV features. Although, both of these operating systems for smart TVs have features in common, they are quite different from each other. No matter, in which field you are, whether in the streaming industry, or would love to stream shows on smart TV, it is necessary for you to know the differences between WebOS and Android TV for you to make a wise decision. And this blog gives you a clear picture of these two.
So, let's understand what are these…
What is WebOS?
Web OS is a LG-owned, Linux based operating system used in smart TV. LG WebOS let users acquire the accessibility & control to more advanced set of features & connected devices via a GUI or graphical user interface.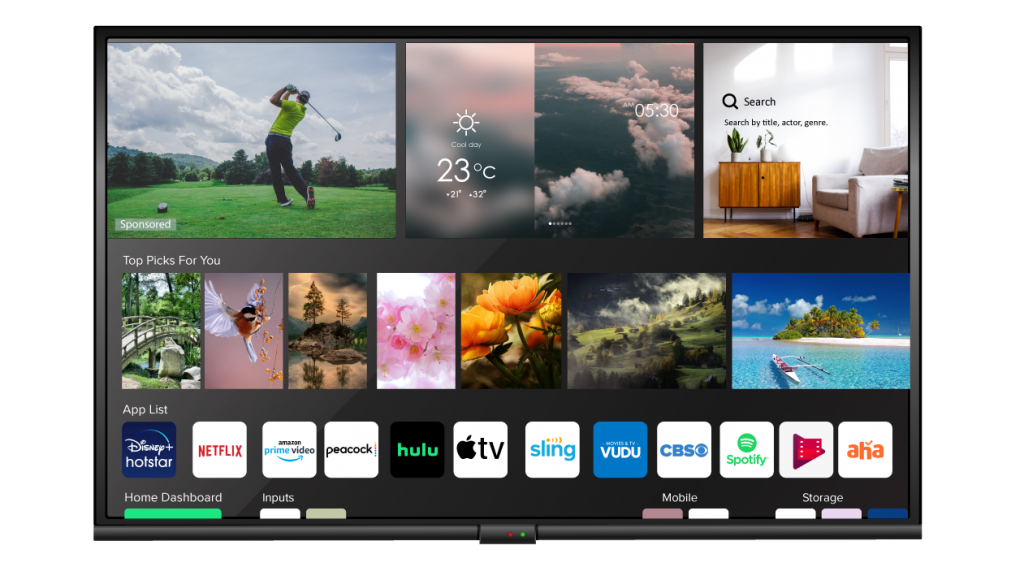 At the beginning, WebOS was introduced as a mobile OS by Palm in the year 2009. Since that time it has been used in the number of Palm & HP smartphones before being modified in HP as tablet PCs. LG purchased it in the year 2013, after which HP made web OS open source. Later on, it was modified further as smart TV operating system when LG purchased webOS.
Basically, WebOS is a web-based platform that powers up the LG Smart TV. WebOS TV is a platform that has powerful capabilities with which you can leverage creating feature-rich web apps. Moreover, webOS TV is based on familiar tech-grade stack such as HTML, JavaScript, CSS, so that you can choose the way you want to develop your own OTT streaming platform.
What is Android TV?
An android TV is a smart TV operating system which is based on Android & it is developed by Google for various devices like digital media players, TV sets, set-top boxes, etc. An android TV lets users to procure access to various apps. It includes content to get accessibility on their Android phones.
While starting from streaming apps such as Netflix to single player, or multiplayer, voice searches, online & offline gaming, etc users can now get a catch of enhanced experience of all versions available in big screens via Android TV apps.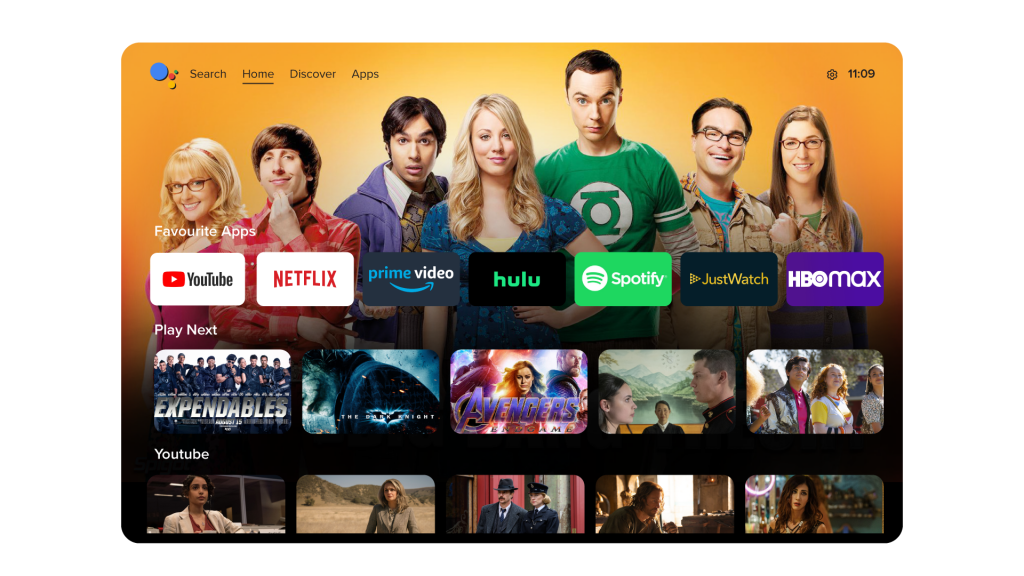 Often people get confused between Google TV and Android TV. To clear that, Google TV delivers content, recommendations, etc. On the other hand, Android TV is an online platform on which these get delivered.
Also Read: How to Create Android TV App?
To simply put it, Android TV is a smart TV-oriented platform which is developed by Google around the Android OS (operating system) where users can start streaming both paid & free content online.
Thinking Of Creating Your Own Smart TV App For Your Brand?
Differences Between webOS and Android TV
Out of the operating systems, Android TV is more available on a wider range of products. Besides smart TV, Android TV is available on streaming sticks, set-top boxes & more. Also, while comparing WebOS that's Linux-based, till date its only found on LG smart TVs.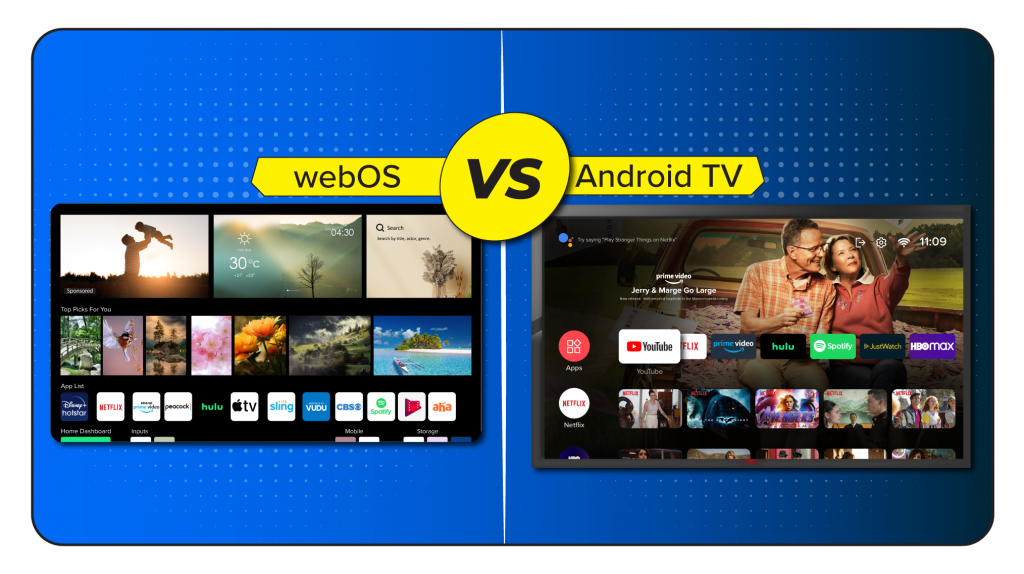 However, change is happening as LG is beginning to partner with other manufacturers to get the operating system installed on varied OTT television models.
And before you are in minds of opting for one, there are a set of differences that you need to be aware of:
1. User Interface
The user interface is much noticeable factor which distinguishes between an Android TV and WebOS. While both of them have gone through changes, over the period of time, it is easily comprehensible. Each of them have their unique manner of representation.
For now, Android TV features a row of content, that takes space over the entire home screen. While WebOS is much more minimalist in showcasing. You'll find a highly customizable launch bar on the lower third which pops up whenever users need it. From here, users can access apps, settings & more.
2. Remote Controls
When it comes to smart TV app streaming, remote controls play dominant role in terms of design, functionality, ecstatic features, ease of use, etc. Both Android TV as well as WebOS come with their own set of unique remote controls that make them out-of-the-box when compared with the rest. The LG's remote control is introduced with a point-and-click functionality that make navigation much easier. On the other hand, Android TV remotes are provided with basic design & makes it easy to operate.
3. Apps
For any Smart TV, app selection is vital as it is one of the important element of using it. Be it the collection of apps, type of content in those both in android TV & Web OS. They are quite different in comparison to each other. In android TV, the users get access to wide collection of library from Google play store, while offering popular content to users. Android TV app users can also sideload app that aren't available on Google play store. However, in WebOS users don't get the access to this facility.
4. Screencasting
As you know, screencasting allows users to mirror the content playing on smart devices of theirs to bigger screen, all smart TVs have this feature. The technology varies from different mode of operating systems. For an example, the smart share feature of WebOS allows its users to watch every sort of multimedia content on TV. On the other hand, Android TV's built-in Chromecast technology gives its users the liberty to share content from apps that support Chromecast such as Netflix, Hulu, Prime Video, YouTube, etc.
Conclusion:
There's so much of what one does on smart TVs center that revolves around its operating system. And yet, much of would-be buyers make their choice based on it. Android TV & WebOS have their pros and cons. WebOS have a more simplistic view in terms of UI, navigation, etc. While Android TV comes its set of perks like wider options for Google play apps, & more as discussed above. However, users focus not only on the operating system(OS) but also consider design, hardware, varying price, etc. while opting for a smart TV. And this makes it essential for you to think over these prime aspects while creating your WebOS or Android TV app development.
If You Already have an idea about launching a Smart Tv App, Schedule a free demo and We'll Get You On The Road To Video Streaming Success!