Video technology has seen a huge evolution in the past couple of years. The growth has been simultaneously coming up with the rapid innovation and establishment of internet. Earlier were the days where videos use to make a large collections, since its in motion graphic pictures, and with the existence of photos.
They were in the age of VHS tapes or DVDs which made excessively bulky files when videos turned into the shift of digital streaming industry. It became a lot more difficult to upload and share it with modern types of hardware.
What many people may not realize is there's a technical process which makes consuming your content more possible, which includes transcoding. Today, the way people watch videos has dramatically changed over the time, from using traditional TV systems to streaming on desktop, laptops, smartphones and more through the medium of internet.
Video transcoding was brought to life and treated as a solution to aid in this technological transition. Definitely without any doubt, this technology has made it possible to stream video over the internet both in real-time and on-demand.
You may know a little bit about what transcoding is, or might be wondering what this word is all about that you have been hearing all this time.. However, regardless of your situation, you will have total control over the transcoding process after reading this blog post. And let's not forget that video transcoding is an important part of video streaming.
What is Video Transcoding?
Technically speaking, video transcoding involves decompression of an encoded video file, altering it, and then recompress it potentially in a different format – for delivering the content to end users. This entire conversion process can take place at the media server orelse in a cloud-based streaming platform.
The key highlight of media transcoding lets us know that content distributors can re-encode the data into a common codec, transize the video into a low resolution, or transrate the content file into a low bitrate.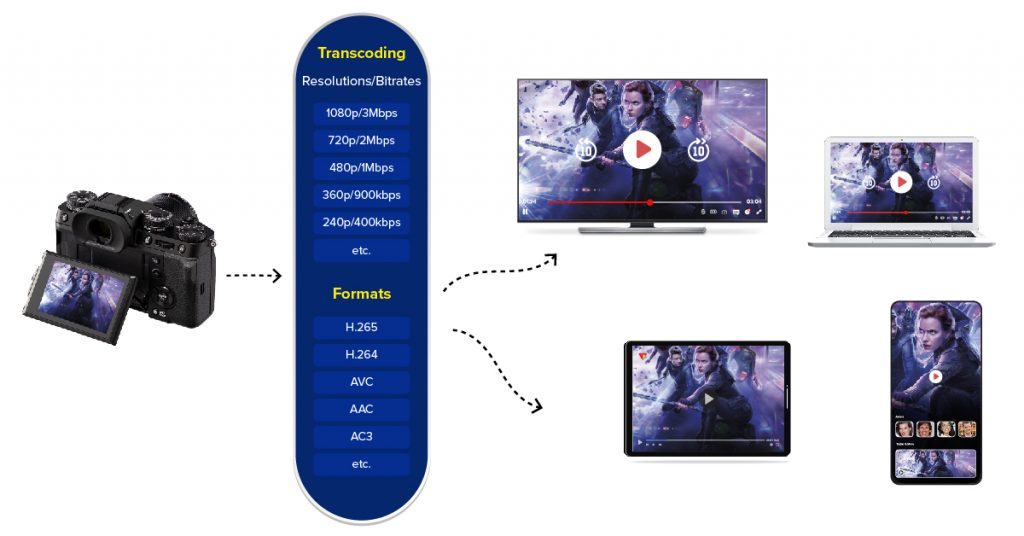 A scalable OTT video transcoding converts bits from a network data stream into a picture for the user and then translates the video into a bit stream to deliver across a network. Later, it breaks up video bit streams into bit stream subset that add layers of quality & resolution to video signals.
Let's break down the two Ts:
It is the process of changing bitrate of decompressed file in order to accommodate varied connection speeds. This capacitates more efficient storage and video delivery by reducing the file size.
It enables to resize the video frame in order to accommodate different screens. As a result, this allows broadcasters to adjust the resolution of the content for delivering to different devices.
For example, it resizes the video from resolution of 4K UHD to 1080p.
What Is a Transcoder?
Understanding the steps required to successfully transcode audio and visual files is great, but how do you carry out the mentioned tasks? A live transcoder is used for transcoding and is most likely & seems like a streaming server or cloud-based streaming platform. Transcoding typically requires significant hardware resources, such as faster CPUs or graphics acceleration capabilities, as this video conversion process is also more demanding.
How Does Transcoding Work?
Firstly, the video file is created in the format which is used by the camera or a high-tech program to capture the video made up of images and sounds. Generally, it is not possible to directly play this format which is utilized to create videos whether it is live or on-demand. In this step, the video format is converted into a format that's suitable for the viewer's device in the transcoding process.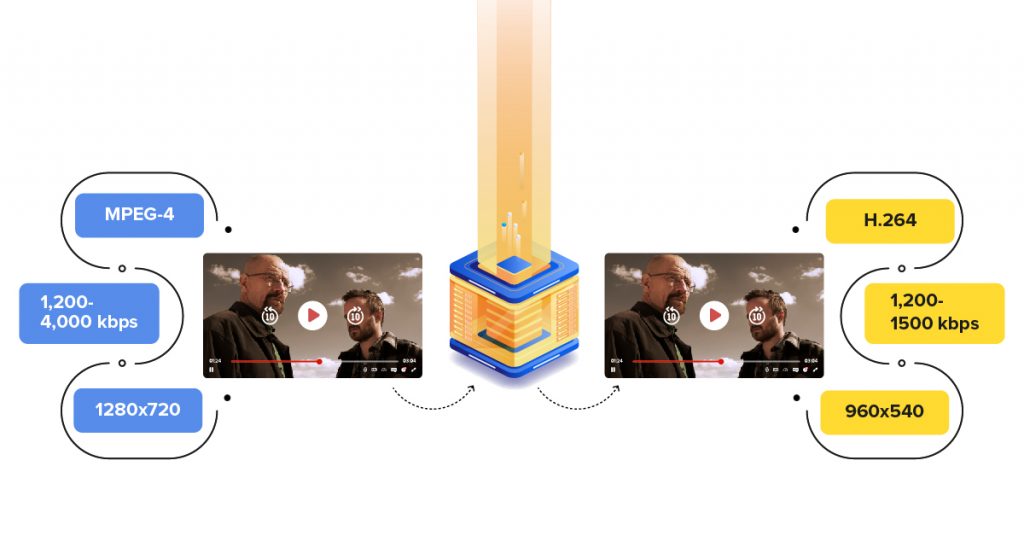 Video transcoding mainly involves a standardized two-step procedure. Firstly, the original file is decoded in an uncompressed form. Then, the uncompressed format is encoded into a friendly format that the viewer's device will be able to play. So, when you decide to upload your video content to the media library, the content is first processed, transcoded and then it is made available in your dashboard to view.
Now let us know..
What Processes Occur During Video Transcoding?
While defining the process of video transcoding it is critical to understand the following steps:
HLS utilize different audi codecs and so a live transcoder would allow you to change the incoming audio to a more stereotypical format like AAC.
Creating multiple output renditions
Adaptive bitrate streaming requires content broadcasters to deliver multiple renditions simultaneously. Video transcoding solutions allow media publishers to convert the single source stream into an array of resolution and bitrate options. This it enables every user to play the highest-quality stream that is available for their device and connection speed. Furthermore, the stream will dynamically adjust to deliver a rendition with superior quality if a viewer's connectivity improves.
With browser-enabled encoding, broadcasters are also looking to include additional graphics in their live stream and might choose to do so in the robust streaming server. Some of the elements like lower-third overlays, watermarks and logos can be added during video transcoding.
Transmuxing process occurs when a media server readily ingests the compressed video data and repackages it into a different container format. The whole idea is to give content distributors an opportunity to deliver streams using various protocols without the need of manipulating the actual file.
Why Is Transcoding Important For Streaming?
The most essential benefit of video transcoding is that it enables real-time streams to be watched by a much wider audience, irrespective of connection or device the user would use.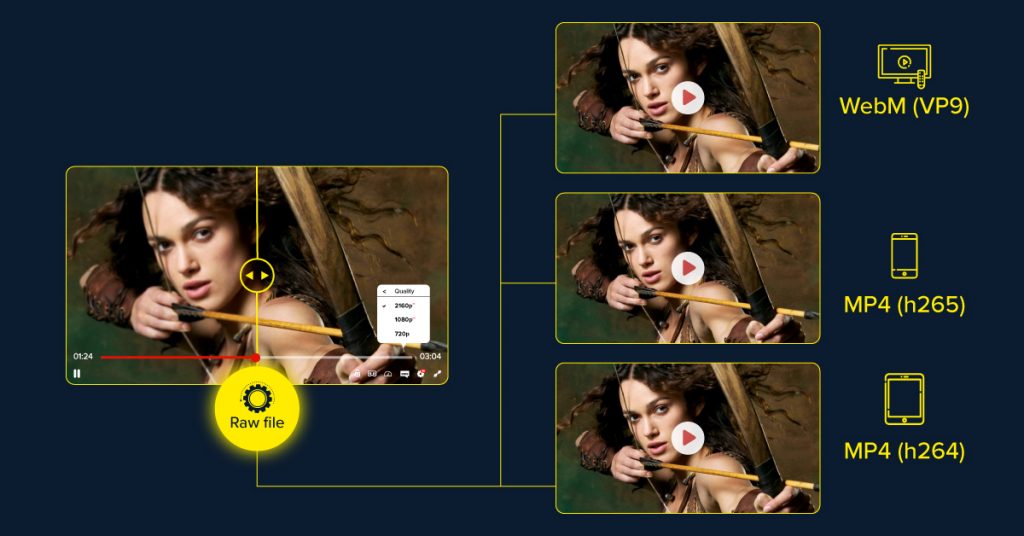 For instance, let's say you are interested in live streaming with the help of a camera and encoder. If in a case you're compressing your content with an RTMP encoder and then can select H.264 video codec at 1080p.
Likewise, if you are readily preparing a live broadcast, surely you don't want it go the effort in vain. But, if you try streaming your picture-perfect live stream directly, you may likely to run into a few issues. However, actual speeds may vary greatly between different countries, or even regions in the same country along with varied types of connections.
With the help of video transcoding software, you can distribute your OTT video platform files that are based with different bitrates and frame sizes. These are done while converting the codecs and streaming protocols for reaching a wider audience. Then, these devices and status compatible streams are later packaged into several streaming formats such as HLS, WebRTC, CMAF, etc. Thus, transcoding allows streamers like you to play videos on almost any screen.
Also, another aspect covers with the use of IP camera streaming which is also known as Internet Protocol camera streaming. Some of the examples are surveillance and traffic cameras. The streaming technology of adaptive bitrate allows these broadcasts to be watched by large masses with zero interuption.
Benefits of Video Transcoding
Media transcoding benefits everyone by assuring your content to be optimized for every stage in the streaming processes. Here are some of the obstacles that transcoding lifecycle eliminates for broadcasters as well as viewers.
While publishing, video transcoding resolves:
Huge costs and complexity occurred during encoding process of multiple different resolution and bitrate options.
Constrained playback capabilities that are based on codecs, protocols and configurations available in the encoder.
Incapability to take advantage of next-generation techstack and hybrid workflows
While viewing, video transcoding resolves:
Constant buffering due to low-bandwidth connectivity

Incompatibility due to a lack of format support

Failure of playback due to device support for resolution streamed

Low-quality rendition to end-users even with better connectivity and resolution potentialities than that of stream delivery
How Can VPlayed Help With Transcoding?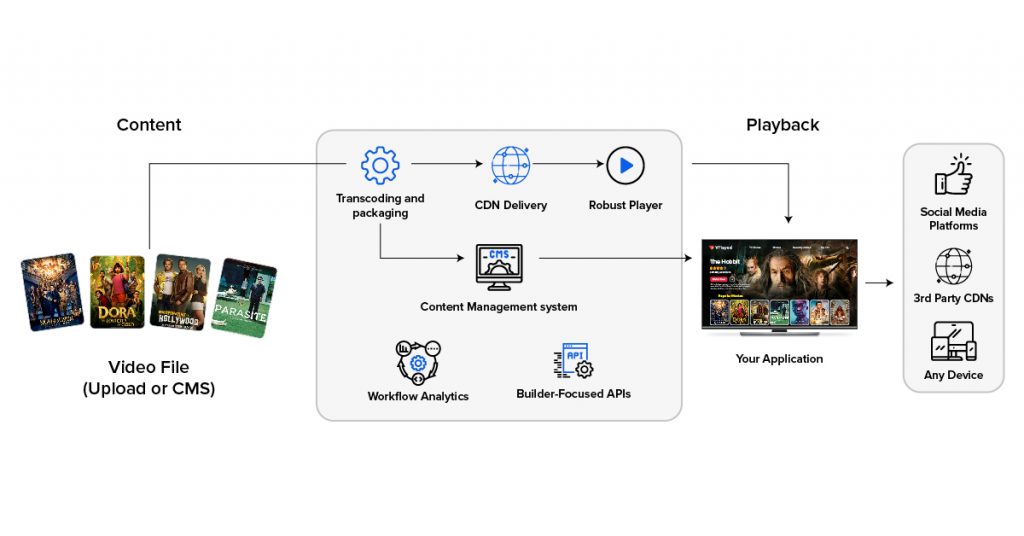 You can own a one-stop integrated OTT streaming solution for transcoding, content management, delivery, playback as well as end-to-end analytics. This can remove most of the burden from broadcaster's shoulders since it's a customizable solution where the video once uploaded will auto-transcode into different bitrates that's appropriate for streaming. Secondly, there's a need to reassure with the number of renditions your transcoder would deliver.
In VPlayed, with more device compatibility a greater viewership from different audiences are extracted that will ramp up to generate potential income in streaming business. This provides a wider reach within your platform. With its qualitative video transcoding software, they provide limitless ability to scale clusters of videos varying at any size via on-premise, private or hybrid servers.
Conclusion:
Video transcoding is an integral part which designs the streaming infrastructure. This is because of its different renditions offered with scalable technologies. This has likely made live streaming possible in the genexers age. Without it we might have trouble with transitioning out from the age of DVDs and VHS tapes and enter the world of fastest video streaming using internet.
Besides that, it enhances the playback capabilities which minimizes the complexity and boost startup times at the user end.
All in all, it is important to have buffer-free streams which impacts positive viewer experience & this highlights the essentialness of the streaming solution adopted by content owners encompassed with impressive output.
Get in touch with one of our strategists today to know more about how video transcoding can help grow your business.