OTT is being widely adopted by many mighty companies and big brands – whether they keenly work towards increasing fan following, setting a wider target, or delivering eye-gluing experiences… Businesses are leveraging this trend in order to raise brand awareness and deliver value to their customers.
It is understood that the video streaming market in upcoming years is expected to flourish & sharply rise by USD 330.51B by 2030 – Grand View Research
With this in mind, it's reasonable to predict that OTT services will continue to be a strong bet in the future. In this competitive edge, you're not alone…Many examples of ott platforms are trying to establish their brand positioning unleashing newness in the market.
Let us come to know some of the prime OTT companies one by one!!
5 OTT Examples to Encourage You:
Some of the OTT examples like Insys video technologies tell us about their assistance in the year 2021. According to market statistics, they have been in the process of implementation with a number of platforms for clients in various genres of industries
OTT platforms with many examples to substantiate are being developed on a regular basis. In addition to that, many unexpected firms are using them to provide clients with a unique experience, increase sales, and diversify revenue streams.
Like mentioned above the streaming market would likely depend on demographic segmentation and catering to their varied needs is the real key which has registered a CAGR of 21.3% from 2022 to 2030!
And that's great news for media broadcasters or channel operators like you!!
We'll show you a few Over-the-top media examples here to give you some ideas as you begin your OTT adventure. As you can see, large players like Netflix and Hulu, as well as traditional titans like Paramount and Disney, aren't the only ones entering the game.
1. Now TV
Finest OTT Video Example offering 50% off in Entertainment Membership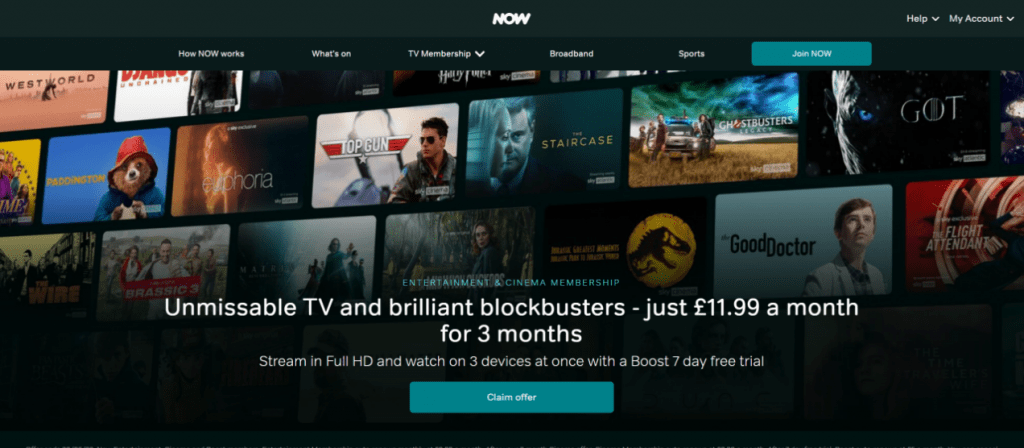 Now TV which is commonly stylized as Now is a subscription-based over-the-top based television service operated by British satellite television provider Sky. They offer both live and video-on-demand streaming. Now TV was founded in March 2012 by Sky UK and it's aimed at consumers who don't have a pay TV subscription. Later, its official launch was on 17 July 2012.
Industry Type: Media & Entertainment
Location/Headquarters: United Kingdom
Available in languages: English, German, Irish, Italian, Romansh
Countries Catered: United Kingdom, Ireland, Germany, Austria, Switzerland, Italy
Project Description:
Now TV gives consumers many advantages to reap with. It provides facilities in choosing membership plans, and watching in their favorite devices. Along with that, they can stream anywhere with downloadable content. Also, can share with family by connecting devices from a single account.
2. Hallmark Movies Now
Irresistible VOD Streaming Example with 7-day Free Trial
Hallmark Movies Now was founded in 2007 by an academy award-winning producer Robert N. Fried. This is one of the prime OTT services examples which offers on-demand streaming with varied family-oriented movies, documentaries & short films. Hallmark Movies is owned by Hallmark card. It is situated near to Los Angeles.
Industry Type: Media & Entertainment
Location/Headquarters: United States
Countries Catered: Global
Available in Languages: English
Project Description:
Hallmark Movies Now provide OTT streaming services with a 7-day free trial. Subscribers can avail the accessibility to nearly 1,000 hours at a low cost of commercial-free original content. Fan-favorite lists are provided in plenty from the vast hall of fame library. Service is broadcasted in varied devices like iOS, Roku, Amazon Fire TV & Android TV app with flexible subscription packages.
Also Read: How to Create Android TV App?
3. Hayu
Multi-level OTT Streaming with Pre-paid Plans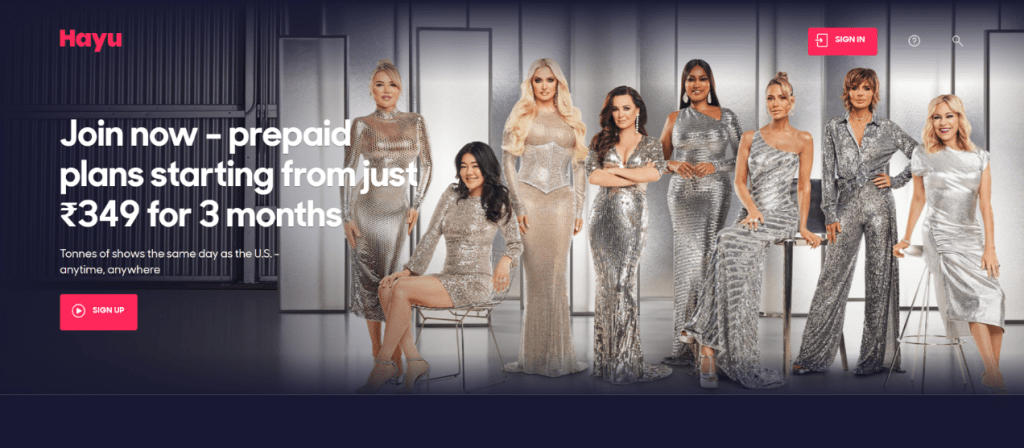 Hayu which is pronounced as "hey U" is stylized as Hayu is owned by NBC Universal, a division of Comcast. This OTT channel is one of the classic examples of an on-demand TV service that provides reality series episodes. This subscription-based video streaming service majorly focuses on 2 genres: reality & true-crime TV. Hayu got introduced in the year 2016.
Industry Type: Media & Entertainment
Location/Headquarters: United States
Countries Catered: United Kingdom, Denmark, Iceland, India, Norway, Hong Kong
Available in Languages: English
Project Description:
The OTT service providers of Hayu offer on-demand TV programs that premiere day-and-date (or day-after) in the United States, primarily programming from NBCU's networks.
Before joining up for Hayu, consumers take an advantage of a seven-day free trial. Hayu app is made compatible across devices like Roku, Samsung, Fire TV & Google Chromecast
---
---
4. SHOWTIME
Unbeatable Example To Stream Easily In Any Device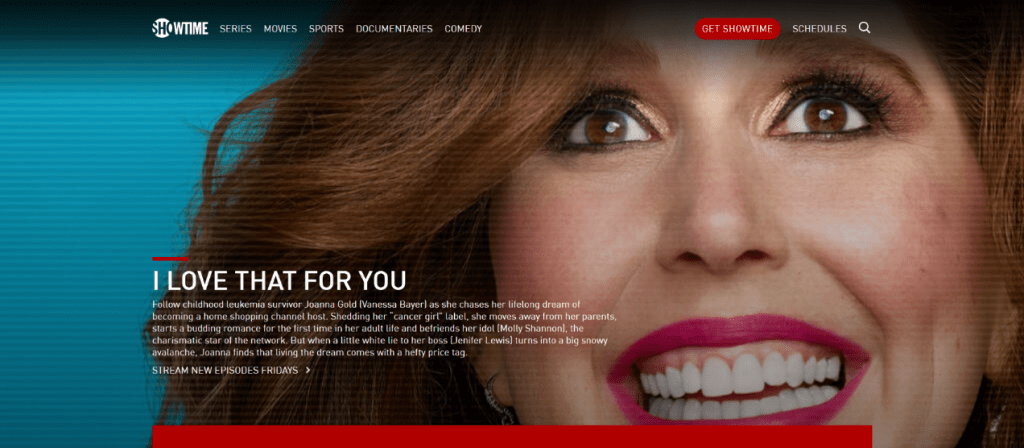 Showtime is a premium television network in the United States owned by Paramount Media Networks. It is one of the examples spoken about when it comes to OTT platform selection. It caters to the theatrically released motion pictures & original television series. The traditional subscription video-on-demand service has been licensed by a number of channels & platforms all over the world. Showtime was launched on July 1, 1976.
Industry Type: Media & Entertainment
Location/Headquarters: United States
Countries Catered: Global
Available in languages: English, Spanish
Project Description:
Showtime which is one of the finest video streaming examples offers 16 multiplex channels, that include eight 24-hour multiplex channels broadcast in both standard and high definition. Additionally, video-on-demand service also occupies the share. Showtime's main and multiplex channels are broadcasted on both Eastern and Pacific Time Zone schedules.
5. BritBox
Broadcast in OTT Video Entertainment All in One Place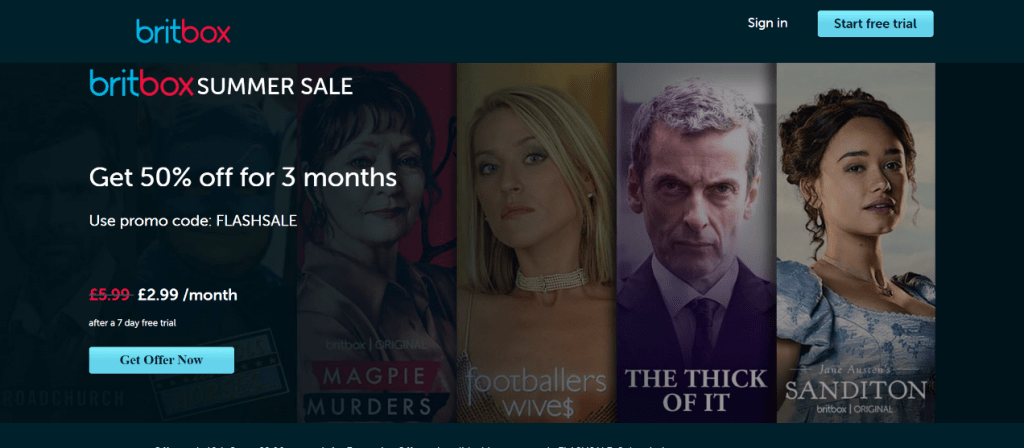 BritBox available in the UK since November 2019. All thanks to a collaboration between the BBC and ITV. BBC Studios launched BritBox, an online digital video subscription service. It's an original, paid-for OTT streaming service, similar to Netflix, Amazon Prime Video, and Disney+, that's available on a variety of devices.
Industry Type: Media & Entertainment
Location/Headquarters: United Kingdom
Countries Catered:: United Kingdom, United States, Canada, Australia, South Africa, Sweden, Finland, Denmark, Norway
Available in Languages: English
Project Description:
BritBox is a relatively new service in the United Kingdom, however, it has been available in the United States and Canada for several years. On the other hand, its mandate is more specific: it hosts the "largest selection of British content available on any streaming service." BritBox promises to have the most British box sets available of any streaming service.
⚡Also Read: How Does Amazon Prime Video Makes Money? ⚡
Isn't it inspiring? How do you go about starting your own?
These OTT media examples demonstrate that the possibilities with it are virtually limitless. OTT platforms provide businesses with a new means to contact customers, and they can even spawn entirely new business models. They are more than just a way to deliver up movies, TV shows & much more. Now as independent filmmakers, media entrepreneurs, or television broadcasters you can start your over-the-top industry journey by getting inspired through the stalwart examples & shape your valuable services like a piece of cake!!
---
Do you have any idea about starting an OTT service?
---
On a Final Note
Now is the greatest moment to launch an internet TV channel through these top-most OTT examples. To scale your company prospects by working with VPlayed for producing the futuristic best white-label video streaming platforms. Many thanks to the digital revolution of the online TV advertising and marketing sector. VPlayed's unique video monetization tactics and innovative technologies can help you gear up the online streaming business with the greatest potential and increase your income development.