Today, with the growing improvements in TV technology has brought a new dimension of enjoying content in big screens, as smart television sets have set the norm. In the array of android TV apps, an ardent user first explores into the criteria of selecting smart TV's built-in OS.
The key advantage for users is highlighted when Android TVs hold a unique place. This is primarily because they allow them to adopt from a smartphone to big screen without any need of making any major adjustments.
Furthermore, Android TV is defined as a smart TV OS that's designed by Google where users can freely start discovering & streaming content. Also, with zero interruption, they are allowed to run apps, conduct voice or oral searches, enjoy phone-to-TV mirroring with case
And, that is why with the help of intricate android TV app development, it holds the place of most popular platform for streaming any type of content globally, i.e next to mobile devices.
Predictions from statista indicate that in OTT video segment, the number of users is expected to increase significantly & amount to 3,508 million by the year of 2027.
No wonder, why millions of people using it with ease of access have high held opinions about it as it already proactively provides a big opportune environment for video content providers. Studies from other countries like the United States let us know that the recent launch of several high-profile subscription streaming platforms have forecasted to have a recurring growth. As a result, the subscriber growth is projected to skyrocket in the market.
Digital TV Research says the count of domestic SVOD subscriptions will elevate to 307 million by 2025. Source: MediaPlayNews
With the predictive stats, there is a high scope in making a customized android TV app that is beautifully developed along with inbuilt features of your own choice without any other source's involvement.
To understand its functionality more, let's delve deeper into definition & know its characteristics…
What Is An Android TV App?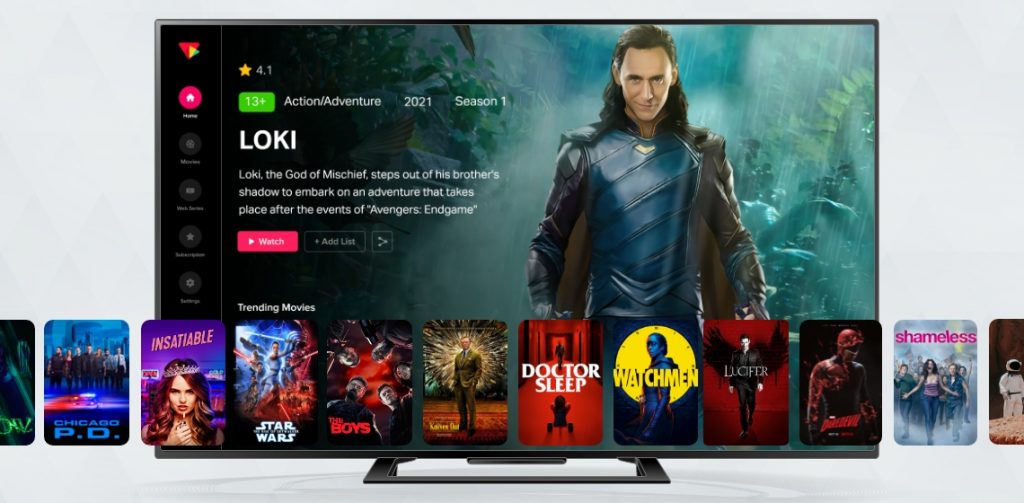 Android TV apps is a software that can be readily downloaded by users and get it installed onto android TV devices. They allow to access on-demand video content which can then be streamed directly to consumer's television. In other words, it's an app that enables users to access OTT video service through their owned android smart TV.
What Makes a Good Android TV App?
Android TV can found to be powering the smart fragments of many smart TVs, right from the likes of Philips, Sony and it's a platform that constantly continues to grow as an important component of the smart home.
Before you could start creating your own Android TV app, we recommend to invest in a niche, which is in high demand. For example, you can find most popular streaming niches today such as Entertainment, eLearning, Fitness, eSports, Religion, etc.
While you work on dedicated streaming service on these niches, you can easily find to gain a surplus volume of paying customers.
Facts from Google let us know that the platform has more than 10 million users & has over 100 partners investing on TVs. However, it's a bit different from Apple's tvOS which rests & sets apart on Apple TVs. What's more is Android TV is further put to use for streaming sticks & TV sets. Moreover, it's more akin to platforms like Amazon's Fire TV or Roku's OS.
Some of its key parameters to look forth will be.
1. Content Accessibility
Consider about how consumers watch on your TV. Once it is switched on, they'll flick through varied channels or find streaming options for wanting to watch something. During the development of android TV application, it is necessary to have simple interface for accessing through content easily. Here are why's that can answer about Netflix provisioning an exceptional app experience
#1 It is necessary that display content could be presented in concise thumbnails, so it becomes easier for viewers what to watch
#2 Surely you will gain chances to attract audience & deliver an engaging experience by recommending content you may like based on their past viewing preferences
#3 Make sure to provide users with the facility to skip to next episode of series without letting them to revisit the main menu
And there's a key goal behind these prime streaming features – organizing the app so it encourages simplified usage.
2. Intuitive UI
Are you aware, why people usually sit at a distance (let's say around 10 feet) when watching TV? Most android developers let us know that while developing a TV app, generally the quality of television screen may or may not be as high as on mobile devices. In this scenario, to compensate, it is essential for you to focus on fundamental layout of the TV app solutions for creating a better user experience.
Yes, the key thing is that it doesn't take much effort! Rather it is recommended for Android to stick to some prime design principles while creating your personalized app, which includes:
#1 Building layout is said to be done with a landscape orientation since the TV display is likely to be in that mode.
#2 Creation of a divide in the screen into segments for further optimization of horizontal screen space.
#3 Utility of tools that auto-adjusts the positioning of views into varied size, pixel density & aspect ratio of the user's TV screen.
#4 Filling the margins of your content so that the app's display isn't found to be cluttered in one place.
These minute details tend to initiate significant impact on the picturesque quality of the consumer's user experience.
Thinking Of Creating Your Own Android TV App For Your Brand?
3. Easy Navigation
The quality of your android application depends upon the navigation which can make it useful or viceversa. For instance, if you consider an old-school stereotypical genre of TV remote. They seem to be very fixed or restrictive. Basically, it allows viewers to only control prime elements such as volume or surfing options.
Certainly, your android app's navigational needs are required to perform more. And to cover those, here are few guidelines that you need to definitely consider making it easier for your users to roam around your app:
#1 It is always better to avoid developing action bars or drop-down menus since they're hard to navigate with the help of a TV remote.
#2 Enable a D-pad controller on a remote, so that users can comfortably use directional pad arrows which makes it easier for them to choose content.
#3 Breaking text into smaller parts in chunks makes it easier for text read which is assisted by steering clear of lightweight fonts.
This can indeed make navigational clicks far intuitive than anticipation. Let's presume predictable back behaviors which lets users to automatically move back and forth while using the remote's back button feature.
Factors That Make Android TV Apps a Grand Success
Android, which is widely used smartphone platform worldwide, provides an interface in Android TV that places you in a familiar environment at the comfort of your audience's viewing needs. As we all know with its simple & minimalistic layout puts viewers on te path to quick content discovery, navigate through several apps, stream content & change TV settings without much of ado.
Let's unveil some of its essential factors that contribute to its booming demand: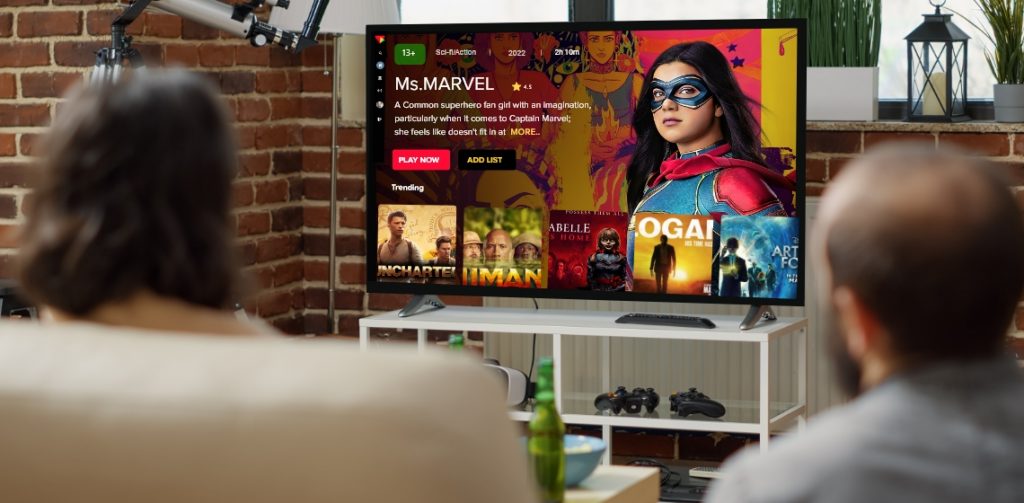 * Convenience
Everything lies on your audience's control. Android-based smart television sets are very compatible with other android devices. This amazing functionality synchronizes tablets, smartphone etc. to own with TV seamlessly. Consequently, this gives the convenience to users to stream any desirable content with no limitations.
* Unlimited Customers & Accessibility
The built-in screen reader to closed captions and other make your target audience's user experience accessible. The features in Android TV apps provides the control to customize their device by app settings to enhance their overall experience. Moreover, it readily provides the facility to give improved capabilities in situations where they users can access the device in low light or noisy environments.
* Content Availability
As a reflection & identity of the brand, it is necessary to frame your content collection in plenty since it stays up rival the extreme competition in the popular industry. Moreover, it is important for you to concentrate on app experience that it provides to users with numerous content genres play. This enhances it overall while building a strong rapport with the customer base.
* Content Licensing
Android market offers your platform with a licensing service that allows you to enforce licensing policies for paid applications that you publish via the market. Along with the one-time cost covered in licensing, it allows to gain complete freedom to publish as many contents as possible that you like to with lifetime ownership support.
* Choose The Monetization Model
Simply said, the implementation of app monetization would be predicated on letting users select changeable plans. To create an app similar to Netflix, you can use a variety of business strategies, including subscriptions and free trials that are available for a limited time.
*

Multi-Currency Support
Netflix is more well-liked despite having a rather wide global reach. The number of users has expanded as a result all over the world. Therefore, it's crucial to have multi-currency support with practical options when creating your own android TV app so that users may select their payment preferences.
* Quality-Driven Content
One of the most common issues that content owners face is to create a crystal viewer experience. The quality of stream directly impacts the viewer's attention. For instance, a live stream suffers from quality issues such as buffering, pixelated images or any delays then you must know it is not doing good for your business & can all lead to viewers turning out.
* Video Sharing and Distribution
Video distribution needs to be the central part of marketing strategy which is required when you want to get your message across several channels. It is said to be the part of your videos that deal with where you're going to publish your content, so as to get it noticed by the right audience when they are in the right frame of mind. For instance, you won't upload a complex webinar that focuses on software sales to Tik Tok.
* Smart Downloads in Apps
With this feature, users will be able to download content automatically when connected to a Wi-Fi network. This allows users to save data while listening to on the go. Videos will be selected based on algorithm that takes into account thier watch history and genres of content that they might enjoy with personalized recommendations.
How to Create Android TV Apps
We all know that a very long time ago, Google has allowed users to create apps using its Android Studio. The speciality of android TV app is that it offers a rich user experience that's optimized for apps running on large screen devices, such as HD televisions. The apps on TV offer new opportunities to entertain your users on the comfort of their homes.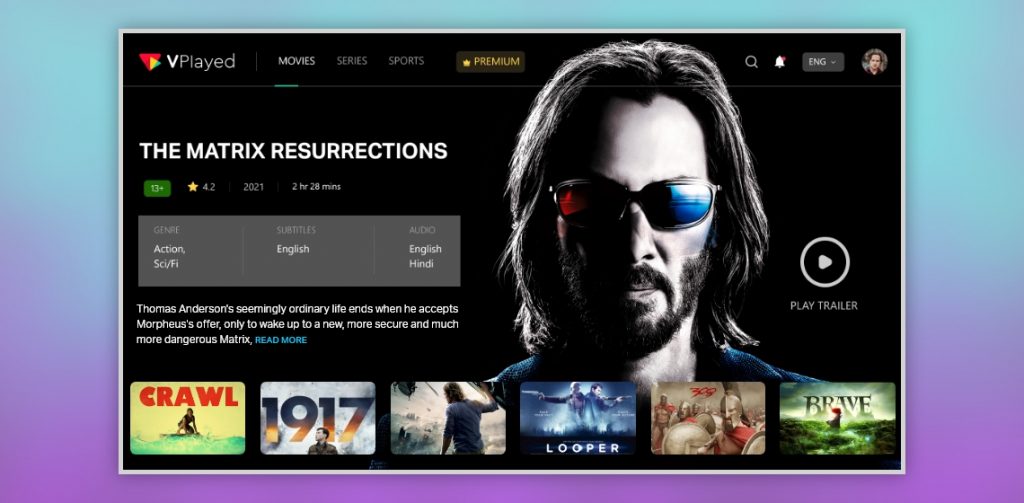 And of all the potential possibilities for app creation, we've discovered that these are the best:
1. Use a Branded Over-the-top Solution
One major difference that we have seen between OTT & other platforms is that the attention span of viewers seems to be very high on Over-the-top. A viewer stays glued to the app for major amount of hours & it really works well for big brands. The viewability rate is high and thus it is understood that they will actually see your communication, which attracts brand visibility.
2. Android TV Apps Streaming Features
User Login, Profile & Registration
When building your own OTT platform, understanding user registration procedures is essential. Users can create profiles and log in later using their email, Google, or any other social media site. Login is basically required for app to identify which user is making the request & accordingly related data is served. It is the first step of identifying the user.
Notifications & Push Messages
Andorid TV push integration which can be installed into native devices, are said to be superior to email and other user communication methods because of the delivery. However, it is necessary to build a UI for displaying the notification once it is received. When users tend to download the app, they'll usually opt-in to these messages by default.
This generally comes in the last row on the home screen. When your users click through, this dedicated area helps to access other features like timers & help guides via settings. Once you enter the setting option, you'll get to see smart TV app settings such as channel setup, display, sound, external inputs, Network settings, etc. Users will have choices to Google cast, bluetooth, etc.
Multiple-Language Support
Businesses thrive when they tend to succeed in establishing appropriate communication with their customers. What's more is it even more becomes essential while thinking about expanding into new geographies as the credibility has to be repurposed. Typically, content providers or renowned brands tend to localize all of their offerings to maximize reach.
Android phones, tablets or TVs are enabled with screenshot prevention technology where it smartly identifies screen recording apps to make your content highly secured on the android platform. It effectively solves the screen recording problems that have plagued content provider's videos for a long time.
You can have complete control over the admin interface, including the ability to add, update, delete, or track artists from the backend and swiftly alter the different configuration files. For admin panel, performance & functionality becomes the key factor one shouldn't neglect.
One of the best perks about it is that content originators can now reach a wider audience by streaming content to multiple OTT platforms at the same time using the streaming software. Also, it means that if one platform is raising as issue, still you can facilitate users to stream on another platform anywhere at anytime.
Payment Gateway Integration
The current trend to create your white label OTT wallet that allows the user to make all their transactions on other apps or websites through it. The gateway encrypts the sensitive data to make sure the information is bypassed between the user, merchant & the acquiring bank. It performs a variety of tasks to process with the transaction.
Summing Up:
While you decide to plan the phase of android app development, it is a good idea to tap into new, TV-focused audiences. However, it is important to note that developing android TV apps is certainly not easy as it looks. There are many significant design implications that need to be made and most importantly it should serve the audience needs. However, Android TV apps are relatively new territory for mighty businesses, it essentializes the partnership with the right development company. The first-grabber's advantages for generating high revenue are in plenty, so many brands must seize the opportunity to top it all ahead in the game of streaming.
If You Already Have An Idea About Launching An Android Tv App, Schedule A Free Demo And We'll Get You On The Road To TV App Streaming Success!


Frequently Asked Questions (FAQ)
1. How Much Does It Cost to Make an Android TV App?
When it comes to developing an Android TV App, there is no fixed cost. Price variations occur owing to a number of factors like application size, no of features, app complexity, and many more. However, there are two key factors that one can consider for getting a swift estimate. 
Android TV App = Development Time x Hourly Rate
2. What Makes a Good Android TV App?
Android, the world's most popular operating system, delivers an interface in Android TV that puts you in a familiar environment to meet the viewing needs of your audience. That being stated, let's take a look at the top three features that make the Android TV app a great choice.
1. Content Accessibility.
2. Intuitive User Interface.
3. Easy Navigation
3. How can I monetize an Android TV app?
When it comes to monetizing Android TV apps, there are many routes you can take. Currently, there are two major app monetization strategies used: Advertising-based Video on Demand (AVOD) and Subscription Video on Demand (SVOD).
Here, takes a look at the top 3 most popular app monetization strategies. 
1. Free and paid app versions model.
2. Free app with a subscription model.
3. Paid app model.