YouTube is the world's #1 video sharing site, and it carries this title with pride. But with great power comes an insane amount of conditions, limitations and issues.
After Google bought YouTube in 2006, it started working on a way for video creators to earn money from their videos. By 2007, it launched the YouTube Partner Program where video owners could enable ads on their videos and make money via ad-based revenue streams.
It was a revolutionary time in the digital video streaming sector since vlogging was born. People would create videos accounting their day-to-day activities in a fun and visually attractive way.
Over time, YouTube launched several other services like YouTube Red (now YouTube Premium), YouTube TV, YouTube Music, Vevo, TVoD services and its own live streaming solutions.
How Does YouTube Monetization Work?

Once you have an ample no: of videos at your kitty, it's time to make some decent money from YouTube! Earn revenue through your YouTube videos through any of the following methods.
1. YouTube Partner Program (YPP)
The Youtube partner program facilitates content creators with greater accessibility to Youtube resources along with its monetization features. It provides facility of revenue sharing from ads that are being served on your prime content. However, it has to be noted that only certain countries support this program. Also every content owner needs to meet certain eligibility to be a part of the YPP. Once you are a part of the YouTube Partner Program, you will get paid through an AdSense account.
2. Advertising Revenues
There are various Ad types that can be placed either at the beginning, middle or below the player and so on.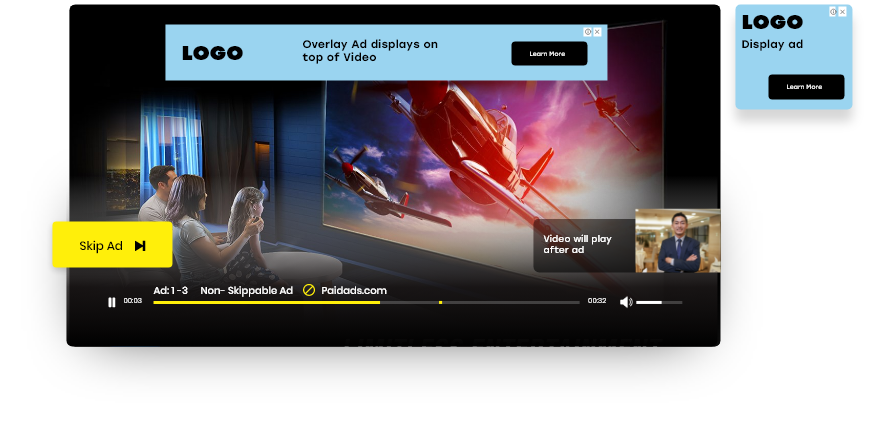 Overlay Ads – These desktop semi-transparent ads appear on the bottom part of the video covering around 20% of space.
Skippable & Non-Skippable Ads – As the name indicates, the former one allows to skip an ad after 5 secs runtime whereas the non-skippable ads makes it mandatory for the viewers to watch till the end mostly 15 -20 secs in length before a video can be viewed.
Display Ads – This desktop ad type can be placed either at the right side or top of the video.
Bumper Ads – The short and non-skippable video ads run upto 6 sec which is a must-watch before a video can be viewed. Bumper ads work during a skippable or non-skippable ads are turned on and plays in a video player.
YouTube Monetization Requirements
If you're interested in monetizing various content on YouTube, it's important to know that your channel abides certain monetization policies of Youtube. These includes Youtube's Community guidelines, Terms of Service, Copyrights, and Google AdSense program policies.
These apply to people who are in, or looking to apply to YouTube Partner Program. Also for anyone receiving shorts bonuses from YouTube Shorts Funds.
Below are the minimum eligible criteria as per YouTube monetize video rules updated in 2022.
The possibility of qualifying for YPP still exists if a creator has 1,000 subscribers and 4,000 public watch hours in the last 12 months.
Make sure you have only one AdSense account synchronized with Google account.
Don't forget to enable Two-step verification for your Google account. This code of security is meant for your account protection with both password as well as a second type of verification.
Should live in a country or region that supports the YouTube Partnership Program
Should consistently maintain the subscribers and watch hours.
Your Channel shouldn't have any active Community Guidelines Strikes.
You can request to be notified when you reach the subscriber and public watch hour threshold for valid sign-in of YPP terms.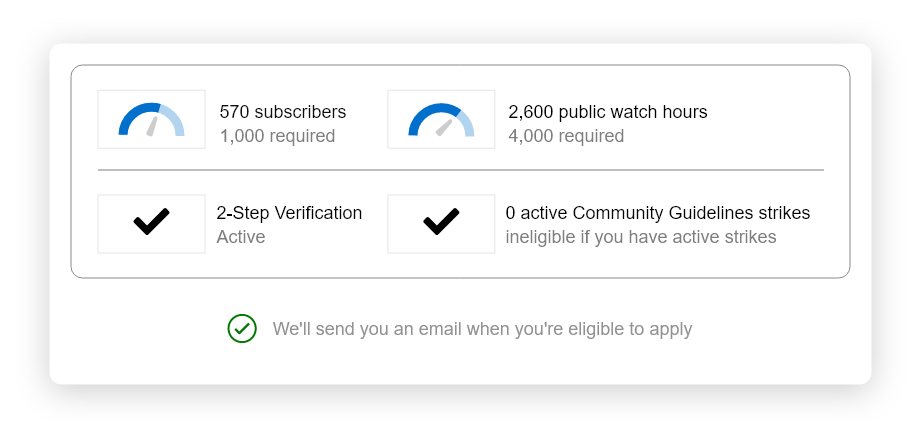 Once done with all the process, your YouTube channel will be processed automatically to review by YouTube reviewers.
YouTube Monetization Over The Years
YouTube Monetization in Early Days
YouTube which runs ads makes a track record over billion video views globally – In fact, there are more monetization views on YouTube compared to any other online video site. And based on the different ways provided by the platform, YouTube has varied ad formats that make a match for those experiences.
Monetization Rules in 2022
As we have mentioned earlier, all the rules are still being practised. But this year YouTube has introduced a new monetization segment which is known as YouTube shorts. This year YouTube offered a bonus which they have allocated as YouTube shorts fund for the famous YT shorts creators.
Monetization Rules in Future
In mid of January 2023 Youtube expect the majority of short Fund creators to earn surplus revenue under this new model. However, there is no need for creators to moving away from monetization of long videos, as Youtube shorts will give them the optimum chance to maximize their profitability.
Like any other progressive technology, YouTube also started upgrading its algorithms and terms of the YouTube Partner Program for making money through advertisement.
To provide better and more relevant content to its viewers, and to push creators to make better videos, YouTube added a clause to the best video monetization feature.
In order for creators to monetize videos, their channel needed to have over 10,000 lifetime views on their videos. This drove creators to generate better content on the platform and improve their reach.
YouTube Restrictions & Eligibility in 2022
Get to know some of YouTube restrictions & eligibility rules:
You need to check : Does your channel

violate any of the partner program policies

, the Youtube terms of service, community guidelines or spam policies? If that's the case, you will recieve the appropriate penalties and be denied to monetize further.
Next you need to make sure:

Are your subscribers are real or fake accounts?

Google will take up this opportunity to audit and remove the subscribers if they fit the criteria and be considered to be fake accounts.
Then, you'll have to verify: Is any of your

watch time coming across fake users

? Google has a sophisticated algorithm for determining if the viewer is legitimate or not. And would remove the watch time if it's derived from the false accounts.
Majorly you will have to reassure: Have you by any chance violated any of the rules for copyrighted content? If so, you will accordingly receive relevant copyright strikes. The repercussions might land upto and include the removal of your account, if you're being persistent with it and surely deny monetization.
After this if you've verified that you meet minimum requirements and find that you're in an eligible country, here is a four-step process for applying partner program.
Step 1 – Read and agree to the terms and conditions laid out in partner program.
Step 2 – Then you will go to AdSense – going to Goggle Ads and sign up. You will with no doubt need a Google ads account as a publisher for you to be able to monetize on Youtube.
Step 3 – Upnext, you need to set your preferences to monetization. Choose to monetize your existing and future-grade videos, choose which ad formats you will want to allow on your dedicated channel. Later on you can explore the option of changing this later, but you need to set something now.
Step 4 – Lastly, you will have to wait for your channel to be reviewed. Youtube will take its time to audit your channel.
In order to avoid a 6-year setback, YouTube announced changes in its monetization policies and rules. The new policies/rules stated that for a channel to be able to monetize its videos, it must have at least 4000 hours of total watch time in a 12 month span and a minimum of 1000 subscribers.
Get to know what would be considered while reviewing your channel:
Reviewers of YouTube check the following content that best represents your channel as per the policies. Since it's not possible to assess every video, they keenly focus on major parameters followed on your channel's.
Main Theme of content
Most number of videos viewed
Newest videos
Biggest part of watch time
Video metadata (inclusive of titles, thumbnails, descriptions)
These are some of the common examples of content that YouTube reviewers may tend to assess. A major factor determines the reviewers who may also check other aspects of your channel to check whether policies are fully met or not.
YouTube Monetization Updates in 2022
Find the updates announced by YouTube beyond the year 2022
1. March 2022: Updates relating to the Ukraine war
YouTube issued a significant policy modification on March 3, 2022. Due to the current war in Ukraine, YouTube ads will be temporarily halted for viewers in Russia. YouTube has also suspended access to all monetization options for viewers in Russia including Channel Memberships, Super Chat, Super Stickers, and Merch.
2. April 2022: Updates relating to inappropriate content
A recent update on ad guidelines for kids content brings a key focus for guide creators. It is with regards to what is suitable & non-suitable while delivering ads. Youtube has created a new guideline known as "Inappropriate content for kids & families".
One deals with content encourages negative behavior
Second talks about mature content that's targeted towards kids &
Third it mentions about shocking content targeted towards kids
3. August 2022: Updates related to monetization rules
Here's another monetization guidance introduced by Youtube which has been updated. These updates apply to monetization guidance around any content that may be harmful or dangerous. The uploads which showcases vigilantism may not be permissible to run ads.
According to advertiser-friendly content guidelines, the page has been updated in order to reflect the entitled regulators.
4. October 2022: New updates regarding monetization guidelines
Youtube has recently updated advertiser-friendly content guidelines page to ensure clarity with the creator community. It says that video-level monetization guidelines that are outlined apply to both long-form videos (VOD) and short formats.
There is no kind of policy change found, which means you will not notice major difference in how videos are checked to maintain advertiser friendliness.
Factors That Affect The Monetization Rates
Out of the revenue generated by creators through ads, they keep 55% of it while 45% becomes YouTube's cut.
Therefore, there exists a lot of pressure on creators to generate ad-worthy content on their channel. But what makes a video ad worthy on YouTube?
This question has always stumped a lot of people. Since the top tier YouTubers gather the majority of their revenue from off-platform sources, variable monetization video rates only affect the small to mid-tier YouTubers.
Here is a list of things to look out for while creating video content for your YouTube channel to ensure that you attract the best advertisers:
Video Quality
Higher the quality and production value of your videos, better the advertisers. Ad companies tend to pay more for videos that grab attention.
Subscribers Count
You'll get better & higher paying advertisers if your videos engage with a large number of people. More subscribers equals higher revenue.
Viewer Engagement
Advertisers like videos that engage with its viewers and are interactive in nature. They'll pay more if they see a high number of likes or comments.
Popularity
Viral videos are prone to infringement so the best way to promote yourself and attract advertisers is branding in a way that doesn't go unnoticed.
Watch-time
While you get higher engagement on long videos, video should be of moderate length depending on the niche & the viewing trends.
Controversy
Creating controversy or talking about controversial topics affects the brand of the channel and some advertisers don't affiliate with such a brand.
General community Guidelines to be Followed
It is understood by YouTube's community guidelines that making mistakes are natural & you don't mean to violate policies. And that's why the first violation is typically to be considered as a warning.
Once you get a warning, it remains on your channel. In other case, if its found to violate the guidelines, you may get a strike.
And in severe cases, it may result in channel termination with zero warning. There is always an option to appeal the warning if you think they made a mistake.
Apart from these, one needs to know that the YouTube Community purely stands up on trust factor. The content that intends to scam, mislead, spam, etc is prohibited using Youtube. Some of the examples include:
Deceptive practices
Impersonation policy
External links policy
Inappropriate content policies
Thumbnail policy
Hatespeech policy
Vaccine Misinformation policy
Firearms Policy and more
Additional Changes That Affects on Making Money in YouTube
Youtube furnishes the requirements for geographic location of content producers, or rather for them for allowing them to monetize on their platform. The key reasons for this are:
1. YouTube doesn't prefer to deal with certain international laws. For instance, some of the countries are under ongoing trade bans or restrictions.
As a globally-recognized company, Google doesn't want to put their reputation at stake by violating international laws. So they stay away from these forbidden countries.
2. YouTube doesn't support with the idea of navigating various tax and payment restrictions in some countries.
It might be hard to send money to certain areas of the world. And this explains why lot of third-world scammers would demand their money in Bitcoin, iTunes, or Western Union & similar payment methods.
3. YouTube removes certain countries from the list because they prove to be hubs of deception or cheating.
If 90% or more accounts monetize from a specific country are clearly earning money all because of fake views that they buy from view networks. Therefore, YouTube simply decides to ban that country rather than fighting, auditing & risking people who pay and didn't earn the money.
The flipside would have been something like this:
Advertisers wouldn't trust the platform to provide decent ROI and thus would have ended their alignment with YouTube.
This would have lead to all the top YouTubers leaving the platform because of lack of monetary incentive.
And with no money coming in, YouTube would have become a video archive where people could upload and store videos but couldn't start a premium VOD career.
Key Takeaways
There are better means of effectively monetizing your Youtube channel and that is with building a business outside of Youtube.
Yup.. You read it right.. Let us explain it further..
You can build a standalone unified video streaming platform that's away from Youtube where you can sell unlimited access to your video content. We've seen content owners who have a different experience while making YouTube videos on to:
Earn maximized payback
Grow to own their audience
Enjoy more freedom of streaming
Create a stable means of recurring revenue
All of it is connected to building and growing their own baseline of video streaming platforms.
The major fact remains undeniable that there are still content creators who upload their content with copyrights and make it as their own for personal gain. As such YouTube has launched a lot of policies to ensure action against these. It has brought protocols like content ID, copyright strike system, etc.
However, migrating to Premium video monetization platform like GUDSHO is much better where you will not find lot of other things to compromise on. Even now, people are moving away from this platform to find alternatives to YouTube and try migrating their subscribers smoothly on to it.