Multi-Level Massive VOD Distribution WorldWide
VPlayed Video Platform ensures enhanced compatibility across Web, Mobile, Smart TV, Gaming Consoles
Launch Easily & Grow Quickly With
A Premium VOD Platform
Schedule a demo with product experts & we'll get you on the road to VOD success
Request Demo
Secure Your VOD Content With Reliable Streaming Solution
Let VODs be encrypted throughout its lifecycle in VPlayed
Restricted Access Control
Create secure video services, by having asset-level limitations on streams for more than two devices based on monitored login details to step up against online VOD piracy.
Multi DRM Support
Data Rights Management allows you to secure your VOD copyrights to the fullest & bars unauthorized content usage, consumption, or any other kind of infringements
AES Encryption
VPlayed uses AES encryption method to enable content owners to encrypt videos using 128-bit cryptographic keys. Users can have the same authorized key access to the content.
Geo-blocking
Limit access into your secure video streaming platform for users based on the geographical location to minimize compliance costs and boost capacity for relevant demographics.
Watermarking
Stream securely with a non-removable watermark tool like date, IP address of users on streams during playbacks. Display them at user-level to discourage infringement of the content.
Screenshot Prevention
Ensure integrity of your VOD content services by preventing screen recording & illegal redistribution. The best would suffice when content is blurred or camouflaged.
Launch VOD Apps with Forefront Features To Target Wide Audience
Allow users to explore best videos of yours from on demand apps
In-app Purchase
Launch video on demand apps in various kinds of portable devices for subscriptions & payments through VPlayed's VOD platform services
Native Apps
VPlayed creates video on demand applications from scratch in native languages & delivers them to app stores after admin-requests.
Parental Control
Block outgoing VOD streams, restrict watch time to facilitate child-friendly content for your users, assisting online safety
Live TV
Provide live TV channels to your users, after ingesting, encoding, & transcoding content to feature them at once.
Progressive Web Apps
Allow users to access their favourite VOD apps & stream directly to web app screens in mobile home pages.
Offline Viewing
Enable users to watch their preferred content directly in on demand streaming apps even if they don't have internet access.
Launch A Custom VOD App Now
Inbuilt Video Player With Prime Streaming Support
Integrate advance video player to stream both VOD & live content with backup data files
Adaptive Bitrate Streaming

VPlayed supports adaptive streaming protocol to stream HTML5-based videos. Content delivery is made smooth easily.

HLS & Dash Adaptive

Get both HLS & DASH streaming protocols to stream HTTP VOD content. Segment into multiple packets using robust CDN.

Multi-Bitrate HD Encoding

Our HTML5 player supports online video wall configuration upto 12 displays like Smart TVs, Laptops, Tablets, Mobile.

Player SDK for Android / iOS

VPlayed provides a custom-built player SDK with features like VOD playback, etc; compatible for Android, iOS, Smart TVs.

Multi Language Support

HTML5 media player comes with native language support for personalized viewing experiences & gain content relatability.

Picture-in-picture

Let users view videos while utilising other apps. For example, users can watch VOD services while sending mails.
Explore HLS Player
Fuel Your VOD Platform With Engaging Content Everywhere
Let your brand formulate several digital marketing strategies for streaming business
Metadata Management

Make your VOD platform search-friendly by optimizing meta tags for video marketing purposes

AI Powered Recommendation Engine

VOD solution providers enable you to suggest prefferable content for users analysed by AI-powered algorithms

Lead Capture Form

Use video on demand services as assets for generating leads in platform. Track every inquiry easily.

Marketing Software Integration

Let whitelabel marketing tools of VPlayed expand the reach of content & drive conversion to grow ROI.

Retention

Stay ahead of the game by tapping top marketing & retention solutions to create a scalable business.

Optimize audience rendition

Make your video marketing platform robust with internet variability to stream at flexible bitrates & avoid buffers.
Explore Video Marketing
Scale Up Video Business with Best VOD Analytics Software
Track your every service performance via VOD analytics to better audience engagement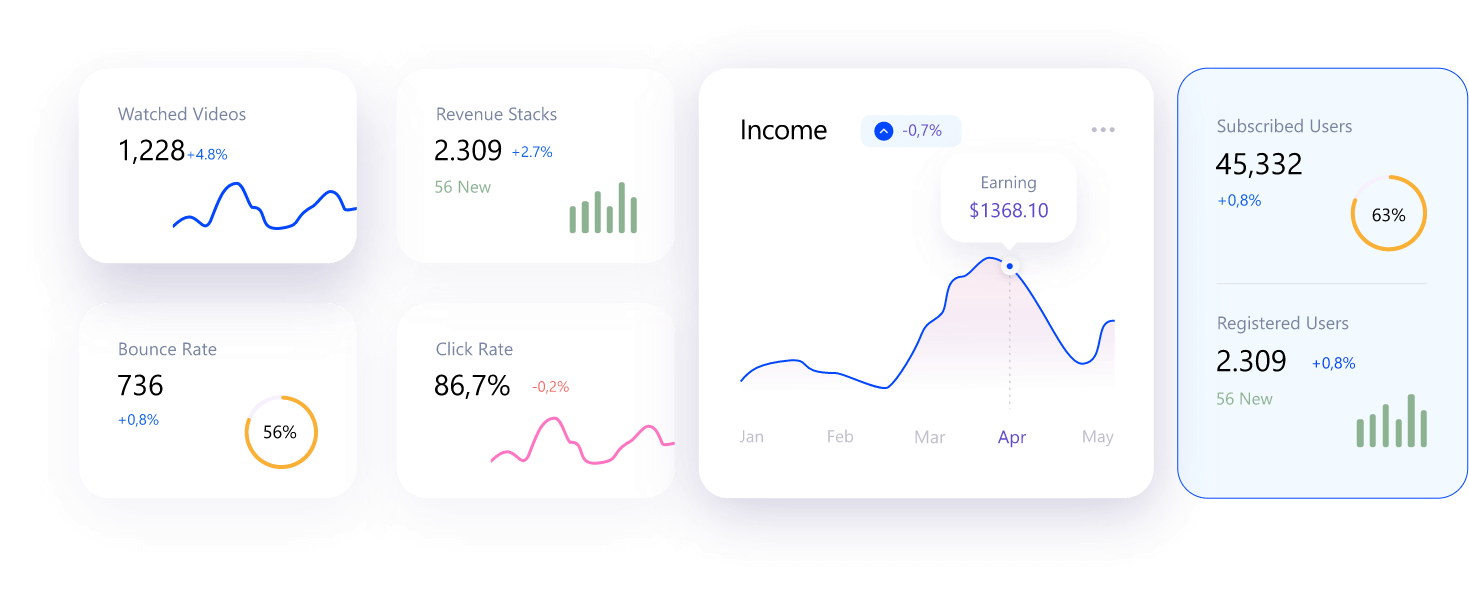 Live Dashboard Report
Smartly gather VOD business intelligence through dynamic reports for data analysis and trend forecasting.
Custom Metrics
Generate custom metrics to gather effective information at on demand service platform overcoming unidentified data study.
Stream Data
The feature in VOD analytical tools gives real-time streaming data stats like streaming protocol, in a whitelabel platform
User Data
Drive engagement rate using your audience's viewing habits, complete profile analytical data & more.
Analyze 3rd party specifics
Add 3rd-party analytics solutions, to track visitors & analyze source traffic in your video delivery platform.
Study Comparison Heatmaps
Gain a wide market by comparing each content with precise visual statistics for video on demand business.
Distribute & Monetize VOD Streams Across Any Type of Industry
Anyone can willingly share their art visually with the rest of the world
Success Stories of Successful VOD Platforms Worldwide
Discover how VPlayed empowers VOD streaming ventures to scale, expand, and thrive.
Trusted by
Leading Brands
Why Customers Love VPlayed
Because they have seen the results
VPlayed team helped us in putting together a robust fitness streaming platform in a short span of time. It was great working with their knowledgeable engineering team who took keen interest in hearing our ideas and executed them to perfection.

Juliana Wolfarth,
Product Manager, ZiYou
VPlayed provided us with a customizable OTT solution for East Africa, including a payment gateway tailored to the local audience. The platform works perfectly for our target region, and we are thrilled with the results.

Felix Mpfizi,
Chief Technical Officer, Mass Kom Group
300%
increase in viewership
VPlayed's flexible video management system and multiple monetization models enabled BS Value OTT to grow rapidly and become one of India's top regional streaming platforms. We are excited about expanding our roadmap with the support of VPlayed team.

RJ Vigneshkanth,
CEO, Black Sheep Entertainment
Is VPlayed a Self Hosted or SaaS Software?
VPlayed is a #1 self-hosted VOD platform that provides on-premises & on-cloud hosting. With on premise, clients can host platform on their own server using video on demand software & can maintain streaming infrastructure. Whereas on-cloud customers can host platforms on varied forms of cloud computing such as public, private and hybrid cloud service given by the provider.
How Long Does It Take To Launch a VOD Platform?
It takes about 3-5 working weeks to build a video on demand website right from scratch with all customizations in features, functionalities, and monetization models.
What are the Revenue Models Available in VPlayed?
VPlayed comes with multiple video monetization models like SVOD (Subscription-based video-on-demand), TVOD (Transactional Video-on-demand), AVOD (Advertising Video-on-demand), Third-party Ad Integration, Server-side Ad Insertion, and Coupons & Promotions to generate revenue with your content.
How is VPlayed Different from Other VOD Platform Providers?
The key reason for you to go for VPlayed SaaP-based platform as a media streaming partner, you can offer vivid & flexible solutions like Whitelabelling of your brand, End-to-End Customization. In addition to that you can get with One-time licence cost & complete deployment options to choose whether its On Premise or On Cloud integration.
What Privacy Protocols Does VPlayed Provide to Protect Content?
To protect the entire on-demand content against piracy, VPlayed is integrated with enterprise standard security layers such as Data Rights Management (supports different DRMs), End-to-End video encryption, SSL certificate, Geo-blocking, Multiple Authentication, Access Control, Screen capture restriction, IP restriction, and AES encryption.
What Kind of Video Marketing Features Does VPlayed Provide?
Right from segregating the obtained data to promoting it to various audience base, VPlayed is in-built with data-driven marketing assets like Social publishing, Email notification, Recommendation engine, Social interaction, Branding & many more to grow your brand to turn viewers into subscribers.
What Would be the Cost for Video On Demand App Development?
Every customer brings their own contemporary ideas to develop & monetize their online streaming platform. We welcome every client to incorporate customizable solutions that vary accordingly. To have added estimation inputs you can get in touch immediately with our sales & customer care team.
Can Viewers Access My Content Anywhere in the World?
Yes, your audience can access the content from anywhere since we use global enterprise CDNs where their servers are located all over the world. Viewers can access and watch any form of content in high-quality with zero buffers.

Book Your Free Demo Today!
See how VPlayed works through a 1-to-1 demo with our product experts.
Request Demo
Let's Talk To Sales Team
We'd love to answer your questions. Tell us your needs, and we'll contact you shortly.
Contact Sales
Launch, Stream & Monetize Your OTT Platform Globally
Book A Personalized Demo and See How 200+ Leading Brands are Growing Their Revenue With VPlayed