Leigh Hunt has rightly said, "The groundwork for all happiness is good health." Given the pandemic situation all around, people have started recognizing the importance of fitness more than ever. Almost everyone around has started performing some form of exercise.
This has also led to the rising popularity of online fitness platform & streaming workout programs in present virtual times. Do you know as per a Statista study, revenue in the fitness apps segment is predicted to reach US$17,101.37m in 2022?
Yes! In this article, we are going to discuss some of the top online video platforms and the detailed process to launch your own fitness program. Stay with us and read on.
Top categories of on-demand workouts
Have you been planning on streaming exercise classes? We have got your back! Thankfully, there are numerous fitness streaming platforms to choose from if you want a simple workout that won't leave you lazing out for days.
In this section, we are going to talk about some of the best types of workouts streaming services that are popular amongst every sort of audience. Let us closely look at them one by one.
VOD workouts for Cardio Regimes
Live streaming workouts it is one of the most fun forms of exercise and attracts a huge chunk of the audience. This is the ideal workout streaming plan for people who are very determined about heart-health.
As it is sort of, light and doesn't require a lot of effort, it sounds exciting to people and they are more likely to choose it over heavy weight-lifting exercises.
Yoga
Thanks to its ability to strike a balance between mind-body awareness, yoga is gaining a lot of attraction among audiences. Starting a yoga practice platform will never prove to be a wrong decision.
Fitness streaming services like these are specifically designed to help beginners to train with basic postures, which is then trained in mastering movement techniques.
Strength Training
Strength training is also known as weight training or resistance training. If you plan on streaming exercise programs involving strength training, make sure to include different workout types like flexibility training and balance exercises.
This best video streaming services is committed to assisting you in achieving your fitness objectives by giving tools to track your progress, set weekly goals, & lot's more.
Zumba Training
Zumba, much similar to Salsa, is a Latin-inspired dance form that serves as a great means for cardio activities. This fitness program is taken by 12 million people every week and imagine the number of subscribers to your channel, if this program is brought to an online portal.
The reason why this program sees a huge benefit is that an hour of workout can help burn up to 900 kcal. Besides this fact, Zumba helps in reducing blood pressure, cholesterol, and heart diseases.
HIIT Training
HIIT stands for high-intensity interval training. It includes short bursts of intense exercise alternated with less intense recovery periods. HIIT training programs are liked by many people as they promise the best kind of workout and that too, in the least amount of time.
With an extensive library of on-demand workouts and entertaining training programs, the possibilities are endless. Planning exercise streaming services has never been easier, with a full schedule of live classes which can be available 24 hours a day, 7 days a week and over 6,000 videos at your client's fingertips.
Meditation for Stress Management
It is said that an hour of meditation every day will lower our stress levels, make us realize our pain, help us to connect better, and reduce our anger. Due to its super-energizing nature, it is becoming more and more popular among audiences.
You can launch these mindful workout services for users starting from basic meditations to beyond the beginning, via best video streaming platforms. Getting a series of videos frontline through the calendar can help newcomers to plan their daily regime.
A quick list of online streaming workout programs
A good workout training program includes custom fitness solutions. In this section, we are going to learn about some of the best online exercise classes. Let us dig into their details one by one.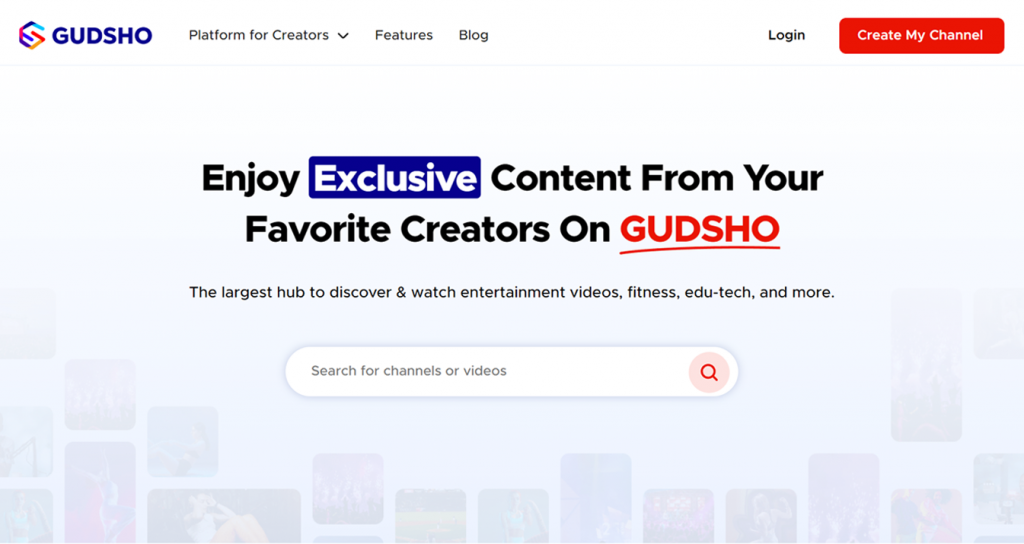 Mastered in offering the best fitness and wellness programs online, GUDSHO stands tall when it comes to buffer-free streaming, CMS, security, and analytical tools. They come with a freemium plan for budding creators to establish a place for them and is available across multiple platforms like iOS, Android, and more.
Furthermore, fitness creators are in love with this streaming service because it allows them to form a large network, boosts revenue, aids in accessing clients all around the world, gives the best real-time experience, and does video marketing well.
#2 – Kajabi
Designed for this gen content creator, Kajabi's on-demand fitness program is a win-win for many coaches and trainers looking out to establish their portfolio. With Kajabi, your subscribers can get a free weekly training session and a 60-day free trial for users.
Additionally, Kajabi empowers easy creation of videos, quick access to marketing tools, swift management of integrations and payments with Stripe and PayPal, and possesses many positives in their repositories.
The best part is that to date, Kajabi has helped over 300k+ creators in building revenue of over $4B+.
#3 – Obé Fitness
It offers on demand fitness classes and fun training programs. You can stream obé on any device or cast it big via Apple TV, Roku, Fire TV, or Chromecast. It offers 20 daily LIVE & 7,000+ on-demand classes. It costs $27 per month.
Introduce a workout party with an on-demand class for shoutouts from our instructors. Free trials can be availed at Obé 20+ class types that can be streamed as live workout classes with the assistance of world-class instructors and expert guidance. With no doubt, users can get free trials now..
Have plans on starting an online fitness platform for your service? We'll take care of it
#4 – Peloton
It is one of the best on demand workout apps. Peloton comes with a 30-day free trial and is available on iOS, Android, Chromecast, Amazon Fire TV, Apple TV, and web browser.
Yes, a Peloton bike comes with an online subscription to its best streaming exercise content. Customers can stream unlimited bootcamp, strength, yoga, running & cycling classes whether they have equipment or not.
#5 – Glo
It offers online yoga, meditation, Pilates, & fitness classes. With over 4,000 classes on demand, it allows people to experience the benefits of practicing exercise at home or on the go. Glo is available on iOS, Apple TV, web browser, and Chromecast. It comes with a 7-day free trial and costs $18 per month.
Glo is created for fitness enthusiasts like you to make you feel better in both your body and mind. For a limited time, get unlimited access to the top online yoga, meditation, Pilates, and fitness courses for only $24/month or $245/year (only $21/mo).
#6 – The WKOUT
It is one of the best exercise streaming platforms with 4000+ workouts. The WORKOUT is available on Android TV, Apple TV, Roku TV, Android, iOS, Fire TV, and web browser. It comes with a 10-day free trial and then costs £12 per month.
WORKOUT is an on-demand home fitness platform that provides subscribers with high-quality streaming just like a manual way of gym-style training. Fitness trainer Lisa Zbozen, the company's founder, wanted to get ahead of the traditional written DVD sessions where a set of exercising classes used to be feeded in a restricted manner.
#7 – CorePower Yoga
It allows users to power on from home with the best of both worlds and provides access to unlimited and on-demand classes. CorePower is available on iOS, Android TV app, Apple TV, Roku, Amazon Fire TV, Chromecast, and web browser. It comes with a 7-day free trial and costs around $19 per month.
The company has yoga locations all throughout the United States, but CorePower on Demand allows you to take online workout lessons digitally. Every month, new live streaming classes are added to provide variation. CorePower's full-body yoga flows and sculpting classes are followed by meditation and technique training.
How to Launch Fitness on Demand Services Online
Have you been thinking of launching your VOD fitness classes on online platforms?Well, that's awesome. And we are here to help! In this section, we shall delve into some of the best features that you must find in your workout streaming services. Let's have a quick look at each one of them.
Powerful CMS for easy access and collaboration
A powerful CMS (content management system) acts as a stress buster in managing your channel. And, trust me, investing in a hardcoded fitness platform like GUDSHO that includes a robust content system offers countless advantages to creators. Like, as easy upload, smart data organization, and various monetization models for swift payments.
Advanced analytical tools to improvise marketing endeavors
Know the status of your videos, where it stands among the audiences, and how well it is engaging with the analytical dashboard. This tool gives a detailed insight into your video performances and helps you to target the gray areas for betting reach.
100% revenue generation with these top-in-class monetization models
Do not hesitate when choosing a streaming platform in terms of monetization. Because, GUDSHO offers 100% monetary generation with its revenue models like Subscription VOD, Transactional VOD, and Donations (if your fans like your work and wish to support you through gains). Plus, this hosting platform is coded to accept 40+ currency denominations.
Let your subscribers experience a stutter-free streaming
Imagine you are watching the FIFA world cup on your desired streaming platform and you experience a glitch. An oops moment indeed right? So opt for an online fitness platform like GUDSHO that allows streaming of on-demand workout videos in 4k and HD quality, and without any lags or breaks.
Seal all your valuable video assets from piracy
These days there are many 'Jack Sparrows' wandering out and using their wits and deceit to pirate into other's work. Hence, keep your content safe from prying eyes using strong encryption standards like AES, SSL, and TLS paywalls. These methods make your content hidden from illegal users.
Optimize your fitness videos for the best reach with built-in marketing tools
Get a chance to optimize your video details like meta tags, images, titles, and other descriptions as SEO-friendly with the in-built marketing tools available on the fitness platform. Besides this, make your content grab maximum reach with social integrations, create sitemaps to speed up the crawling process, and automatically embed videos from your library to drive traffic.
Tips to Increase Subscribers For Your Workout Streaming Services
Building an online fitness program is not a one day task. A lot of important points need to be taken care of in order to establish a successful platform. In this section, we shall discuss some of the best tricks that can help you attract more subscribers.
Class Options
One of the best ways to maximize your revenue and increase subscribers is to offer different varieties of workout sessions that are customized to customer preferences.
Categories of Class Format
Make sure you conduct both live and on demand fitness classes. While on-demand workout classes involve real-time engagement, on demand classes provide users the opportunity to access classes at any time. Moreover, you can include both one on one and group classes for your users.
Quality of Workout Instructors
When you have top fitness professionals on your platform, the number of subscribers increases automatically. People look forward to learning from experts. Hence, more the number of workout professionals on your platform, more the number of subscribers.
Subscription Terms
Make sure that you offer free trials to attract new users. You can provide monthly, quarterly, or yearly subscriptions to your customers and earn fixed revenues.
Space & Equipment
Not everyone has access to proper space and equipment for performing exercises. Hence, you should focus on building a platform that has customizable options for all kinds of users and allows them to perform exercises at their convenience.
Conclusion
We hope our article helped you understand all the important concepts and facts surrounding online workout streaming platforms. So, what are you waiting for? Start your live workout classes today. We wish you all the good luck for your future endeavors.
If You Already Have An Idea About Starting An Fitness Streaming Services, Schedule A Free Demo And We'll Help You Implement It!