Curious about what we have in store for all you OTT enthusiasts? Look no further for this space is exactly what you need to follow for all the newest updates from CONTUS VPlayed!
"What's Next" is our freshest attempt to share all the happenings and modernizations from the house of CONTUS VPlayed put in a nutshell! Consider this as your ultimate destination to learn everything about the OTT solution's upgrades and improvisations this calendar year.
Building a Team of High Expertise
We have always teamed up with innovative minds to deliver the most advanced solutions for best online video platform.
With 350+ technical experts who bring your ideas to life, our solutions are built on trust and talent.
However, our thirst for newer finds only keeps increasing every passing day. So, we plan to progressively work on onboarding a whole new set of developers, UI/ UX designers, marketers, and other technocrats to expand our expertise on all fronts.
How does this benefit our customers?
As our team continues to grow, customers get to have dedicated teams while launching an OTT platform of your own during development and delivery, making self-hosted video streaming a reality. Check out the benefits of self-hosting your videos!
Faster & Smoother Deliveries with DevOps
Fast and flexible delivery options are the key reasons for the innumerous success stories at CONTUS VPlayed. To further fasten the pace and keep it transparent, we've adopted the DevOps methodology to deliver the product.
What made us opt for DevOps?
Agile Practice –

Gone are the days of traditional software development! Agile breaks down the process into sprints along with delivering a 'working software' at the end of each sprint. With shorter delivery times, we are working on making our solution more efficient and customer-centric.

Blurs the line b/w development and operation –

Independently deployable modules facilitate a feature go live without impacting the already existing product that's been functioning.

Breaks down complex modules –

In DevOps, the entire project is split into modules, which in turn quickens our delivery process, thus reducing risk.

Faster integration and delivery –

It all boils down to a more streamlined, and error-free delivery process that benefits the customer monetarily.
Swifter Project Change Request Management
Mid-project changes can be tedious if not handled properly. We at CONTUS VPlayed value customer satisfaction more than anything else, and hence delivering a solution that exactly matches the client requirements matters the most.
This year, we have curated the best 'project change request management' plan to ensure that deliveries don't get hindered by the alteration in requirements.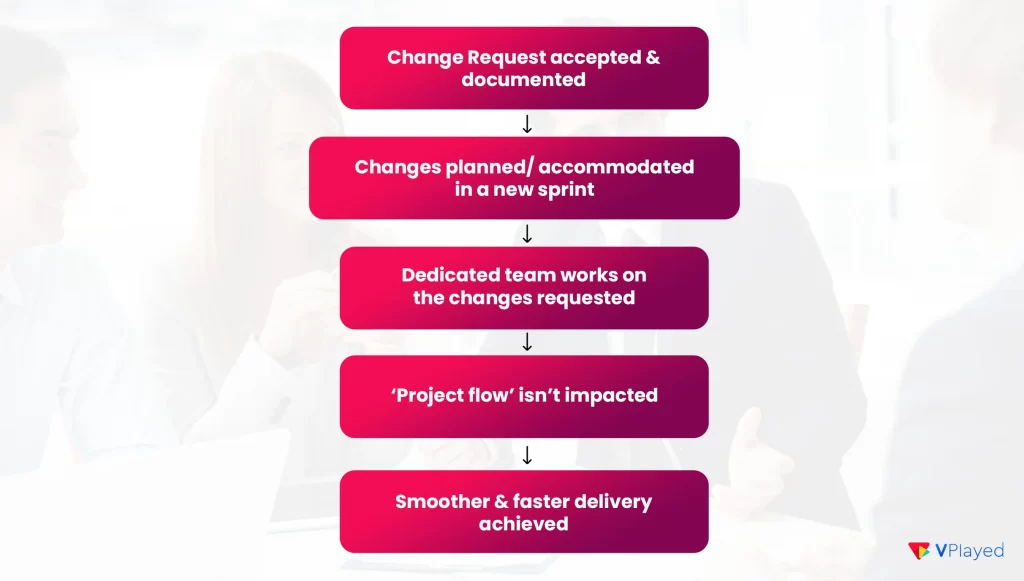 This is how we've restructured our PCRM to accommodate changing requests without impacting the project flow.
Product Enhancements You'll Be in Awe with
1. Launch Your App on Roku
With the success of Roku soaring high among the TV app users, we thought there comes a need to curate a solution to create streaming apps that can run on the device. Yes, the big news is that we now help build OTT branded apps that reach millions of Roku TV users.
Learn why OTT branded apps are the future of television!
In case you are wondering what Roku is, it is a media player device that offers space for multiple channels and streaming apps to be viewed by its subscribers and device owners.
Statista has stated that Roku had reached a spiking 51.2 million active monthly subscribers by the end of 2020 which means that launching an OTT app on Roku is the best bet content owners can make. And at CONTUS VPlayed, we will soon be introducing our clients to a vast and engaging customer base through our streaming platform solution for Roku in addition to our Android TV and iOS counterparts.
2. Experience Enhanced DRM Security
Video piracy has remained a major threat to streaming platforms for a long time now. Content stealing acts as a roadblock to the growth of the business as it affects
customer engagement
customer trust
revenue
We at CONTUS VPlayed are extremely conscious about the streaming platform we build being robust and bound by ironclad security features.
To further enhance this, we've added an extra DRM security layer to protect the copyrights of the digital content by restricting unauthorized downloads on hacker devices.
This feature
Enables video content to be played only on the authorized user's device

Restricts illegal downloads

Curbs the video from playing on unauthorized player/ devices
3. Put on Device-Level Restrictions
With our new device-level restriction feature, content owners can limit the number of devices a user can stream on using his login. This will encourage more users to create individual accounts rather than using his friend/ acquaintance's login to stream videos. This option is highly beneficial for content owners/ distributors to grow their subscriber base which in turn boosts revenue. Explore what the different revenue-generating models are!
4.Upload Trailers & Teasers
Film trailers are short advertising videos that kindle anticipation and curiosity about the main content. There have been several occasions in the past where a movie's viewership was determined by the interest a teaser creates.
Trailer cuts are that important in attracting audiences to pay for a movie/ TV show that is streamed on your OTT platform.
CONTUS VPlayed's video streaming solution will soon let content owners upload trailers for viewers to catch a glimpse of the actual movie.
Releasing trailers on streaming platforms is an excellent video marketing strategy and hence, this feature comes as a boon to all the content owners no matter what the industry is.
Also, check out some smart SEO video marketing strategies!
5. Experience the X-Ray Feature
Viewers are always excited to know more about the movie/ TV show they are watching.  This is exactly what our upcoming feature is all about! X-Ray allows your viewers to catch bonus information like the 'cast and crew' of the scene that is currently being played. This innovative update is yet another amazing way to attract audiences and keep them glued to the video on your OTT platform. 
6.Engage Your Audience with Interactive Live Streaming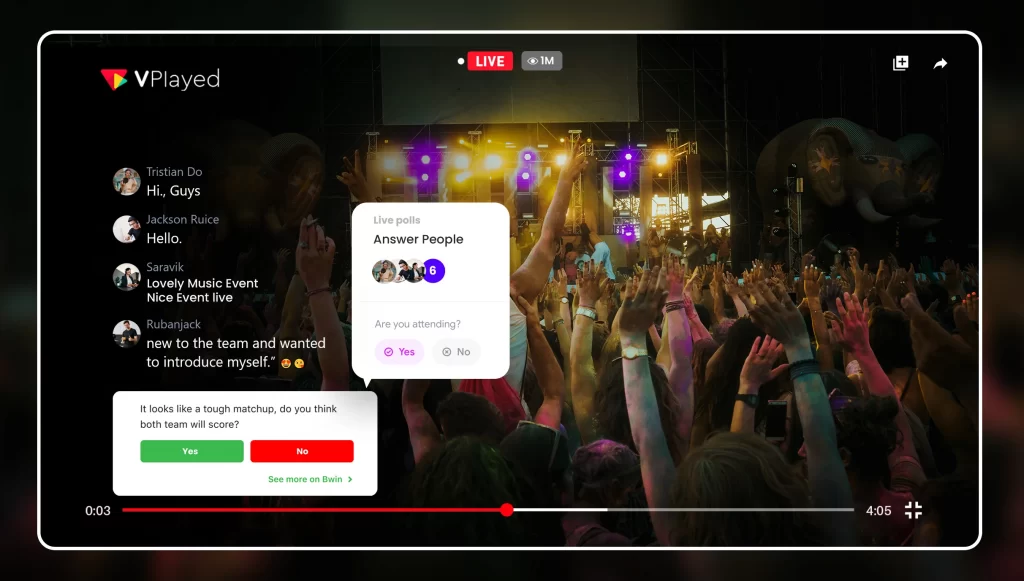 Interactive content consumption is the new trend when it comes to live streaming apps. Audiences may lose interest/ get distracted when the platform focuses on mere content streaming that is boringly passive. This brand new feature of ours to include real-time chat to live streams helps you
Conduct Live polls

Have Q&A sessions

Share general updates

Take surveys
Find winning strategies to boost audience engagement with interactive live streaming!
It is astounding to witness how much the streaming industry has evolved in the past few years, making it one of the most profitable businesses for content owners. Be it
A good OTT platform can provide an amazing visual experience when built by the right solution provider. This is why, we at CONTUS VPlayed learn, adapt, and refine our streaming solution to create a win-win situation thus letting us earn customer trust.
CONTUS VPlayed continually adopt newer technologies to bring in features that would benefit our clients with their OTT platforms. And, with "What's Next", we strive to deliver all these updates to our clients, and content owners who wish to shape their video streaming services. Take time to follow this space for insights on all the advancements we make to our solution. 
If You Already Have An Idea About Starting A OTT Streaming Platform, Schedule A Free Demo And We'll Get You On The Road To OTT Streaming Success!