If you're a film enthusiast or a TV viewer, then there are chances you are using a Tizen TV.

Because 56% of all TV viewers use Samsung's Tizen TV as their primary streaming device, in the United States (via NextTV).

In fact, Tizen is the leading TV streaming platform worldwide among smart TVs in use. Samsung's TV app commands a market share of about 13 percent as of year-end 2020. (via Statista)

It is evident Samsung's smart TV app is dominating the streaming market.

But what made Tizen OS so famous?
Why is it the go-to streaming platform for 190 million people across the globe? (via Samsung)

Let's find answers to all these questions in the next five minutes.
What Is Samsung Tizen TV?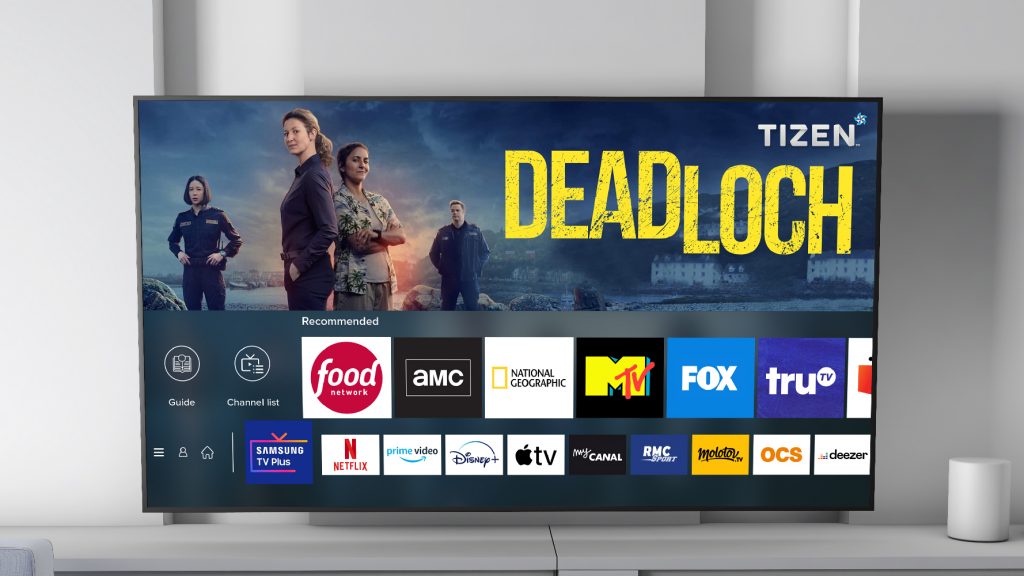 Samsung's Tizen TV OS is a Linux-based operating system developed jointly by Samsung and Intel. Its application goes beyond Samsung smart TVs and supports smartphones, tablets, and PCs.

Tizen delivers faster performance compared to other TV-based operating systems. Thanks to its 64-bit processor.

This exceptional performance and clutter-free user experience have made Tizen the preferred choice for millions over the years.

Besides, Tizen's open-source nature sets it apart from many of its rivals. It enables programmers to leverage and build upon the Tizen TV OS.

And this has resulted in diverse use cases ranging from smart TVs to personal computers.

The Tizen TV app is built on the flexible Linux framework. So, this extends its reach to wearables, smartwatches, in-car infotainment systems, and various other device screens.
A combination of all the above factors ensures that the OS delivers a versatile and adaptable user experience.
Samsung Tizen TV – History and Evolution
The Tizen TV OS has a fascinating history and background.

It was jointly developed by Samsung and Intel, two tech giants. They signed a pact to build a versatile operating system for smart TVs.
The collaboration began in 2011 to provide a unified platform that supports a wide range of devices.

The Tizen app was built based on the Linux kernel to ensure long-term stability.

Over the years, the OS has evolved, incorporating new features to deliver an enhanced user experience.

Due to its open-source nature, the Tizen TV OS has attracted a vibrant community of developers. They, in turn, fuelled its growth and contributed to its proliferation in the market.

Today, with a 56% market share in the United States alone, the Tizen TV OS stands as a leading smart TV operating system.
The Tizen TV app was released in January 2012. The app and the Tizen OS have undergone significant changes over the last decade.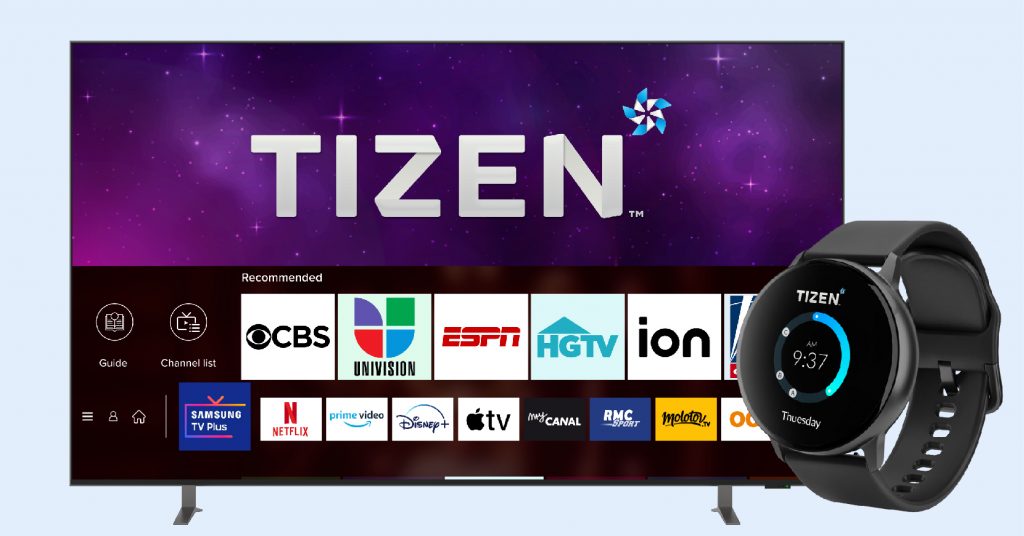 Here's a timeline of events marking the evolution of the Tizen TV app.
| | |
| --- | --- |
| Month/Year | Events |
| January 2013 | Samsung announced that they would release multiple smartphones built on the Tizen OS. |
| October 2013 | Systena, a Japanese company, shipped the first Tizen tablet. |
| February 2014 | Samsung introduced the Gear 2 smartwatch built on the Tizen operating system. |
| May 2014 | Samsung Tizen announced that it would come with Qt. But this project was later discontinued in January 2017. |
| November 2016 | Samsung collaborated with Microsoft to bring .NET core support to Tizen. |
| 2018 | Research by Strategy Analytics revealed that 21% of smart TVs sold that year ran on the Tizen platform, making it the most popular choice. |
| May 2021 | Google announced that Samsung would integrate Tizen app features into the next version of Wear OS while still using Tizen for smart TVs. |
The table below lists the versions of Tizen TV and their respective release dates.
| | |
| --- | --- |
| Tizen OS Version | Release Date |
| Tizen 1.0 | April 30, 2012 |
| Tizen 2.0 | February 18, 2013 |
| Tizen 2.1 | May 18, 2013 |
| Tizen 2.2 | July 22, 2013 |
| Tizen 2.2.1 | November 9, 2013 |
| Tizen 2.3 | February 9, 2015 |
| Tizen 2.4 | October 30, 2015 |
| Tizen 3.0 | January 18, 2017 |
| Tizen 4.0 | May 31, 2017 |
| Tizen 5.0 | May 31, 2018 |
| Tizen 5.5 | May 31, 2019 |
| Tizen 6.0 | May 31, 2020 |
| Tizen 6.5 | May 31, 2021 |
| Tizen 7.0 | May 31, 2022 |
| Tizen 8.0 | May 31, 2023 |
List of Tizen OS-Supported Devices:
Smart TVs
All Samsung smart televisions since 2015
Smartwatches
Samsung Galaxy Gear

Samsung Gear S

Samsung Gear S2

Samsung Gear S3

Samsung Gear 2

Samsung Gear Fit 2

Samsung Gear Fit 2 Pro

Samsung Gear Sport

Samsung Galaxy Watch

Samsung Galaxy Watch Active

Samsung Galaxy Watch Active 2

Samsung Galaxy Watch 3
Camera
Samsung NX200

Samsung NX300

Samsung NX1
Smartphone
Samsung Z

Samsung Z1

Samsung Z2

Samsung Z3

Samsung Z4
Why Should You Build A Samsung TV App?
Building a Samsung TV app could yield rich dividends if you're a content owner.
Here we have listed the top five reasons to build a Tizen app.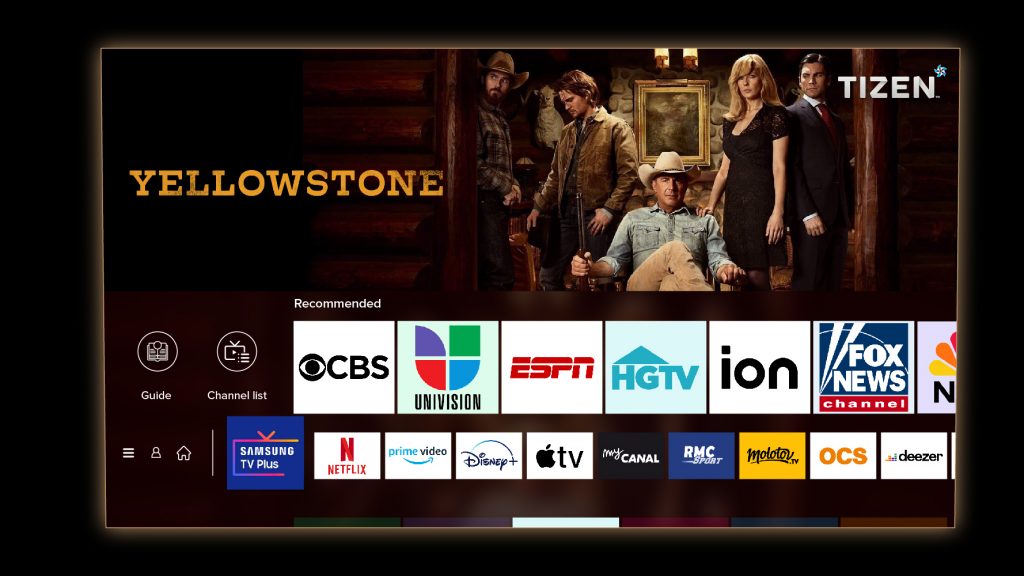 Wide Audience Reach:
With nearly 200 million users worldwide, Tizen is one of the most popular smart TV platforms worldwide.
So, developing a Tizen TV app allows content owners to tap into a hefty 190 million strong user base (Samsung).
Engaging User Experience:
The Tizen TV app comes with many benefits, like Samsung's rich app ecosystem, smart home integration, multi-tasking, regular updates, etc.
This allows content owners to create immersive and interactive user experiences.
Seamless Integration:
Integrating Tizen apps with other smart home devices is super easy. And this offers content owners an opportunity to provide a holistic, well-rounded, and connected experience.
Monetization Opportunities:
Tizen TV OS opens up multiple monetization streams for content owners. This includes advertising, subscriptions, in-app purchases, etc. So, platform owners can generate recurring revenue from their offerings and build a solid income stream.
Ongoing Support and Updates:
Samsung's commitment to Tizen OS ensures regular updates, support, and access to brand-new features. It means content owners can stay ahead of the curve and provide the best experience to their subscribers.
Launch Your Own Branded Samsung Tizen TV App With VPlayed
So, embracing the Tizen TV app can open up a world of possibilities for content owners like you.
But, if you want to build a Tizen TV app but lack the expertise, you can check VPlayed.
VPlayed is a 100% customizable, video-hosting Tizen TV app that sets you up and running within a few weeks.
The platform has state-of-the-art features like a robust video content management system, cloud transcoding, and adaptive streaming — to ensure global video delivery at the highest quality.
The app also features built-in video analytics to track your video's performance and has a marketing toolkit to promote your content seamlessly.
The bright side is that the app has 9+ monetization models for effortless monetization.
Above all, it comes with a one-time payment with no recurring user charges.
So, schedule a personalized 30-minute demo at a time of your convenience to get started right away!
Or, you can request help, if you're new the streaming industry.
You will receive a callback within the next few hours.
If you already have an idea to launch OTT TV app, schedule a free demo and we'll help you put it into action!