Millennials are breaking records with their online video consumption.
The fact that the 3rd quarter of 2021 recorded a soaring 92% of total Internet traffic due to online video viewership is astounding and reminds us how simplified it is to make a piece of content bag millions of views at the mere click of a button.
Thanks to streaming protocols that stand as a pillar in determining how the whole online video platform infrastructure functions, ensuring the smooth delivery of content from a source to the end-user player.
What is a Video Streaming Protocol?
Protocols, in general, are a set of rules for performing a particular task and in this case, video streaming protocols are a set of standardized instructions that help the video content be transported over the Internet to reach the viewer device.
Be it VOD or live streams, the video is broken into chunks of data suitable for easy transportation and is delivered to the audiences where they are reassembled in sequence for playback.
Several protocols have evolved over time, some replaced by others due to latency, or compatibility; however, this writeup fully summarizes the significance and the varied typed of streaming protocols available for the content owners and publishers of today in guiding them establish a seamless video delivery to their target market.
---
Also Read: What Is Video Streaming & How Does It Work?
---
Differentiating Codecs from Streaming Protocols
In a streaming infrastructure, a codec compresses the video files before they are transported by a streaming protocol. This is done in order to minimize the video storage prior to them being transmitted.
In other words, codec is a compression technology that works by eliminating redundant data from each video frame, thus saving space. The compression can either be lossy or lossless depending on the quality and storage needs.
H.264 & H.265 are two of the most widely used video codecs, however, it is H.265 that is more opted for the quality of the final rendition even in reduced bandwidths.
The Streaming Protocol Timeline
Here's summing up how the era of streaming technology unfolded over the years.
1990s – Launch of some of the most popular protocols like Flash, RTMP (Real Time Messaging Protocol) and RTSP (Real Time Streaming Protocol)
2001-2010 – Adobe Flash remained highly popular for most Internet browsers. But, in 2009, with the inception of the iPhone, came the legendary HLS by Apple.
2011-2019 – Live streaming came into the picture & was quickly adopted across industries. MPEG-DASH, the first adaptive bitrate HTTP-based protocol, became the International Standard in 2012.
2020 – Present Day– WebRTC and Secure Reliable Transport (SRT) are widely used for interactive video content due to a sudden surge in pandemic-induced remote scenarios.
Understanding the Different Types of Video Streaming Protocols
To make things clearer for broadcasters and publishers out there, here's detailing what each streaming protocol means and how it can fit into your video delivery infrastructure.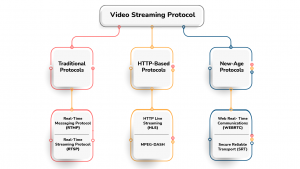 RTMP


Built over TCP, RTMP was designed to work in conjunction with Adobe Flash Player. Technically, it was launched with the key intention to deliver video chunks to the end-user device at a reduced latency (<5 seconds). But, the fact that RTMP not being compatible with HTML5 players that majority of today's streaming services use, made it being replaced by RTMP Ingest. 
Now, RTMP Ingest is used for a rather different purpose, last-mile video delivery, in alliance with HLS for seamless buffer-free playback.
Recommended Read: How Significant is RTMP Ingest in a Live Streaming Landscape?
RTSP
Once a popular choice for real-time live streaming, RTSP is now used in drone/ surveillance streaming and with IP cameras. It is an application layer protocol that works around RTP (Real-Time Transport Protocol) and RTCP (Real-Time Control Protocol) to ensure an ultra-low latency video delivery (<2 sec). Though mainly used as a network remote control to pause, play, and rewind video streams from a media server, it became less in usage because of the need for a dedicated server during the last-mile delivery of video streams. 
HLS
Released in 2009, HLS was first developed as a streaming protocol for iPhone by Apple. Its compatibility with devices and HTML5 player soon placed it in the top spot as a modern, high-quality counterpart to the traditional protocols that existed. It is now in wide usage by several of today's streaming services for professional broadcasting.
Some of the highlights of HLS include
MPEG-DASH
The Dynamic Adaptive Streaming over HTTP protocol was published by the Motion Pictures Expert Group as an International standard and transports video data between the HTTP server and user device. MPEG-DASH majorly works around the concept of ABR (Adaptive Bitrate Streaming) and is more compatible with Android TV app-based devices. It is codec agnostic and supports both server/ client-side ad insertion. 
ebRTC
A modern protocol for real-time presence in several applications, WebRTC is a key player in video conferencing and live chat environments. While scalability might be a concern, it is compatible across all modern browsers. And especially with the ongoing pandemic, the use of WebRTC has ramped up immensely for remote communications. 
SRT
Keeping in mind the demand for speedy video delivery even in noisy networks, SRT (Secure Reliable Transport) protocol was launched by Haivision with the core purpose to deliver high-performance video in public Internet environments. It assures a low-latency (3s or less) and leverages UDP and TCP to deliver secure lag-free streams.
Factors That Matter When Choosing a Video Streaming Protocol
While some broadcasters might demand speedy video delivery, it is quality that might be the key for a few others. Whatever the case might be, it is the following factors that should be taken into consideration when deciding upon which protocol might benefit you the most.
Open source/ Proprietary

Playback Support

Overall Quality of Experience

Latency

Adaptive Bitrate

Privacy & Security

Cost
To Summarize,
The video streaming trends have transformed radically over the decade, spanning across industries and niches for varied content delivery needs, be it on-demand or live.
Hence, it is highly vital for every video content owner to lay out a ground plan that neatly describes the streaming workflow in order to choose the right protocol among the several we've discussed in this article.
While this applies to businesses that want to build a video streaming app/platform from scratch, publishers can alternatively join hands with a video streaming services provider to handle all things technical.
If You Already Have An Idea About Starting A Video Streaming Platform, Schedule A Free Demo And We'll Get You On The Road To Video Streaming Success!