Live Streaming is a live video broadcast on user's devices in real-time, permitting thousands of people to watch videos of things happening at any given moment. From Business events, webinars, sports and entertainment events, and family events, live streaming videos are now an integral part of connecting everyone.
Live streaming initially became extensively popular for a concert, and sports events broadcasting is now outgrowing its use-cases. The Pandemic outbreak is a reason for the sudden lift up of live streaming. For instance, the Instagram "Live" feature saw a 70% increase rate in 2020, indicating the growth of Live streaming and viewing of events. Thus, the chat API for streaming apps is now an indispensable part of mainstream events. With an internet connection and smartphone, viewers can get the best experience without physical presence at the event location.
This article is your complete guide to understand Live streaming's fundamental tools, essential rich-features, and platforms to decide for streaming.
Hardware Components You'll Need for Creating a Live Stream
A smartphone with an Internet connection, built-in camera, a microphone is enough for creating simple live streaming. A high-quality video will help you reach a broader audience and streaming tools will help you achieve it.
Here are the hardware tools that you must have to create a live stream.
Professional Video Camera: Your Desktop or Laptop's built-in camera, computer's screen is sufficient for simple live streaming. For a high-resolution video, you can try using a webcam and external video camera. If you are trying to stream significant events, better go for professional video cameras with 4k output capacities.

Mic: For your viewers to hear you loud, voice amplification plays a crucial role. A simple clip-on mic or a professional mic such as Lavalier Lapel, along with a mixer feed, is essential. Clear audio grabs more viewers.

Camera Tripod: To stream non-shaky and disturbance-free videos, use tripods to hold cameras in position. Generate a high-resolution video with a stable feed.

Audio-Video Encoder: An encoder converts the audio-video signal into a web-friendly digital format. It is usually a computer software or standalone hardware device enabling the conversion of sizable audio-video content into readable files. It is highly required when enormous live streaming of content as external cameras can capture videos but not live stream.

High-speed & Stable Internet Connection: A high-speed and stable internet connection enables you to live stream without hindrance. The quality of your live stream purely depends on the internet connection stability. The stream should not freeze, buffer or drop, so pre-check connection & upgrade if required.

LED Light: For well-presenting an engaging video, proper lighting is a must. Invest in a portable LED ring light that you can fix on a tripod and carry to multiple event streaming locations. A good lighting source will capture and stream well.
Five Essential Features for live streaming apps

Video and Audio Feed : In a Live Chat SDK for a live streaming app, the video chat feature plays a significant role in keeping the streamers and viewers engaged. Both video and audio feed is critical. Moreover, it should facilitate embedding pre-recorded video into a live event to enhance the user feel.

Live Chats: Chat API for live Streaming apps makes the streaming most interesting by allowing the streamer and audience to interact while the streaming progresses. For providing a top-quality streaming experience, you need to include AI-infused Chat moderation. Based on the platform and subscription, users get chat emojis to use in live chats.

Record on the Go!: Many Chat API and messaging SDK permits streaming with recording. It is the best feature any platform can offer because the audience who missed the live event can view it later. Revisiting videos increases the engagement rate.

Real-Time Analytics: Mostly sought feature by Businesses and professionals who stream webinars and workshops is reporting. It is critical for tracking the attendee's database for future analysis. Helps to monitor the audience engagement for sponsored events.

Appealing UI/UX design : A well-built and simple Design is something that attracts the audience first. UI/UX designs influence people to decide on your application. Make it user-centric for establishing audience connect.
Set Live Streaming through the Popular Platform
Here are the 4 most popular platforms where you can set up and launch your Live Event Streams.
1. OnTheFly
OnTheFly pushes live streaming to the next level with features like studio-grade recording, inviting guests, customizations of logos, overlays, etc. It is one of the top customer centric live streaming platform in the market.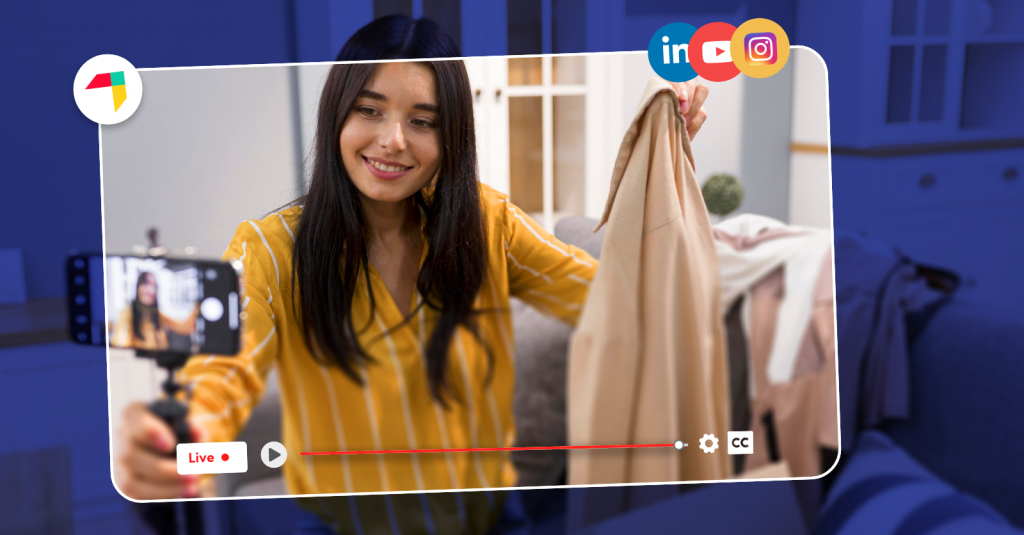 Go to the OnTheFly web page
Register using Gmail ID
Click Go live
Enter the multistreaming platforms with respective links and other necessary details 
Start multistreaming by clicking "Go live"
2. Youtube Live
Youtube Live comes with many features like auto-captions, broadcast delay, Live Chat, and Replay.
Create a Youtube Live account and complete verification.
If you are using a video camera, then you need a software or hardware encoder. Else not required.
You can schedule with date, title, and time, choose the category and insert a thumbnail image through the settings menu.
3. Facebook Live
Facebook Live comes with features like comment section moderation, polls, questions, and analytics.
Go to Live Video from your Facebook feed. From there, go to Facebook's Live Producer Page.
Choose the camera option for streaming if using a webcam, else include the software encoder option.
Facebook provides a FB Live Dashboard to control all details associated with your live event like scheduling the date, time, sending invites to friends, auto-captions adding in live streams, and more.
You can use the URL of the event from the dashboard and use it across your marketing channels to attract more audience.
4. Instagram Live
Instagram Live, a popular influencer platform, comes with features such as an audience comment section, emoticons, reactions, and sharing.
In the Instagram dashboard, choose content type as Live.
Add a title to stream and customize the viewers' type from the settings.
Click on the start( a circle at the bottom of the screen).
5. Twitch Live
Twitch, the popular gaming platform, comes with repeat-live streams.
Get your Twitch account created.
Select Live stream Schedule from the Twitch Dashboard and update all information to access in-platform chat.
Download Twitch Studio, the streaming software. All set to stream the game
When you have Live Chat features, video streaming relishes an in-person experience. For instance, CONTUS MirrorFly offers a Real time chat API for a streaming platform. You can Create and stream engaging content with Live chat and moderations in slow mode and share screen, block spams with the right platform.